Motorcycle Live at the NEC isn't the first place you would think to find classic motorcycles but they can be located if you have a good look – they're even bringing in classic aircraft these days! Richard Jones reveals his selection of classic bikes from the big bike show at Birmingham…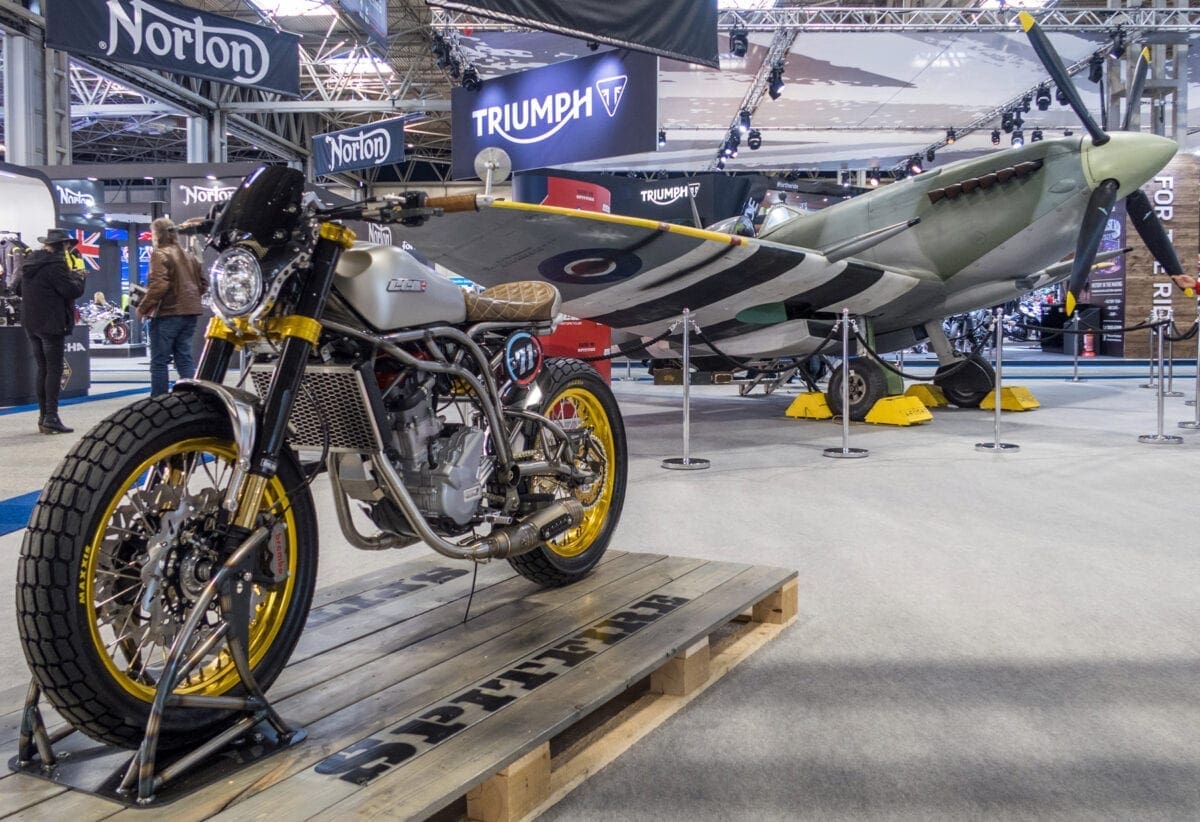 Early in 1945, when it was apparent that WW2 was wending its way to an end, Triumph announced its post-war model range which was to include two 350 twins – the 3T which used some components from the military 3TW, and the sportier Tiger 85. Only the 3T went into production, and it was never built in big numbers.
Another post-war twin was also proposed – the 3TU which only existed in prototype form, an example here courtesy of the National Motorcycle Museum. The 'U' may stand for 'Utility' or (as the less generous aesthete may opine) 'Ugly'. Even Edward Turner described it as 'agricultural in concept'.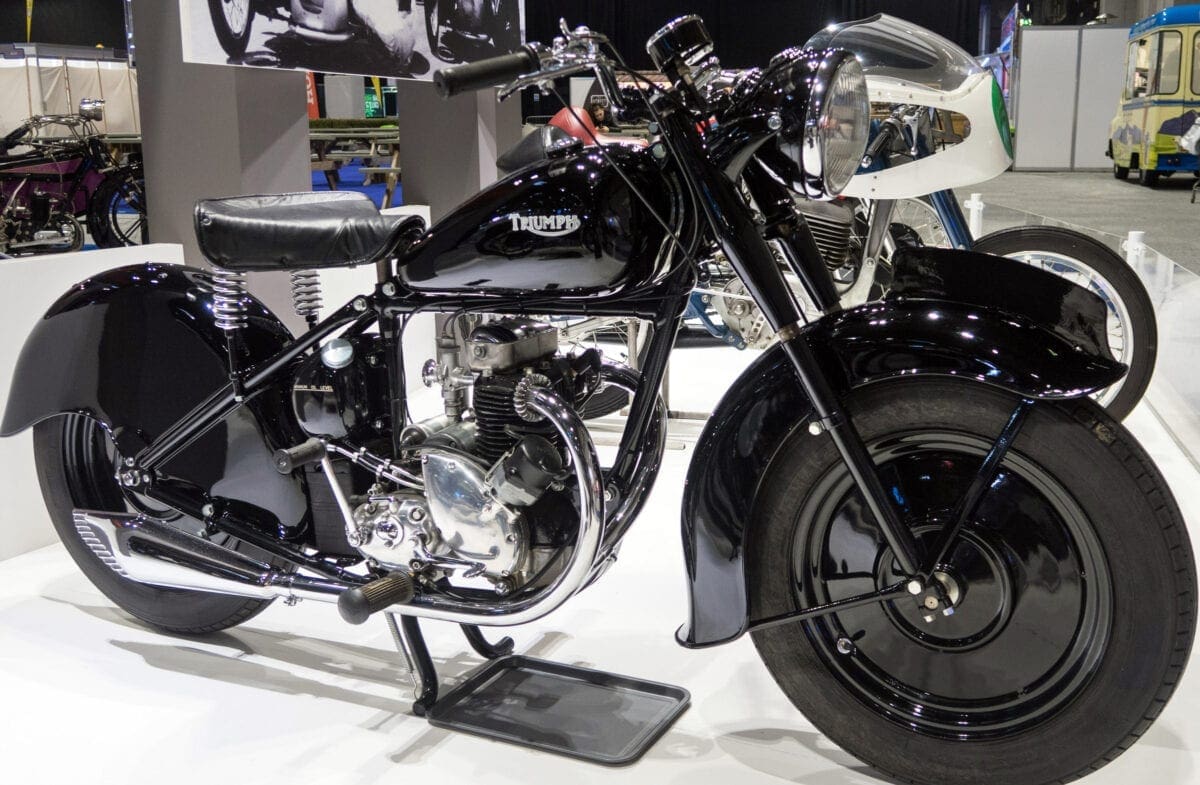 The passage of time tends to improve opinion and I personally think it looks rather interesting, even attractive. The Triumph's balloon tyres, solo saddle and voluminous mudguards certainly make it a talking point today. Apparently it owes its survival to a dealer taking it in payment for a bad debt when Meriden finally closed.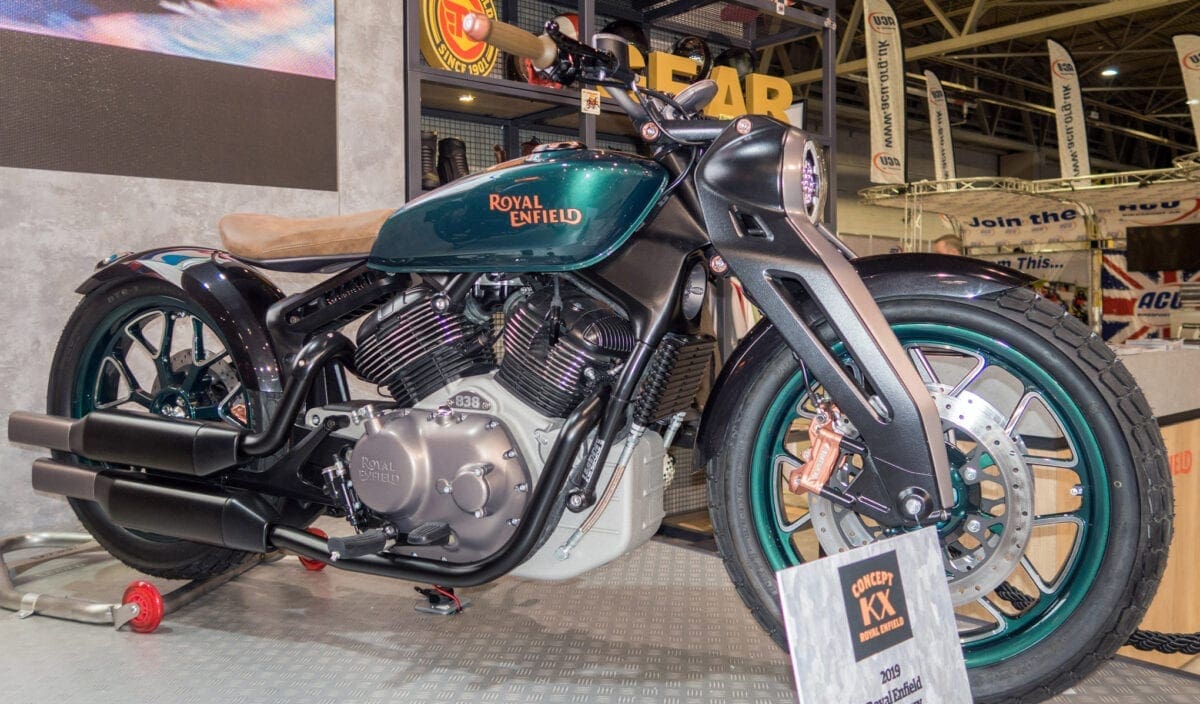 One surprise in the show – at least to me – was Royal Enfield's Concept KX with its 838cc V-twin engine, six-speed gearbox, Harris frame and girder fork front end. This is presumably the output of the Royal Enfield UK Technology Centre at Bruntingthorpe which opened a year ago.
The new bike is, apparently, a tribute to the marque's 1930's V-twin KX which sat next to the Concept. Once considered 'the last word in luxury motorcycling', this 1140cc sidevalve V-twin featured enclosed valve gear and dry-sump lubrication system. Although intended as a sidecar powerplant, the KX was capable of 80mph in solo trim. Admiring the old bike parked next to the 21st century version, you have wonder whether the boffins of Bruntingthorpe actually saw the two machines together because, in my opinion once again, it's not the sort of tribute I would have expected from a company that favours the retro 'neo classic' style. It's rather more hipster than roadster: a change of direction for RE perhaps?
The Ariel Motor Company can usually be relied upon to bring some of their classic bikes to accompany the super-fast Atom when they come to the show. They didn't disappoint this year and here's a 1934 Ariel Square Four with Edward Turner's 600cc ohc power plant looking rather spiffy. It had been introduced to the Ariel range three years earlier as a 500cc machine costing £70 in its basic state, although you could have Lucas Magdyno lighting for an extra £5/10s. However sidecar types were looking for a bit more grunt so the 601cc 4F/6.32 was introduced in 1932 and stayed at that capacity until the 1000 cc version appeared in September 1936.
When two or more classic motorcycles come together, there is usually a Brough Superior on show somewhere and Motorcycle Live was no exception; this 1934 ohv 674cc model was on the Carole Nash stand. The accompanying blurb stated its value as being £175,000 which is presumably why prison bars were in place to prevent the hoi polloi from getting too close. Annoyingly it also prevents a decent photo being taken.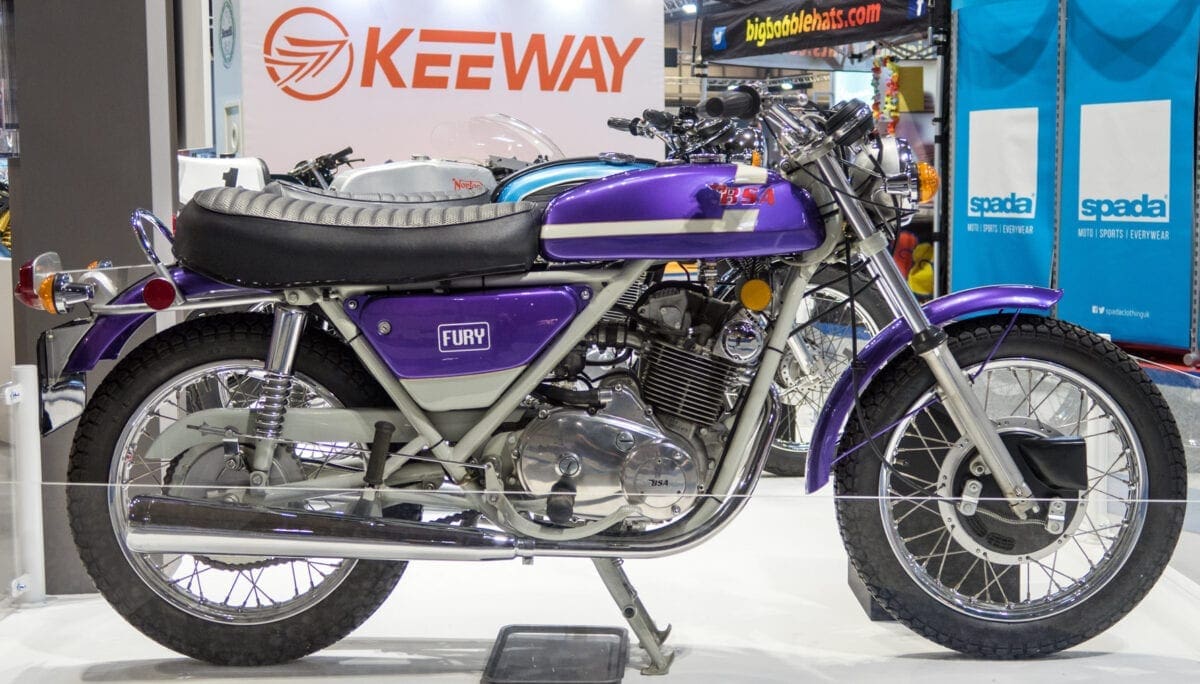 You may recall an article I wrote for the RC magazine which told the story of Roger Josling's BSA Bandit special. Here is the original BSA Fury as it came out of the factory, which is the same but different and also flows less easily from the alliterative aspect. By chance I met Tony Page at the show and he took issue with one aspect of my article. I had said that the frame was based on that designed by Rob North for the Trident. However Tony has it on excellent authority – Ken Sprayson himself – that the frame originated from KS. Bert Hopwood, annoyed at Umberslade Hall's procrastination, called Sprayson in to progress the design which was based on the frame he had made for Percy Tait's Triumph racer. Mea culpa and unreserved apologies.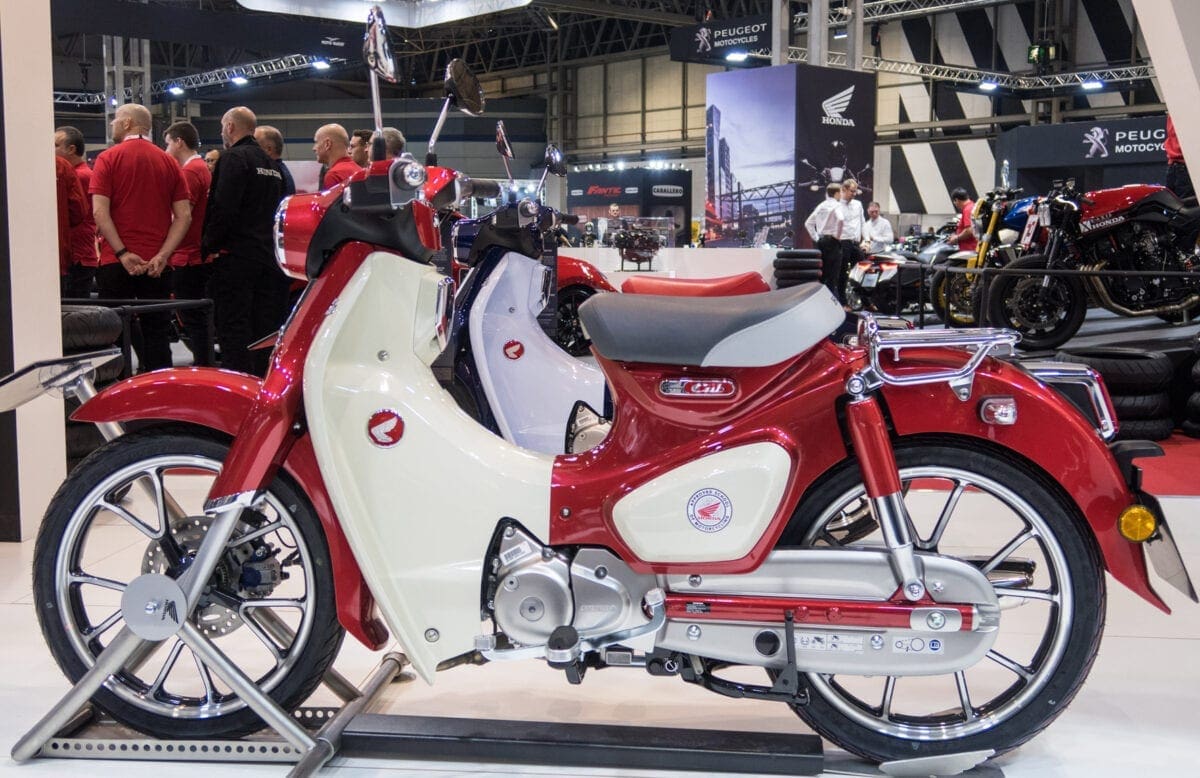 I have a fondness for Honda C50 Cubs, my first real motorcycle and bought second-hand from Tony's Motorcycles on Prestatyn High Street for £65 in 1972. It served me well, gave me independence and freedom, and only let me down when I discovered that you can't corner when your wheels are in the air: humpback bridge, sharp bend, stone wall, bang! I'm sure Honda's 125cc Super Cub will be equally as reliable (unless you are airborne) and as much fun as my C50 but, at £3399 new, perhaps not quite so affordable as in 1972.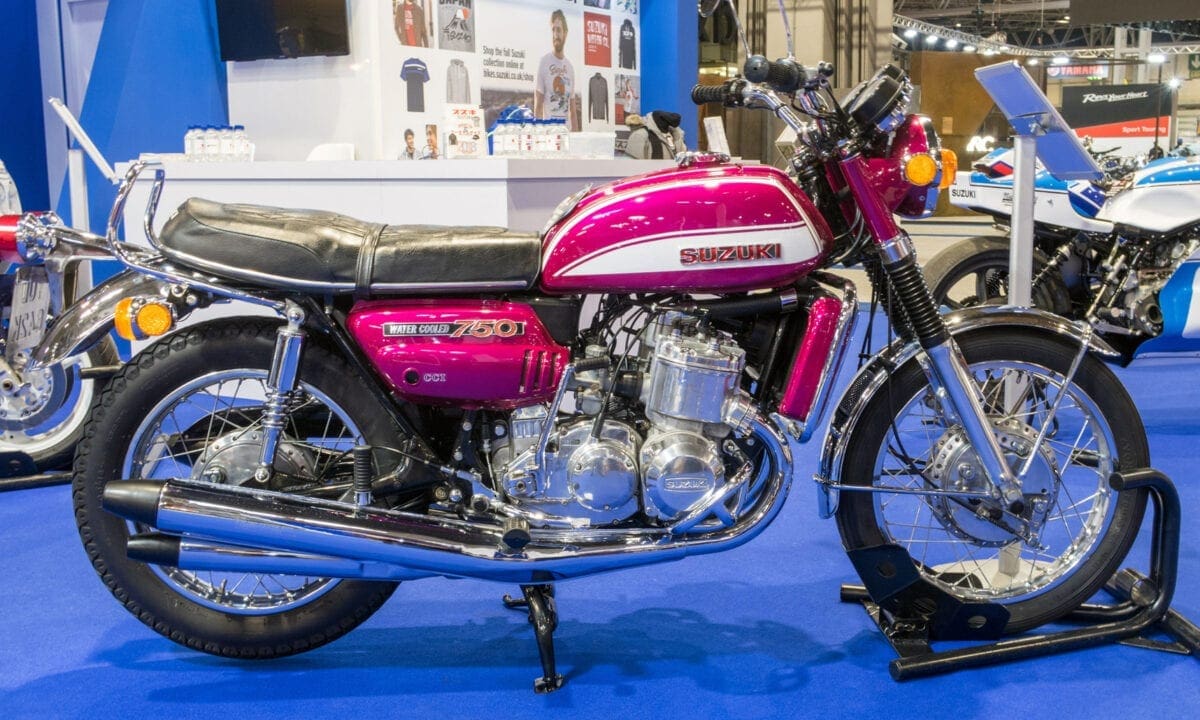 Another, more classic machine from the Land of the Rising Sun – Suzuki's GT750J, aka the Kettle. This one was very restored, very shiny and very lilac Candy Lavender.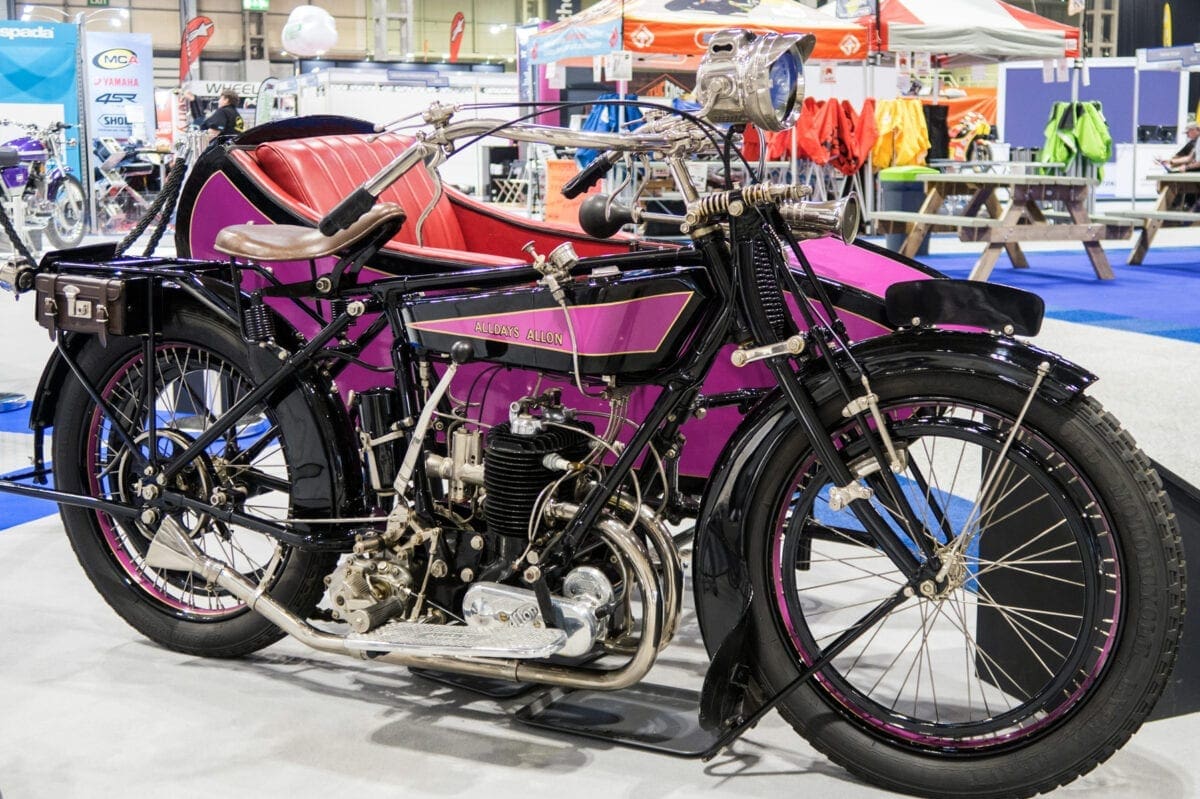 Let's finish with something much older and definitely British, again on the NMM stand and where you were invited to get aboard and have your photo taken although 'please treat me with respect as I'm very old!' I know the feeling. This 548cc Alldays Allon outfit dates from 1916, a year after Alldays & Onions had moved to Small Heath and started producing machines under the Allon name. Whether it came in Candy Lavender lilac* when built is moot – black or green seem to have predominated back then. Still a great machine and good to see that it can still hold its own with the new kids on the block.
———
Words and photos by Richard Jones
Richard has compiled an extensive online archive of vintage vehicle photos: visitors are welcome to drop by and admire other classic bikes he's discovered on his travels
*Is that colour really lilac? We think it's pink. Shocking Pink, probably…