We celebrate what some folk suggest is the ultimate flying featherweight, the D14/4 Sports, in the August issue of the magazine. The lively lightweight evolved considerably from its launch in 1948 until it finally stopped swingin' as the Sixties swerved into the Seventies. Here are some of the Bantam highlights – and a stack of nostalgic ads for your entertainment…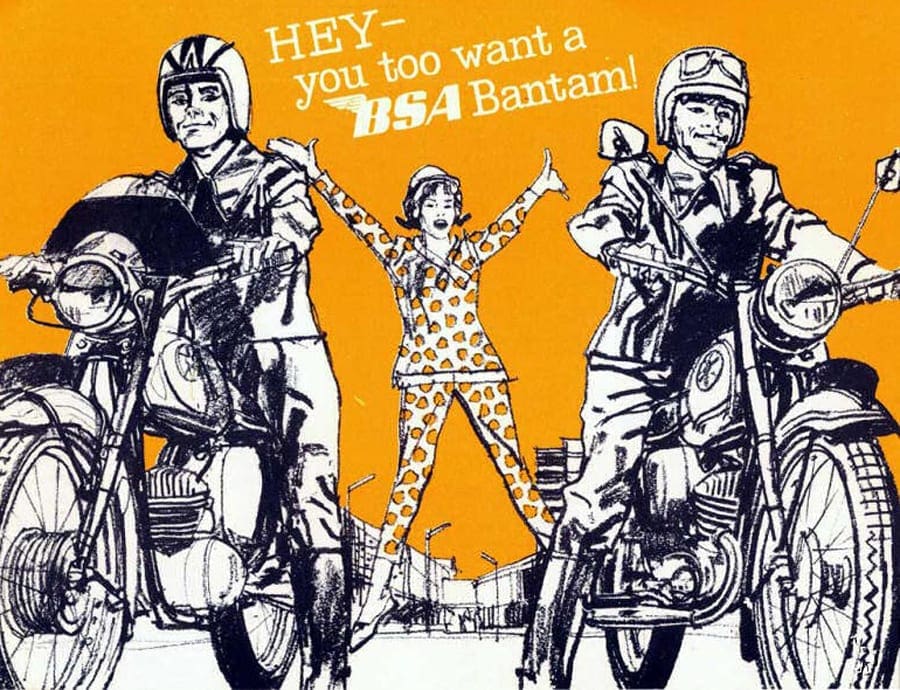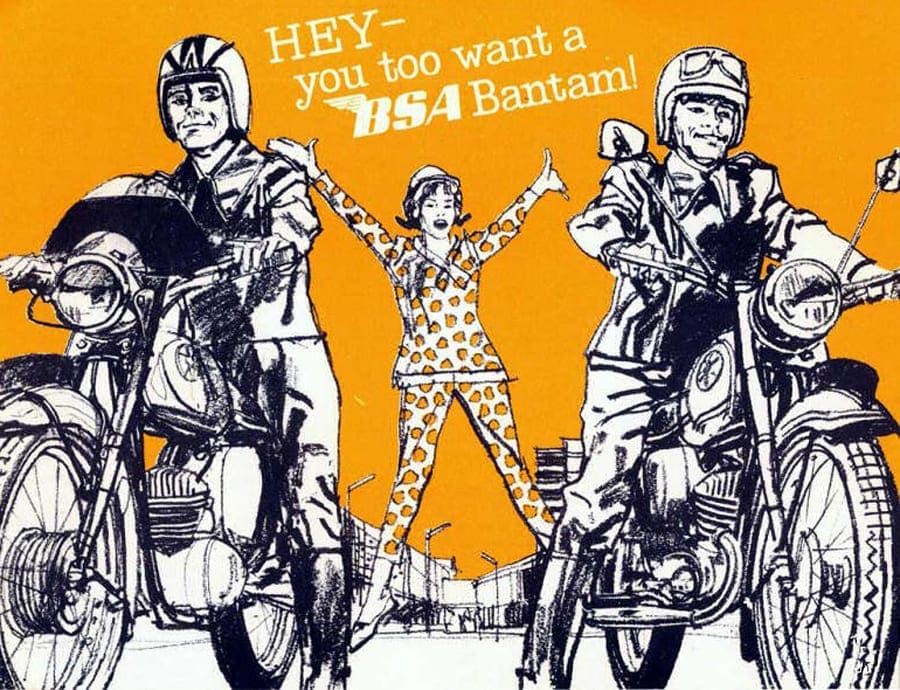 1948: D1 introduced. 123cc, 6.5:1 compression, 4.5bhp @ 5000rpm, top speed 48mph. Direct lighting via Wipac magneto electrics; no battery. 3-speed gearbox, rigid rear end and marginal brakes. 170lb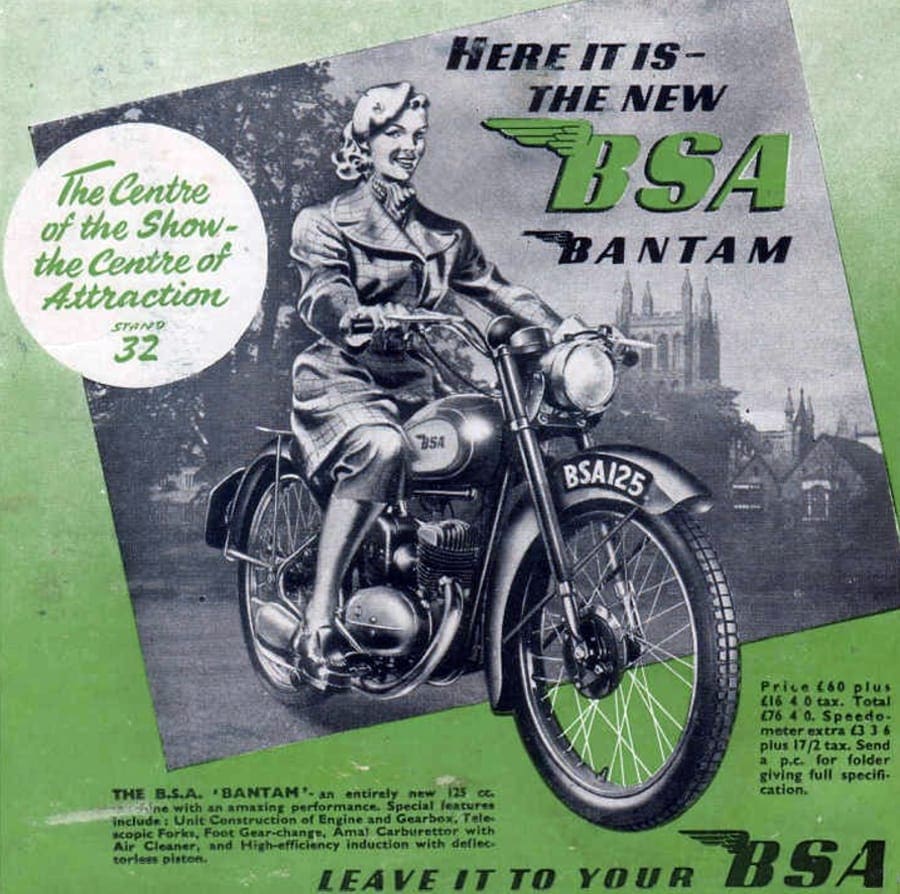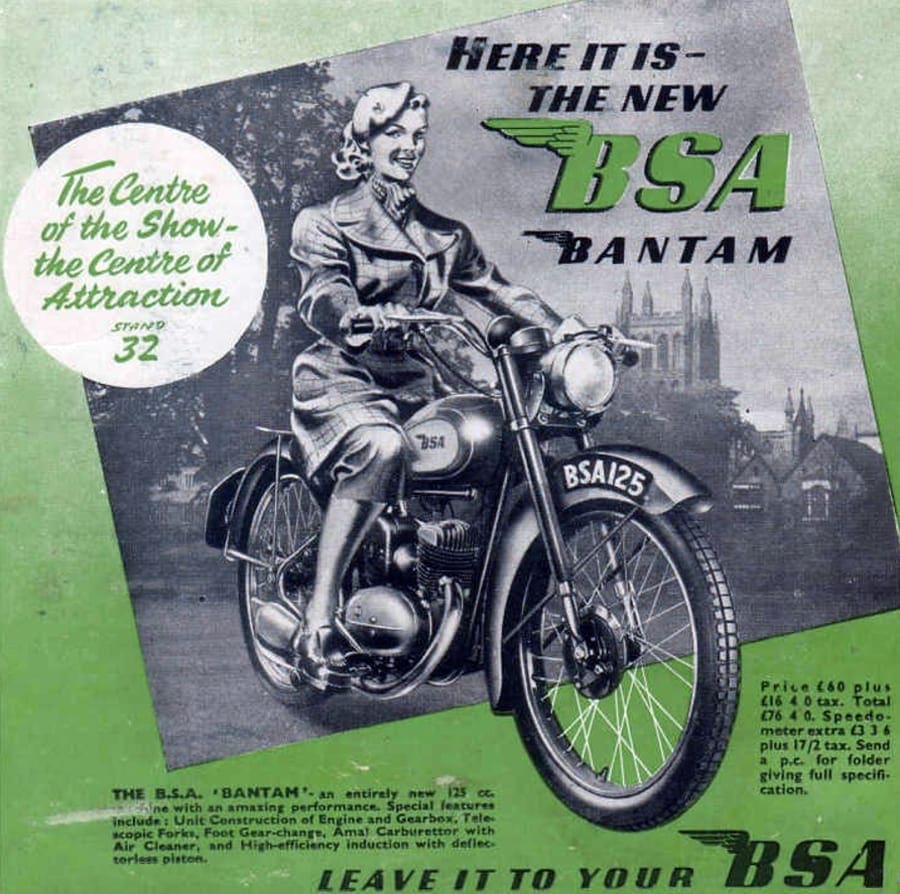 1949: plunger suspension offered
1950: D1 Competition introduced with slightly upswept exhaust, folding kickstart, different gearing and a decompressor. Optional Lucas battery electrics on roadgoing D1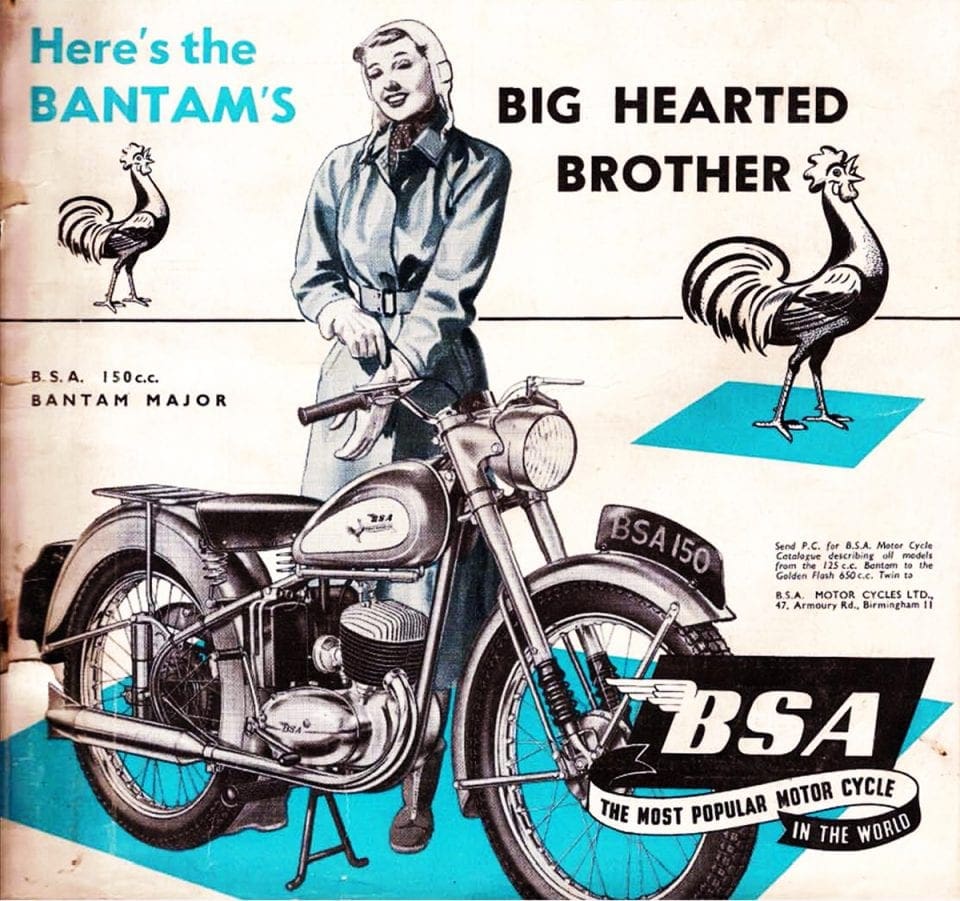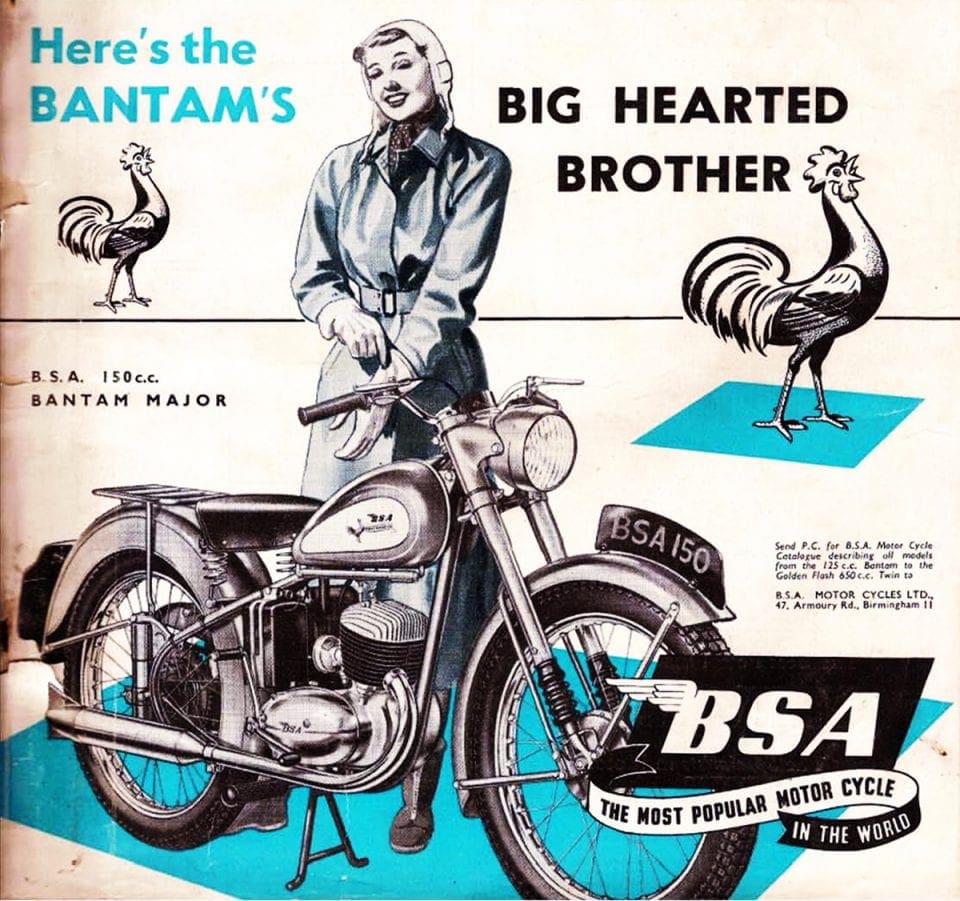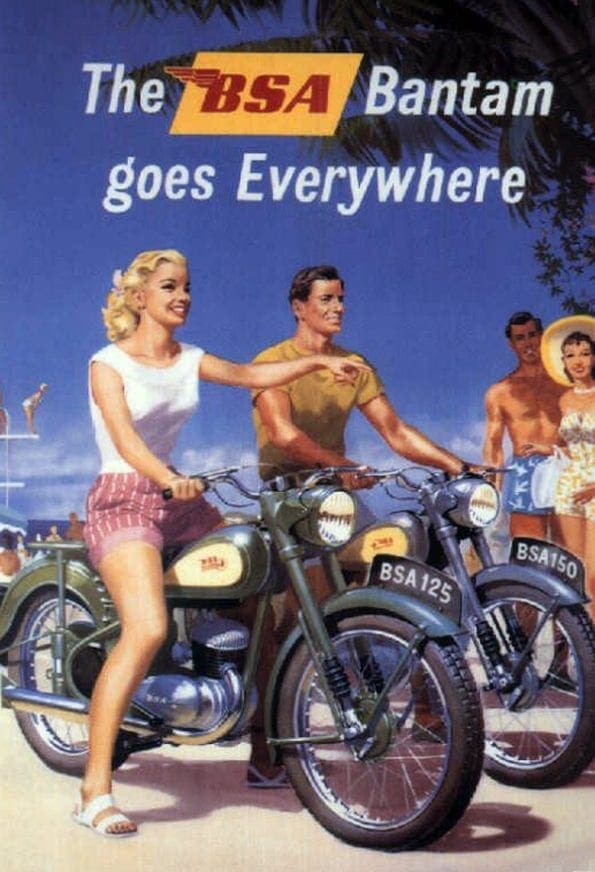 1954: D3 Bantam Major introduced. 148cc, beefed up bottom end, 5.3bhp, top speed over 50mph
1956: swinging arm frame introduced; heavier but better handling and more comfort
1958: D5 introduced. 173cc, 7.4:1 compression, 7.5bhp and 60mph. Improved brakes and caged roller big end bearing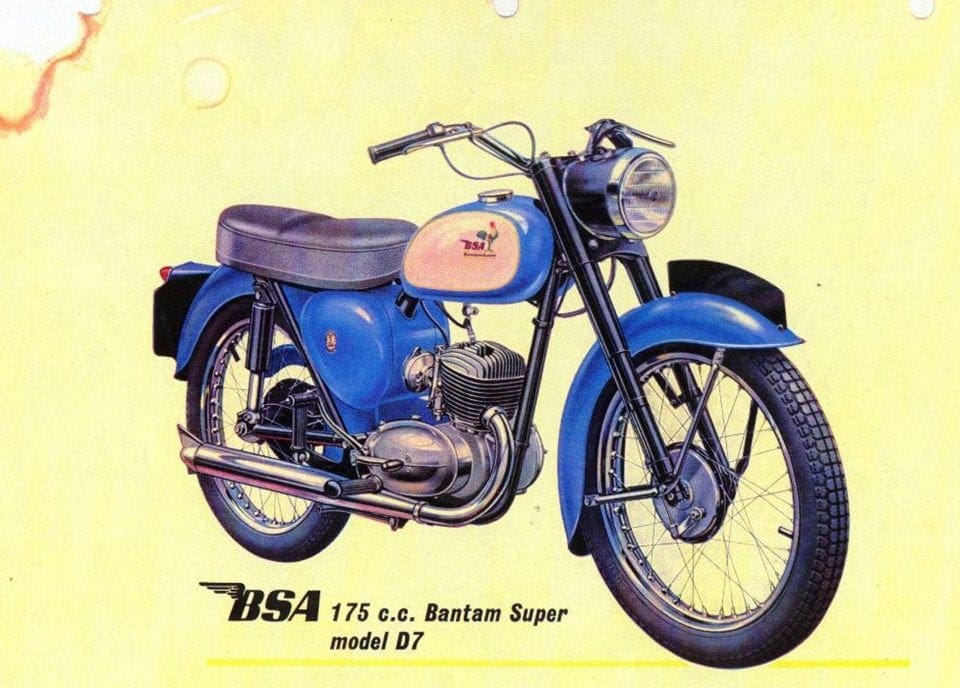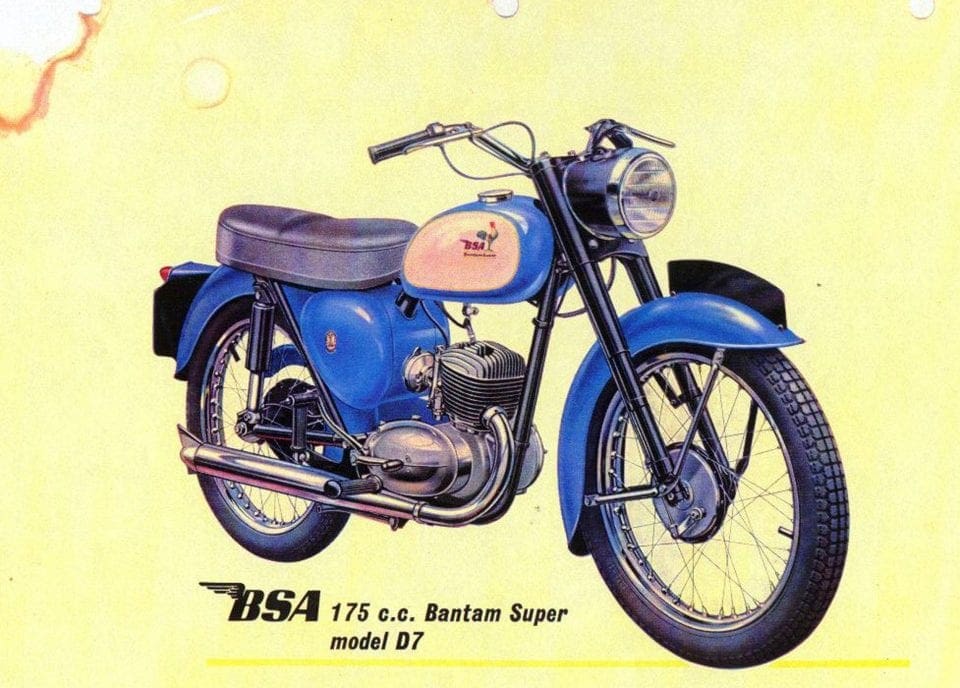 1959: D7 with swoopy styling introduced. Improved cast-iron brakes and hydraulic damping to forks, but gears prone to stripping. 230lb
1962: gear ratios revised, new silencer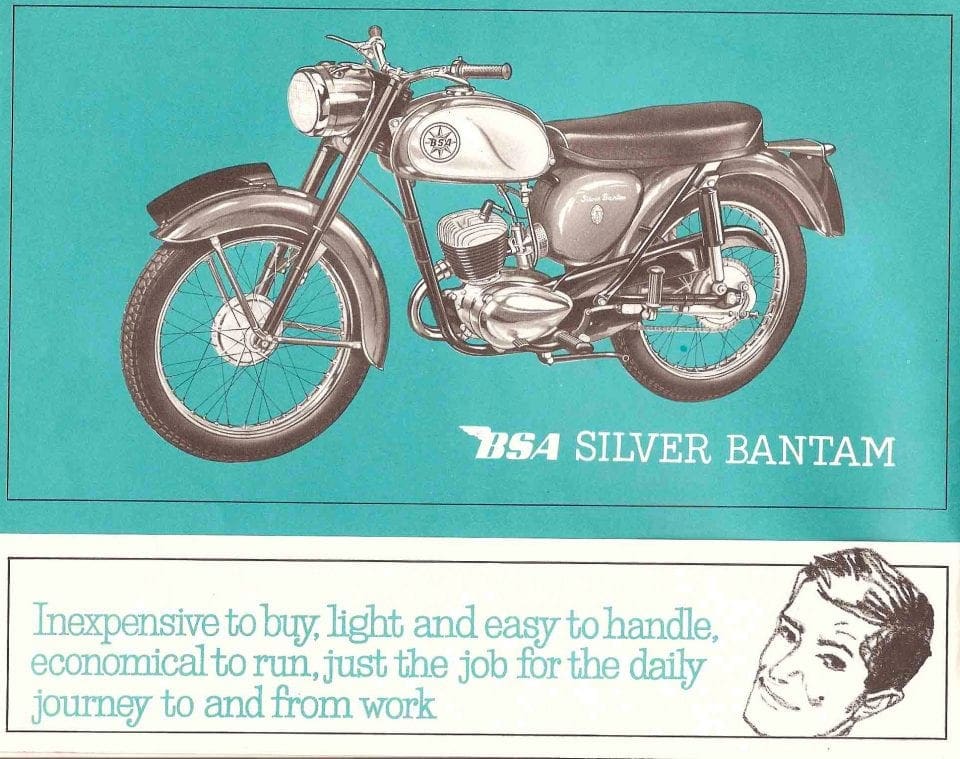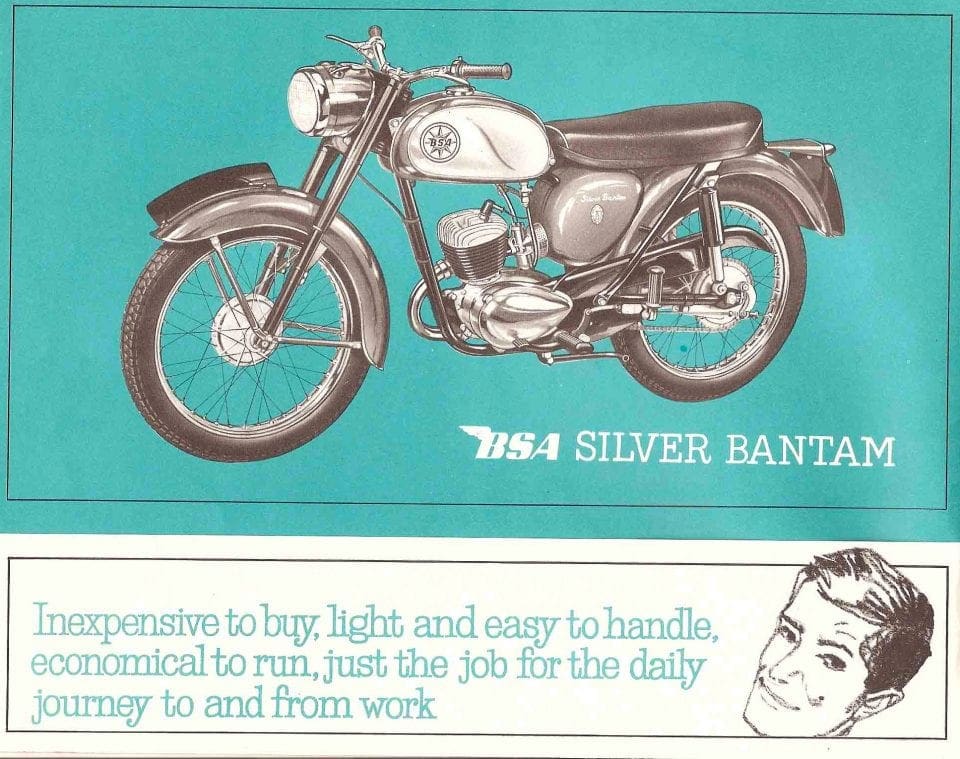 1967: D10 available in Silver, Supreme and Sports formats, all with bigger carb and high compression 10bhp engine with side points. Sports used 4-speed box for first time; less vibes, better acceleration and top speed of 62mph. New 60W alternator with coil ignition and battery lighting. Bushman 4-speed model mainly exported overseas. Amal concentric carb replaces monobloc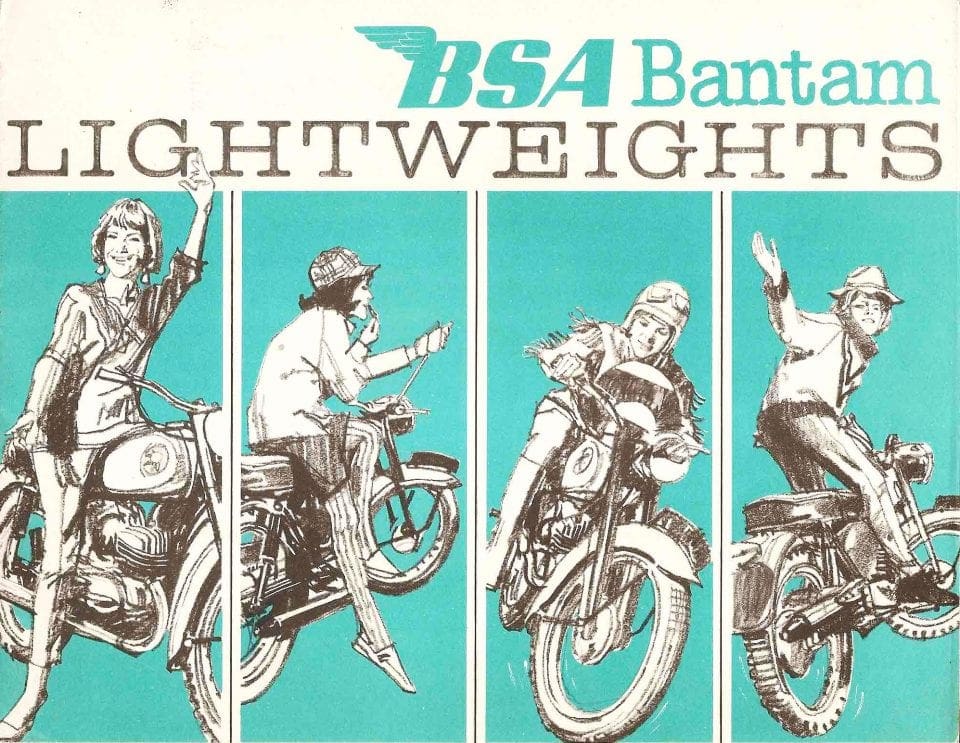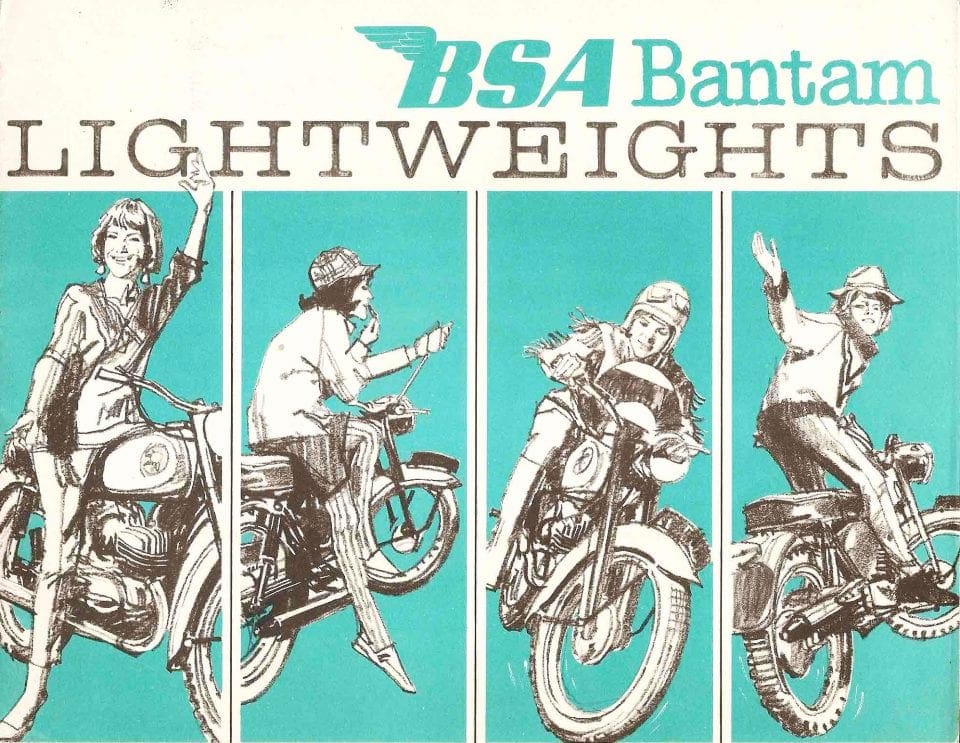 1968: D14/4 introduced (initial bikes were designated D13 in fact). Bigger ports, exhaust tweaks and higher compression gave 12.6bhp and almost 65mph. Bushman and Sports models accompanied the standard Supreme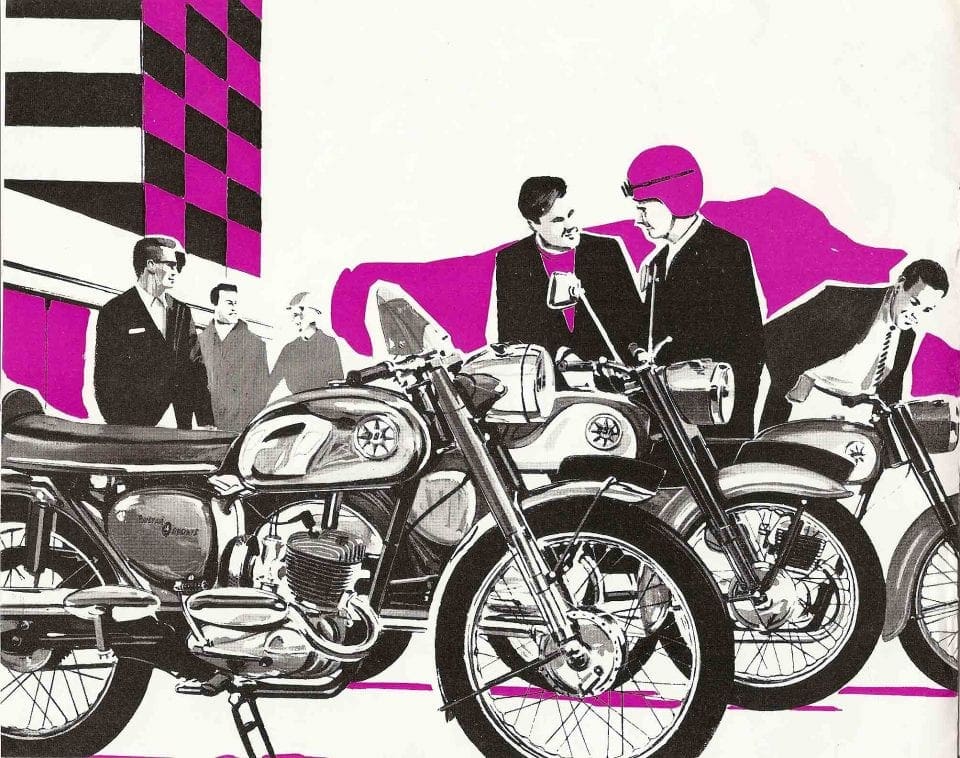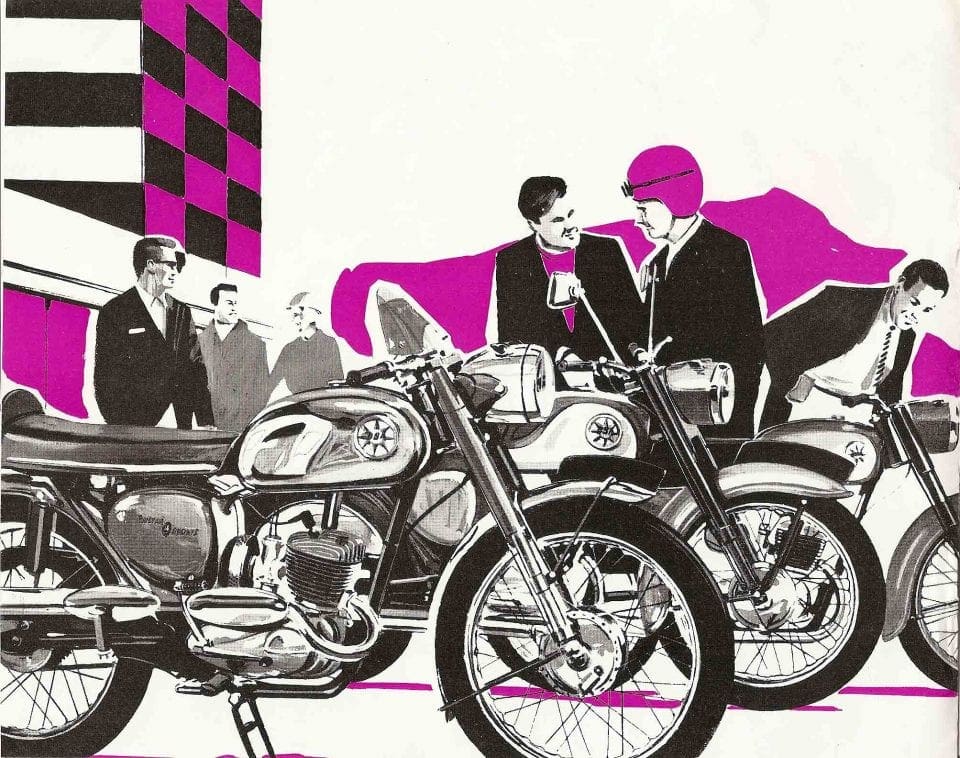 1969: B175 arrived, easily identified by its centrally-mounted spark plug. Several significant engine tweaks improved reliability; compression reduced slightly to 9.5:1. Better forks fitted from the Tiger Cub. Typically more robust than all its predecessors if not quite so quick as the D14/4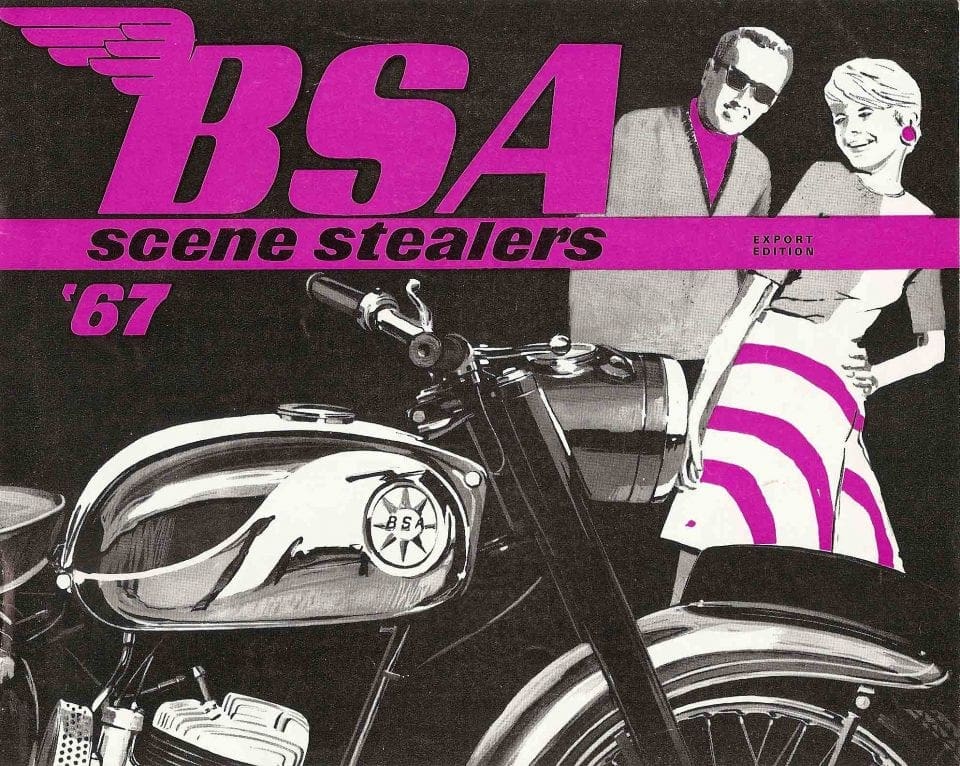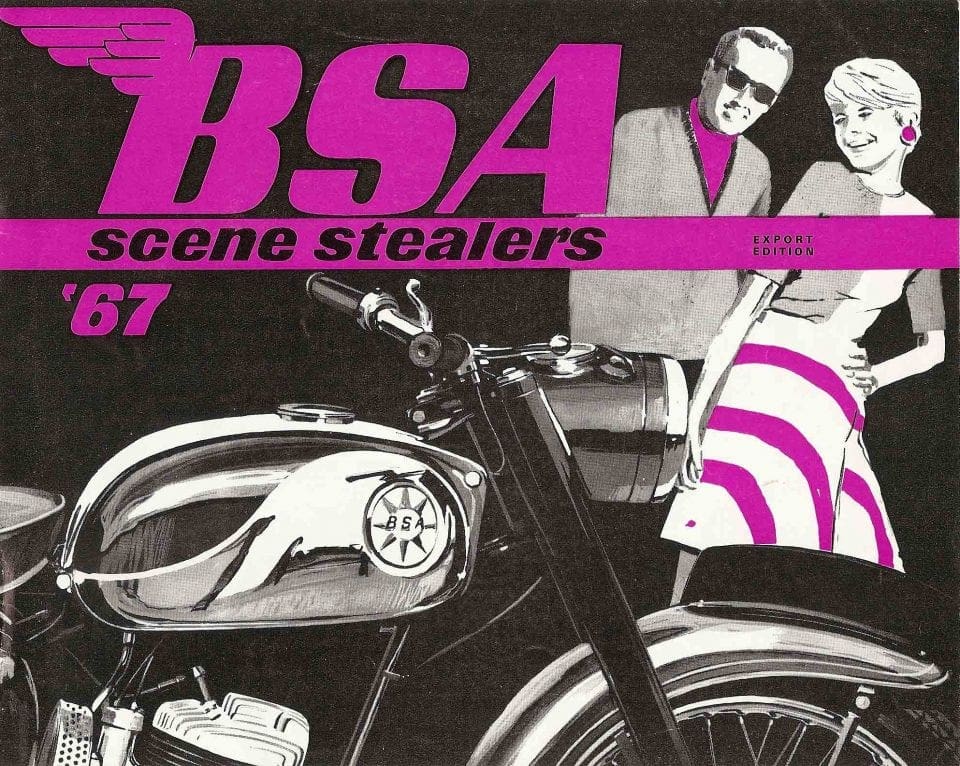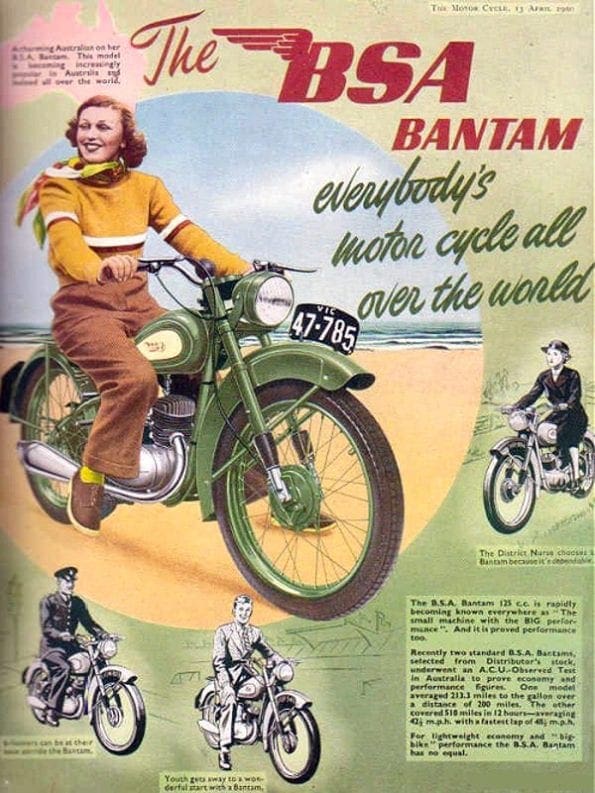 Bantam owners are brilliantly served by not one but two active and enthusiastic owners' clubs.
The model-specific BSA Bantam Club is only 15 years old but it rapidly established itself as one of the most welcoming organisations on the old bike scene – and you'll find an extensive array of Bantams on display on the club's stand at just about every big event. The Bantam Club not only supports existing owners and committed fans of the featherweight, but works hard to introduced people to the low-cost delights of classic motorcycling in the shape of this affordable two-stroke. The club's membership has grown to over 1100 and it costs £18 to join.
The BSAOC, by contrast, is one of the UK's longest-running marque clubs – but it promotes itself as 'the friendly club' and welcomes enthusiasts from around the world. You don't need to own a BSA to join, and the BSAOC offers plenty of support for prospective purchasers through its branch network and technical consultants. Annual membership costs £25.
If you'd like to read the full report on the D14 Sports then you can buy a print copy of RC160 or download the digital edition here
Got a tall tale to tell about your own BSA Bantam or another British classic bike? We'd be delighted to hear from you…
——-
Words by Rowena Hoseason / images from the RC RChive