There are so many Indian- built Royal Enfields around these days that they tend to overshadow the original British bikes. But there are still plenty of Redditch-made motorcycles thriving on the classic scene. We featured a 1956 green-laner 350 in the June issue – and here's some of the background to the model…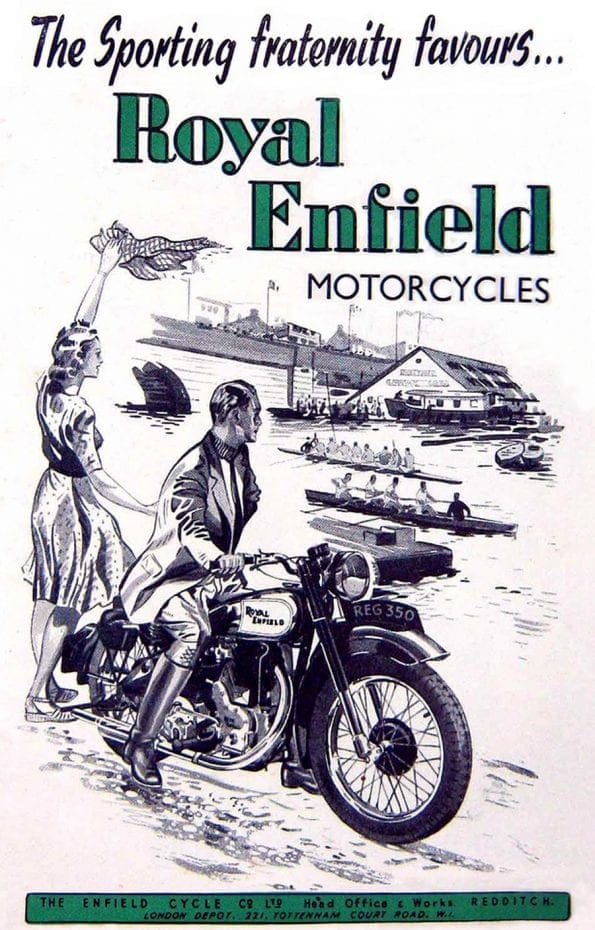 The Bullet was first fired all the way back in 1932 when three new sports models were added to the RE range. These advanced machines of 250, 350 and 500cc came equipped with a four-speed gearbox, an oil tank contained in the crankcase, chilled-iron valve guides and nitrided valve stems. The Model G which arrived in 1935 is however the true ancestor of the postwar Bullet ,with a vertical cylinder of 70mm by 90mm, totally enclosed valve gear and gear-driven magneto.
The prototype Bullet broke ground after WW2 as a 346cc trials bike with swinging arm rear suspension, ridden by a works trio at the Colmore Cup Trial. The new engine featured an RR56 light-alloy conrod and an oval-turned piston in low expansion alloy. Unusually, Enfield used a floating bronze bush instead of a more conventional roller big end bearing. Power was 18bhp at 5750rpm with the compression kept under control to cope with low octane fuels.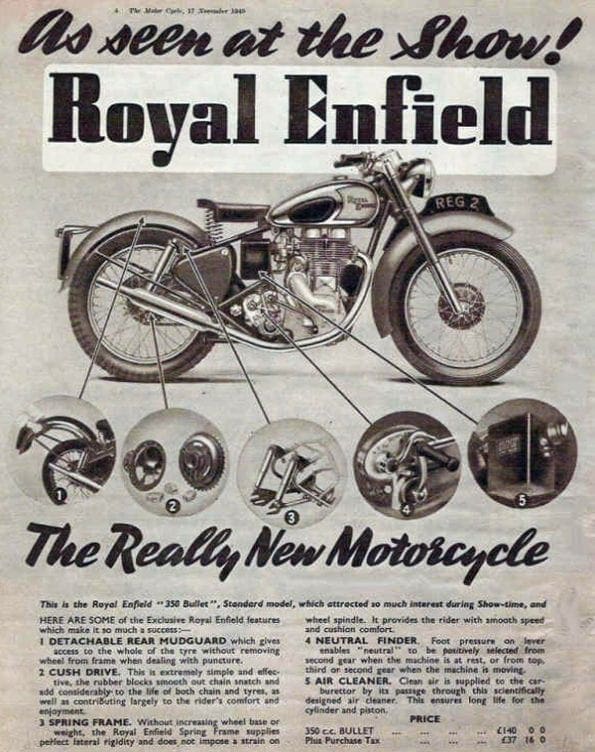 Unlike many single-cylinder Britbikes, the Bullet was designed to be a 350 and not a heavyweight 500. This made it significantly lighter than its competitors; a Matchless G3L weighed 30lb more while BSA's B31 was 60lb heavier than the Enfield. RE also introduced their own in-house oil-damped tele fork which was one of the most effective early designs. Tested off-road, it incorporated a breather system and a multi-thickness gauze which filtered both air and displaced oil and gave six inches of movement.
The 350 Bullet attracted lots of attention at the 1948 Earl's Court Show. Its 'exclusive features' included a detachable rear mudguard, Enfield's rubber-block cush drive which 'smooths out chain snatch and adds considerably to the life of both chain and tyres,' the spring frame which 'supplies perfect lateral rigidity without increasing wheelbase or weight', the neutral finder and a 'scientifically designed' air cleaner.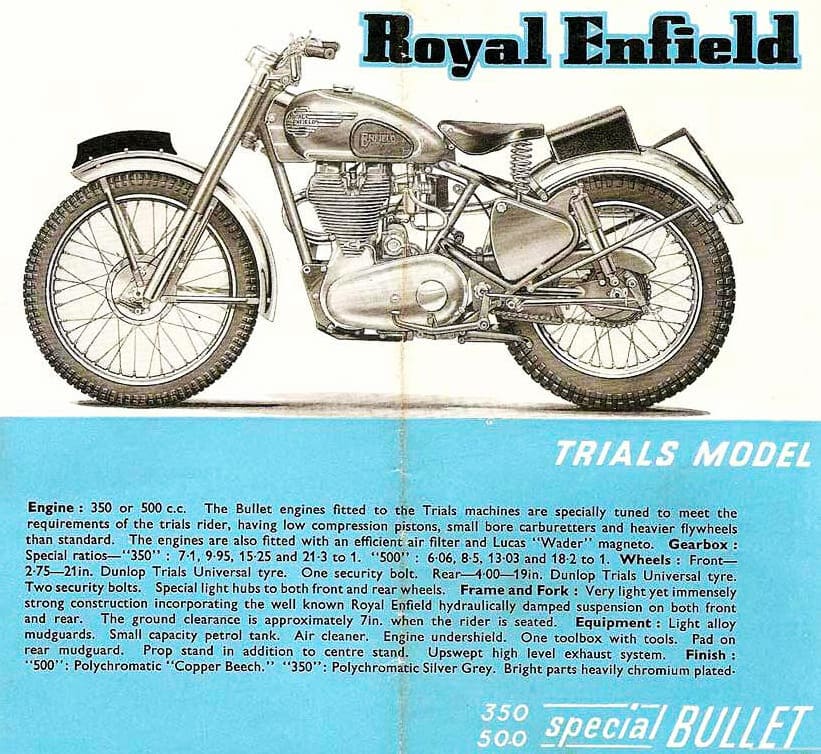 Enfield included scrambles and trials 350 Bullets in their annual catalogue. The trials models were 'specially tuned to meet the requirements of the trials rider with low compression pistons, small bore carburettors and heavier flywheels… an efficient air filter and Lucas wader magneto.' The 350 Bullet performed superbly in its first ISDT of 1948 as part of the victorious British team.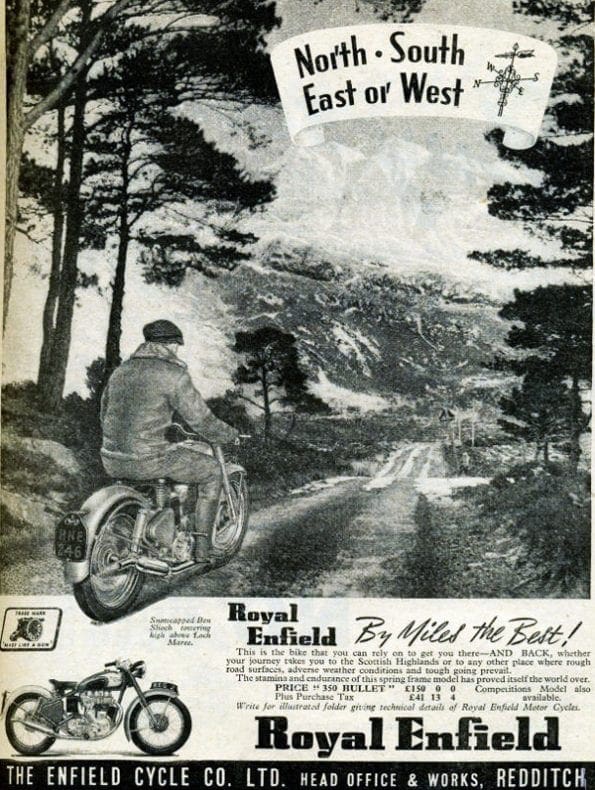 For 1949 the Bullet went on sale at £171 while the old rigid Model G was still offered at £146. A welded frame arrived for 1956; rear shocks had swapped to Armstrong units giving three inches of ground clearance; compression was raised to 7.25:1 which together with a new cam profile and many other mods pepped up the 350's performance.
'This is the bike that you can rely on to get you there – and back!' said Enfield. These days a touring motorcycle needs to be at least 1200cc (discuss). Back in the 1950s, the 350 Bullet was considered perfect for a journey to 'the Scottish Highlands or to any other place where rough road surfaces, adverse weather conditions and tough going prevail. The stamina and endurance of the spring frame model has proved itself the world over.'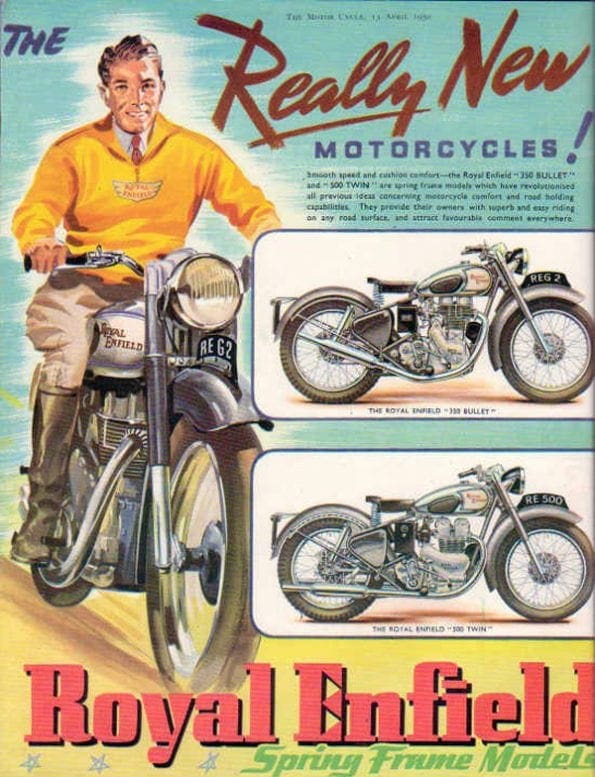 Tuning tweaks for the big twin Super Meteor were passed onto the Bullet which benefitted from a modified combustion chamber and large-diameter inlet valve. As a result, the 1956 350 was almost as quick as its 500 stablemate and could reach 80mph with a following wind. Riders had to rev the smaller engine harder, but many preferred its sweeter nature for low-rev riding.
From 1959 the 350 gained the tele forks from the Meteor Minor 500 twin, 17 inch wheels which lowered the saddle height, a 7 inch full-width front brake and 7 inch rear brake, revised gearing, a bigger Monobloc carb and a further compression boost to 7.75:1, plus a new exhaust system.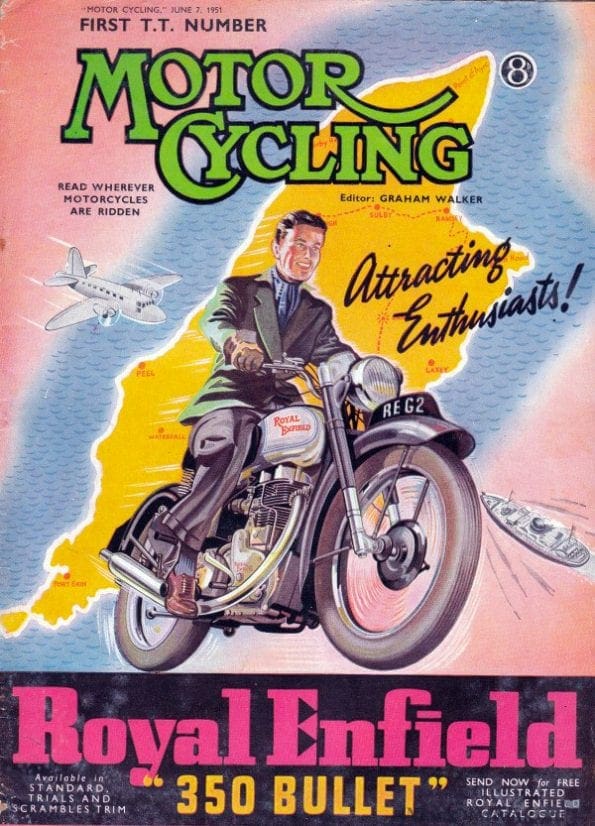 Perhaps the most famous proponent of the 350 Bullet was trials star Johnny Brittain who demonstrated just how well a swinging arm machine could perform in the rough.
One strange claim to fame is that Frank Sheene (Barry's dad) rode a 350 Bullet in the 1952 Junior TT. He finished 60th
Although the majority of Bullets offered for sale these days tend to be Indian-built 500s (and the occasional unofficial import 350), there are always a few Redditch 350s to be found if you scout around.
Prices range from £3500 to £5000 for a 350 in roadgoing condition with an MoT. Here are a few we found recently…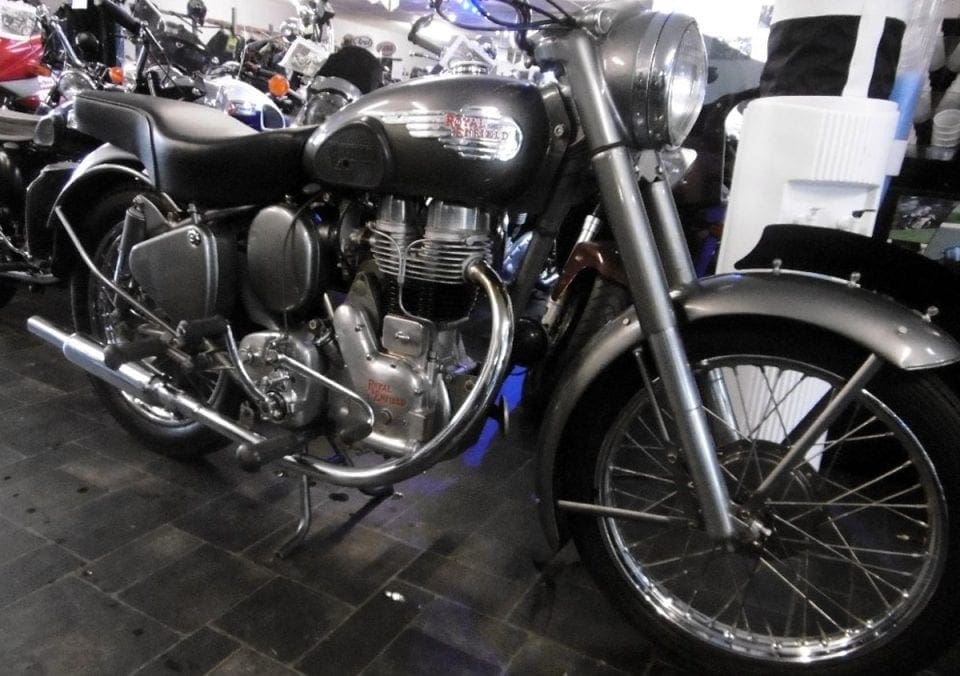 North Cornwall Motorcycles had a 1954 350 Bullet in stock this month. Fully restored with matching numbers and its old buff logbook. £4995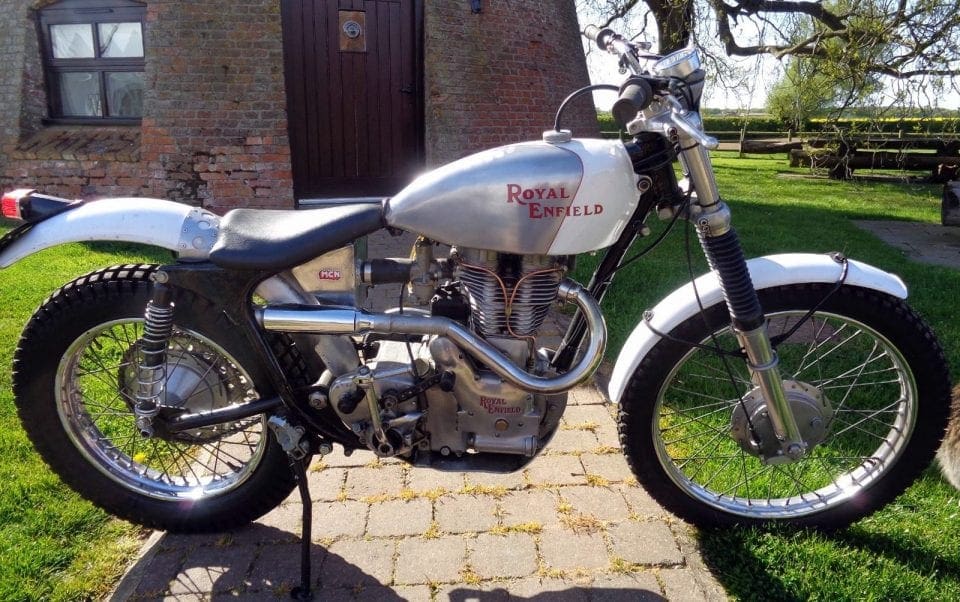 A PRE-65 trials 350 was listed on eBay from a private seller at £3950. Road registered, it's been painstakingly put together with frame mods and many special parts including wide ratio gears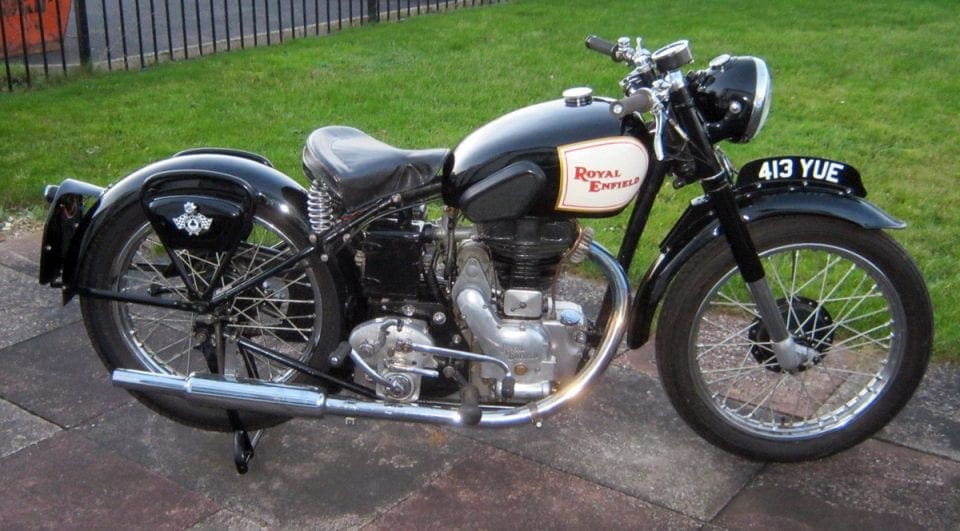 A private seller offered his 1949 350 for £4995 which is top-dollar for an older restoration which has been stored since 2012. It had a major service back then, but would need recommissioning before riding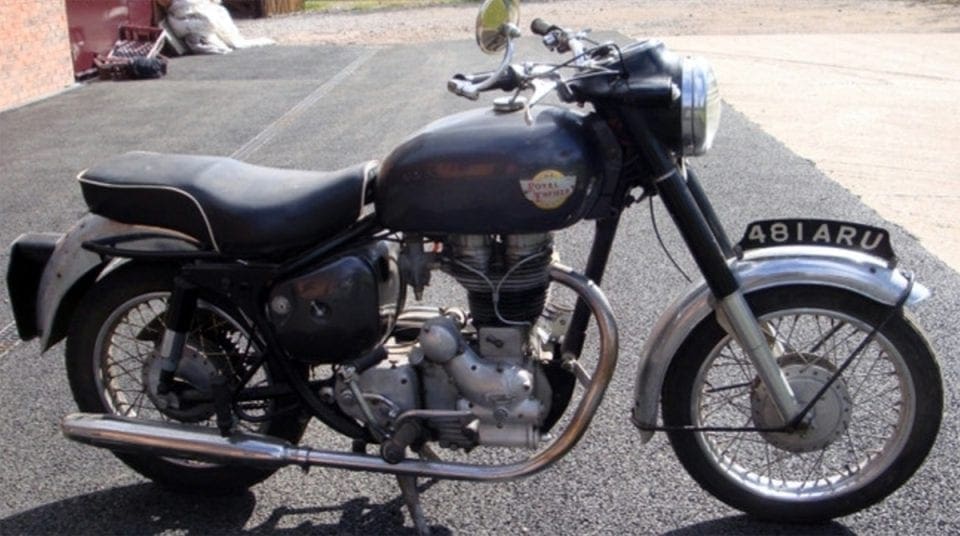 Hitchcocks Motorcycles repatriate a wide range of original Enfields. This 1961 350 is described as being 95% complete 'easy restore'. It was up for £2750
And if you'd like to learn more about the 350 Bullet, the full feature appears in RC158/June 2017 issue