RC's Continental correspondent takes a second stroll around the Bristol Classic MotorCycle Show at Shepton Mallet and discovers a nifty unit single, the ubiquitous Triumph twin, a distinctly non-standard Trident triple, a Royal Enfield ripe for restoration, a Panther single brought back from the brink – and an old friend from way back when…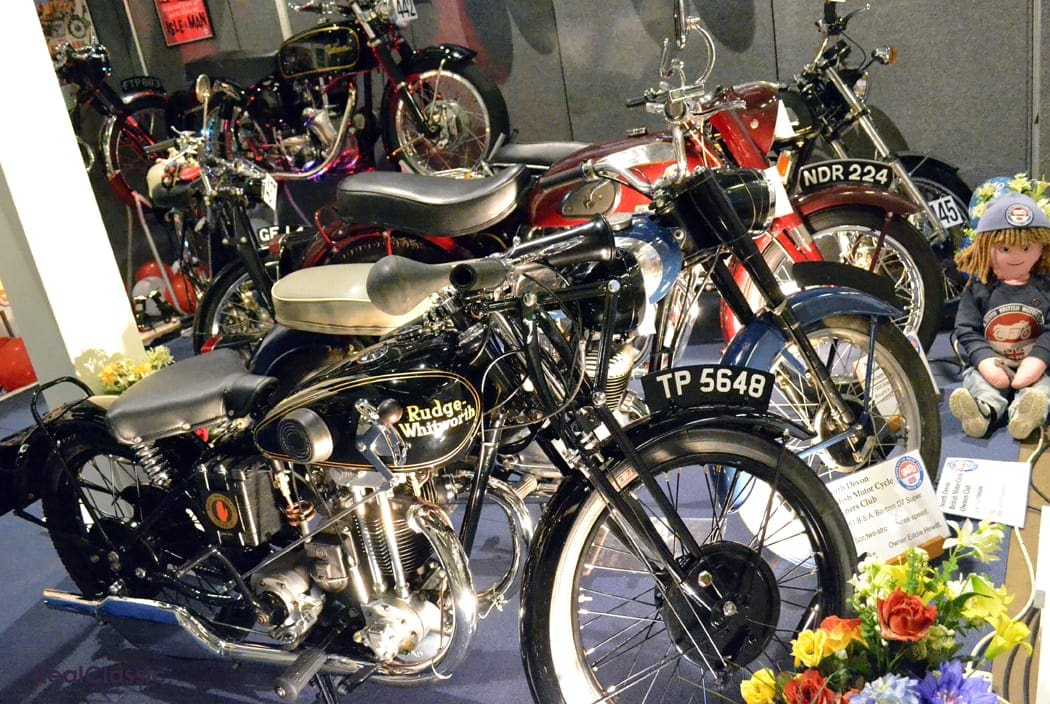 There's been a lot of interest in BSA's oil-in-frame unit singles recently, including editor FrankW's epic wrestling match with centrestand springs on Rowena's 250 (result was a win on points for Frank), and this Triumph variant was a treat to see.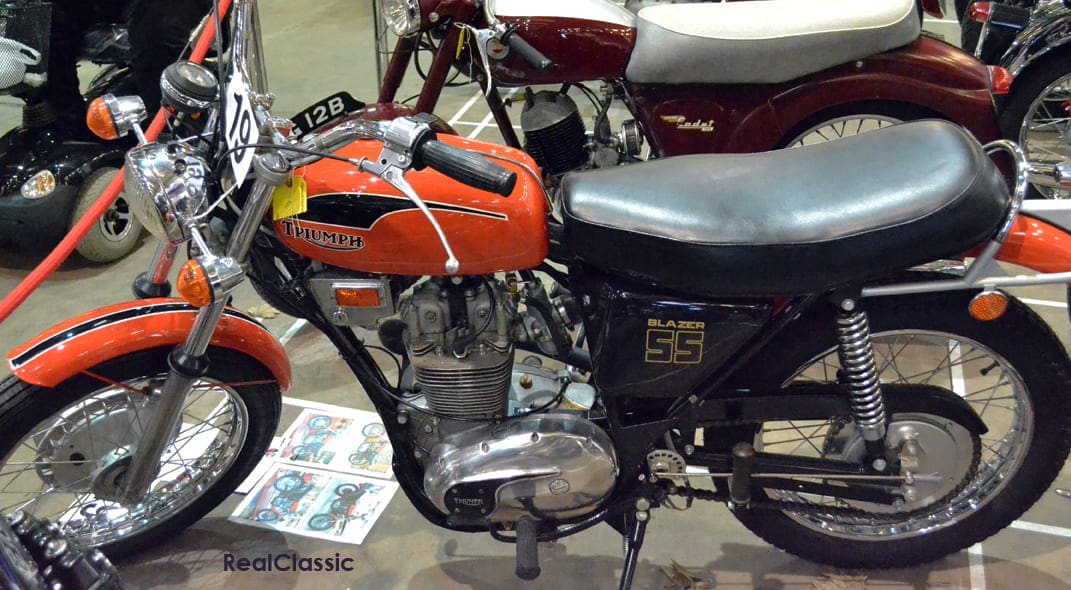 This T25SS is also in female ownership and JulieP has previously won a Best Classic award at Stafford with this off-roader. I like the small but necessary badge-engineered style differences in the sculpted primary chaincase, and the logo'd pushrod cover. But honestly, it's still a BSA, isn't it?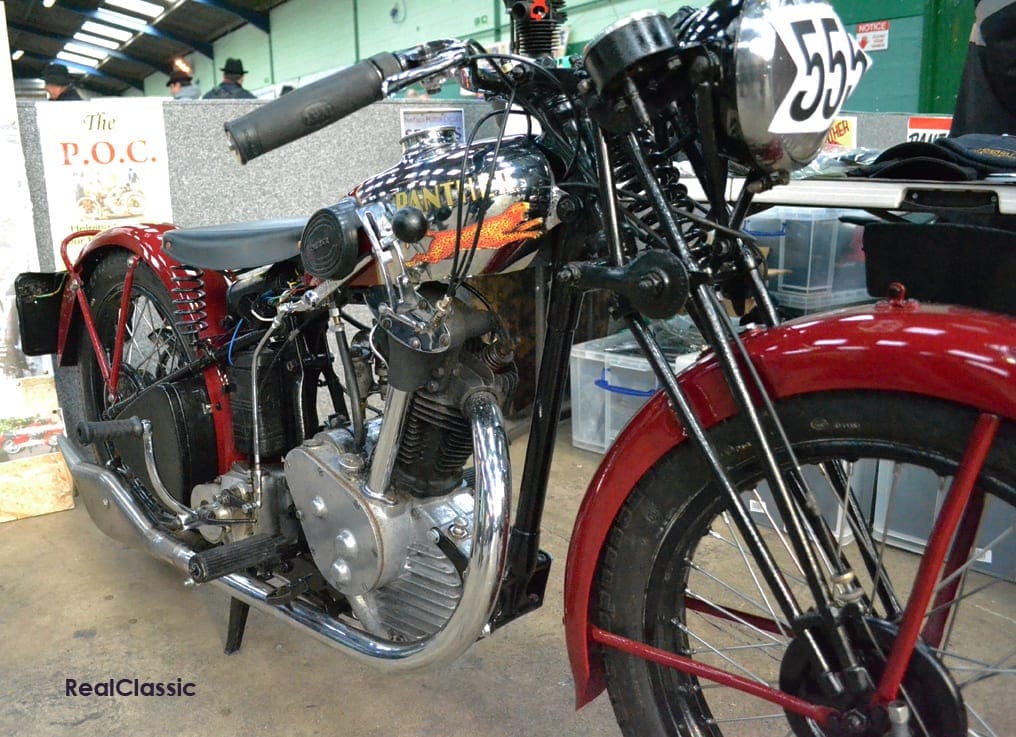 My own rebuilds seem to take forever, and it can be depressing to read of bikes bought as 'barn finds' (you must have a lot of barns in the UK) which then win awards six months later. Hats off to TonyH for rebuilding this 1934 Red Panther Model 10 deluxe, one of only two known to exist. Tony took the 250 from an exceedingly rusty relic to this, in under five months!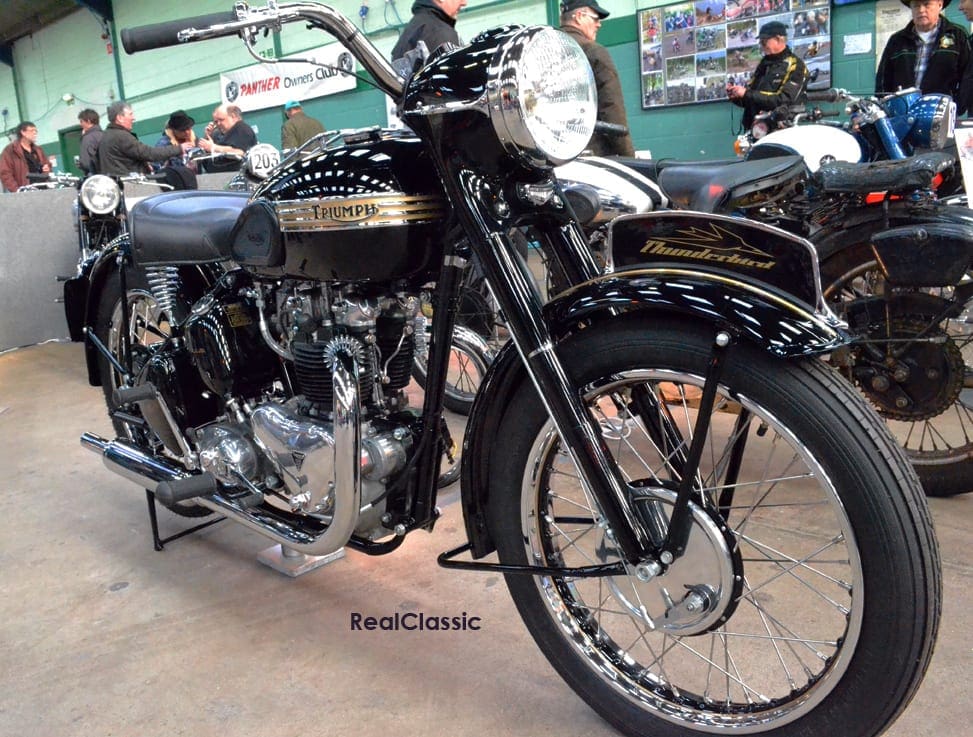 No show could ever be considered complete without a gleaming pre-unit Triumph rebuild, and this time I was taken by IanWs' 1952 'Blackbird' sprung-hub 650 twin. The 100-point restoration had black paint which gleamed like it was still wet! Ian credits Ace Classics for parts sourcing, allowing him to turn an incomplete autojumble project into an example worthy of a museum (or my shed…)
You don't see too much air-brush art-work on Bristol show bikes as a rule but, as ever, rules appear to exist to be broken. There were crowds around this bang-up-to-date take on Triumph's (OK; BSA's) triple.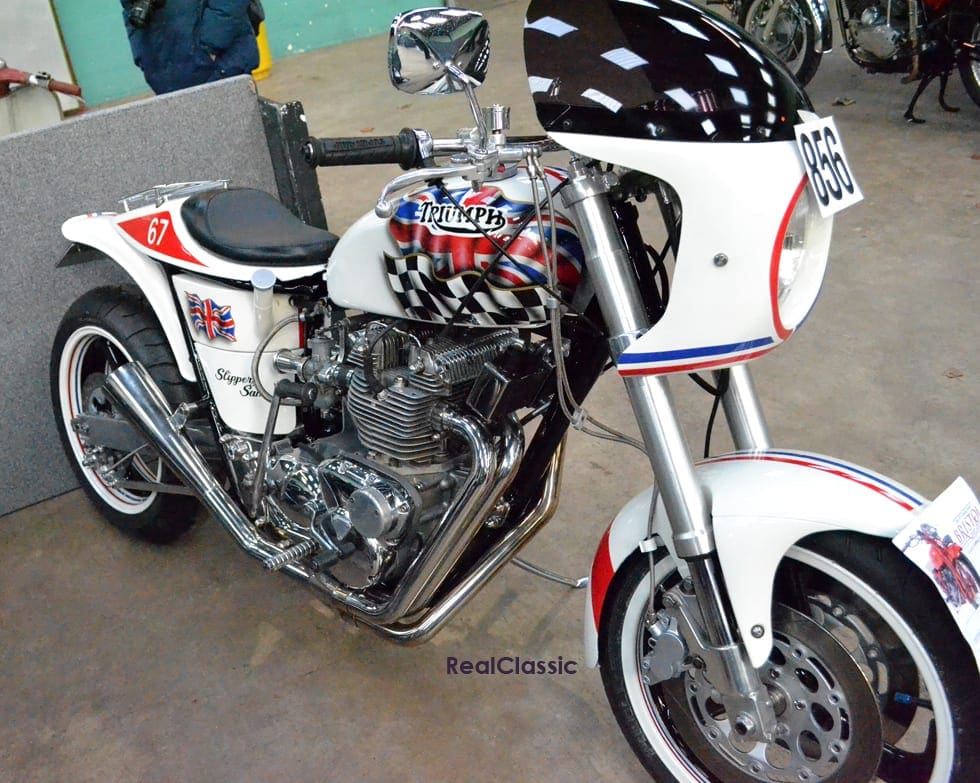 The T160-framed T150 motor looked entirely contemporary and bristled with neat engineering, such as the rear hydraulic line going not under, not over, but THROUGH the alloy mono-shock swinging fork. Attention to detail, eh? And the first prize for 'best alternative use for a Triumph tank grid goes to…'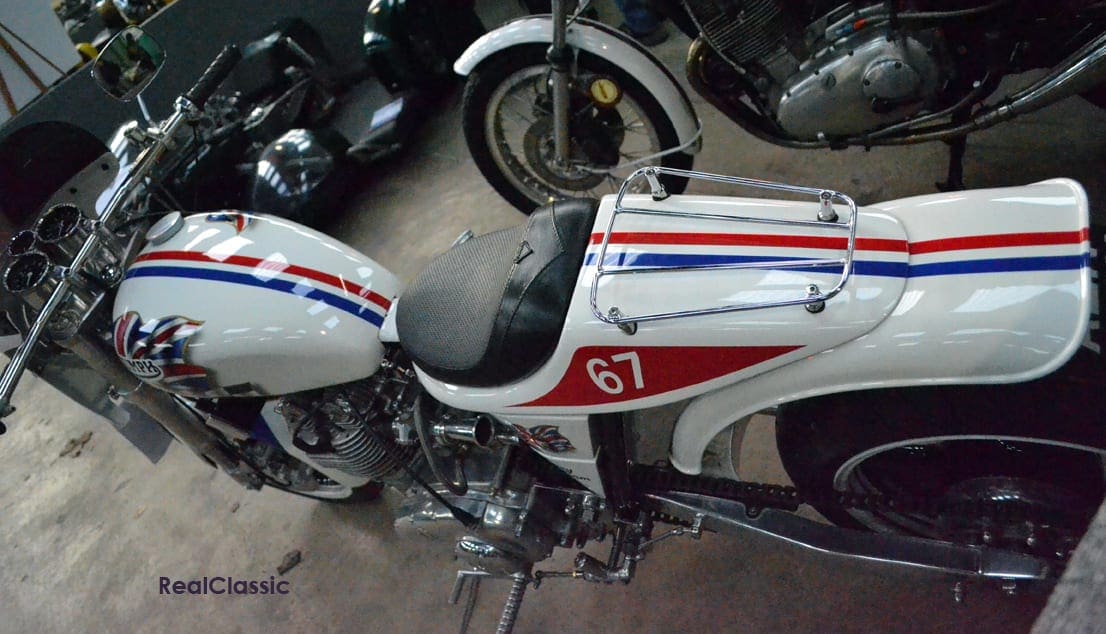 No Bristol show would be complete without an exhaustive tour of the outdoor auto jumble. When I arrived on the Friday, I fully understood why England is so green and I feared a washout – no trader would want to stand disconsolately watching soggy cardboard boxes of high-value spares, slowly dissolving into the marshy ground. Happily, by opening time Saturday, the sun was shining and price-conscious parts-sourcing became a reality. A wide range of complete machines was on offer, including a full-on Triumph chop straight from the 1970s and a rare Mk2 Royal Enfield Interceptor.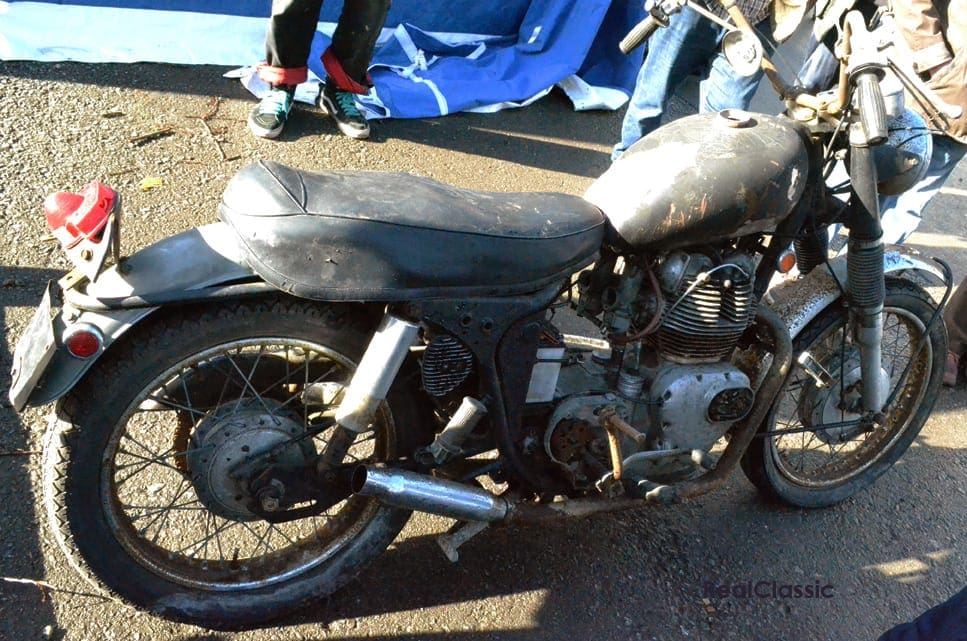 Looking very sorry for itself, and with a few missing parts, the Interceptor was on offer for £6000. It's funny what your money will or won't buy, because for £1000 more you could have had a fully-restored Nimbus in-line four (no use if you really wanted a 750 Interceptor).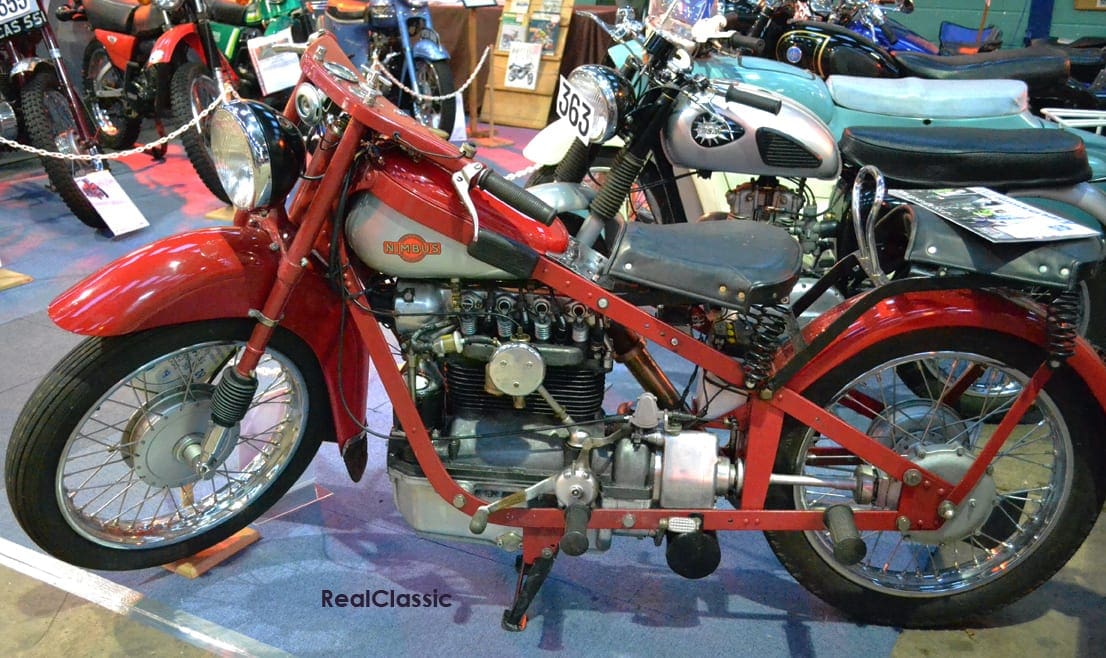 These late-model variants of Enfield's big twin seem set to become stratospherically expensive and, with the small US tank in chrome, I can see the appeal. I'd even put up with the 'don't rush me' gearbox.
Indoor trading was brisk. I managed to buy everything I planned to buy (lathe tools, footrest rubbers, bulbs, a seven-inch headlamp for my BSA 441 rebuild) and, as usual, stuff I didn't intend to buy.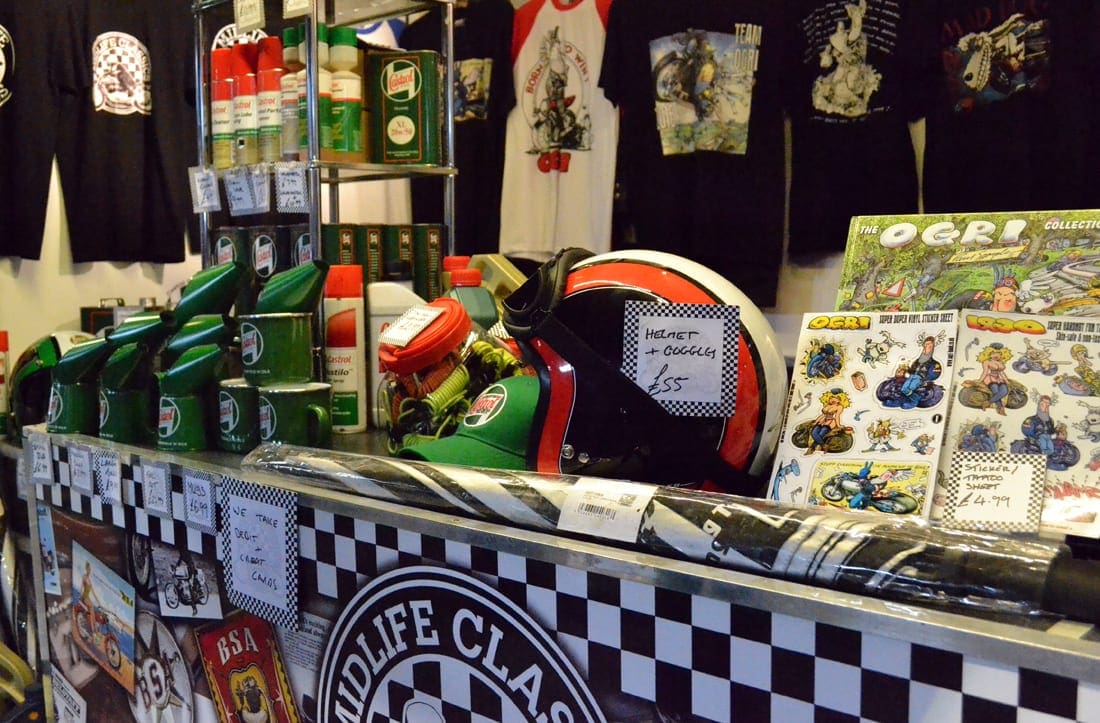 This year I kept it down to a Castrol-themed open face lid and a pair of rag bins which double as workshop stools. I also got to see first-hand the historic haggling ritual of head-butting the seller when you need a cheap chain…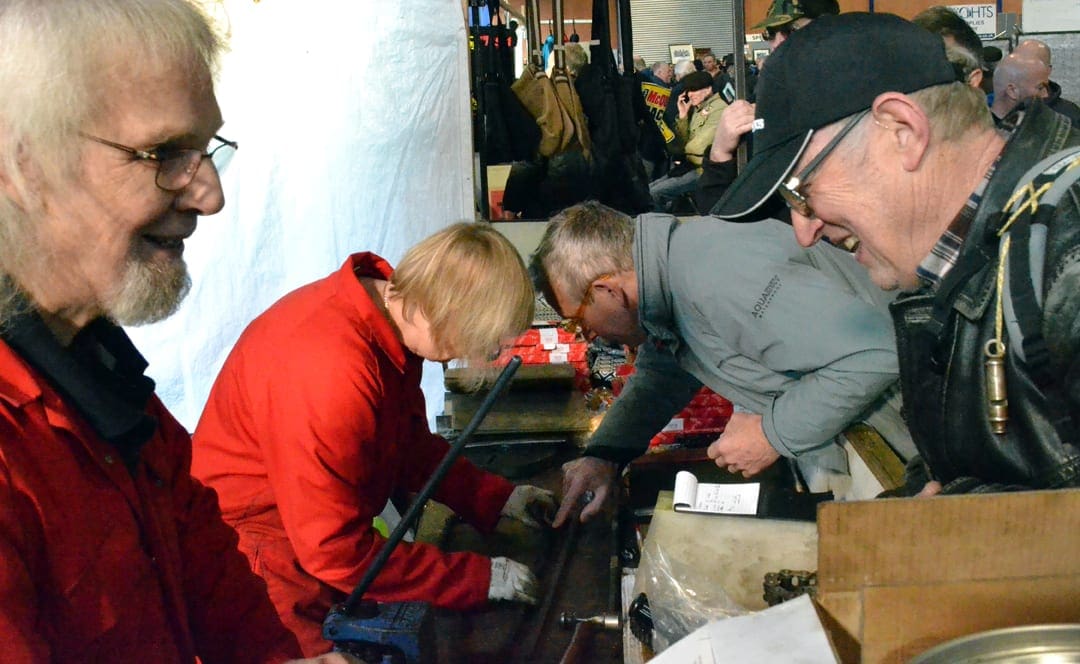 Last word: I also ran into my long-lost friend, star of the 1970's Ogri series. So I HAD to have a shirt…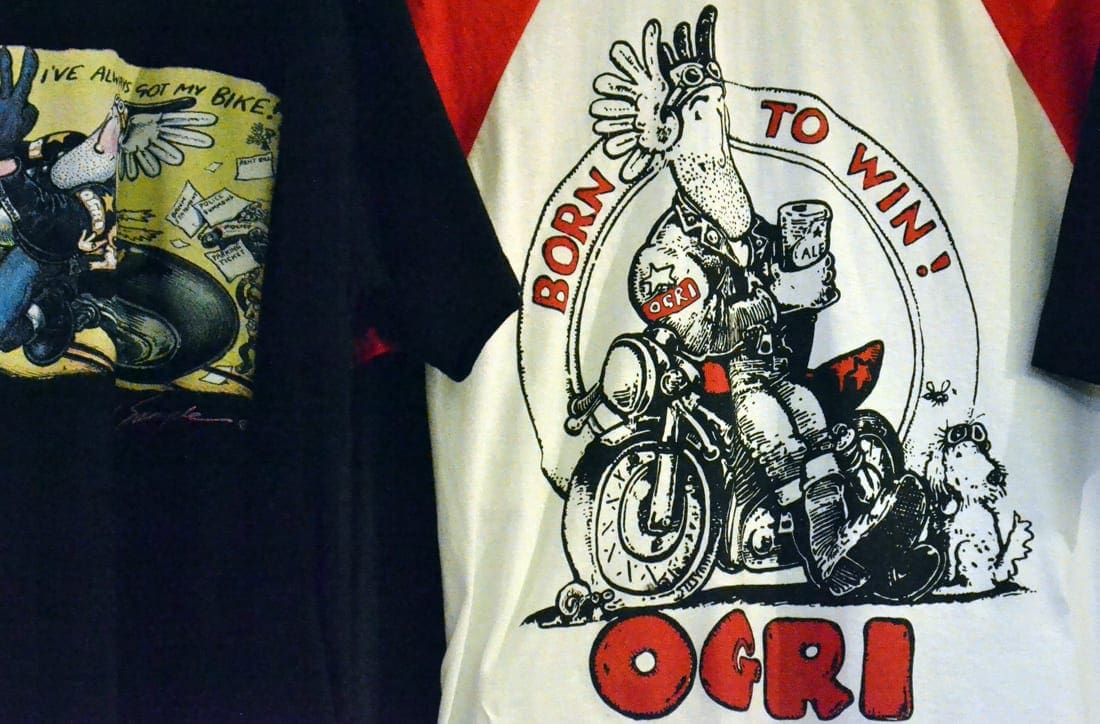 ——–
Words and photos by Morgan Rue
If you missed the first half of Morgan's report, you'll find it here
The next big classic bike show is the Carole Nash Classic MotorCycle Show at Stafford on 22nd and 23rd April 2017. See classicbikeshows.com