Back in 1938 all eyes were on Triumph's latest innovation, the stunning Speed Twin parallel twin. The marque's sporting singles had also been sprinkled with Edward Turner's stardust, and many heads were turned by the handsome Tigers. But most working men selected their regular rides from the 'De Luxe' end of the range; the long-lived, solid singles which could survive and even thrive during the daily grind. Once such sidevalve stalwart has been recently restored in Australia, and it's a real labour of love…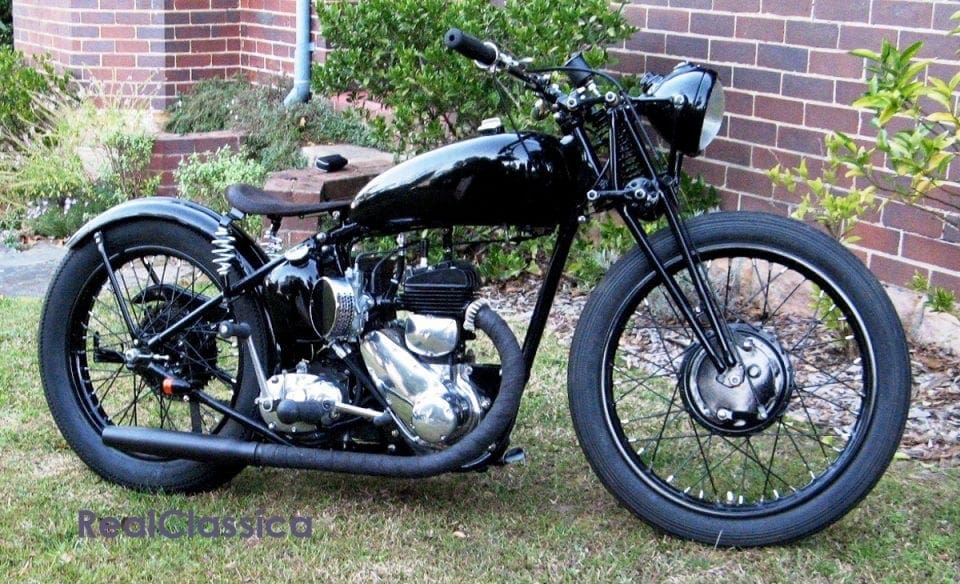 When Apostolis (we'll call him Toli from now on) began rebuilding the ragged remains of his 1938 Triumph 3SE, he was also working 80 or more hours a week. 'This resto was a bit of therapy from my stressful business,' he explains. The sidevalve Triumph was mostly complete when purchased but it hadn't been used for several decades – and most likely was last employed as a farm bike. 'The bike was owned by a two previous owners who never managed to restore her. The guy who sold it to me had too many other projects and his wife wanted a holiday, so the 3SE was sold to fund this holiday. Lucky me!'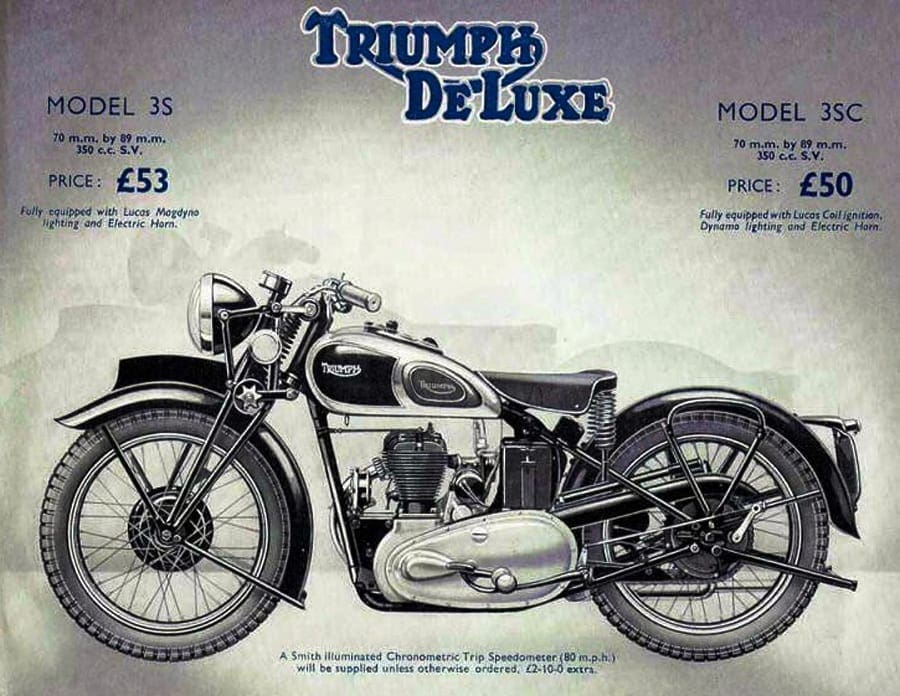 The 3SE isn't mentioned in most Triumph literature of the era – the model was added in 1938 specifically for the Australian market. So its model name is '3' for 350, 'S' for sidevalve and 'E' for export. The 3SE was stripped back to basics, given a plain black petrol tank and 'all features of doubtful value have been eliminated.' Apparently, even the instrument panel in the three-gallon petrol tank was considered 'of doubtful value'!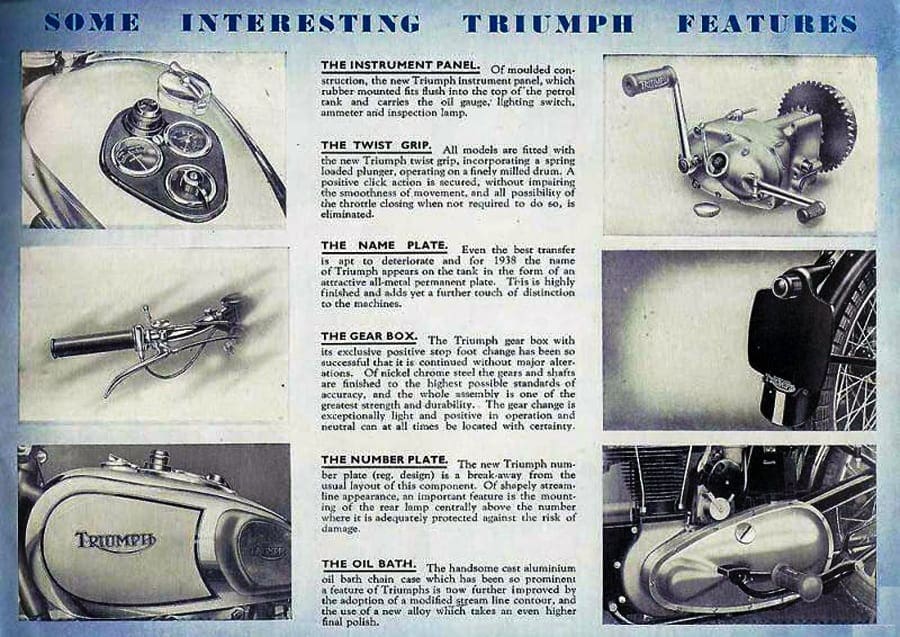 The 3SE was much like its home-market 3S counterpart, a low-cost, easy to maintain, durable Jack of all trades. The sidevalve 350s share the same engine dimensions as their better-known overhead valve counterpart, the 3H, at 70mm bore by 89mm stroke giving 349cc. So the 3S is relatively long stroke by modern standards but pretty typical of its time. The sidevalve singles ran gentle compression of 5.3:1 (kicking that over shouldn't be too arduous!), while the ohv version has a 6.7:1 piston. This difference translates to a whole lot more power; 17bhp at 5200rpm for the 3H compared to the sidevalve's somewhat sedate 12bhp at a slow-revving 4800rpm. The 3S certainly provided a relaxed ride…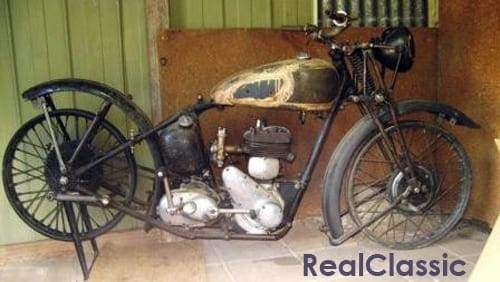 According to Triumph, the 3S was equipped with a combustion chamber 'of the latest non-pinking internal formation', dry sump lubrication and fully enclosed valve gear, with Triumph's double-plunger oil pump that supplied lube to the double roller-bearing big end. Multiple cork clutch plates carried power to Triumph's own four-speed positive-stop gearbox which offered 'low', second, third and 'top' ratios. Both the primary and final drive were transmitted by chain; the former running in a 'handsome cast aluminium oil bath case of streamline design with accessible filler and drain plugs.'
The powerplant fitted into the firm's standard single downtube frame which they claim offered 'great strength and torsional stiffness with low weight.' It certainly gave a low saddle height of just 27 inches, which should suit even the smallest rider. The 350s were stopped by seven-inch drum brakes at either end; the more sporty ohv machine shared the same brakes as the sidevalve, with front-brake 'finger adjusters' accessible from the saddle. The 3S came with 26-inch wheels fitted with Dunlop Universal tyres. Fully equipped, the 3S weighed just 320lb.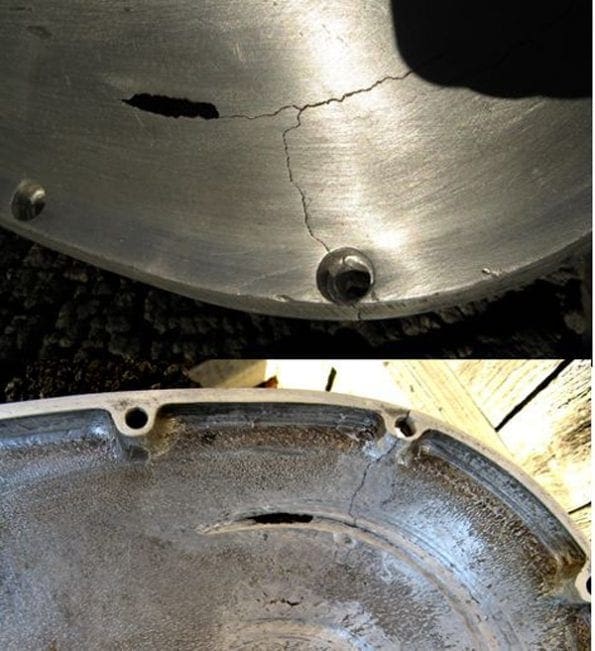 In 1938 the 3H was listed at £56, while the least expensive sidevalve equivalent was 10% less at £50. Lucas coil ignition and dynamo lighting were the cheapest options offered as the 3SC; if you wanted a magdyno then you had to pay £3 for the privilege on the 3S, but both types came with an electric horn as standard while a sidestand cost 10s extra. Very few coil / dynamo examples were actually sold, and even fewer survive to this day, making Toli's restoration rather more complicated than he initially expected.
Nearly 80 years later, finding any spares parts for these machines isn't easy – not helped by the Luftwaffe, of course, who knocked seven bells out of Triumph's Coventry factory in November 1940. Toli had other problems, too; 'the house I lived in at the time only had a small bike shed, just big enough for my 1978 café racer and my brother's 1957 Triumph T110. So the 3SE was assembled in my bedroom, as this was the only covered free space I had!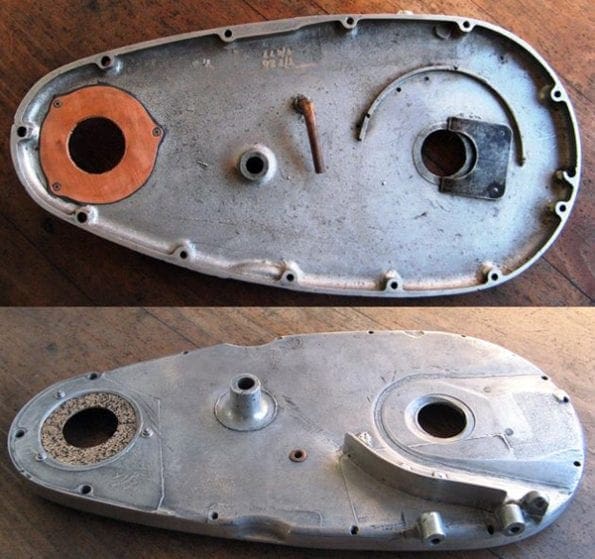 'I was lucky in sourcing NOS parts from British Only Austria and Cornucopia Enterprises. The bike was missing a piston, dynamo gear and dynamo cam, but was pretty complete despite being a bit banged up. I was lucky to find NOS Hepolite piston, valves and guides, crank pin, etc. The Vintage Bearing Company supplied some of the now obsolete bearings. Unfortunately I was unable to find a Lucas E3HB dynamo cam, which runs points which is connected to a coil to provide a spark to the plug.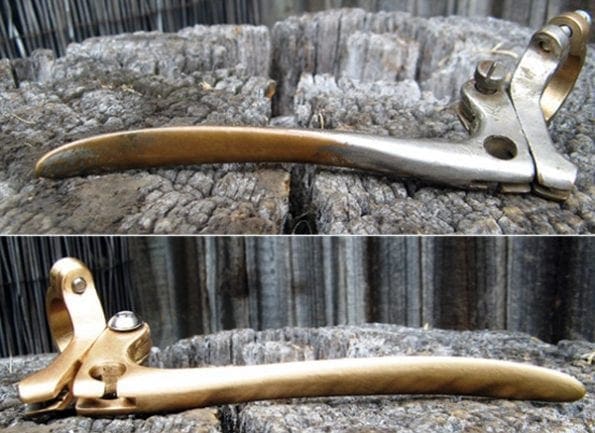 'As I wanted to use all the original parts, I rebuilt the dynamo which provides power for the lighting. I had to fit a Boyer crank-triggered electronic ignition system to provide the spark. This dynamo for this model is very rare and I came up empty-handed finding parts for it. I had to make / modify a timing pinion to run the dynamo as this required a 20-tooth gear which was missing.'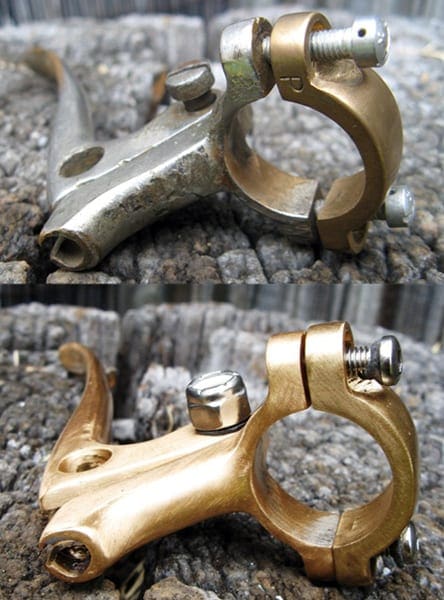 Toli has now moved to larger premises, complete with a spacious garage. Work on the 3SE is nearing completion – he's done all of it himself, including re-lacing the wheels, refurbishing the upholstery, everything mechanical and the paintwork.
'I just have to finish the front guard and mount the number plate off the back guard which requires a little welding, and the Triumph is ready for the road.'
We're looking forward to seeing it when it's finally finished – and hope Toli will let us know what it's like to ride once he's covered those vital shakedown miles and final fettling…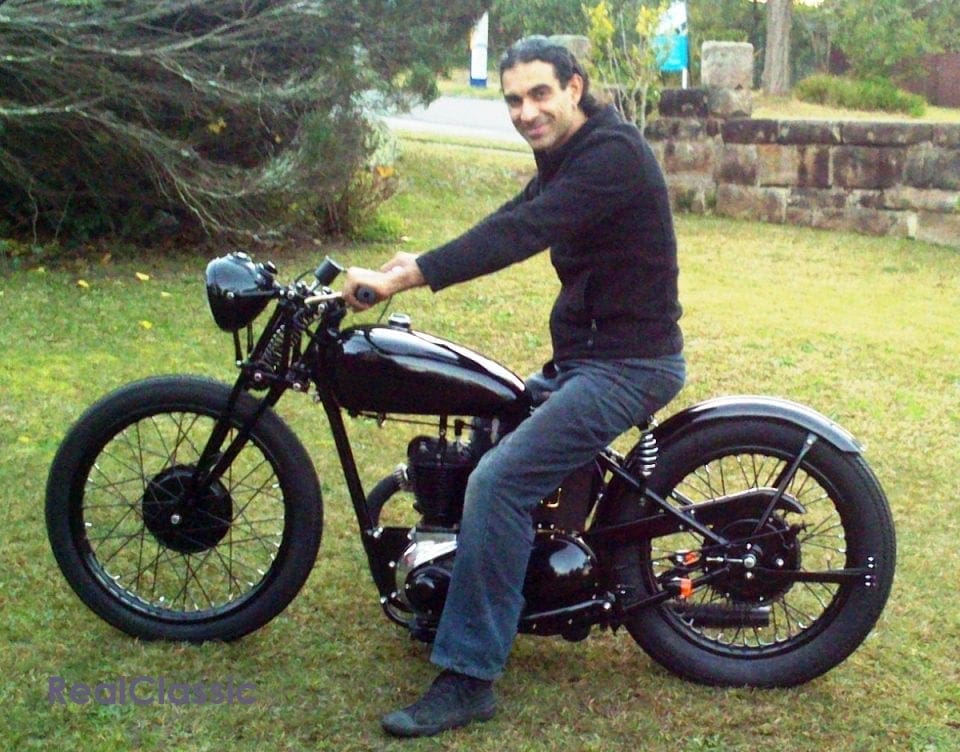 ——–
Photos by Apostolis / RC RChive
Words by Rowena Hoseason
Thanks! to Toli and Phil Packham for their help putting this article together