Earlier this summer we announced the opening of a bike-inspired café for the motorcycling community in Lancashire. RC regular Henry was wowed when he stopped for a coffee at the Brew 'n' Sprocket in Preesall. Now we hear more about this unusual venue from Gary, the man who started it all…
About 20 years ago, Gary moved from London to Lancashire and couldn't help noticing the lack of a dedicated space for two- and three-wheelers in his north-west neck of the woods. The are many rider-friendly venues down south, but none near him. And so an idea was born… one which wouldn't go away. And as time went by, so Gary began to understand the north-west's historically strong connections with the motorcycling community. Think Garstang and Scorton for a starter!
'The depth and diversity of north-west born riders is probably the strongest that the UK has,' says Gary (although we suspect you might have your own opinion on the subject!) 'This led to thinking more seriously to try and create a bikers' hub with a warm, welcoming themed space: by bikers, for bikers.
'The name came easily. "Brew" because we all love a good brew, and "Sprocket", well, why not? It just worked. It has also allowed us to create Sprocky, our logo.'
The premises came purely by chance, when Gary discovered one of his business neighbours was retiring and closing their business.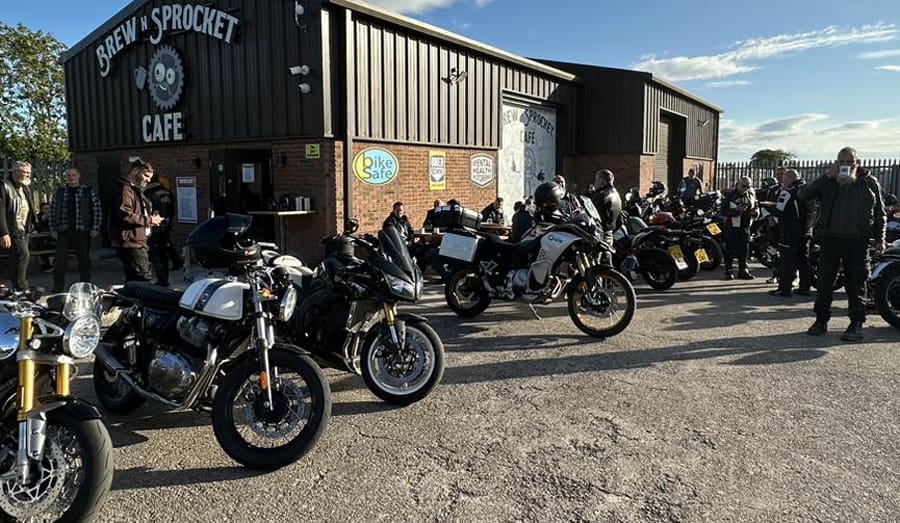 'The rest was easy,' he says, 'because the idea of how it would look had been developing years. The only problem was conveying the vision to our build team, but we got there and it's pretty much spot on the original idea.
'The café is the enticement to draw you in, but the hub itself needs time to develop into a meeting place, a safe place, a place of knowledge and training. At Brew 'n' Sprocket we are achieving this by staying manufacturer neutral and allowing all manufacturers to enjoy the facility – and even take it over for launch events, etc.
'The real partnerships are being forged with organisations that are committed to look after our biking community, keeping you safe, trained and giving back to the community and even looking after our mental well-being. These current partners are Mental Health Motorbike, Bike Safe, Biker Down, North West Marshalls, Lancaster Blood Bikes, and Practical Bikes Motorcycle Training.
'It's now over to you, the biking community, to help us grow into a special place. Come along on any Wednesday evening throughout the year for our Bike Night, or our Open Day Weekend full of manufacturers, partners and the odd celebrity on 23rd and 24th September 2023.'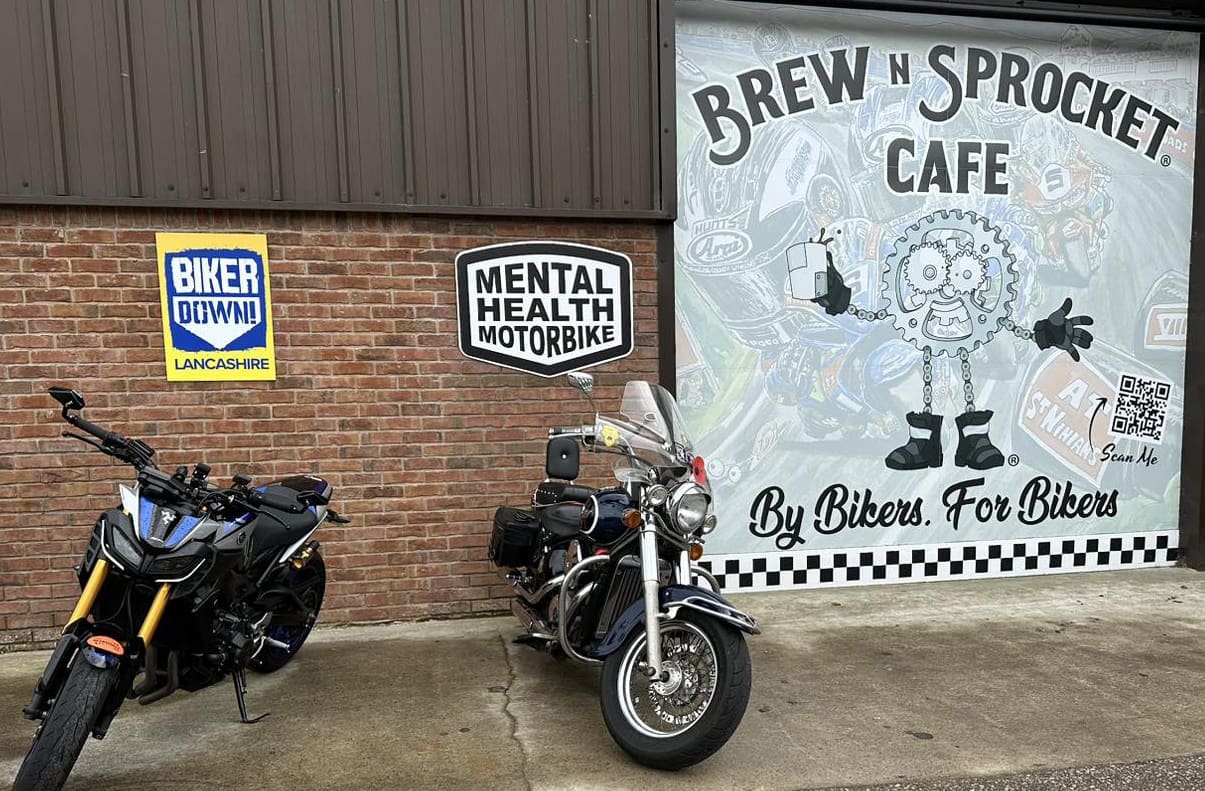 As our roving reporter can confirm, it's worth taking a ride on the A588 near Blackpool to enjoy that the Brew 'n' Sprocket has to offer. 'The menu is extensive and all food is chef-cooked,' said Henry after his visit, 'and the staff are cheerful and friendly. The café interior is tastefully decorated with motorcycle-themed murals. It's on two levels: the ground floor has a take-away type counter while upstairs has seating for dining-in with two TV screens to watch racing.'
You'll find the Brew 'n' Sprocket in The Old Coal Yard on the A588, Preesall, FY6 0PJ.
———-
Photos by Dave Martin / Brew & Sprocket
---
Advert

Enjoy more RealClassic reading in the monthly magazine. Click here to subscribe.
---