What a week I've just had, says Derek Manders, in god's own county, taking part in the VMCC Scarborough Touring Week for the eighth time. You would have thought that I would have had enough of riding in the same area year after year: no chance. North Yorkshire is like a drug, I'm hooked and need my annual fix. I've done seven official events – it would have been more but the schedule was disrupted in 2020 and 2021.
In 2021 we were having withdrawal symptoms so our small group of six regulars decided to have our own Scarborough week. It would appear that we weren't the only ones! There were quite a few other regulars doing the same thing, Tony, Helen and Ken being three of them.
That was when Tony decided to take on the mantle of organiser, with his first event in 2022. Previously the touring week was run for vintage / classic bikes in keeping with the VMCC 25 year rule, but he opened up the event to riders of any bike. That enables riders who are starting to feel their age and who now ride lighter, modern machines to enjoy the pleasure of riding with like-minded souls in lovely surroundings. It also encourages younger members to sample the delights of the VMCC in the hope that they might develop an interest in old bikes.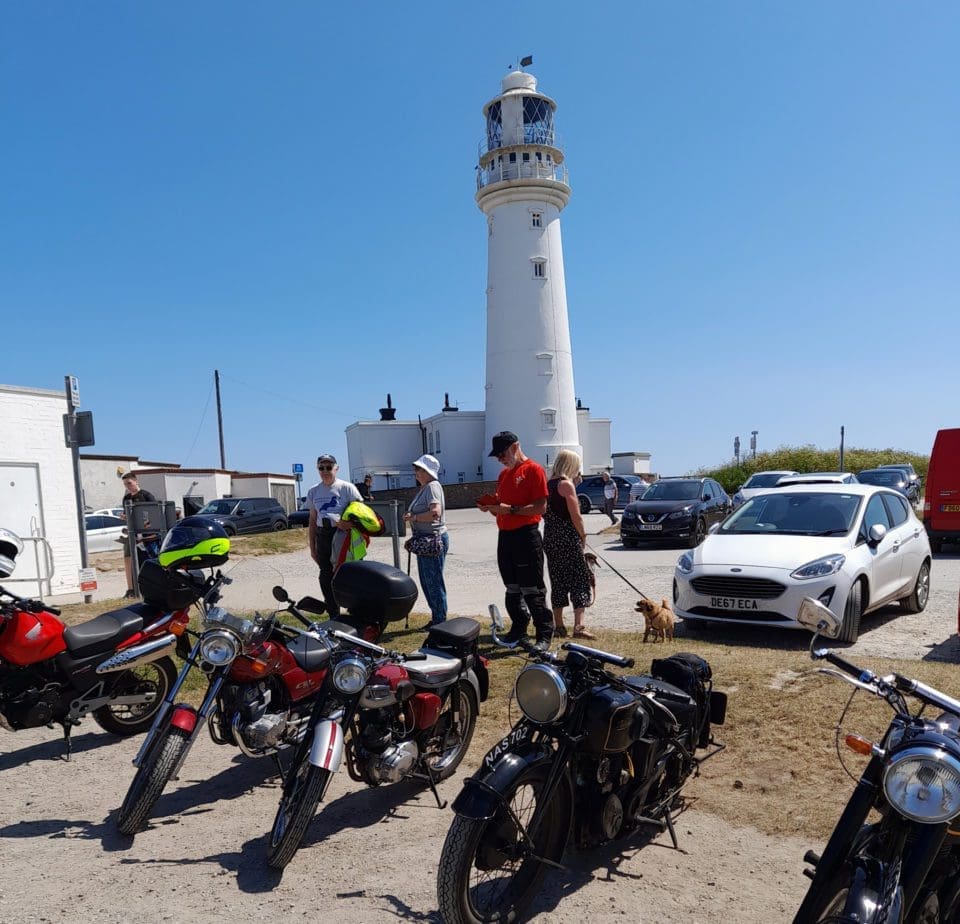 When Tony took on his new role, Helen and Ken offered their services as route checkers and printers. They check and update the routes used over the last few years — between 12 to 15 different routes, so we don't have to use the same ones every year. One, however, is a must-do each year, the Ultimate Hill Run, my favourite. In fact I've been known to ride up from home on my Honda CB500X, do a variation of this run and ride home again – a round trip of almost 300 miles in a day!
For 2023, Helen gave out fifty packs of route sheets containing nine different routes. These ranged from 47 miles to 101 miles, so there were plenty of options to choose from. There were also some riders who chose to follow a leader. In all, more than sixty took part in the event. Most stayed the whole week while others just did a few days.
I much prefer to have a route sheet. In fact I usually lead our little group. I can then control the pace, usually 40mph where possible. Any faster than that and you tend to miss too much of the scenery: plus you fail to spot the pot holes! Not good on a 1939 Velo MSS with girder forks…
As I said, my highlight is always the Ultimate Hill Run. This includes the ascent of Rosedale Chimney Bank, a maximum gradient of 1 in 3. It shares the title of steepest road in England with the Hardknott Pass in the Lake District. One of our group, Geoff, managed his first successful ascent this year. His Velocette Viper suffered two refusals in previous years.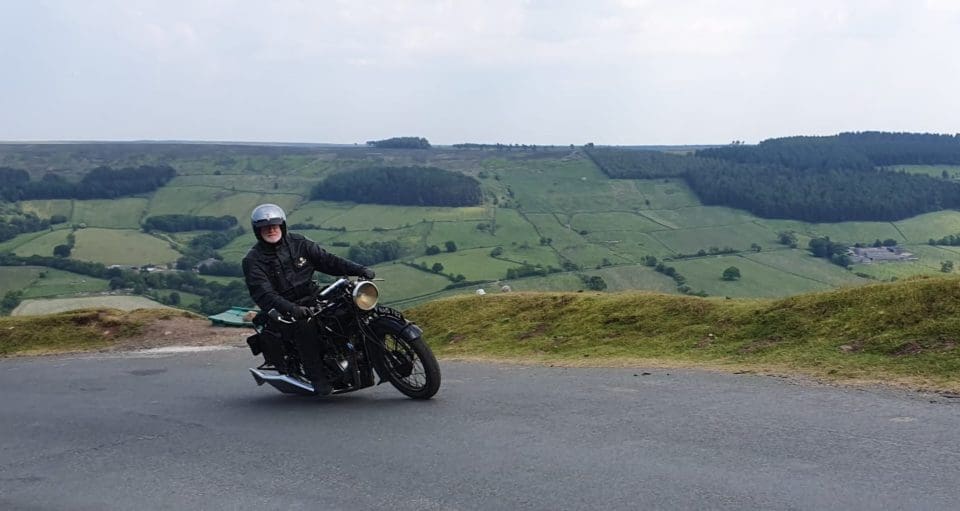 Two things stand out for me on this run. One, the wonderful scenery on the after lunch section which takes in Westerdale, Castleton, Lealholm, Glaisdale, Egton Bridge Grosmont, Littlebeck, Harwood dale and Forge Valley. Two, the lunch stop at the Feversham Arms in Church Houses, Farndale. My favourite pub! Lovely food and a warm welcome guaranteed. Accommodation is also available, en-suite, self-catering cottage or camping in a close-by field. Very tempting!
For this year, Tony had arranged for a group visit to the Craven Collection in Stockton on the Forest. It normally only opens one Sunday each month in the season, but they opened up especially for us. Lots of interesting bikes to drool over; not over-polished museum exhibits but bikes that look like they are used. In fact some are used by film and television companies for shows like Heartbeat.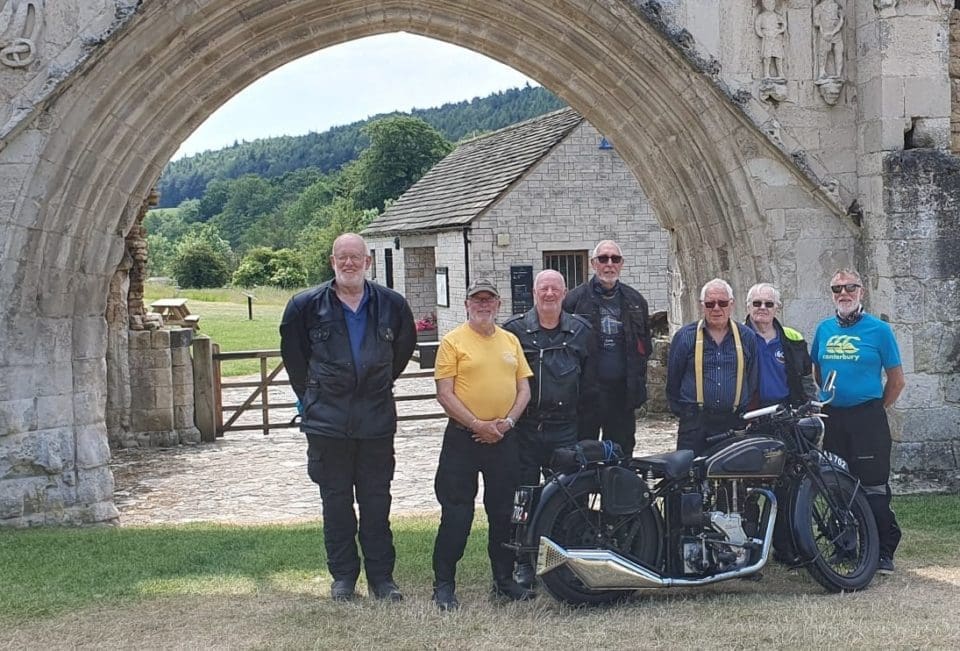 The ride over to Stockton on the Forest took us off the beaten track, through villages like Wykeham, Helperthorpe, West Lutton, North Grimston and Birdsall. We stopped at Kirkham Priory to take photos. From here its down through Crambe, Howsham, Harton, Claxton, Sand Hutton and on to Stockton.
The route back to base was another good one, Buttercrambe, Leavening, taking in the lovely village of Thixendale, after which at Fimber a slight detour to Seaways café for a cuppa, and an emergency repair to John's A10 clutch cable – the lever nipple was hanging on by a couple of strands of cable. Suitably refreshed we retrace our steps and head back to Fimber, then Sledmere, Lutton, Helperthorpe, Weaverthorpe, Butterwick, and on to Wold Newton, Forden, Flixton and back to Seamer.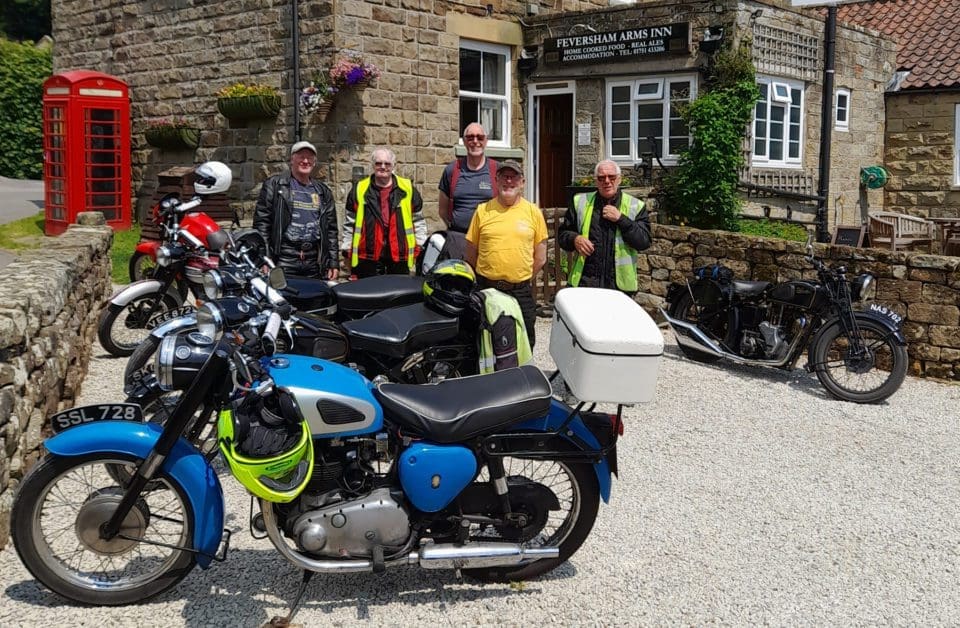 Another memorable run is the Helmsley one. It's 95 miles in total, taking in the villages of Yedingham, Great Habton, close by Castle Howard, Terrington, Dalby, and up to Helmsley where we park up in the market place for a lunch stop. Lunch eaten, we head off on 16 lovely miles through Carlton, over the moors to Gillamore and on to Hutton le Hole.
That's the home of the Rydale Folk Museum and a small selection of craft workshops, the best being (in my opinion) the chocolate maker! Liquid refreshment was had in the Crown adjacent the Museum, after which we head for Lastingham, Cropton, Newton on Rawcliffe and Pickering where we pick up the A170, past Matthewsons (of TV's Bangers & Cash fame) in Thornton le Dale and on to the ice cream parlour for a spot of quality control on the way back to base camp.
The rest of the week went much the same way with visits to Whitby, Goathland, Flamborough Head lighthouse; a ride through Dalby forest and Troutsdale. Quite a few of the runs took us through Thornton le Dale so we took the opportunity to do a bit more quality control testing at the ice cream parlour. Each time it passed with flying colours.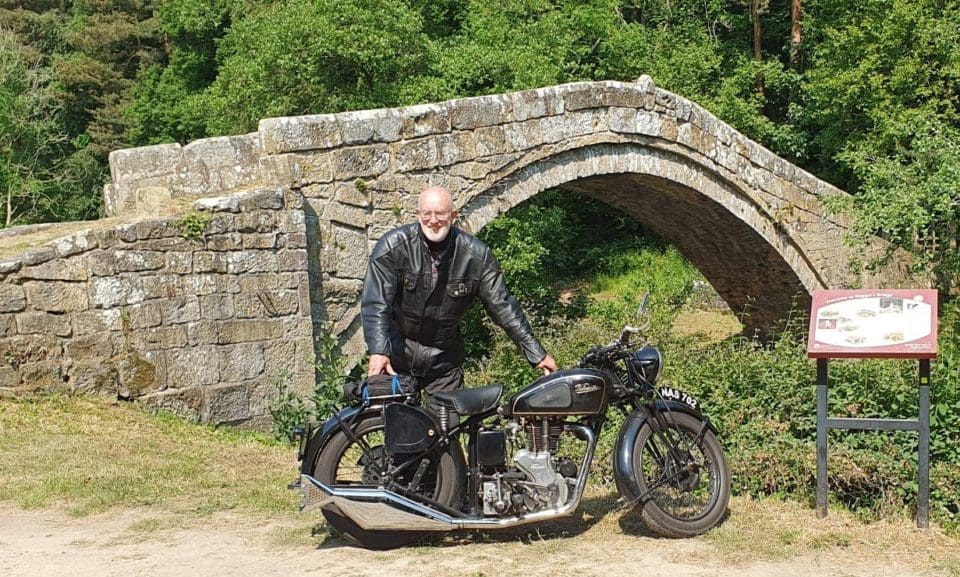 Over the week I clocked up just short of 600 miles, 600 enjoyable miles, all on my 1939 Velocette MSS. I did take my 1955 Velo MAC along as well just in case the MSS needed a rest but it wasn't required. I had only covered 120 miles on the MSS before taking it on its first Scarborough touring week, having bought it eighteen months previously. I have been fiddling and fettling it since then. There's still a bit of fine tweaking to do but I am very happy with it. I usually have two bikes with me each year, riding them alternately. This also means I have a spare bike to hand in case of a malfunction but so far all has been good.
All in all, the 2023 Scarborough Touring week was a great success, especially as we had wall-to-wall sunshine for the whole week. I can highly recommend the VMCC Scarborough Touring Week to anyone who fancies a great week in good company, riding old bikes in god's own county!
——-
NEXT YEAR'S touring week is scheduled to start on 8 June 2024. Contact Tony Cowley on 01302 884085 / [email protected] for further info
——-
Words and photos by Derek Manders
---
Advert

Enjoy more RealClassic reading in the monthly magazine. Click here to subscribe.
---