David Pearce had his heart set on a British lightweight four-stroke, and he was delighted to find a Triumph Terrier within his budget. But it did need a little bit of work before he could ride it…
I was one of those chaps who was well and truly messed up by the driving licence regulations change back at the end of 1971 , when the age for riding bikes up to 250cc was moved from 16 to 17. My August birthday meant I was the youngest teenager in the fifth year. All my older mates got 175 Hondas and Bantams in Sept/Oct 1971 when they reached 16 , but I had to wait until August 1972, by which time the only thing I could ride was my pathetic Raleigh RM6 and later Honda PC50 moped. Worse still, in August 1973, when 17 finally arrived those same mates had all sold the 750 Bonnies and Commandos and bought Minis, Imps and Escorts to impress the blondes.
50 years later, my interest in British social history of the 1950s gave me a great reason to finally own a bike from that period. I owned and regretfully sold a 1951 James Comet 98cc. I moved on to a 1962 D1 Bantam and started the quest to find the bike that ticked all my boxes. I was looking for a British 1950s, four-stroke lightweight with great manufacturer pedigree. Something a bit out of the ordinary and very rare: a 1955 Triumph Terrier T15 . In early 2022, one appeared on the Terrier and Cub website.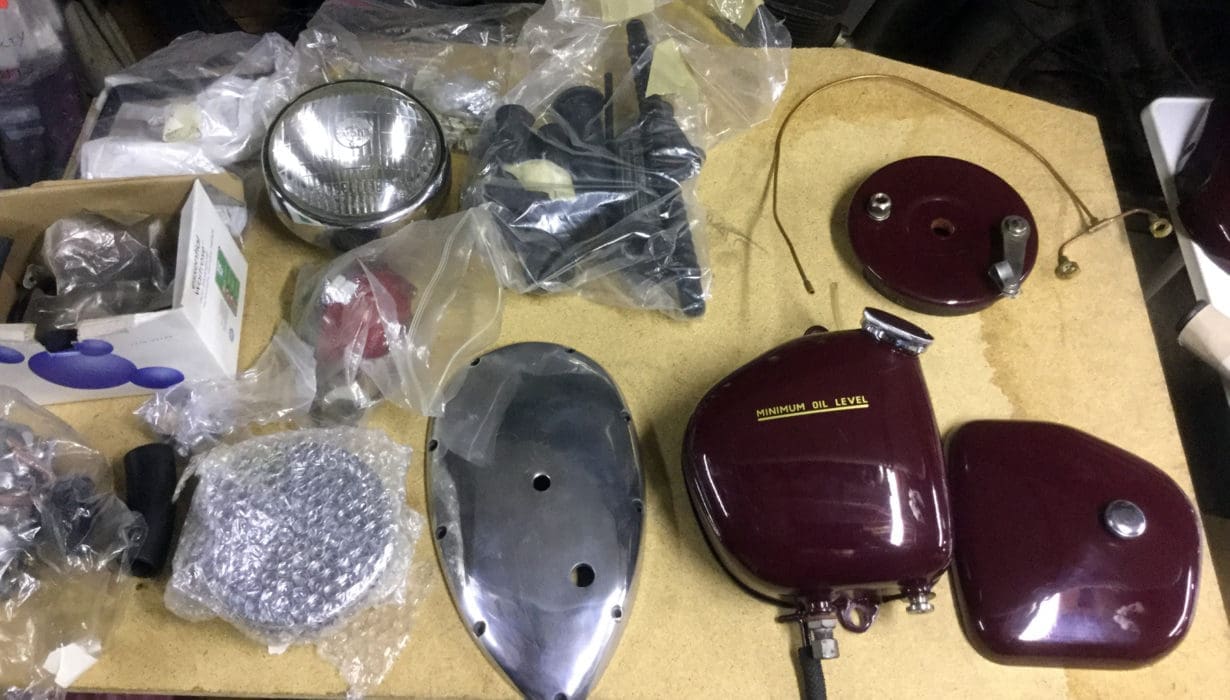 A club member was facilitating the sale for the previous owner's daughter, Caren, following the death of her father, Alan. The T15 had been bought from a dealer, George Ward of Barnsley, by Alan in June 1959 when he was 17. Alan became the second owner by paying a deposit of £18 and borrowing the remaining £58 10s to be repaid over 18 months with his father as guarantor.
The bike remained in Alan's ownership and was taken off the road in 2007 for restoration. From photos at that time it seems that the Triumph was far from being a worn-out wreck. It looked in pretty good condition. From his records, it seems that the restoration work was active for a couple of years and then there would be some months' gap, right through to 2019 when the last recorded work was done.
The advert showed a powder-coated frame with rebuilt engine, gearbox and rear wheel mounted, with some wiring and approx a dozen boxes of assorted new, restored, part-restored and old parts still to be reassembled. I arranged a visit to Alan's home where the Triumph and assorted other bikes were stored. What a fantastic building. It contained an old D1 Bantam, untouched for twenty years; a Suzuki 550 he was riding until just before he died, a whole garage full of tools, lathes, drills, parts, books and all the sort of stuff that is a must for any proper engineer.
It was very difficult for Caren, selling her dad's bike. I hope I handled our negotiations sensitively. We stayed in touch and I recently sent her a photo album of the completed bike.
With the price agreed, I collected the Triumph, loading all the boxes, frame and such into our campervan, and brought them home. I must now admit to having a very low skill level mechanically. I can wield a spanner whilst reading a Haynes manual but not much else, certainly nowhere near enough knowledge to consider putting the boxes of assorted bits back together. The general advice about rebuilding a project seemed to be:
>Don't buy a box of bits
>Don't believe the 'it was running when I took it off the road' story
>Don't assume that it's all there
>Don't assume it'll all just bolt back together
Basically just DON'T. Obviously all that sound advice was ignored. I did have the sense to ask the immensely talented Clive Rickman to tackle this box of bolts, wires, painted bits, etc, and complete Alan's rebuild. The biggest task for Clive was just sorting what I had bought, figuring out what was missing or didn't work, and understanding how much Alan had already done and what was left. What was the real condition of the engine, gearbox and forks?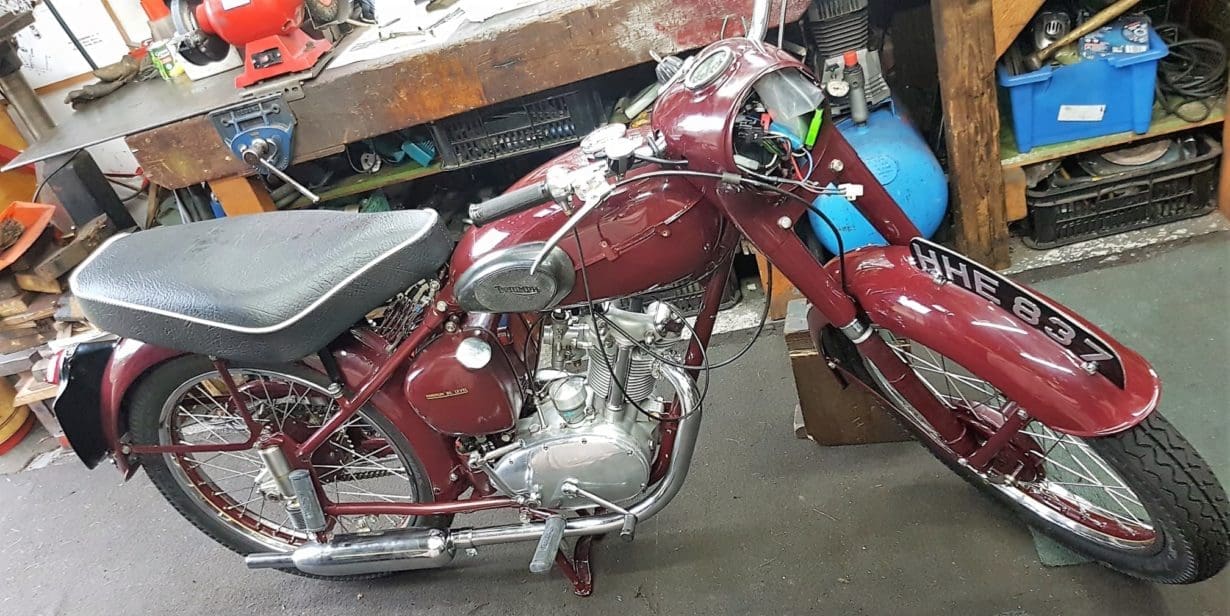 Clive painstakingly unpacked and sorted the boxes, ordered missing parts, rewired the bike and refitted all the new/original parts to complete the Terrier for an initial fire up. The engine had never been run in as far as we knew, so it was a very tense time. The engine fired, ran, had gears, and was able to start and stop. After a bit of fettling it went out for its first road run in 15 years .
I've now covered around 40 tentative miles. A number of minor issues have appeared, none particularly serious; muck in the tank and fuel system, some charging issues, a few loose bolts. The speedo manages a manic flick between 0 and 70mph, although the mileometer seems fine. The cable-driven gear indicator has a mind of its own. I intend to change the saddle to a single seat as I prefer the look, and maybe add a rack .
I'm hoping to get some miles on the bike over the summer and really want to do what this lovely machine was made for: riding. Thanks to everyone who helped to get the Terrier back on the road, but the real thanks must go to Alan himself. He did an amazing job of almost totally restoring it over 15 years.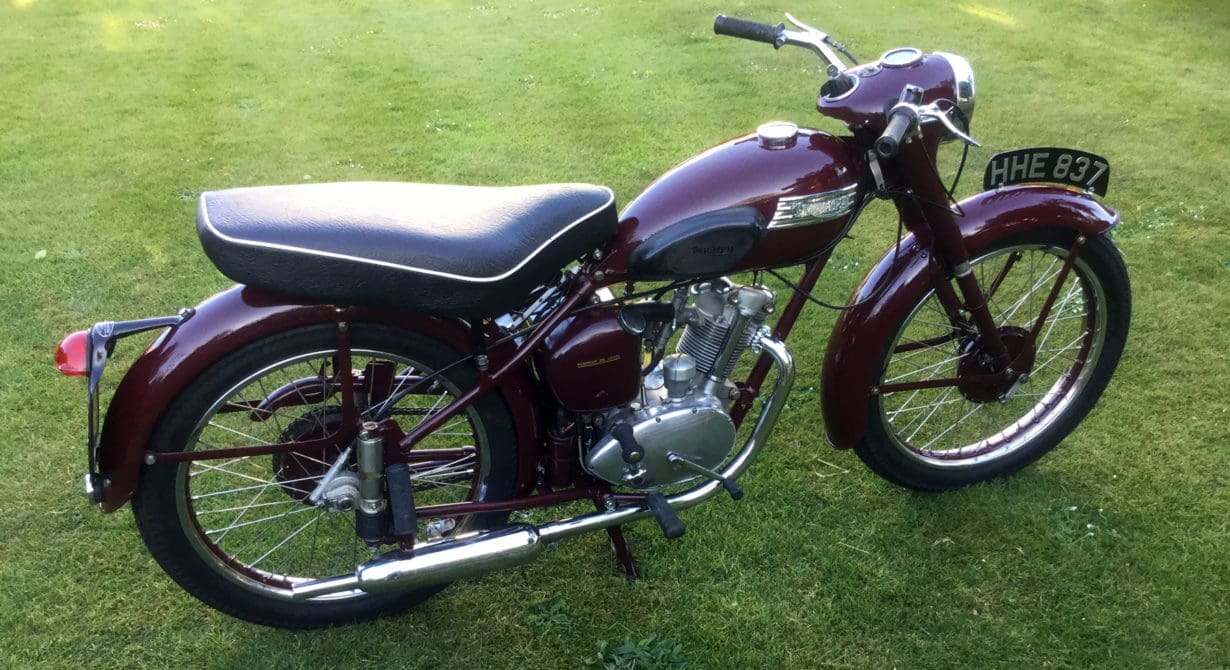 ---
Words and photos David Pearce
---
Advert

Enjoy more RealClassic reading in the monthly magazine. Click here to subscribe.
---