You might not expect to find an amazing array of outstanding motorcycles displayed at a club event in New Zealand. But Gordon Campbell discovered some truly ingenious examples of automotive engineering, alongside unusual iconic and classic motorcycles…
Three years between shows is a long time but the Hawkes Bay Classic Motorcycle Club's 'Evolution of the Motorcycle' show is always worth the wait. It was worse this time – like so many events, the pandemic meant the Total Lubricants-sponsored show had to be postponed for a year. When it finally happened, the club did a magnificent job.
It lived up to its name, with 180 motorcycles ranging from an 1880 steam-powered Roper to a brand new Indian Scout bobber and Ducati Panigale V2. In between, there was something for everyone – veteran, vintage, classic, modern, barn finds, perfect restorations, very cleverly engineered specials and more. One machine in particular suggested that at least one clever soul had too much time on his hands during the lockdown. It was a tiny tracked 'bike' that featured the tread of a car tyre as the track. According to the creator its engine produced around 5.5bhp for a top speed of 40kph, a figure that caused some wonderment.
Even more innovative was the Mad Boxer, a Subaru turbocharged dohc-powered bike that fairly bristled with clever engineering. It now has a new owner and the builder's latest creation was on display. Incomplete but well advanced, it is another example of his incredible engineering skills and fertile imagination. Like the Mad Boxer, it featured single-sided swinging arms front and rear, and many other clever details, all owner-designed and built. It's powered by one rotor from a Mazda 13B engine, suitably modified.
Another very clever homebuilt was the Ziodirog ZDR1K250R, an amazing looking and beautifully finished machine. More traditional but equally well-executed was a quartet of three Triumphs and a BSA, all modified with a flat-tracker theme, beautifully finished and bristling with clever details and a touch of the owner's quirky sense of humour. These bikes and others proved that Kiwi engineering skills are world class.
A stand-out bike for me was the alloy monococque Suzuki racer built by Steve Roberts of Whanganui, the self-described 'basher of tin' who is actually a master artisan normally applying his skills to priceless exotic cars. It appeals not only for its purposeful looks and engineering quality but also for its history in the hands of Dave Hiscock and Robert Holden in particular. However, that was just one of many impressive machines in that category, including a pair of beautifully restored 1917 and 1923 Henderson Fours.
Not to be forgotten were two replicas of Burt Munro's world's fastest Indian and a Vincent Black Shadow. With just 8500 miles on its odometer, this is reputedly the lowest-mileage, most original Vincent in the world* and its engine has never been apart. A different note was the same man's 'possum bike', an AJS he's owned for many years that receives one quirky addition each year and is now a rolling work of art. Completing his trifecta was one of my favourites, a delectable MV Agusta 350.
A tiny Norton engine in a bicycle and a mighty Magni MV Agusta four were also highlights in a show that contained so many visual treats. Regular walks through the motorcycle parking area were a must-do, where you were guaranteed to see something interesting. Back in the show there were a couple of ancient brands I'd never heard of and I had to wonder about the wisdom of the Radco company calling their latest machine the Faithless. Maybe it had a different meaning 100 years ago?
The star of the show, however, was undoubtedly the lovely and talented Avalon Biddle, our most successful female racer with several national championships to her credit. She happily gave time to the many fans over the two days and, proving that she's not lacking in courage, she donned a helmet and did several laps of the adjacent sports ground on a 1913 Rover race bike: a feat that's definitely not for the faint-hearted.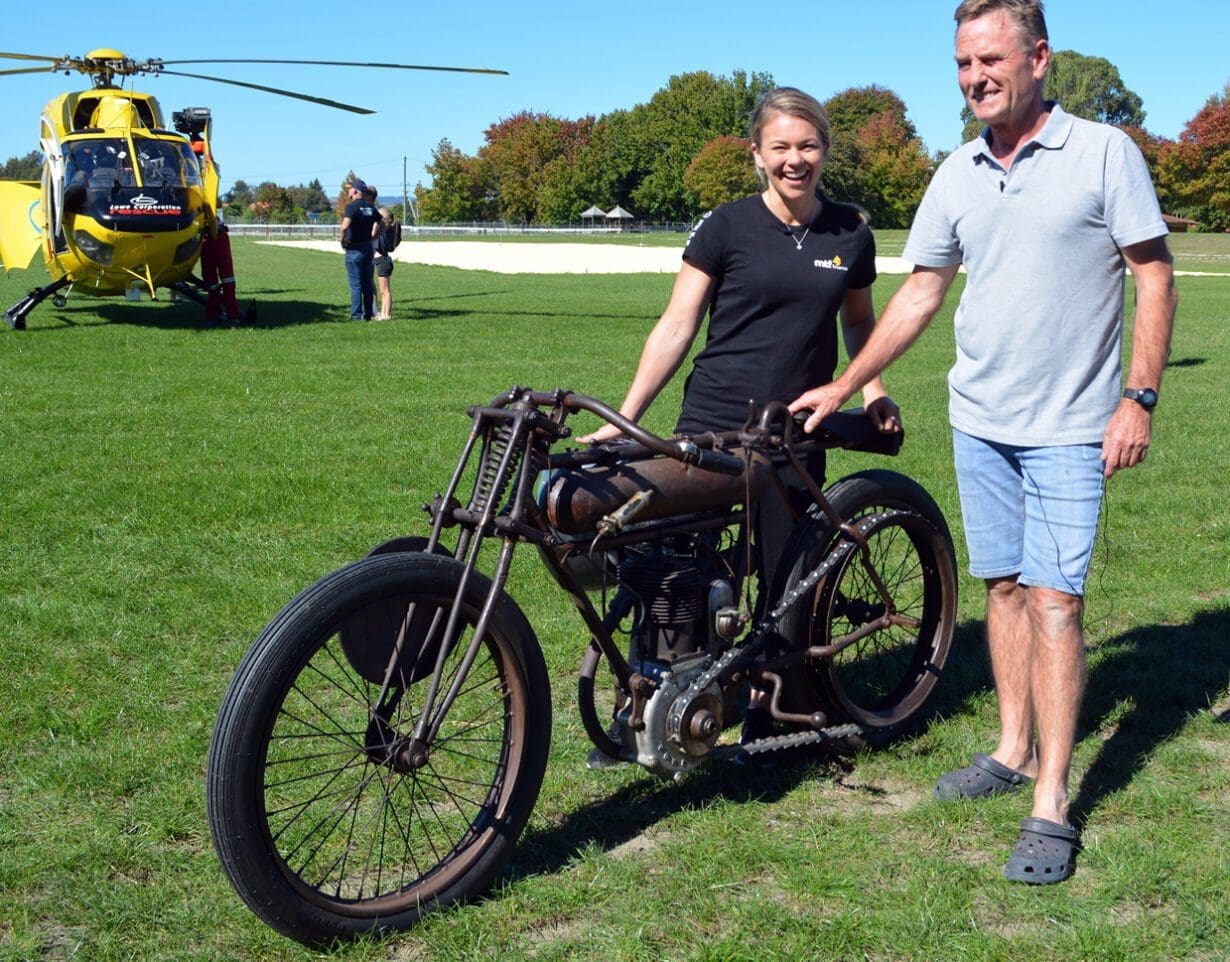 Avalon quickly looked at home on the old belt-drive board track racer that didn't offer such luxuries as brakes.
Another popular feature of the show was the lack of barriers around the exhibits. People were able to walk all around each bike and touch, and it's a credit to the visitors that this didn't appear to cause a problem at any stage, even if it required some bravery on the part of the owners.
There were bikes for sale and a swap meet section, and at least one seller reported brisk trading. A 1960s Benelli 250 four stroke that would have been a fairly easy restoration or tidy-up, complete with spares, was on offer for $1000 and sold within a few minutes of the show's opening.
All proceeds from the show were donated to the local Rescue Helicopter Trust and Hospice, so not only did it provide entertainment for around 3000 people over the two days, 25% up on the previous show, it also contributed several thousand dollars to worthwhile charities. The Hawkes Bay Classic Motorcycle Club could be proud of yet another successful show and would like to thank the many sponsors who made it possible.
——–
Words and photos by Gordon Campbell
——–
*that claim probably requires a 'citation needed' marker!
——–
Looking for more ShowStoppers? Check out for the April22 issue of the monthly magazine, which features some of the best bikes from this year's Bristol Classic Motorcycle Show
---
Advert

Enjoy more RealClassic reading in the monthly magazine. Click here to subscribe.
---