Do you need a good reason to fire up your old bike and go for a ride? Roy and Chris Workman have tackled the Round Britain Rally for nearly 20 years, and reckon it's the perfect excuse to explore the British Isles – on a schedule to suit yourself. Although many other rides, runs and rallies have fallen by the wayside in these troublesome times, the RBR is something you can accomplish all on your ownsome, with social distancing part of the package…
Hopefully next year we'll be able to ride our old bikes to shows and rallies once more. However, if conventional events are slow to get going again, you might like to consider taking part in the Round Britain Rally, aka the RBR. This starts on April 1st each year and ends on November 1st.  You can do as much or as little of the rally as you like; it's a very free and easy event. Many years ago the RBR was originally organised by Tim Stevens of the Norton Owners' Club and was very successful. It lapsed in the late 1970's during the fuel crisis, along with other similar events.
The rally was subsequently resurrected in 1993 by Tim and Dave Hancock. Chris and I read about it later that year and we contacted Dave to sign up. he suggested said that as the rally was already half-way through, it would be better to wait until the following year.
We therefore first took part in 1994, and we thoroughly enjoyed participating in this event for the next 18 years. Mainly we rode with a motorcycle and sidecar. We were awarded best outfit in 1994, 95, 99 and 2000. In 1998 I was running a BMW R100 outfit which eventually died, so out to the rescue came my MZ 250. I found that doing a similar mileage with the solo reduced the riding time taken on each trip by an hour or more.
The RBR is a bit like a treasure hunt but on a national scale. There are normally one or two landmarks to be located in each county. You need to find and then photograph your bike together with the landmark itself and a control card, which is changed each year. Each landmark is worth a number of points.
Don't expect the locals to know everything and make things easy for you. On one occasion we had to find a tower. That had to be easy, because it sticks up. Doesn't it? Well… we couldn't find it so we asked a local near the village church. 'I've lived here man and boy and I've never heard of it,' was his reply.
In cases like this you take a photo of your bike, the rally card and the name-plate of something nearby, like the local church / post-office / village nameplate, to prove that you had been there. The downside to this is that you lose a few points off the full score.
We have visited some wonderful pieces of engineering over the years of doing the rally. One landmark was the flight of locks at Foxton. It must take a canal boat quite a while to get through these! Another water-based themed landmark was the Anderton Boat Lift. We got there and spotted a canal boat serving snacks, so we decided to have a cuppa and a bun – the boat owners had only just started doing teas and snacks that day and we were their first paying customers! They told us that at some time in the future they would do canal trips and serve snacks as well.
Chris and I never got as far north as Scotland doing this rally because we only rode on Sundays while worked six days a week. Each year we would have one week's holiday doing RBR, during which we usually did all the landmarks in Wales. This was a favourite of ours because it is fairly quickly done and has great riding roads.
Overall we did well doing the rally and learned a lot of history and visited various interesting locations in the country. Some of the things that you are looking for are massive, like the Pontcysyllte aqueduct, or they can be quite small like a parish boundary stone buried in a hedge – quite a challenge to find. On one occasion in Cornwall, near Land's End, the landmark could be seen from a very steep road. I left the bike in bottom gear but this was not enough to hold the it, and the engine slowly turned over on compression. Chris, who was still in the sidecar, was not a very happy bunny and I had to be pretty quick in taking the photo!!
The rally ends on the 1st November and your photos and claim forms need to be submitted by then. However this is not the end of the rally because early in the New Year there is a presentation dinner, held somewhere central, at which the awards are given out for the number of points gained. Other awards may be presented at the organisers' discretion; Best British Bike, Best Outfit, Best Scooter, etc. To judge the awards, the organisers have to check a lot of photos. During the 2019 rally, more than 11,000 photos were inspected!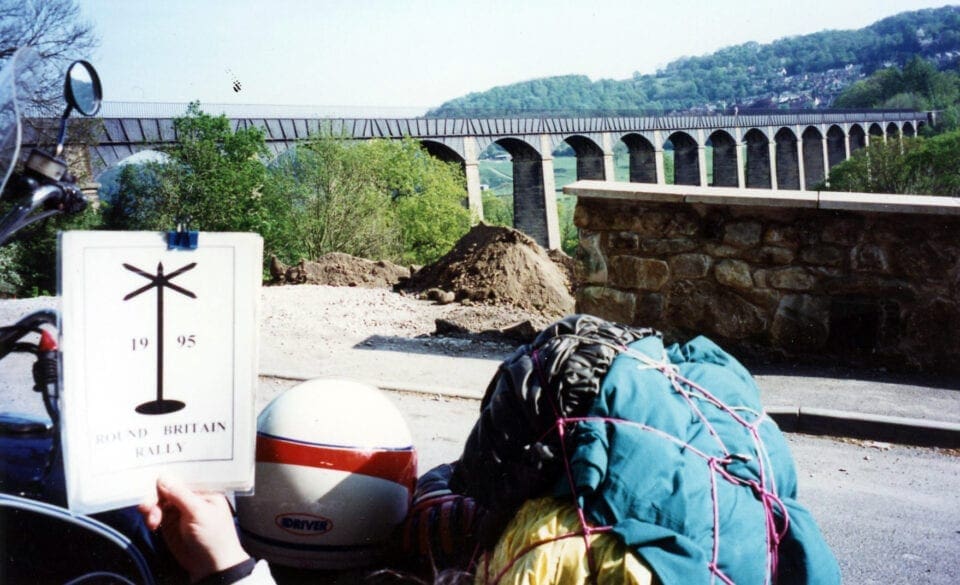 This is a great rally. You visit places that you would normally ride past, and go to locations you did not even know existed. You can do this in your own time, as and when you can. When normal events start again, you could do the RBR as well if you wished. The RBR gives you a reason to get your bike on the road. Chris and I thoroughly enjoyed our time with the rally. I did the riding and she was 'ballast and navigation' – looking in the various ditches and hedgerows for some of the landmarks!
Remember – you can do as many or as few landmarks as you wish. On those days when you just want to go for a ride it can give you somewhere interesting to head off to. Another bonus is the nice places that you find to have a pint or cuppa and something to eat. However – BEWARE! – this rally is really addictive.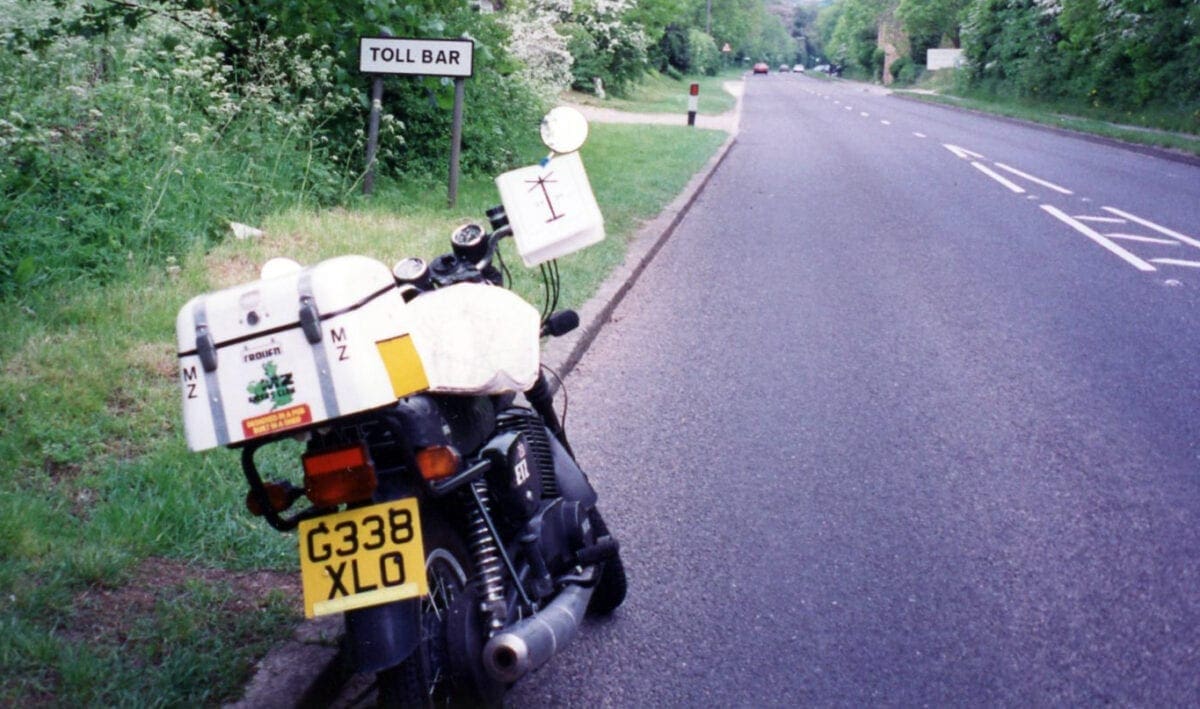 The RBR is open to all motorcyclists and drivers of sidecar outfits and three-wheeled vehicles of any age, including any historic registered vehicle. An entry typically costs around £40, and all the info is on the RBR site.
———
Words and photos by Roy and Chris Workman
---
Advert

Enjoy more RealClassic reading in the monthly magazine. Click here to subscribe.
---