The article in RC192 about the vintage ohc racer built by the Tinkler brothers in 1927 triggered memories for RC reader John Harrison. He recalls meeting Almond Tinkler in the late 1970s…
When I was lived in Liverpool, I worked as a boilermaker for Blackbull Engineering which occupied a workshop next to Langham Engineering. I rode a 1958 Triumph Thunderbird which I had for about seven years. My boss allowed me to use one of the store rooms when I had to do maintenance on my bike. If I needed to stay after work, I would tell the gateman that I would be late. He was a nice chap in his 80s. I'd say goodnight to him as I went home.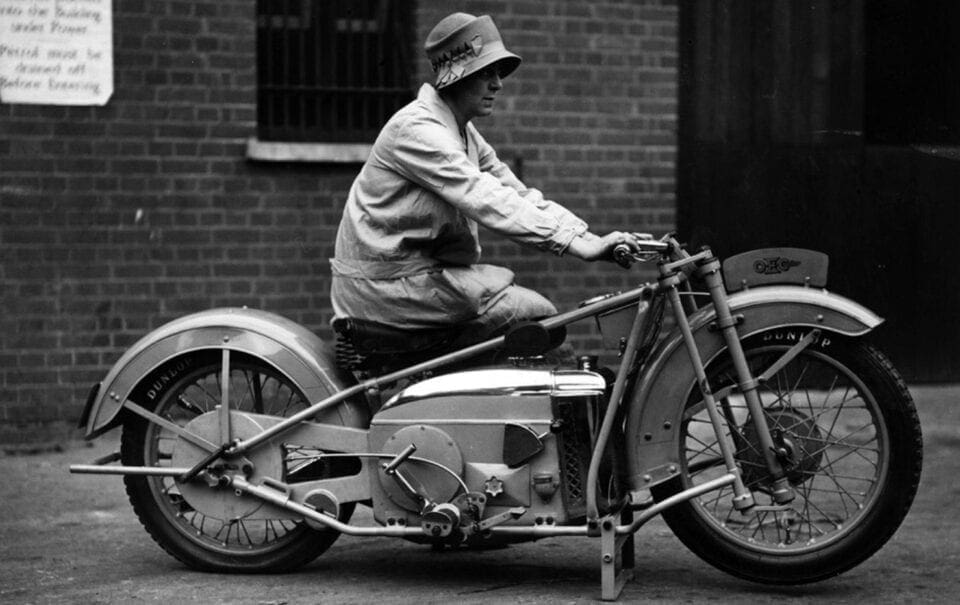 He used to ride a 350 (I think) Yamaha with a strange-looking sidecar. One night I asked him about his bike and he seemed to light up. 'Would you like a cup of tea?' he said, so I went into the gatehouse while he brewed up. He introduced himself as Almond, and he began to tell me about his bike. He made the sidecar himself from the front suspension of a Vauxhall Cresta. I think it was mainly to stabilise the bike as he had a bad leg.
Almond took me out to see the other modifications he had made. Since the Yamaha was left-foot gearchange, it was difficult for him. To combat this he had made a linkage from spring steel that went below the motor to transfer the gearchange to the right-hand side, as on British bikes. It also brought the brake to the left side. I was amazed by how clever he was: to look at the bike you couldn't tell it wasn't factory-standard.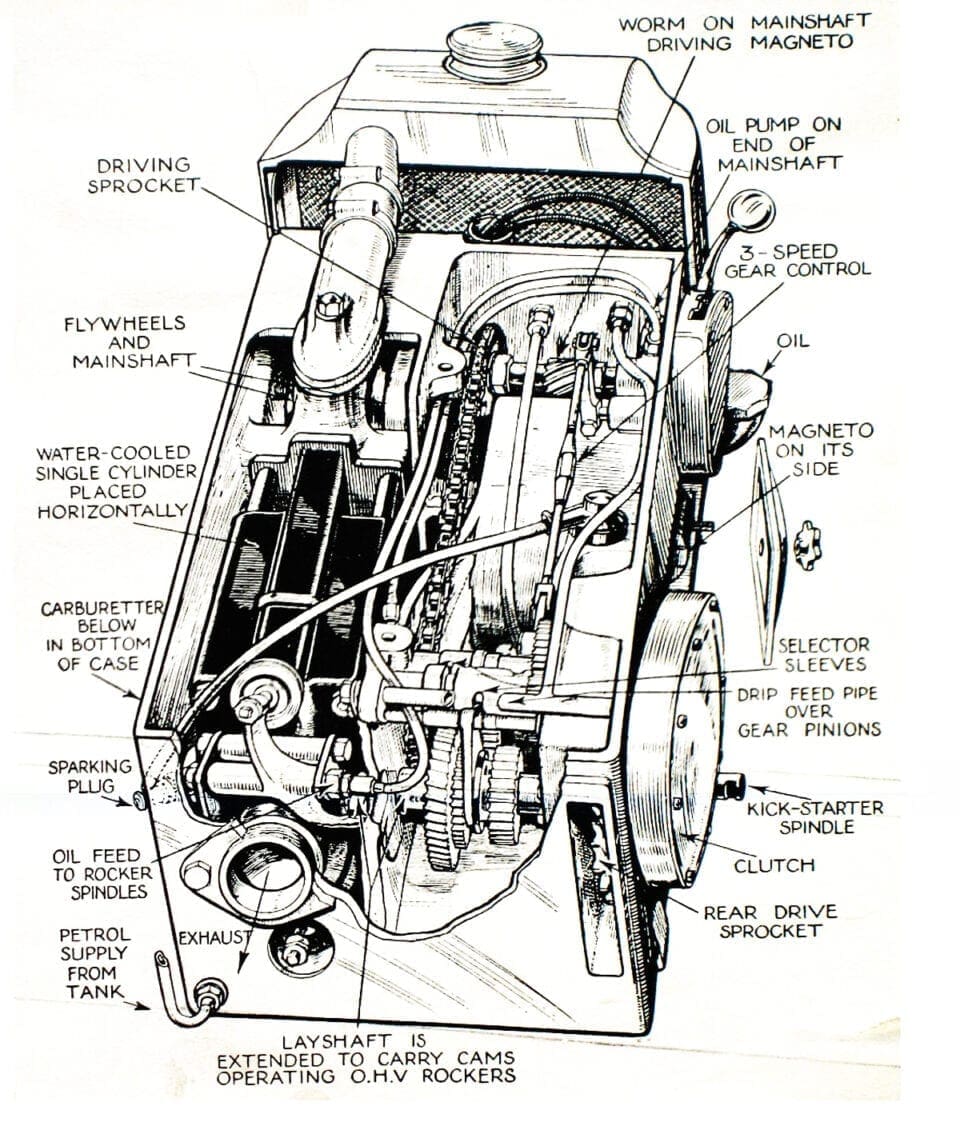 I would occasionally stop for a chat with Almond on my way home, and sometimes he would make us a cuppa. On one of these occasions, he said 'if you're not in a rush I have something to show you' and he opened up the machine shop. He took me inside and around the back of the lathes and milling machines, etc, where he lifted a canvas cover from a beautiful sidecar outfit. He told me it was the bike he'd ridden for sprint racing. It had the most excellent shiny aluminium single seat sidecar which he had built himself. He told me that the bike was a 1949 Triumph with a 1955 motor.
The bike had a rigid frame and girder forks, and again was full of modifications that Almond had done to improve performance. The front brake was genius. He'd noticed that a bandsaw blade didn't get hot due to its length. With that in mind he devised his front brake consisting of a band of steel affixed to the rim – virtually the same diameter as the wheel. Using two allen keys, he made up a caliper to effectively make a disc brake. For the rear brake he had fitted a hydraulic brake plate from a car which went into the Triumph hub, and had a fluid reservoir mounted in a frame supported by springs to prevent frothing.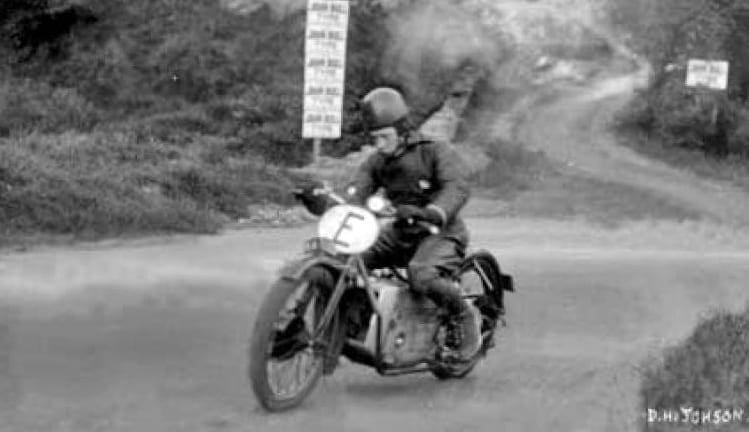 For me, the most impressive thing about this Triumph was the gearchange. On the gearbox outer cover there was a modification which was so well done that you couldn't tell wasn't standard. Almond said he had brazed an aluminium addition to the casing which contained an ignition interrupter and a mechanism with two gear levers. Depending on which lever was depressed, this made all gear changes by downward action (instead of one down, three up), allowing for full throttle and clutchless gearchanges in the sprint. Almond told me that since he had finished racing and wouldn't ride the bike again, he was leaving it in his will to his good friend who was 'only 65.'
When I mentioned to one of my workmates about the 'gateman,' he said 'yes, that's Almond Tinkler, he OWNS these buildings.'
When I moved employment I then lost touch with Almond. I wonder if that Triumph outfit still exists today? Hope so.
———-
Words: John Harrison
Photos: RC RChive / Alan Freke
———–
The original feature about Almond Tinkler's amazing water-cooled ohc racer appeared in the April 2020 issue of RealClassic, available to read instantly as a digital download or have delivered to your door…
---
Advert

Enjoy more RealClassic reading in the monthly magazine. Click here to subscribe.
---