Many classic motorcyclists admire the style of a classic Morgan three-wheeler. However, getting to grips with a pre-war trike can be just as tricky as learning to love a vintage motorcycle. Geoff explains how it took three attempts for him to find his perfect Morgan…
As a Morgan fan for well over 40 years, I thought I would take the plunge and get into three wheelers. I found a 1937 Matchless example purely by luck and not judgement. I was working with a friend who had recently sold his shop. Another friend who is a classic car dealer purchased a large glass display case from the shop. While we delivered and reassembled the display unit, I took a wander round the outbuildings of the courtyard and saw a small vehicle under a tarpaulin cover…
Taking a peek under the front of the cover, I discovered a fab Morgan trike. I enquired what the asking price was but unfortunately for me the seller already had interest from a French guy who wanted it. So that seemed the end of the issue.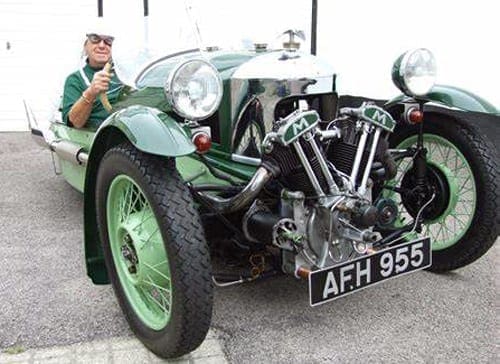 But then there was a problem with the display case. The door couldn't be locked, so we had to return to fix it. I saw that the Morgan was still under the cover and again asked what was happening with it. The potential customer had not returned so the vendor agreed to sell it to me. After taking it out for a little test run I agreed a price on the little, two-tone green Matchless-engined trike and bought it!
I took it to a local classic car event at the South of England Showground at Ardingly and a smart chap come up to me and wanted to buy it. He made an offer I could not refuse, so it winged its way to London. After a few months had gone, I paid a visit to Verralls classic motorcycle showroom. When we got there I saw an immaculate, fully restored 1937 Matchless Morgan, almost identical to the one I had owned previously!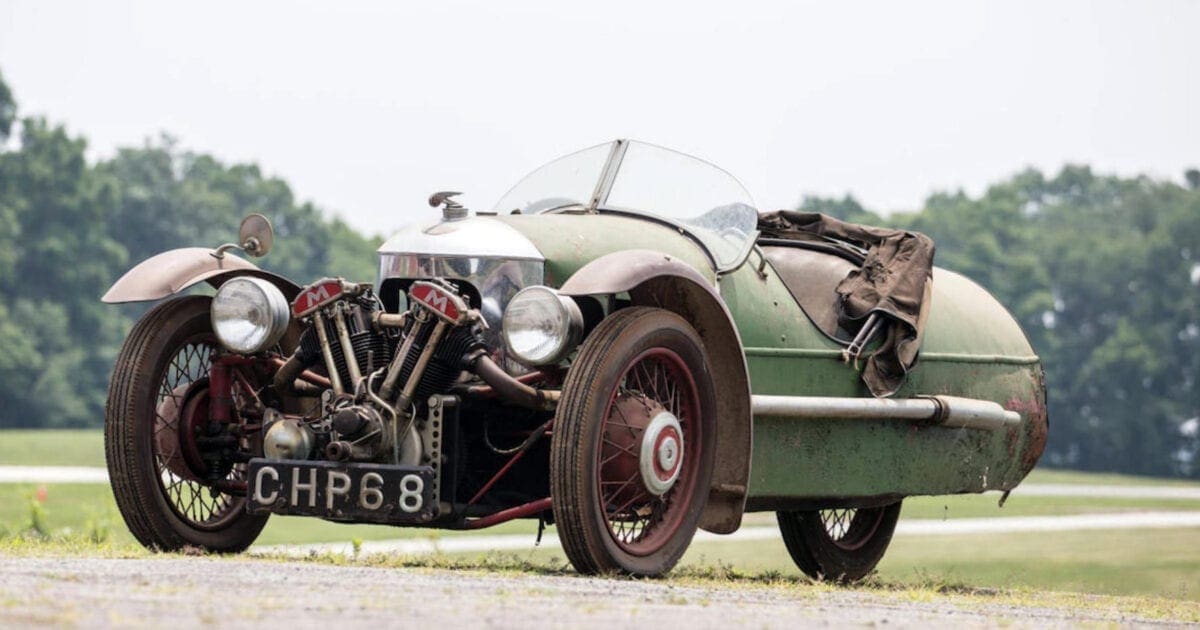 A 1937 Matchless-engined Morgan. This Super-Sports model was owned by the du Pont family in the USA, and sold by Bonhams a few years back
I had to have it. Negotiating was difficult as it belonged to a client and was being offered on a sale or return basis. Eventually agreeing on price, I bought it. To be honest, I did not get a lot of use out of it. I found it difficult to get to grips with the steering wheel controls, all the cables with advance and retard, keeping an eye on the road at the same time with the spongy brakes, etc. It seemed a lot more complex than my previous version. So I advertised it and got fed up with timewasters, eventually passing it back to the classic car dealer to sell. It went to a Dutch collector and I more or less got my money back.
Then in 2019 I saw a line-up of Morgan three-wheelers at Brooklands. Of course, I wanted the modern version! One was advertised in the club magazine. It was in the west country but the seller was willing to bring it over to me. A deal was struck on this all-black Morgan.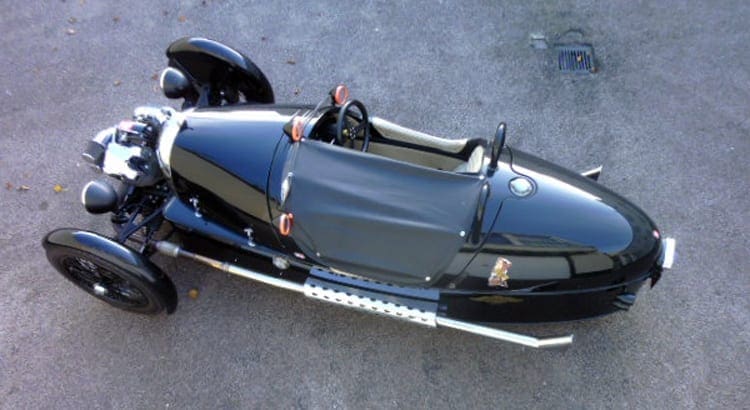 This model sports the wonderful Harley-type 1998cc V-twin by S&S, another American maker. What a superb machine it is and so easy to drive and control compared to its vintage forebears. It has a five-speed gearbox and even has a reverse gear. It's extremely fast and capable of achieving well over 100mph!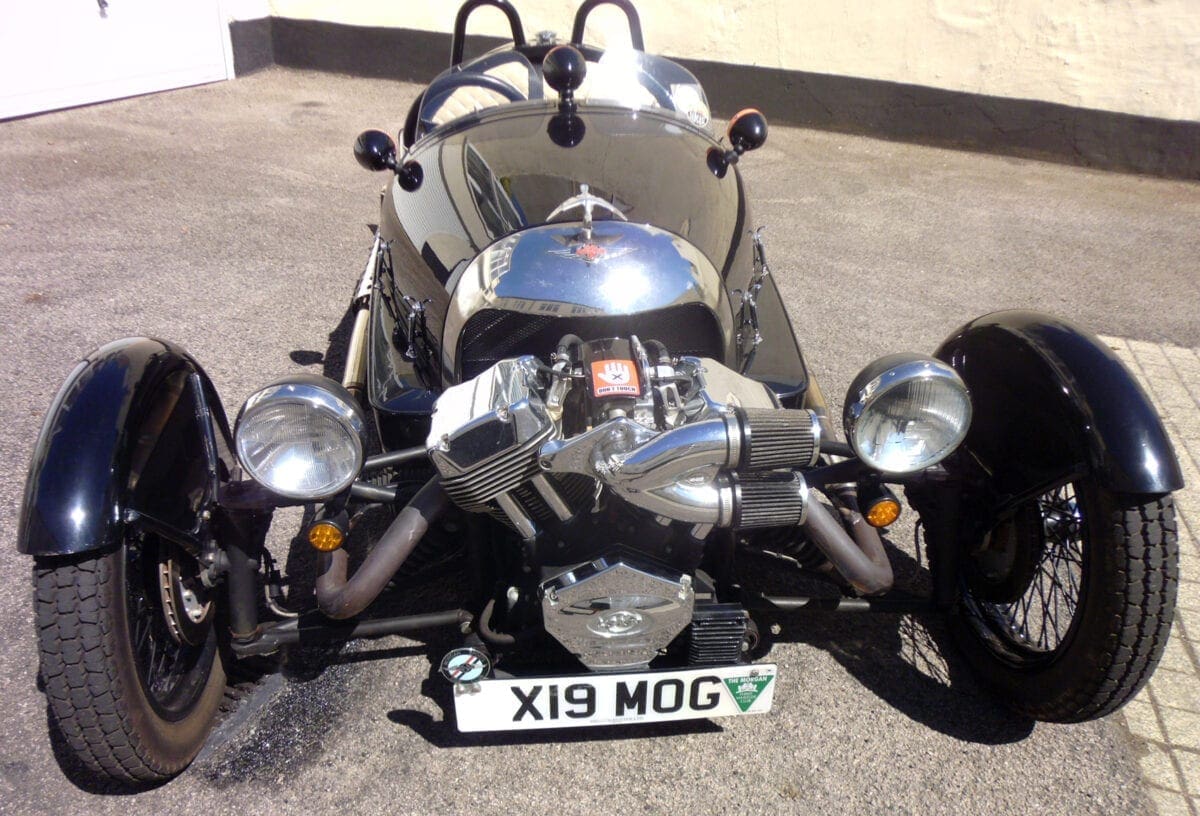 My 2012 M3W was specified in black with Cuba Yarwood light tan quilted and padded leather seats. It's been upgraded by Morgan agents to the 2019 spec with an extended chrome S&S branded air filter, twin chrome fishtail exhausts and vented side protectors, twin side footwell storage pockets, wire wheels with twin Morgan logo spinners, etc. The full cockpit tonneau cover was a factory option, as was the complete photographic build record in a leather-bound logbook.
I just love the WW2 nod to the Spitfire with the flip-up cover for the starter button: alas, there's no machine guns! It also sports the WW2-style 'Lady Luck' bonnet graphics and an original Morgan period flying stork mascot. It's only done 7000 miles from new and was awarded the People's Choice trophy at the 2019 Brightona event.
The Morgan has been an amazing way to blow away the cobwebs from the lockdown. It's great fun; the next best thing to flying a vintage aircraft!
——–
Sadly, Geoff can't keep his M3W as the term on his lock-up garage is coming to an end. It may still be for sale: details here.
———
Here comes the controversy: does a Morgan three-wheeler really have any place in a magazine about motorcycles?
Yes, it's a trike… but it's got a steering wheel! Isn't a Morgan really a three-wheeled car pretending to be a bike? Have your say below, or hop over to our Facebook page…
---
Advert

Enjoy more RealClassic reading in the monthly magazine. Click here to subscribe.
---