A recent article about the mighty Raleigh moped in the monthly magazine inspired author and RC reader Chris Rooke to take a trip down memory lane… to the first bike he ever rode. It was also the first bike he took to pieces – but not the first bike he rebuilt, apparently!
I read with great interest and a certain degree of nostalgia Ollie's OddJob in RC193. My first ever motorised vehicle was a Raleigh Runabout, and it was the start of a lifelong obsession for anything with an engine and two wheels. I have no idea where my interest in motorcycles came from as despite exhaustive searches of my family tree, I can't find a single person who had any interest in anything remotely mechanical, let alone motorcycles, but interested I was, from a very early age.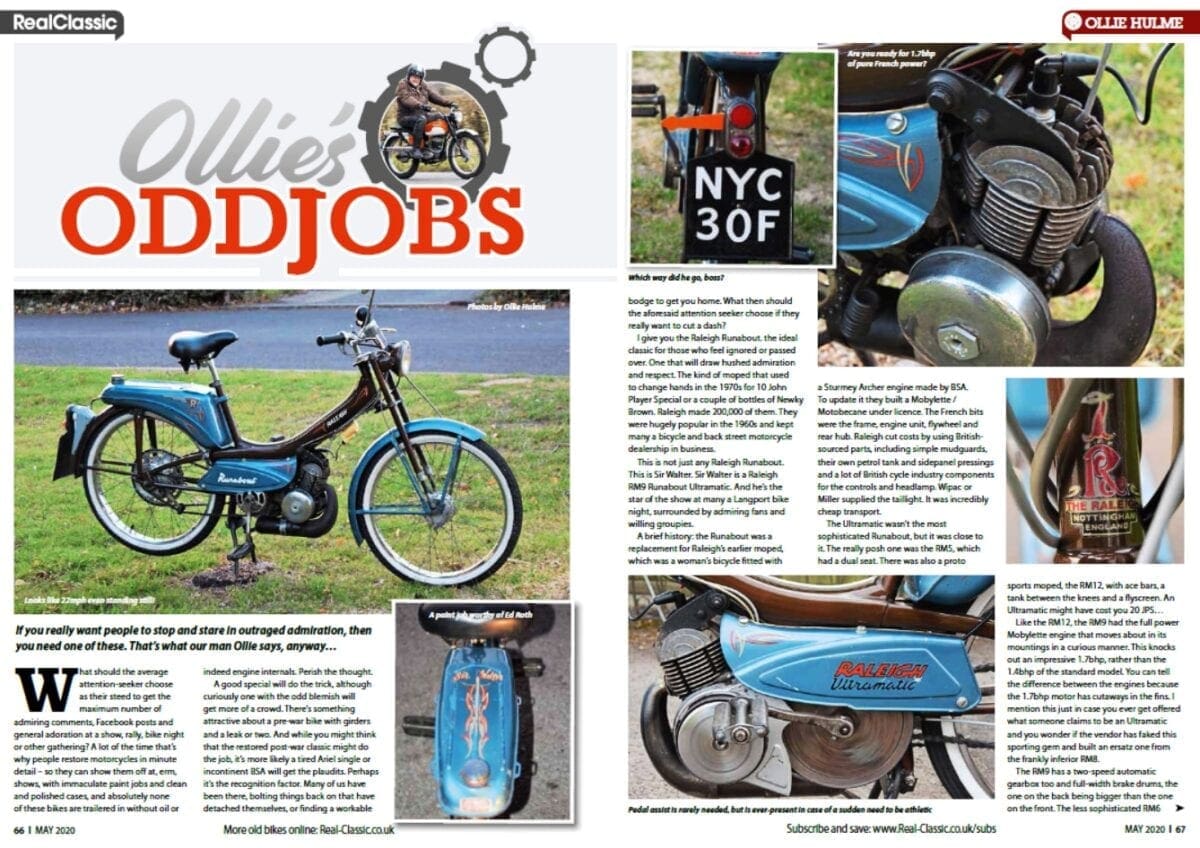 I would talk about motorcycles all the time and I continually pestered my dad to buy one so I go could ride pillion. Dad was naturally averse to anything to do with two wheels however, and he was a respected 60 year old civil servant by the time I was 10. So doing the ton on some British iron with a bunch of rockers was clearly not on the agenda.
I kept pestering him until he finally relented. He was automatically licenced to ride a moped so in 1968, when I was 10 years old, dad bought a moped: a secondhand Raleigh Runabout Supermatic RM5 – with a dual seat!
And so it was, that if I was very lucky, dad would get the Raleigh out of the garage on a Sunday morning and take me for a ride. Wow! It was just the best thing ever. No helmets, of course and the amazing throbbing power of that mighty Mobylette engine! Well, I was only ten, and it was the closest thing to a real motorcycle I was going to get.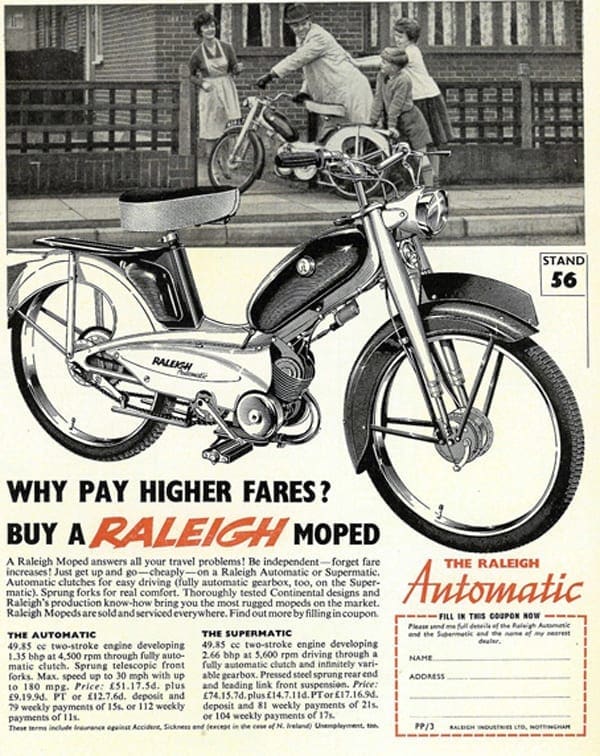 We'd spend a couple of hours pootling round the back roads and villages, with dad using the 'pedal assist' feature on anything resembling an incline. With my father on the front and little me on the back, the Raleigh was often overwhelmed by the task in hand and needed my dad to pedal enthusiastically to make headway. But I loved every minute of it.
That lasted for about a year before the already tired machine was pretty worn out. Dad wouldn't go out any more, but that meant that I inherited the bike. I 'customised' it by taking as many bits off as I could without it falling apart, and rode it round some waste ground for a while. Me actually riding a bike and not just riding pillion – brilliant!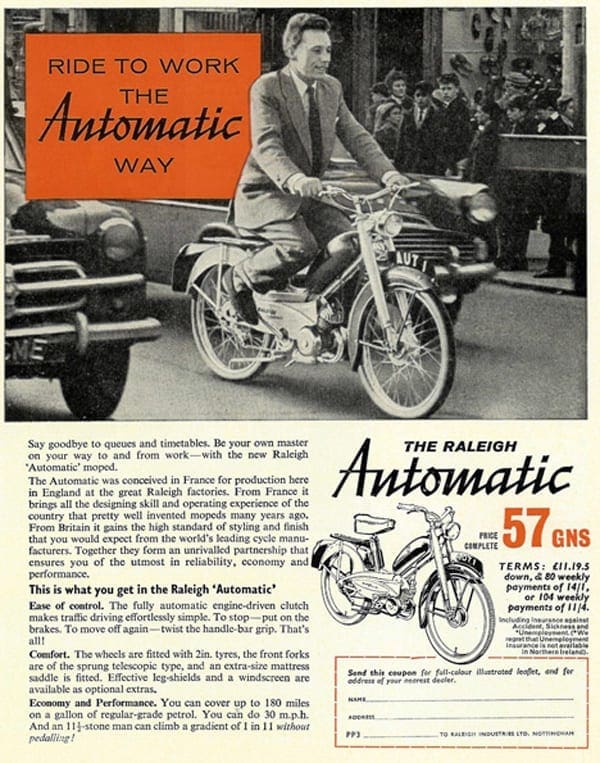 After that I took the engine out (I can't remember why) and decided to fit it to my go-kart instead. By go-kart, I mean the wooden thing that I'd made as a younger child with four pram wheels and some sections of wood – and no brakes. I actually added a section of plywood vertically, with a large hole cut out of the middle, and somehow bolted and screwed the engine to it. I think the final drive was via an old fan belt and a pulley wheel. All I can say is that thankfully I never managed to start the engine after I'd mounted it in the go-kart, which is probably why I'm still alive today to tell the tale!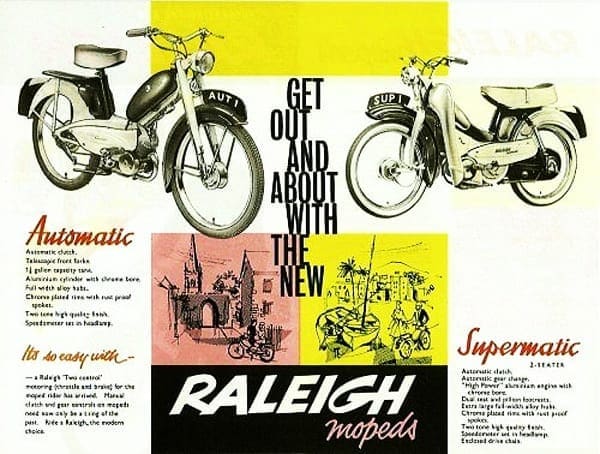 So that was the end of the Raleigh – sadly taken apart by an 11 year old who had no idea how to put it back together again, but it was the best present I ever had when I was a child. A few years later, when my elder brother turned 17, almost as an homage to the Runabout, the very first bike he bought was a Mobylette 50V – Raleigh Runabouts being basically Mobylettes made under licence – and he used to nip around town on that, before moving on to a Tiger Cub, a Panther sloper and a BSA A10, before losing all interest in motorcycles and never owning one again.
My passion for all things two-wheeled and engine powered was only just beginning. They say you always remember your first – and in my case it was the Raleigh Runabout Supermatic RM5.
———-
If you'd like to read Ollie Hulme's article which inspired this piece then you'll find it in RC193, the May20 issue. You can download it to read immediately, or order an actual physical magazine which will be delivered to your door…
———
Words: Chris Rooke
Images: RC RChive