RC Regular Stu loves his old Italian tiddlers. When he recently discovered an old book, A Million Miles Of Racing, part of 'The Racing Year' series, one story in particular grabbed his attention…
The book outlines the Ulster grand prix in 1950, and in particular the ultra-lightweight 125cc race which was the first time the little Italian bikes had competed. The Italian 125s would prove to be very different to the small-capacity motorcycles normally seen on track. For the 125 round, all eleven entries were Italian: five Mondials, four Morinis and a couple of MVs.
However, that impressive line-up owed a lot to an error in translation. On the day, two of the Mondials and all the Morinis failed to materialise. It was reported that the telegraphic entry from Mondial had listed two of the riders with their christian names, with the entries then repeated under their surnames – because on the Continent the surname is normally given first. Mondial only intended to submit three riders, apparently…
The 125 race was recorded as 'interesting' rather than particularly exciting. The mechanical perfection of these miniature marvels, seen for the first time on any circuit in Britain, was a thing to behold and admired. The air-cooled dohc singles output around 15bhp at 11,500rpm, running 9.7:1 compression. Weighing less than 85kg, this gave the 125s a top speed of over 90mph.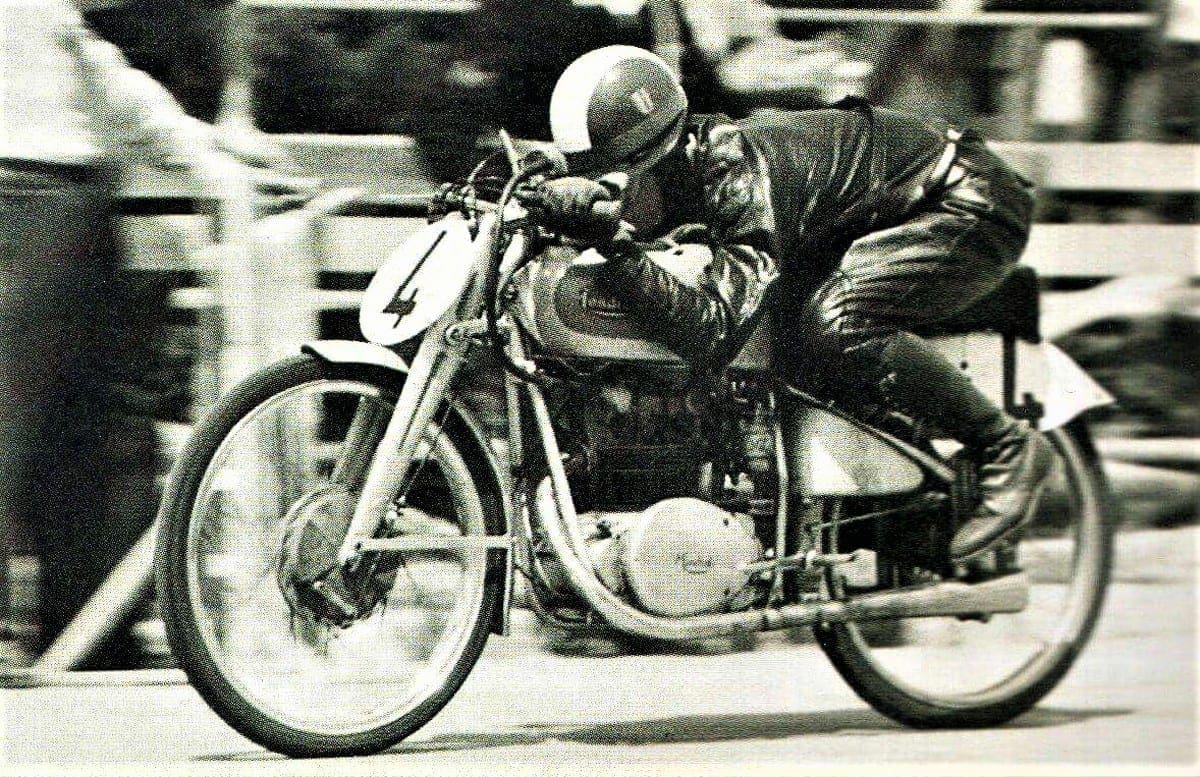 Ruffo aboard a Mondial 125 in 1950
Typically, British spectators were accustomed to the post-war 125 class at short circuit meetings, where a race would be won at an average of 40-45mph. They were more than a little surprised when Bruno Ruffo did a lap in practice at 76.19mph!
In the race itself this increased to 78.92mph. Indeed , the two Mondial riders who finished the race were both faster than the fourth-placed rider in the 250cc race!
With a noise like that of a trio of angry mosquitos, the three Mondials left the line together. Just over 12 minutes later they had completed the 16½ miles and came buzzing furiously past ahead of several 250cc machines, their riders flat on the tanks and their legs stretched out on footrests near the top of the rear mudguards. Ruffo, the leader from Ubbiali by a few yards , was reported to have clocked 84.3mph over a flying kilometre.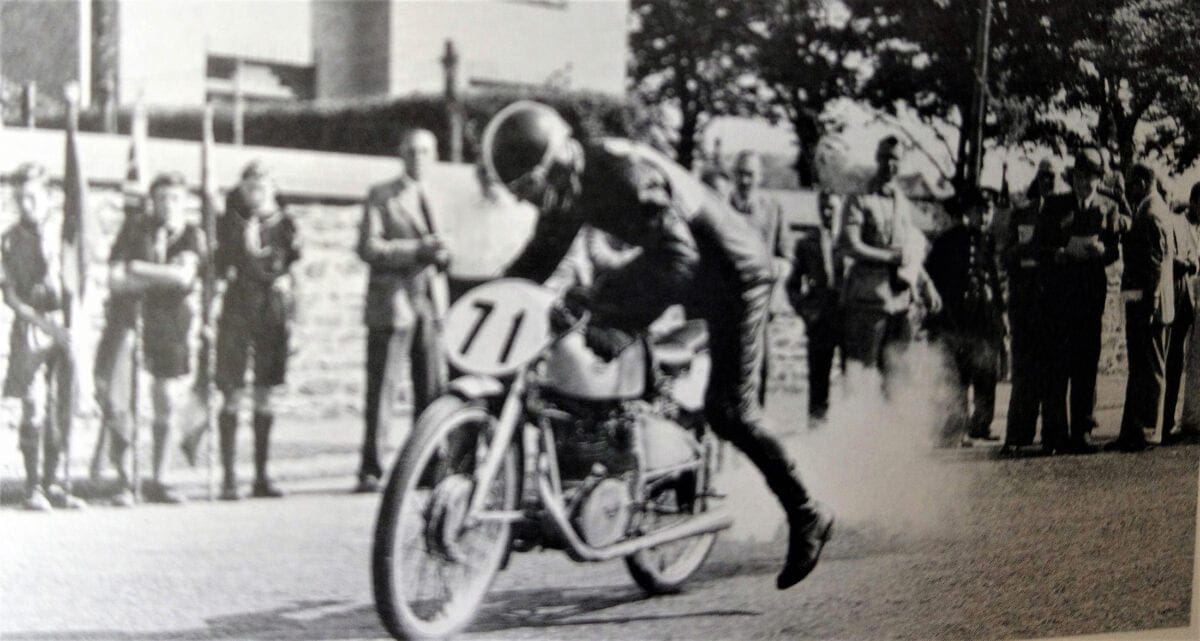 Carlo Ubbiali, starting the works Mondial 125 at the 1951 IoM ultra-lightweight TT
At the end of the 1950 Ulster GP, the results were:
First: Ubbiali. 2h 7m 53s. Average 77.46mph
Second: Ruffo. 2h 8m 58s. Average 76.81mph
Record lap: Ubbiali, 12mins 33s / 78.92mph
Pretty quick for 125cc machines in 1950!
———-
Words by Stu Thomson
Images from Mortons Archive / RC RChive
---
Advert

Enjoy more RealClassic reading in the monthly magazine. Click here to subscribe.
---