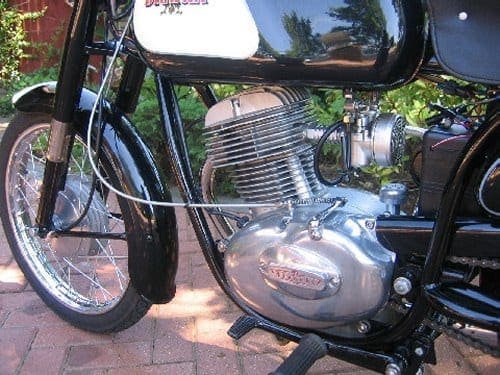 If you're looking for a lightweight classic, you don't have to be restricted to a two-stroke. Bill Wood has brought a little Italian back to life…
While British lightweights of the 1960s tended to be utilitarian plodders (with an occasional sprinkling of excitement); their Italian counterparts were almost entirely the opposite. The Latin obsession with racing meant that even the most humble of motorcycles tended to bristle with technical innovation, and a lowly commuter would often share its styling with a track-developed thoroughbred.
So it was with Bianchi's four-stroke Tonale 175, and that bike's smaller spin-off, the 124cc Bernina. Both boasted the kind of sophisticated spec which you'd normally only find on a British heavyweight sportbike of that era; duplex frame, proper suspension at each end, full width hubs, and gearboxes built as part of an ohc, light alloy powerplant. The Bernina's engine was canted forward slightly, giving it an air of urgency, which combined with the cut-away tank to make it seem, well, rather racey.
The single overhead camshaft was driven by pushrod operated rockers on the 125, with the primary drive being carried through helical gears (the 175 had a chain-operated cam and the primary drive was likewise by chain). Both bikes had weighty flywheels so although the motor would idle slowly and steadily, it was disinclined to rev fast or particularly freely (useful for withstanding the rigours of teenage enthusiasm). The four-speed gearbox was mated to a wet, multi-plate clutch.
Even though much of the bike was built of light alloy (the barrel was cast iron but the head was alloy; wheel rims and hubs plus control levers and such were of the lighter material), it was still pretty weighty for a 125 and tipped the scale at over 320lb.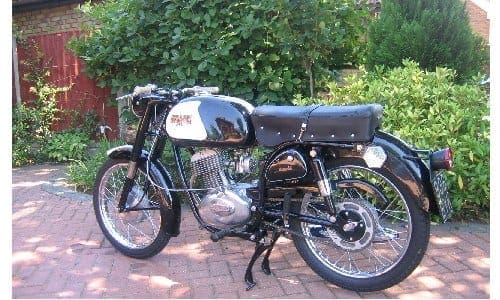 In October 2004 I bought the Bianchi from Terry Paine, a local engineer from Wickford, Essex. He had purchased the machine over 20 years ago and had completed 90% of a full restoration. He then left it covered in WD40 to concentrate on a larger car project. When I bought the bike it needed re-wiring, a battery, new cables, re-chroming the exhaust and silencer and some other smaller parts. The bike also needed a back light with a stop light, as the original was supplied without one.
First step was to re-wire the bike. This was a straight forward job. The so called 'typical Italian electrics!' really didn't pose a problem, except the ignition key. I had the same problem with my Moto Morini. This is a system where the key goes into the headlight and pushes a set of points together to complete the circuit. The problem with this system is that the key does not hold the points together firmly enough, hence they can cause some mis-firing or worse. My solution is to fit a slightly larger diameter key. It works well on both bikes.
After wiring the bike, it only took half a day to fully assemble it. The 125 started second kick and after a few circuits of the front garden all appeared to be working fine. I then arranged for an MoT test followed by a visit to the licensing office and I was ready to go.
So how does it go? Well I have not quite done 100 miles so I'm still running in. I do have a copy of an original road test from 1961 and comparing it with that I would agree with most points. The original test said that they had difficulty in selecting the lower gears at a slow speed… well, I have found the opposite. The mileage on my bike appears to be correct at 7500, so perhaps the original test machine was a bit too new.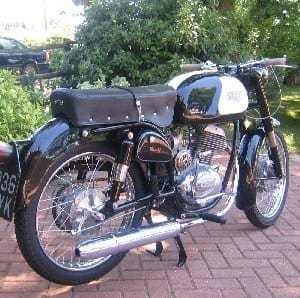 The original test also thought that the automatic choke was difficult when moving off from cold. I found that you start the bike on the choke then pull off the choke lever with your fingers before moving off, that way I never have a problem. I must admit though, we do not get very many cold days here in Essex!
On the road the Bianchi rides even better than my 250 Moto Morini. The riding position for me is just right and all the controls are easy to reach. The bike is a little over geared in top, however it was made for cruising on Italian roads flat out in top all day. The road test said they rode it hard during their test (490 miles) and it returned 100mpg. The handbook say the top speed is 100kph (61mph) and at present I am running in for 500 miles at 45mph, so I think their figures are about right.
When new, The Motor Cycle found the Bernina to be; 'one of the most eyeable lightweights. It has a brisk, tireless performance and its economy makes it a fine proposition for everyday use.'
---
Advert

Enjoy more RealClassic reading in the monthly magazine. Click here to subscribe.
---