'I just take what life throws at me. And throw it back!' So says Heather, who doesn't own a car but instead clocks up thousands of miles every year on old bikes. Her first motorcycle was a humble BSA C11, but these days she more often seen aboard her touring Brough Superior SS80 or the mighty meaty Matchless…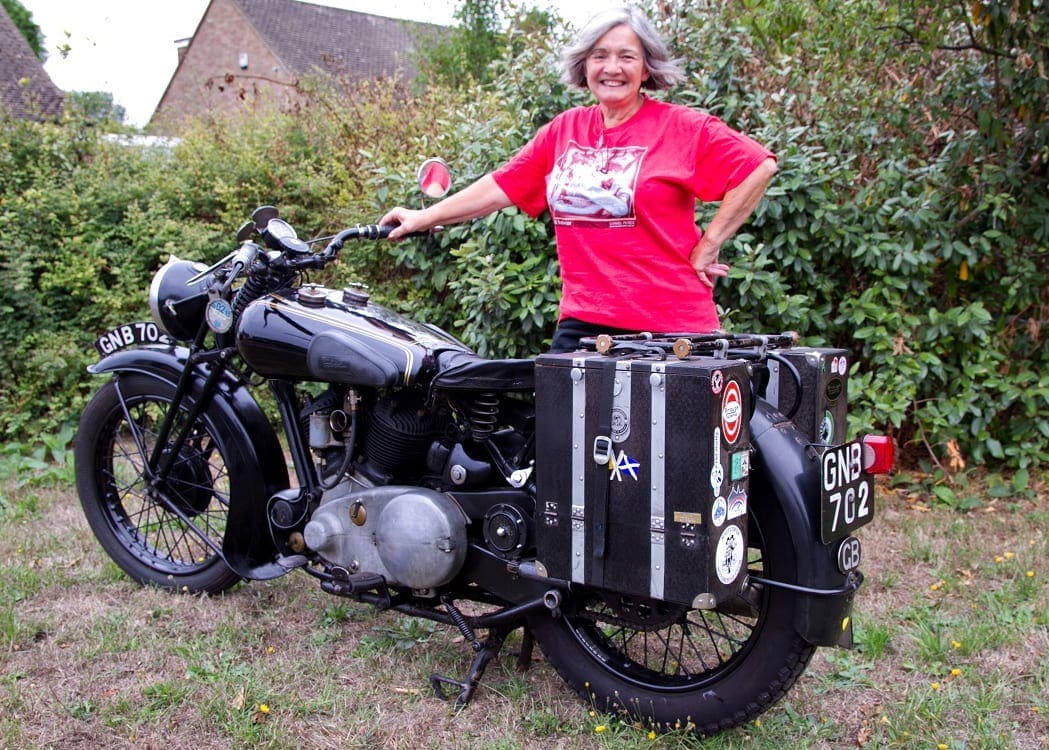 I met Heather as she travelled to meet fellow members of the Brough Superior Club for their week-long diamond jubilee rally. For a lady who fell in love with two-wheeled travel at the age of eight and subsequently rode all over the world, hitchhiking when the big ends went and sleeping by the roadside when it got dark, the rally's 600 hundred miles spread over a week was a walk in the park on her 1940 SS80.
Brough aficionados will know that the marque officially stopped production of the SS80 in 1939. Heather explains: 'the factory ceased production of bikes in 1939 but there was a lot of stuff still lying around, so I think they made my bike up out of the bits. The engine had originally been supplied in 1937 but the buyer took the bike back and asked that the engine be replaced under warranty. There is no record of the fault but this engine laid around until refitted into 'my' bike and, apart from being a rattly old thing, it goes well enough. It is one of the last 5 or 6 bikes ever registered.'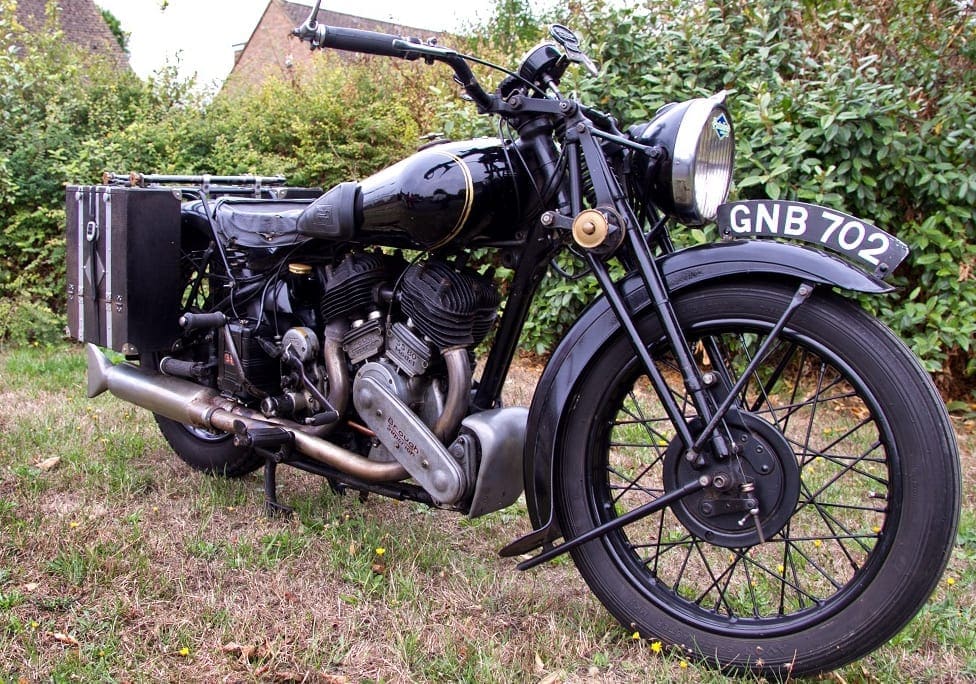 Not that Heather's riding career started with anything as prestigious as a Brough Superior…
'My mother had ridden her father's AJS before the war, but my father wouldn't allow her to have a motorbike. So when I was eight she bought a scooter and as soon as I sat on the back of it I thought "Oh, this is it!"
'I thought the scooter was just fantastic, but I didn't get a bike of my own until I was eighteen. It was a 250cc BSA C11G which cost my father £5. I had a boyfriend who used to buy bikes and I would go round, do them up and then we would race them around. So it went on for two or three years. I had an amazing experience, I used to ride anything! The bikes that were totally rubbish, but the experience never left me, it really didn't.'
From these early experiences Heather would go on to own a stable of machines, including a BSA Gold Star ('I fell off that in Bath and thought "I'll never get back on that again" and I didn't') which she swapped for a Sunbeam outfit, which was subsequently swapped for another BSA. That Beesa was traded in for a Vincent 'which was all very well but the thing hadn't run for eight years so the controls were very, very stiff.'
Not one to be put off by a minor thing like a stuck brake lever, Heather and the Vincent took part in the 1969 Miss BMF contest at that year's BMF rally.
'I got on and rode round, but of course the wretched thing wouldn't stop, so I had to keep overtaking all these poor girls and I don't know what they must have thought! But I won it!'
Although we met ahead of the Brough Superior rally, Heather's far from being a single-marque woman.
'I'm very fond of Matchlesses. I have a 750cc Matchless twin that I've had since 1980. It's fierce and fast and furious but so unreliable and uncomfortable! The petrol tank only holds enough for 70 or 80 miles, but I think it's my favourite – crazy really, cos it's rubbish. I remember when I bought it, the boyfriend I was with at the time asked if I was really going to buy this. It was £550 and he said I must be mad. I rode it from Halifax all the way down to Warwickshire and it really was a sad bike, but I've had it ever since.'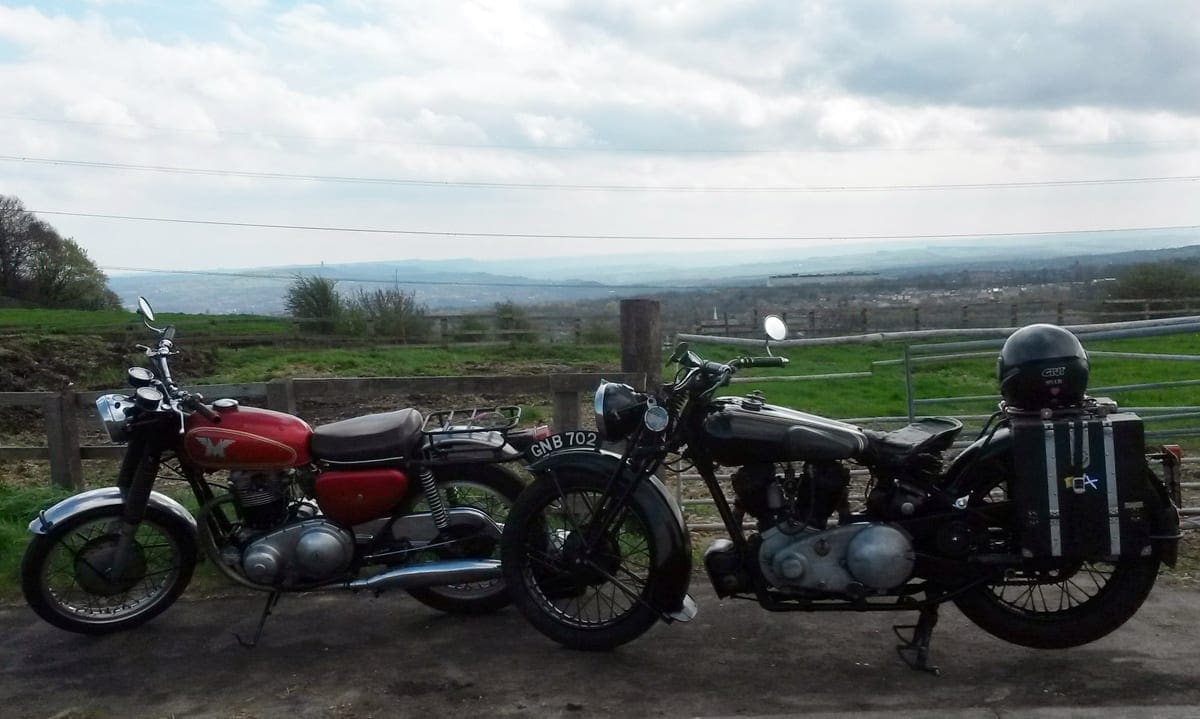 In the early days, before rallies and owners clubs caught her interest, Heather would travel to Mallory Park to watch the racing; 'I'm still really fond of the Fosse Way and I will use it whenever I can.' Her first big trip abroad riding her own machine was the Elephant Rally in 1975. 'The Triumph Tiger 110 that I was on, with two people in the sidecar to help pay for the petrol, got worse and worse. We had the heads and barrels off in Brussels, but we got it going again and I carried on to the rally.'
This was to be the beginning of some bad luck, as the next year Heather experienced more engine trouble.
'In 1976 my boyfriend and I went to the north cape of Norway on one BMW. We took all our food for the whole three weeks in some Craven Golden Arrow panniers and some tank bags. The Golden Arrow panniers were the dogs' at the time. I had a bag over my shoulder too and there must have been the tent on the rack at the back.
'When we got to the Arctic circle, the big end and main bearings went! Not to worry… north of Finland with our thumb stuck out with a broken motorbike! We hitched a lift to the nearest BMW dealer, unfortunately a car dealer, on the back of a pick-up truck. The driver of the pick-up said "it is 350 miles, it will take 10 hours and I will stop once." It was, it did and he did.
'We put new big ends in it but we couldn't do main bearings. It just wore out again, so we just put 90 grade oil in it and rode it home! The bike is still going now, just with a different engine.'
There was more bad luck to come on another foreign jaunt, and this time it wasn't just the bike that suffered.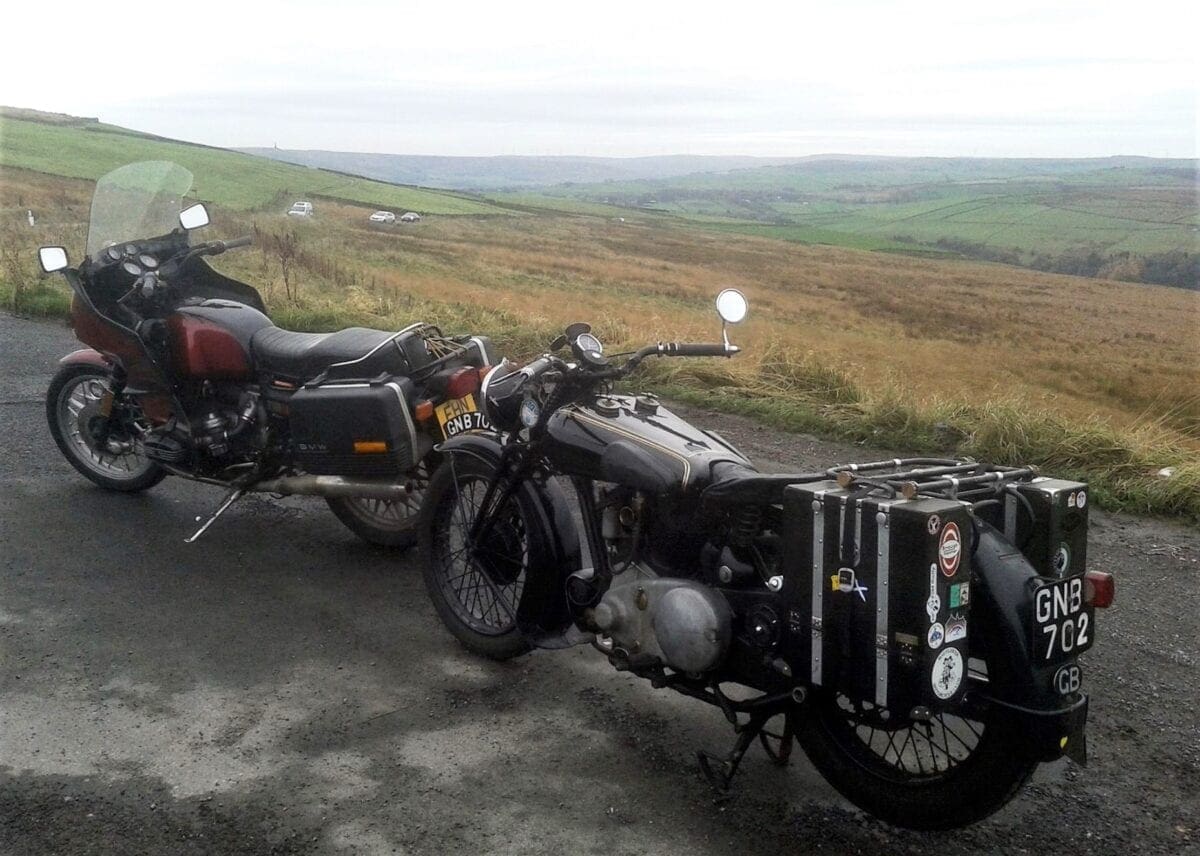 'We were in Italy, on the same BMW but with a replacement engine. We were going to Istanbul and all the traffic was going the same way. I was fast asleep on the back when we were overtaking the traffic; headlight on, indicators on. A coach pulled out in front of us and smashed my knee completely, collapsed my femur, and then hit my eye socket. The money I got from that (which was peanuts) is what I bought the Brough with, so I always say it was the best thing that ever happened to me!'
35 years later, the Brough has carried Heather all over Europe.
'The Brough club is very active and they encourage people to go out for runs – I did around 630 miles this last week on the Brough. It's comfortable enough but it's not fast. It's a good bike and it doesn't owe me a penny. I've had so much fun out of it. It's worth a little more now than what I paid for it but that's not what I bought it for. I bought it because I had some money and I didn't want to lose it – I thought if I bought a Brough then my money's safe and I get a bike to ride!'
Heather doesn't own a car ('I'm not interested in getting one. What do I need a car for?'), and carries everything she needs for a trip in original Craven panniers strapped to her trusty SS80. 'I bought the Silver Arrow panniers in the late 90s. My husband at the time said "oh, no, you're not having those". We were on a camping weekend and my mother was there with her motorbike and sidecar, and I said "mum you have to see these panniers, but he won't let me take them home"… but I got them in the end!
'I wanted them because they were in this junk shop, which was really just an old house with each room filled with stuff. I went into the conservatory and there were these two panniers there. I thought that they would look nice on the Brough and I would have to rescue them. They've been with me ever since.'
These original Silver Arrow panniers were made from reinforced fibreboard, strengthened with wooden battens and without a locking mechanism. 'I spent an awful lot of money on tooling and things to get them right but the festering things fell apart last week. Some of the nuts fell out, if it wasn't for the straps around them I might have lost them. They don't really stand up to the bashing I'm giving them. They're just made out of Bakelite, bits of wood and water soluble glue. And I keep tooling in it which is jumping up and down all the time, but they've managed so far.
'When we had the 50th anniversary rally, I did Dorset to Pendine Sands to Nottingham, camping on my own, so I had to take all my gear with me and it was no problem at all. Looking at the new panniers being made these days out of fibreglass, I think they might be more viable!'
It is this reliance on herself and her machine that keeps Heather travelling. 'I like the freedom of being on a bike. And the solitude as well. I'm travelling with my husband now, but you are responsible for what you're doing, it's your choice where to go and what to do.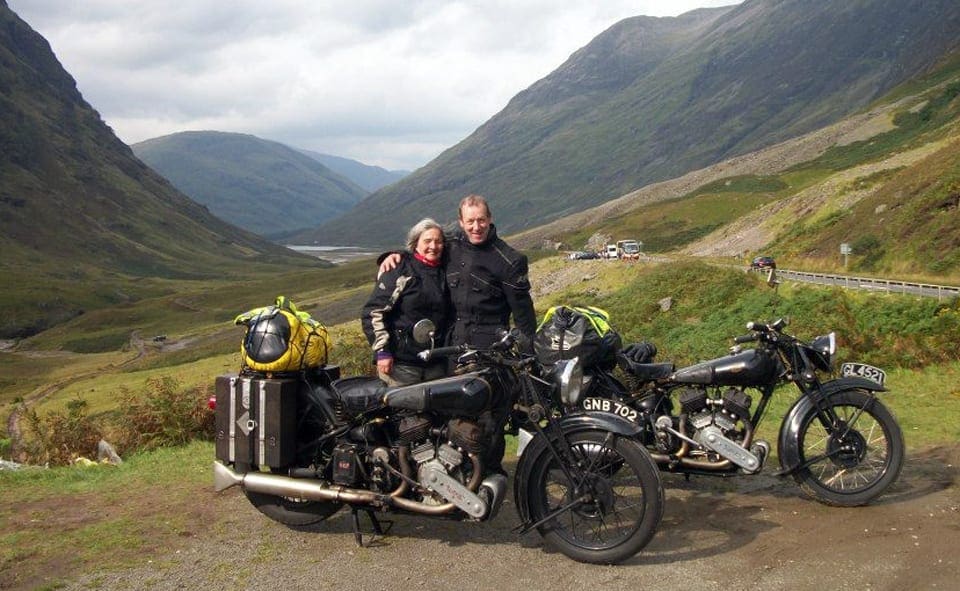 'Most of the places I've visited I've ridden my bike to, apart from India of course where we hired Royal Enfields, and we went to Australia and New Zealand a couple of years ago. I never go on holiday without my bike. Actually, I think we went to Tenerife one Christmas on a package holiday without our bikes. It was rubbish.
'I'm very happy with what I've done. I just bumble along. I'm not ambitious; I just take one thing at a time and take what life throws at me. And throw it back!'
Heather estimates that she does around 12,000 miles a year on her bikes. 'It's wearing me out but I'm not going to stop.'
What's next? She has a trip to the Outer Hebrides on the horizon. After that is anyone's guess, but you can be sure that Heather will get there on two wheels, not four.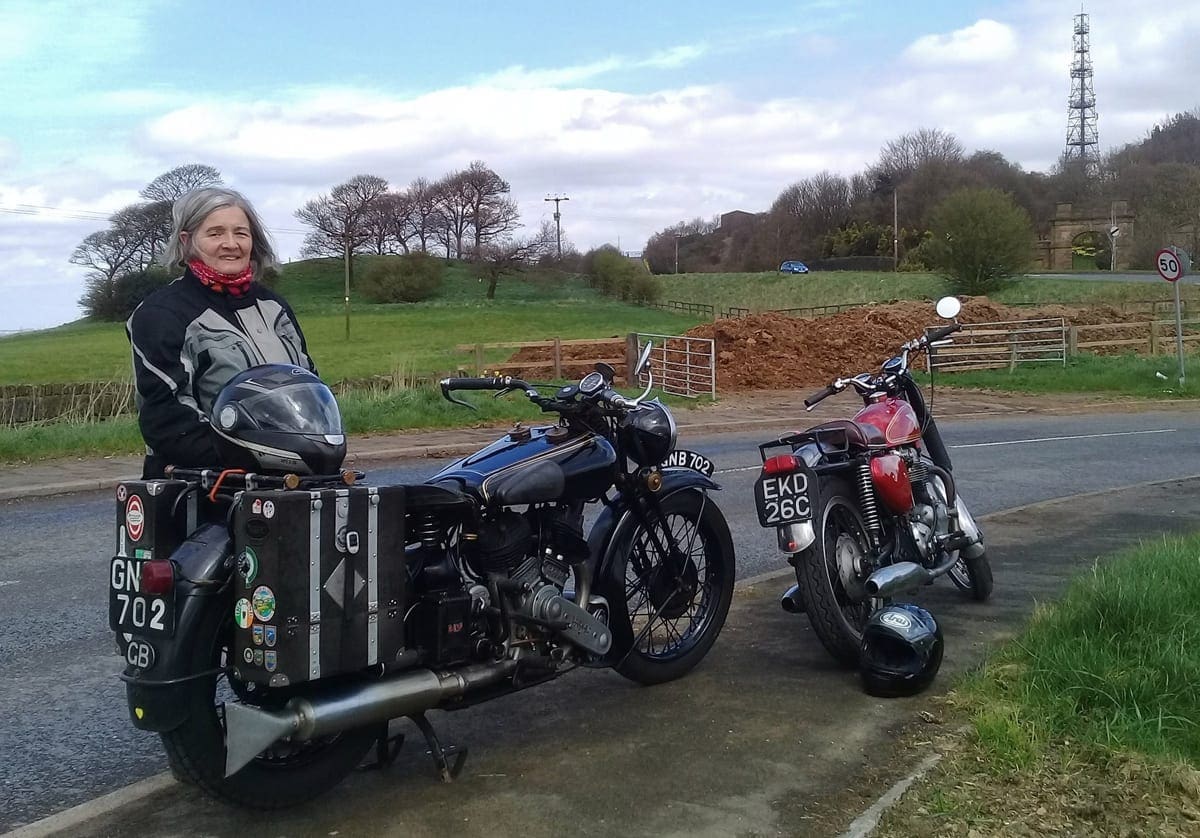 ————-
Words by Lauren Gwynn
Photos by Niki Jones Photography and Heather herself