This autumn, two pioneering spirits will set off on two very different motorcycles on what might turn out to be a wild ride between London and Paris. While one of them will ride a cutting-edge electric-powered machine which comes with all mod cons, the other will be quite literally taking the rough (plenty of it) with the smooth (not so much) aboard a 1926 trusty Triumph…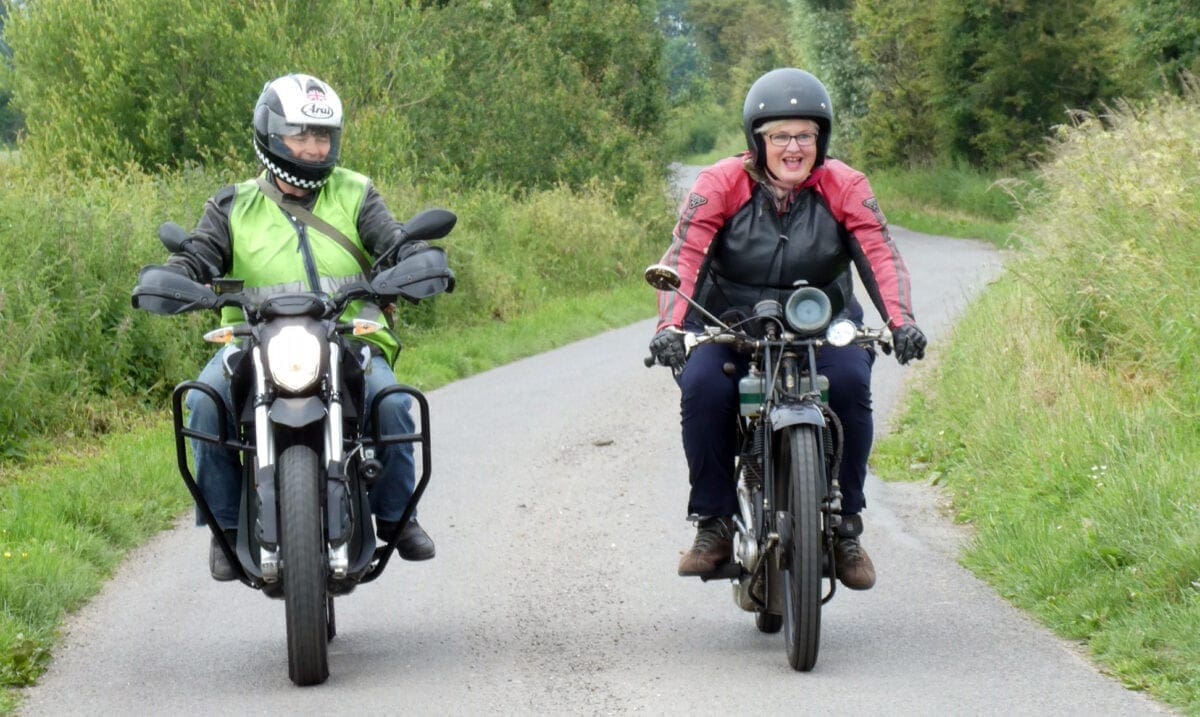 You definitely need to possess a more than a modicum of the pioneer spirit to take the plunge with one of the first generation, commercially manufactured, electric motorcycles. So we have ultimate absolute respect for Carla McKenzie who has done just this thing and bought a Californian-built, high-tech, cutting-edge Zero DSR all-electric motorcycle. She really is a motorcycling pioneer, in the true sense of the term.
Julie and Carla swap steeds: Julie gets to grips with the Zero electric bike while Carla discovers what vintage motorcycles are all about…
As if that weren't enough, Carla has teamed up with long-standing RC member, Julie Diplock to push that pioneering spirit to what might be its absolute limit. They're undertaking an epic adventure, aptly entitled Vintage To Voltage: a trial on trials between two cities. This September they aim to ride between London and Paris, avoiding tarmac roads as much as possible so sticking to green lanes and old carriageways, with Carla riding her electric Zero – and Julie on her 92-year-old Triumph Model Q. Wow!
The contrast between the two machines couldn't be greater. While Julie will be wrestling with rudimentary suspension, basic brakes, a hand-change gearbox and a lever throttle, Carla will need to find charging points for her machine along the remote roads which they'll be travelling. This will definitely be a serious shake-down for the Zero with all of its tricksy technology. And riding the Zero isn't entirely straightforward, as Julie explains…
'It's basically a twist-n-go, so Carla will have a problem off-road on the descents as it doesn't have the engine braking. It'll be brakes, not gears, to keep it under control downhill.
'I found it fantastic to ride, after I had got over the initial shock of switch the ignition on and nothing happens. You just twist and it just silently glides off. Very relaxing to ride, and it had fairly normal handling.'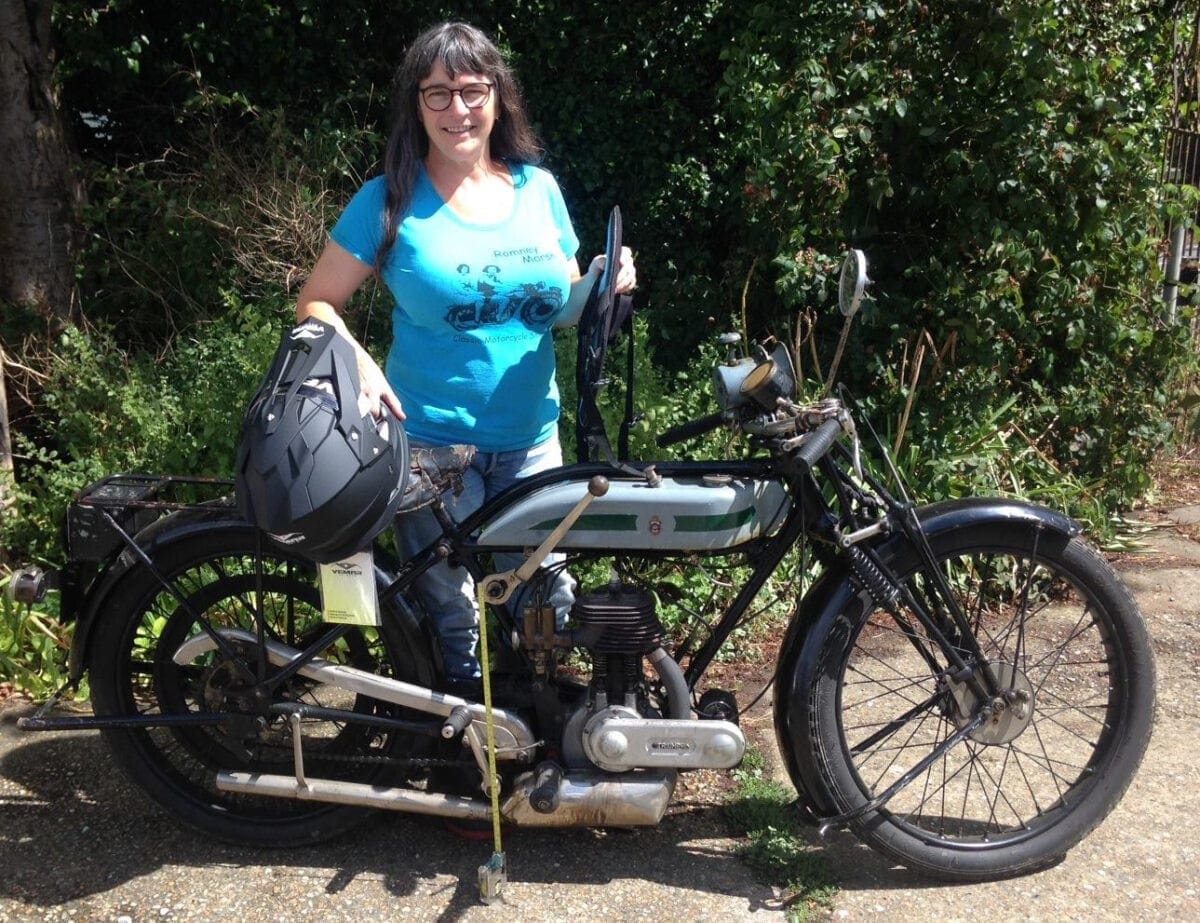 The Zero's range of about 80 miles is a good match for Julie's likely endurance on the Triumph. There has been much careful route-planning to accommodate the Model Q's five-inch ground clearance and its comfortable cruising speed of around 30mph. The Zero of course will zip straight up to 70, even in 'eco' mode, and it produces as much torque as the average litre-class sportsbike, but they'll be fairly evenly matched on the muddy stuff.
Julie and Carla will set off from Westminster in Tuesday 18th September 2018, and plan to arrive in Paris on the 21st. We'll have more details about when and where nearer the time, so people can give them a rousing send-off as they start this epic trek. You're also invited to support their efforts raising funds for charity, and here's where you'll find all the info: https://uk.virginmoneygiving.com/CarlaMcKenzie1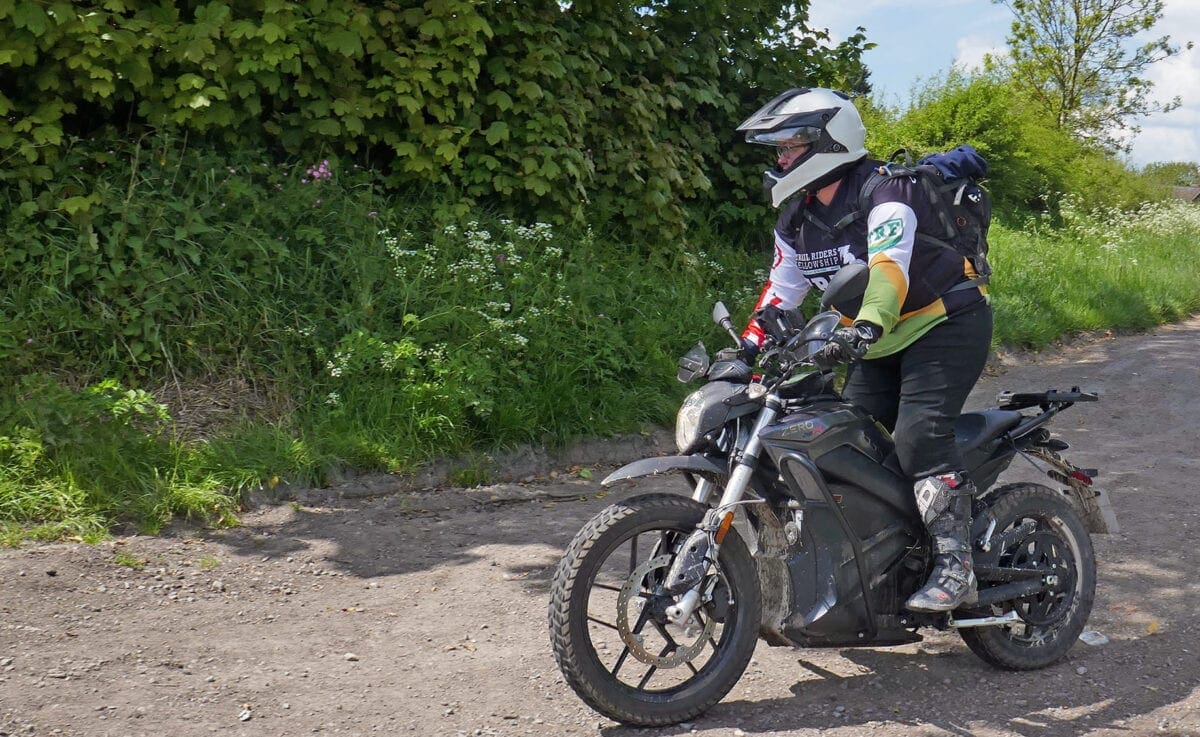 You can follow Julia and Carla's progress on the V>V blog.