It's the time of year when all the major manufacturers unveil next year's new bikes. For many classic riders, new machines can be too tall, too heavy and far too pricey. Equally, modern styling can be just a touch too radical for classic tastes. If all the above applies to you, then take a squint at the new models added to the AJS range. They're suitable for learner riders – but should also turn the head of older teenage tearaways…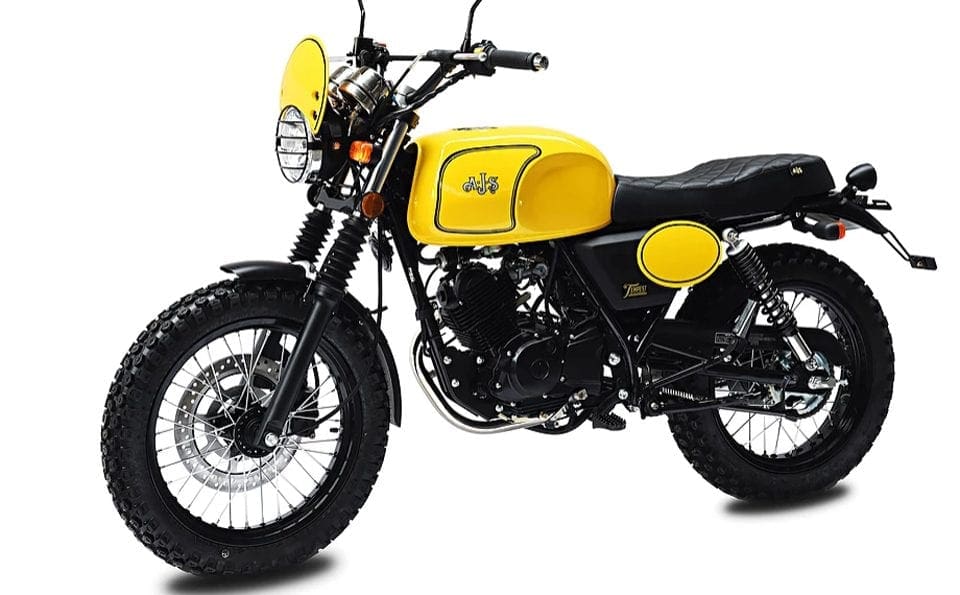 AJS have been offering their classically-styled Cadwell 125 for a couple of years, and now this back-to-basics roadster has been joined by three new retro roadsters. All are Euro 4 compliant, which means the inclusion of some onboard diagnostics, lower emissions and – the bit which most people will notice – a combined braking system. So effectively the front and rear discs function in a linked system. Think Moto Guzzi and then add four decades of development…
The Cadwell has been praised for its light clutch, slick gearshift, sensible 30.5" seat height, low mass of 275lb dry and its slim profile. It's also reassuringly old-fashioned in its simplicity. Like the no-nonsense tubular steel twin-shock chassis. Like the easy to understand instrumentation – a pair of white-faced clocks which report speed and revs and which don't demand a degree in IT to reprogramme when British summer time rolls around. There's no digital LED/LCD displays of the type which become infuriatingly invisible in bright or dull light. Nor will you struggle to extract any sense from a complex infocentre with tiny buttons and even tinier icons. However, you will need to keep an eye on the mileage between tankfuls and work out when you need to fill up – there's no fuel gauge or even a trip meter to help you out.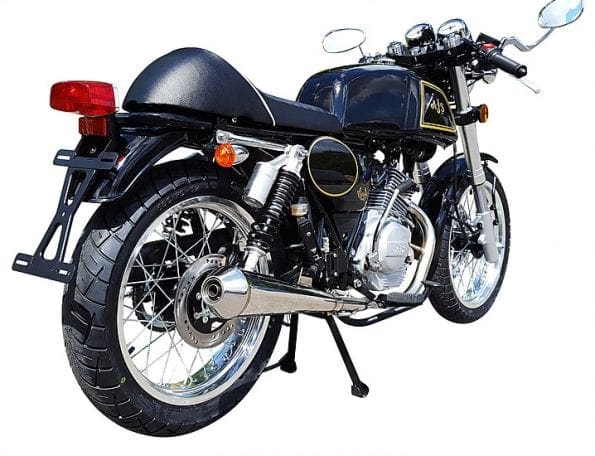 The Cadwell has obviously proved popular with older enthusiasts who have a fondness for this great British marque, as well as with new riders. It's been joined by a Clubman model which retails for a little bit more (£2699 new) but comes with more sophisticated suspension in the shape of USD front forks and piggy-back rear shocks, along with some styling tweaks, billet alloy clip-on handlebars and a special solo saddle. Definitely the model to choose if you always wanted to be a café racer!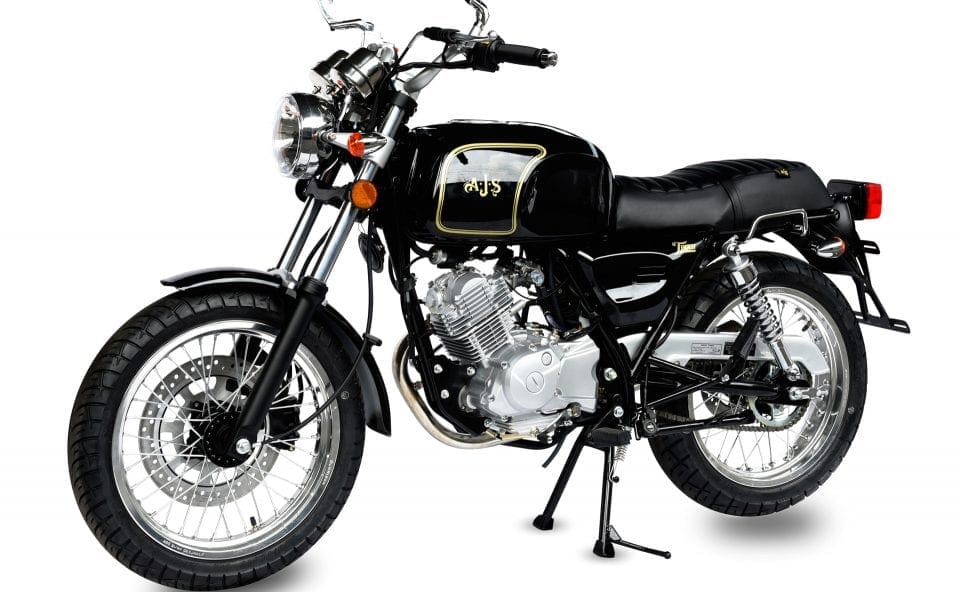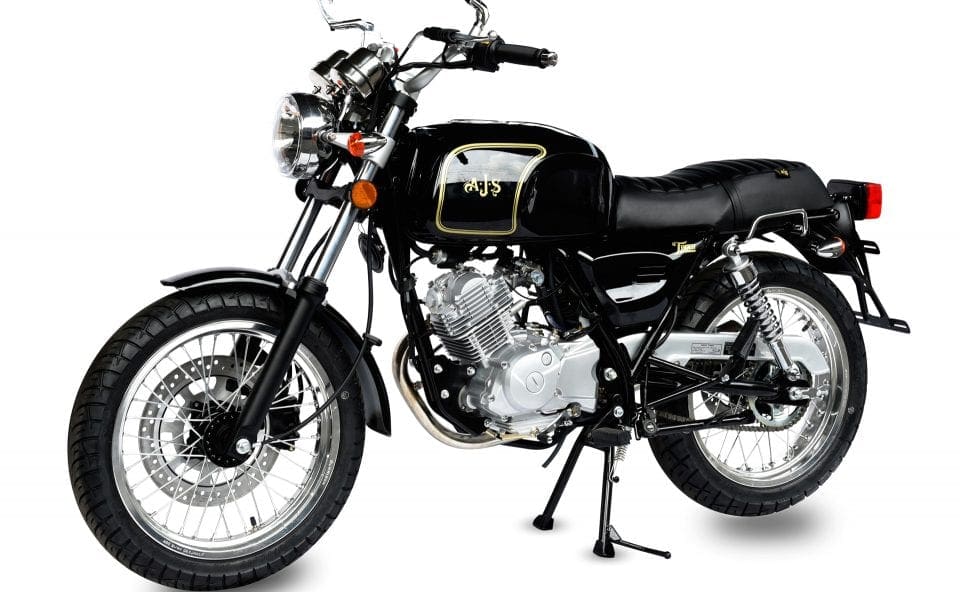 Next up is the Tempest Roadster; similar to the standard Cadwell but with a larger fuel tank and spacious dual seat, and a more upright riding position. It comes in silver or black, and offers 37mm forks, alloy wheel rims, and a stainless steel exhaust for £2199. The traditional Brit-twin-type styling means that the Tempest shouldn't look out of place on any classic club run.
For just fifty quid more you could upgrade to our favourite, the eye-catching Tempest Scrambler. It comes in orange, yellow or bright blue, with racing side panels and number plate, a headlight grille, adventure-type tyres and a diamond pattern seat. This is the one we'd like to try [kof, kof] should an AJS happen to find its way to RCHQ Bude…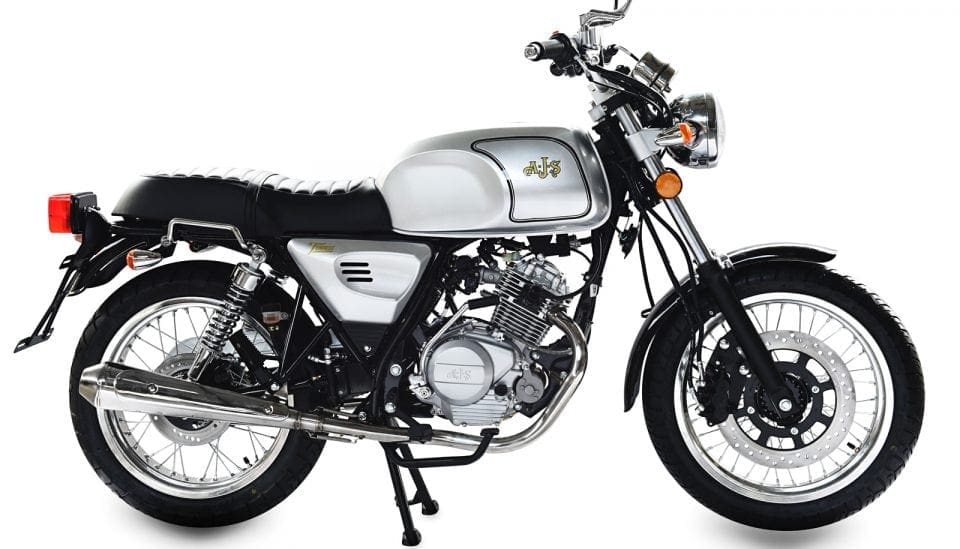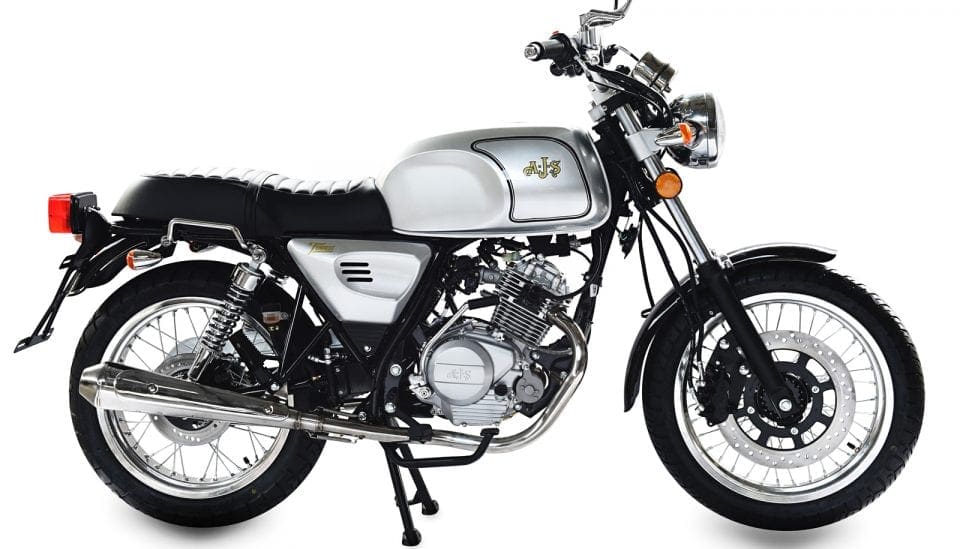 Some of these models are available now – others won't hit the streets until the New Year but are available to pre-order. Unlike the fully-faired race-rep 125s which now sport six or seven gears, the Ajays are fitted with a sensible five-speed gearbox. The air-cooled, four-stroke, square-dimensioned 124cc Cadwell engine has proved to be very smooth in use and, although 7kW doesn't sound like a whole lot of power, it is more than enough to sustain 55mph cruising. The motor's performance means that if you want to ride along with classic pals on, say, an original AJS Model 16 or a BSA B31, then you'll be pretty much on a par. And your bike won't look out of place in the car park, either.
All the AJS lightweights feature fuel-injection and electric start, so you'll avoid any embarrassing car park chaos when old magnetos overheat and your friends start considering knee replacement surgery. Look closely and you'll observe that they're fitted with a kickstart as well as the electric hoof, giving you an opportunity to show off your kick-starting prowess if you feel so inclined.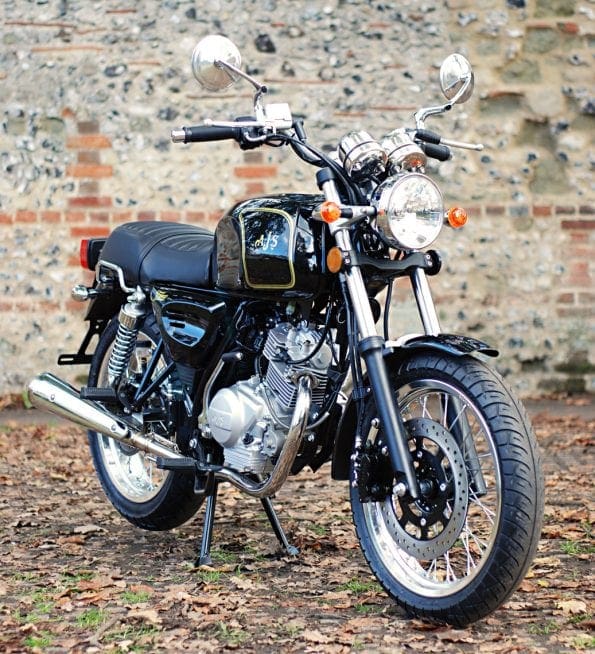 Article continues below...
---
---
The Ajays are easy to lift onto the centrestand so you can lube the drive chain – they won't need much else in the way of maintenance (although with Indian and Chinese-built bikes we have found it advisable to use CopperSlip or similar on sump plugs and the like to prevent any problems with corrosion in future). They all come with a 12 months parts and labour warranty, and are fitted with a sidestand as standard. There's a luggage rack available, which means you could even go on a grand tour – or simply have somewhere safe to stash the shopping after popping out for a packet of frozen peas…
---
Words by Rowena Hoseason
Photos by AJS Motorcycles
Enjoy more RealClassic reading in the monthly magazine.
Click here
to subscribe.