Apparently, it's too soon to make the 'winter draws on' joke just yet, so instead we'd better tell you that RC163 is stuffed full of cracking classic bikes and interesting old motorcycles. We've a BMW airhead, a Moto Guzzi V-twin and an auto-dramatic Honda, as well as three late interpretations of traditional British bikes: a Triumph Bonneville, BSA Gold Star and Norton Dominator. Just not the obvious ones…
You can cut to the chase and buy the issue in paper or digital formats. Or if you need to know more, here's exactly what you'll find inside: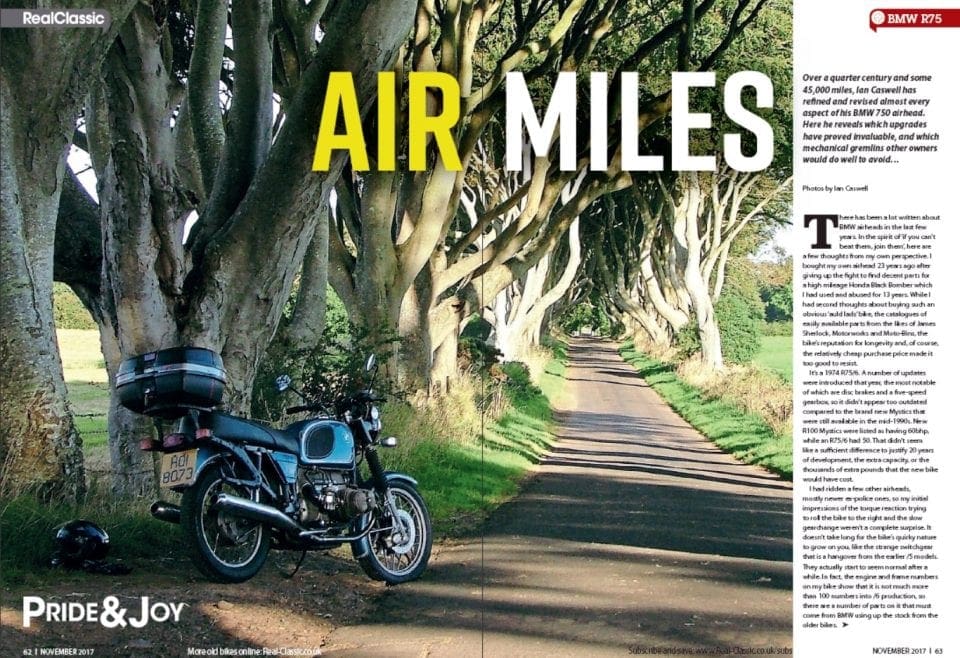 BMW R75
During a quarter century and some 45,000 miles, owner Ian has refined and revised almost every aspect of his BMW 750 airhead. He reveals which upgrades have proved invaluable, and which mechanical gremlins you'd do well to avoid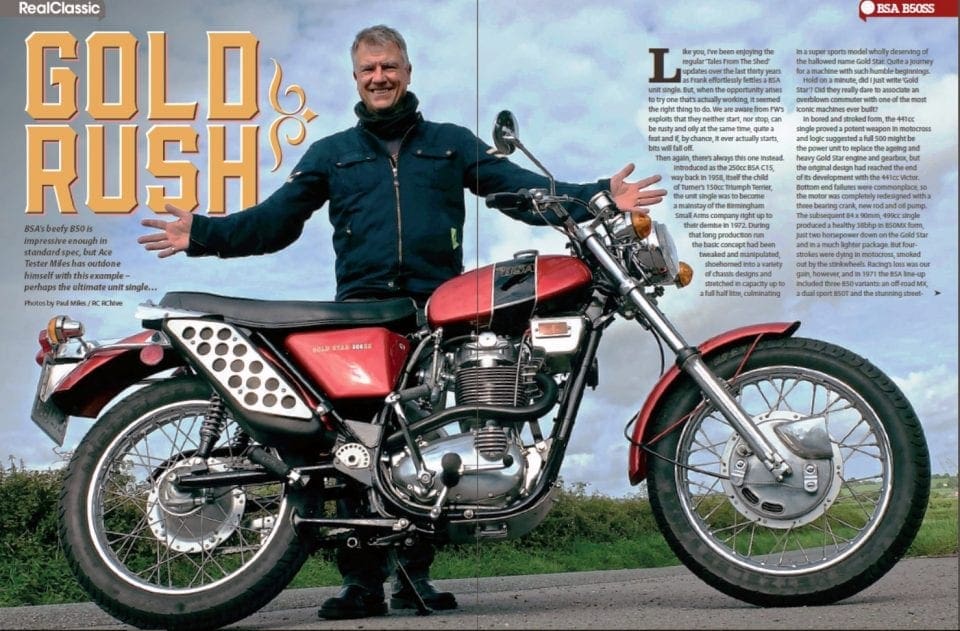 BSA B50SS
BSA's beefy B50 is impressive enough in standard spec, but Ace Tester Miles has outdone himself with this example – perhaps the ultimate unit single…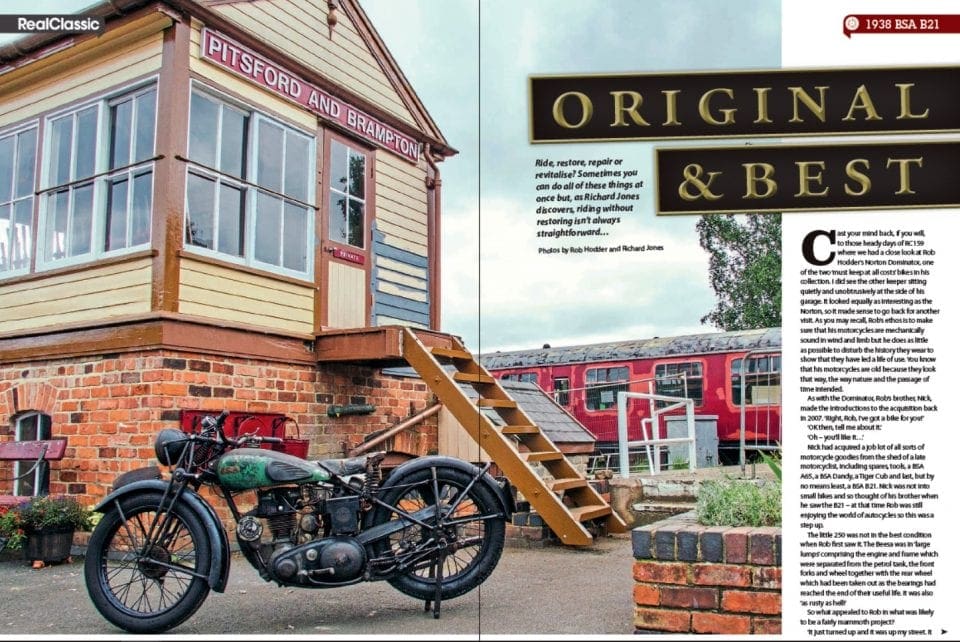 BSA B21
Ride, restore, repair or revitalise? Sometimes you can do all of these things at once but, as this pre-war single demonstrates, riding without restoring isn't always straightforward
BSA TRACKER PROJECT
In a tale of two tanks (or possibly three), we discover that fortune favours the man who builds bikes out of rusty old leftovers. Mostly. Odgie's A65 needs a petrol tank, and the Cosmic Supply Co does its stuff
HONDA CB400A
RC regular Steve Hodgson was looking for a classic alternative to the modern super scooter. He found it in the form of Honda's automatic for the people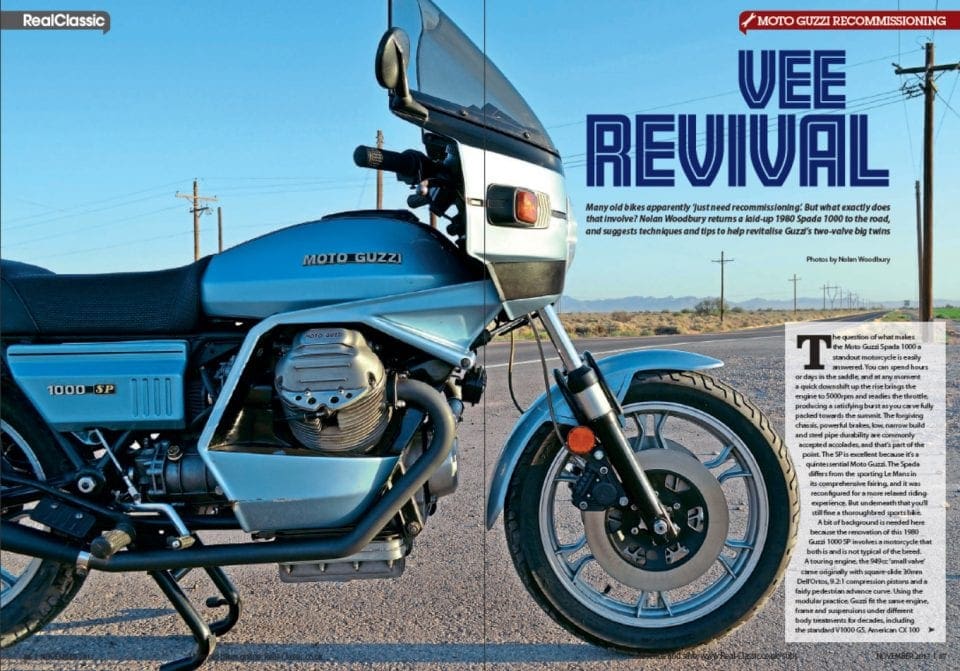 MOTO GUZZI SP1000
Many old bikes apparently 'just need recommissioning'. But what exactly does that involve? Nolan Woodbury returns a laid-up 1980 Spada 1000 to the road, and suggests techniques and tips to help revitalise Guzzi's two-valve big twins
NORTON 650SS
Everyone loves 650 twins. Everyone loves Norton's featherbed frame. Surely this twin-carb 650 should be the ultimate Norton Dominator? Frank Westworth tackles a thorny issue
ROYAL ENFIELD BULLET
A lifelong British bike enthusiast needed an inexpensive old bike to see the sights of Blackpool, and a 1950s Enfield single fit the bill. Then he discovered that he also needed some sparks…
TRIUMPH T120R
The oil-in-frame 650 Bonnie can cost half the price of an earlier T120R incarnation. But does that mean the later model is only half as good? Paul Henshaw of Performance Classics takes one for a quick spin to find out
PLUS! PUB visits the Kop Hill hillclimb, RC readers award service stars to top-notch traders, a Tiger 100 gets an alternative electrical solution, we consider Sunbeams and Beemers, and Frank Westworth preps his winter wheels.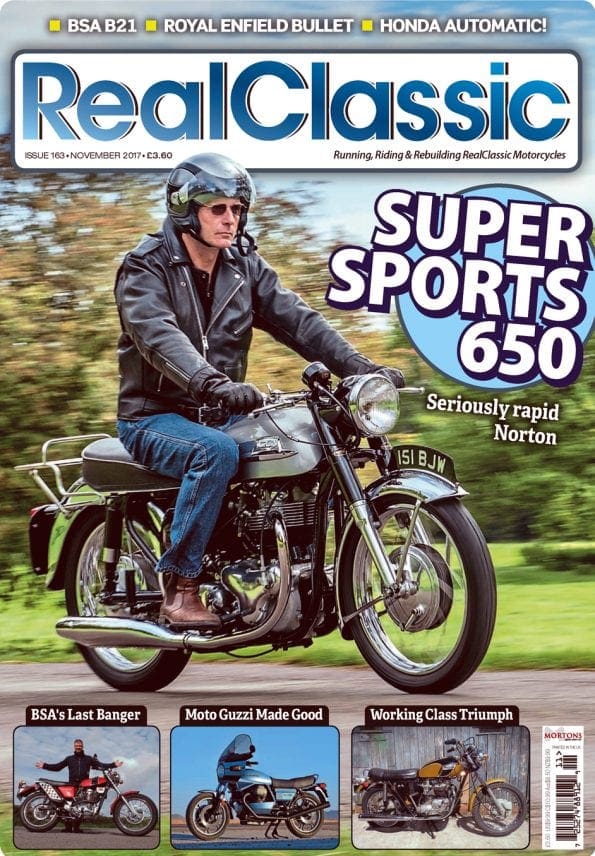 RealClassic magazine is not on sale in UK newsagents but you can buy the current issue in digital and paper formats here
You can also buy stacks of older issues of RealClassic, but it's heaps cheaper if you subscribe. Subscribers save 50% on the price of a single issue AND get an exclusive subscriber newsletter every month AND access to the subscriber-only Facebook group AND can win show tickets, RC regalia, bike books and more goodies in our subscriber prize draws. All that, and HobNobs too!
(Note: HobNobs optional and only available from the RC Crew at an event, on a Tuesday, when the moon is full and Frank has just bought a new bike)
COVER PHOTO and the Norton 650SS photoset by Chris Dickinson