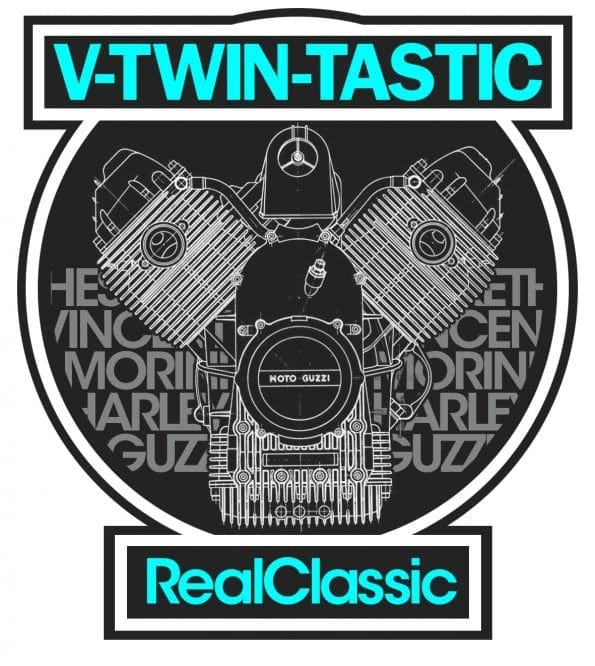 The new issue of RealClassic magazine is totally V-TwinTastic (and, apparently, is also entirely at home to Mr Hyperbole). The classic bikes featured this month include Morini's wee vee, Vincent's big twins, two heavyweights from Moto Guzzi, a mighty Matchless, a Harley-Davidson, a handsome Hesketh and… a BMW Boxer (it's a V-twin which is feeling very relaxed, all right?).
On top of that little lot, we've a traditional British single, Royal Enfield's Airflow, and a truly unusual two-stroke. Here's how you can read all about them…
You can cut to the chase and buy the issue here in paper or digital formats. Or if you need to know more, here's exactly what you'll find inside: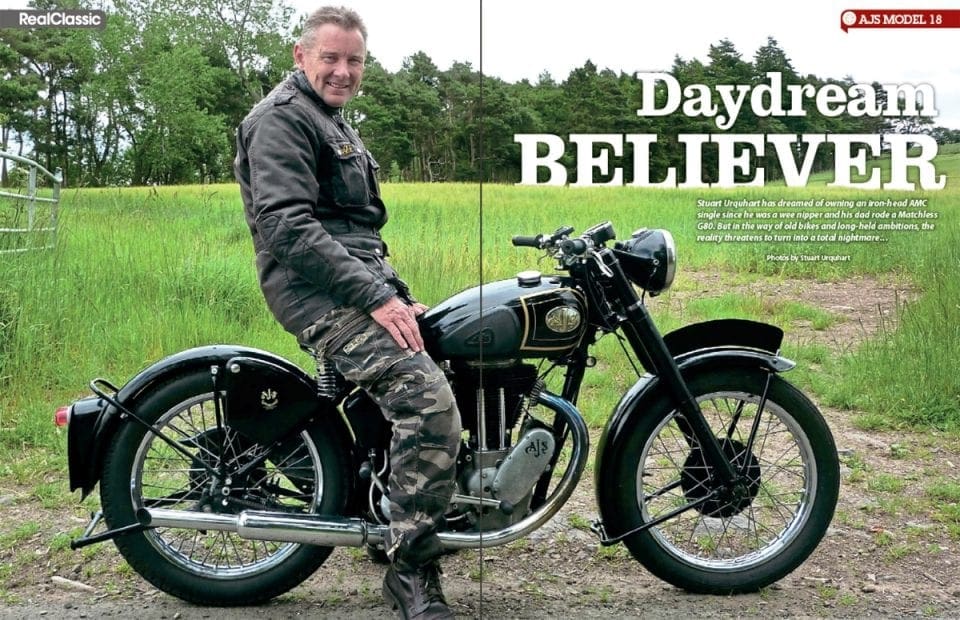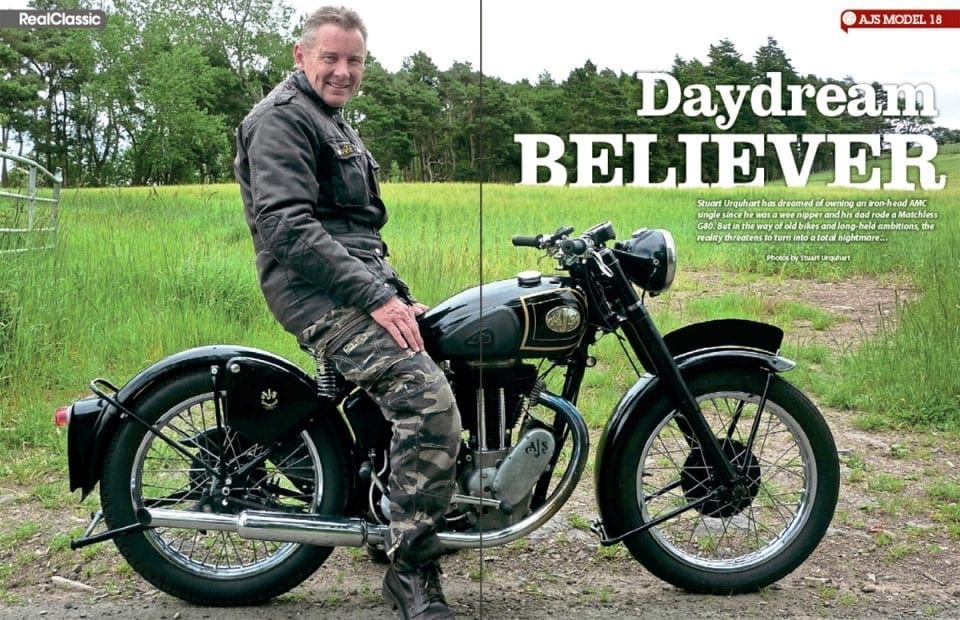 AJS MODEL 18
RC regular Stuart dreamed of owning an iron-head AMC single since he was a wee nipper and his dad rode a Matchless G80. But in the way of old bikes and long-held ambitions, the reality of the rigid 500 threatened to turn into a total nightmare
BMW R80 REBUILD
Gearbox problem? Fixed. Electrics? Sorted. Stephen Herbert now turns his attention to petrochemical matters as his 'bargain' eBay Boxer gets set to return to the road. Time to seal the tank and balance those carbs in the final instalment of the series
BSA A65 PROJECT
Work commences on Odgie's dirt-track scrambler. He begins with big bits from a BSA A65, adds a sprinkle of Triumph T140, Moto Morini and Can-Am components, and sets to with the welding kit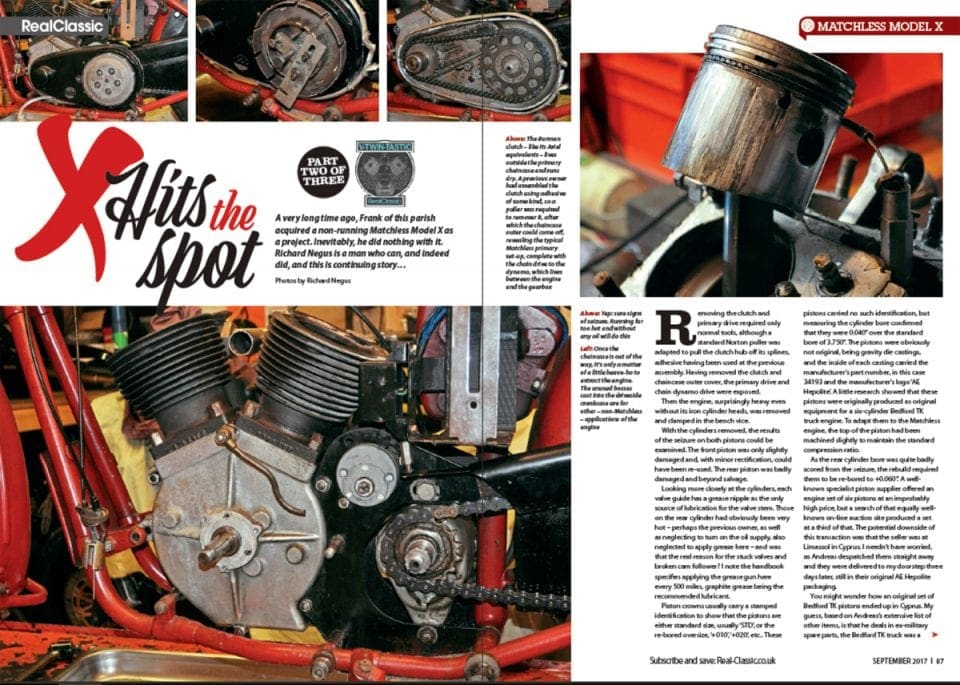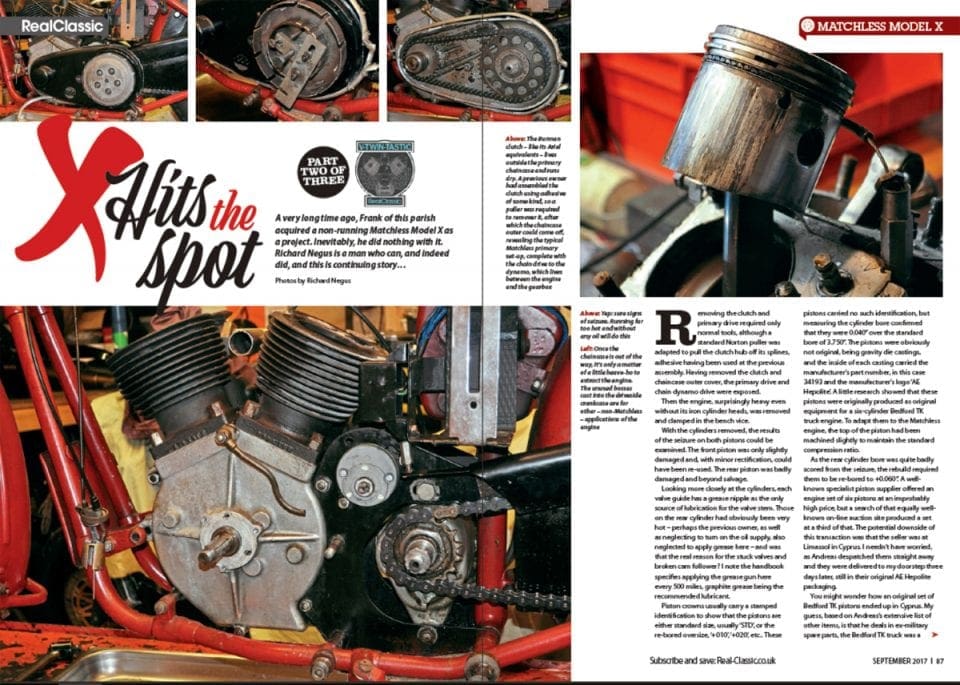 MATCHLESS MODEL X
In Part Two of this short series, the engine fettling of this 1941 1000cc sidevalve V-twin continues. Next month, someone is going to have to ride the thing…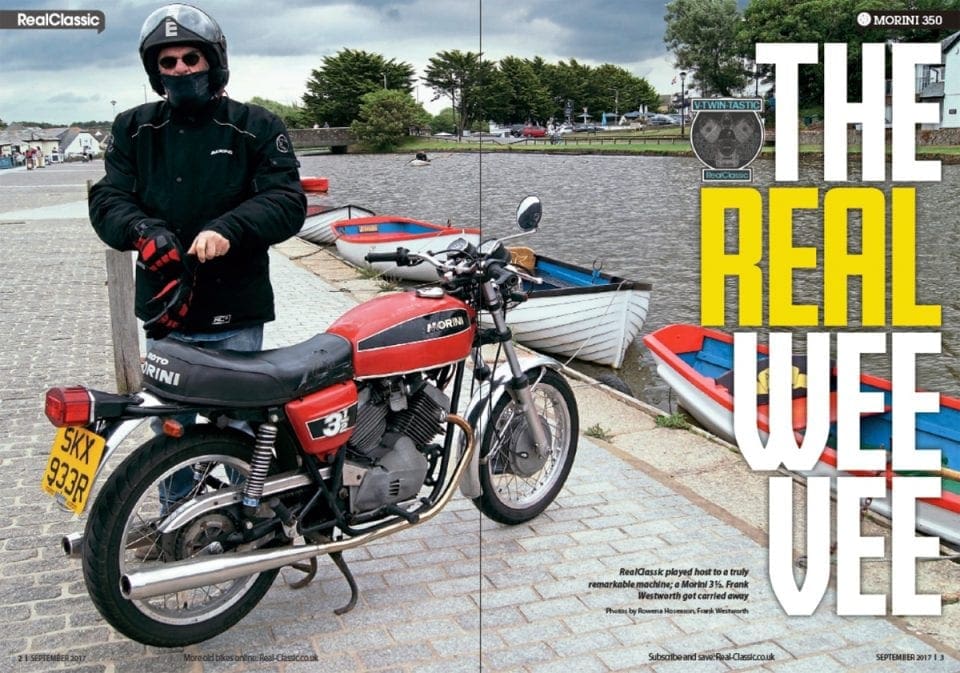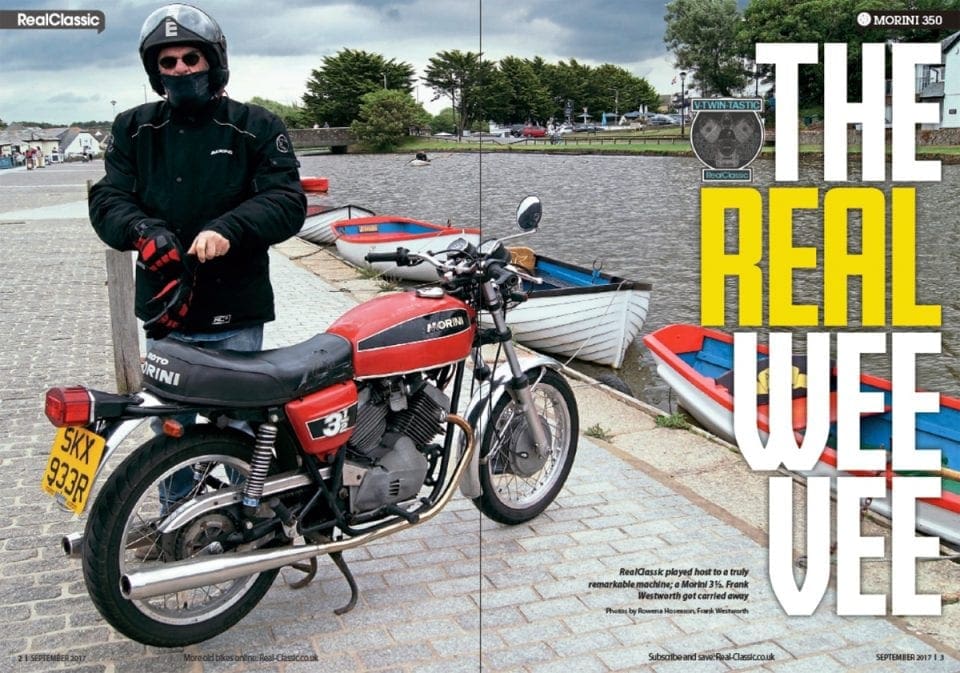 MORINI 3½ STRADA
Last month we revealed how the Morini Riders' Club prepped their 350 V-twin for its trans-national trek. This time, Frank Westworth tries it for size and is mightily surprised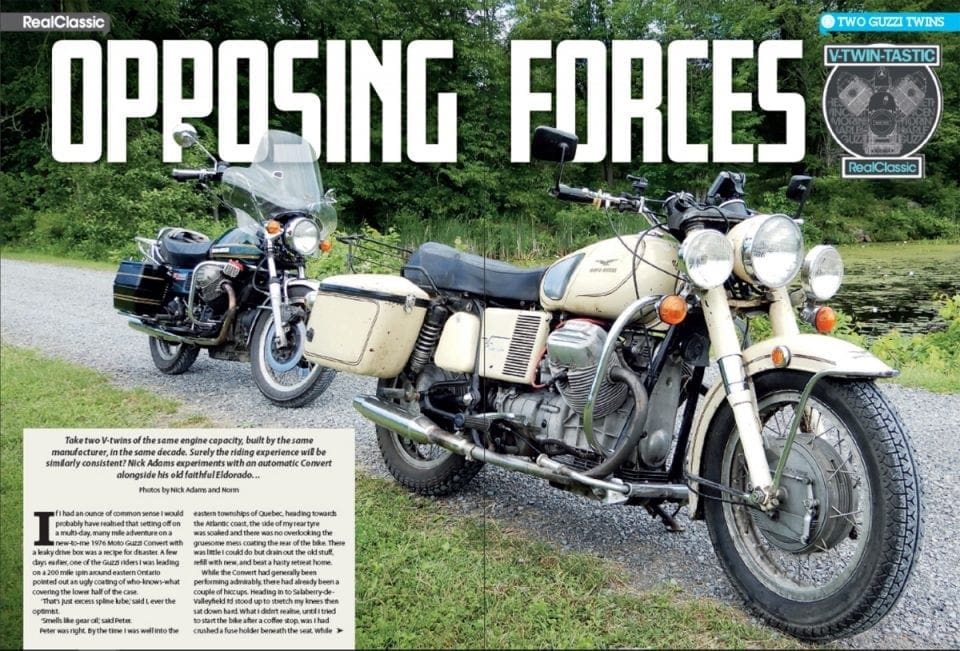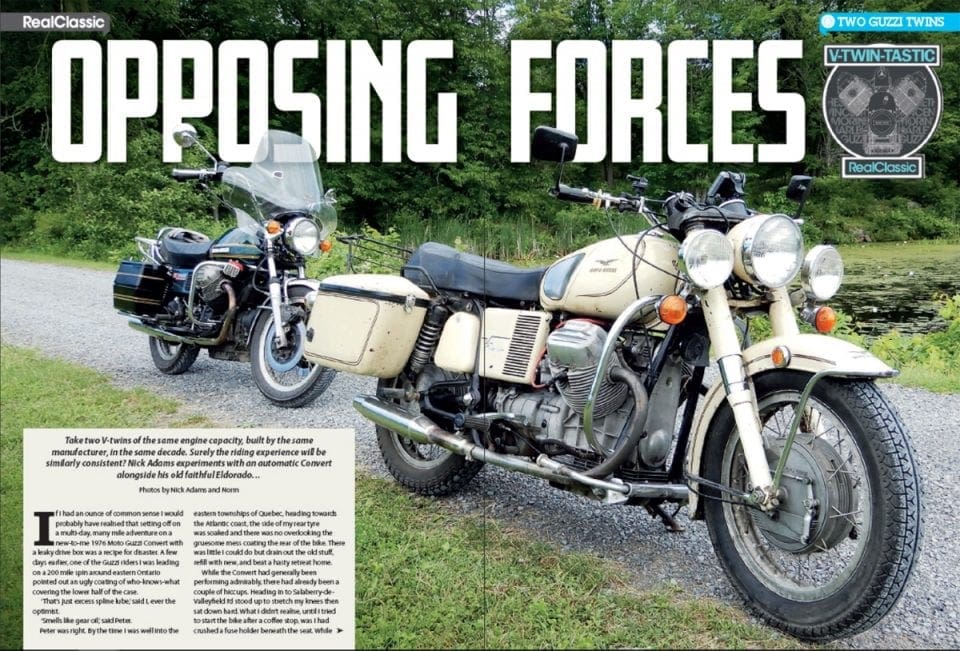 MOTO GUZZI V-TWINS
Take two V-twins of the same engine capacity, built by the same manufacturer, in the same decade. Surely the riding experience will be similarly consistent? We experiment with an automatic Convert alongside an old faithful Eldorado
ROYAL ENFIELD CLIPPER AIRFLOW
Royal Enfield reckoned that their Airflow fairings would improve fuel consumption by 20% and add 5mph to a bike's top end velocity. How does that stand up today, and how does a lightweight classic perform with a full fairing?
SILK 700S
Few people ever clapped eyes on a Silk 700 when these two-strokes were new, back in the late 1970s. Less than 150 Silks were built and maybe one-third still survive… so it's faintly amazing that we found one – in New Zealand!
VEE VARIATIONS
Over the years, one high-mileage rider has owned a succession of big V-twins: pre- and post-war Vincents, Harley and Hesketh heavyweights. Which machine does he rate as the best of the bunch? The answer may surprise you…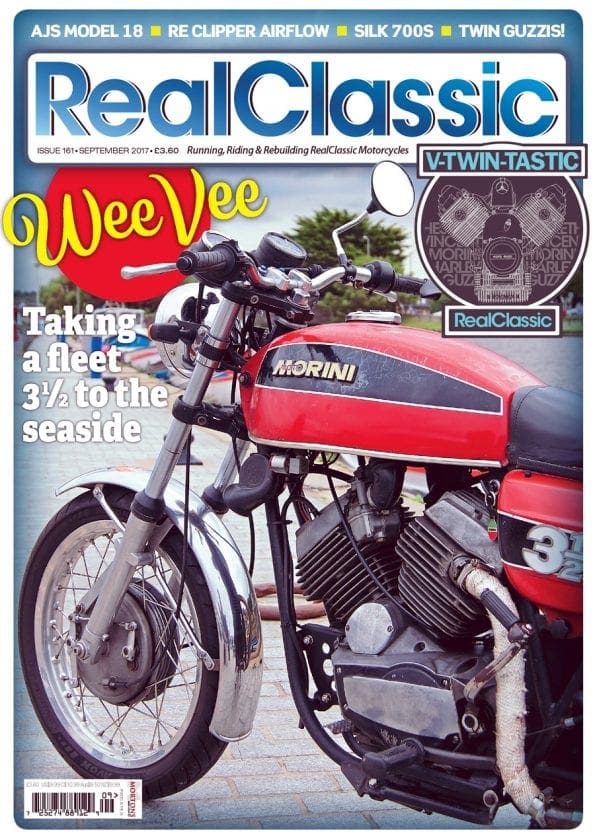 PLUS! An RC reader investigates the strange story of the TriFly: a Triumph twin and Douglas Dragonfly special with the strangest connections; Jacqueline Bickerstaff sorts speedos and gets in on the V-twin theme at the Vincent-HRD rally, and Frank Westworth makes progress with the BSA B25 and rediscovers an old friend in the form of an Enfield…
RealClassic magazine is not on sale in UK newsagents but you can buy the current issue in digital and paper formats
You can also buy stacks of older issues of RealClassic, but it's heaps cheaper if you subscribe.
Subscribers save 50% on the price of a single issue AND get an exclusive subscriber newsletter every month AND access to the subscriber-only Facebook group AND can win show tickets, RC regalia, bike books and more goodies in our subscriber prize draws. All that, and Jaffa Cakes too! And now we have runs out of ands. Official.