RC regular Ian Woolley found himself short of reading matter, and this minor crisis somehow led him to Montlhéry in June, surrounded by all manner of customised classic bikes. Old skool café racers and trad Tritons took to the track alongside new wave brats, bobbers and street-trackers. Here, then, are the highlights…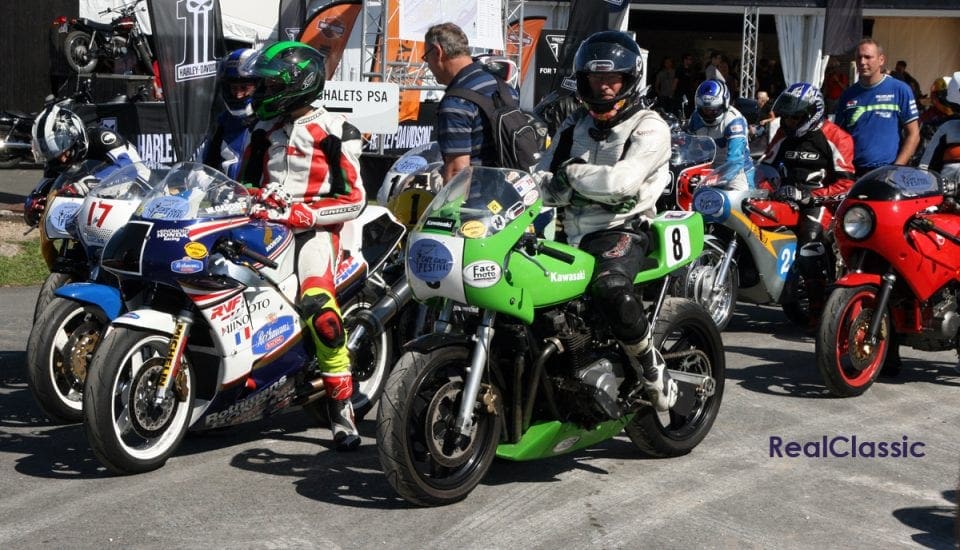 One of my regrets, one of many for I am a Wednesday's child and therefore full of woe (not woeful as some might say, full of woe), is that I can read faster, much faster, than anyone can write. The consequence of this is that I am often left bereft of anything to read whilst the redoubtable Mr Westworth ponders and then publishes the exploits of a certain Mr Stoner, or the crew that put this august publication together sweat the next issue into existence.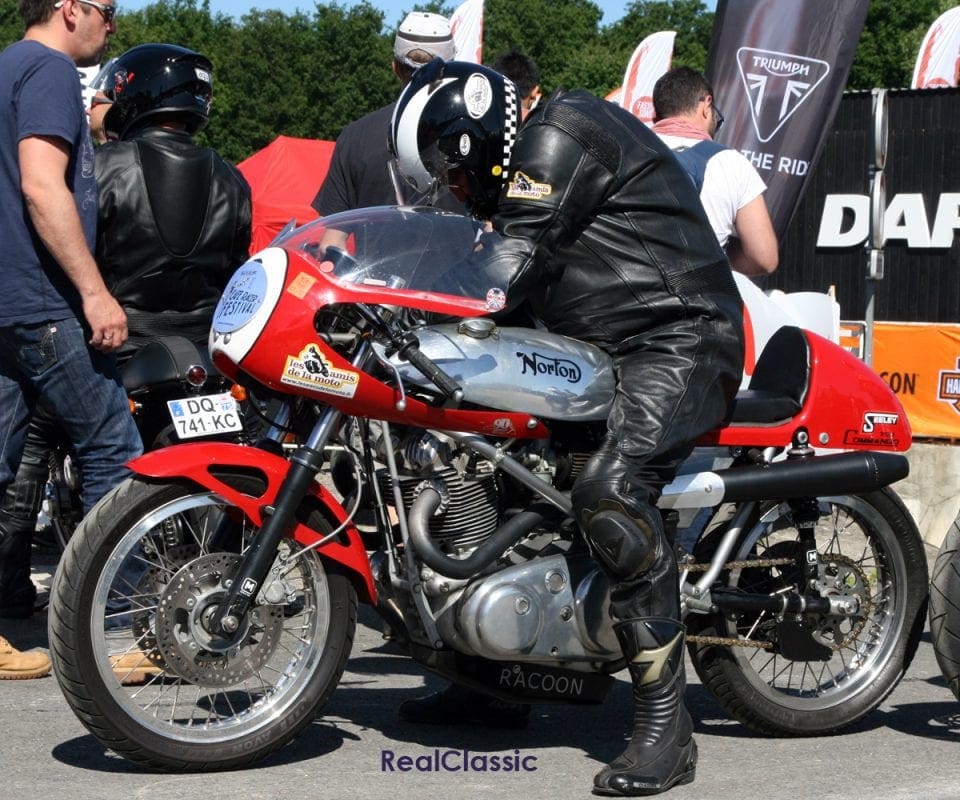 At this point, what is a poor boy to do but look elsewhere? Where, I hear you cry could you find a magazine as good as RealClassic? Nowhere! However, I will admit a fondness for the French magazine, Café Racer, a bimonthly publication edited with a certain Gallic flair by Bertrand Bussillet. The magazine is unlike any that I've found in the UK, although I'll confess that I've stopped looking. If I were to compare it to a UK magazine it would be the tragically short lived MotoRetro, edited by one Rowena Hoseason of this parish.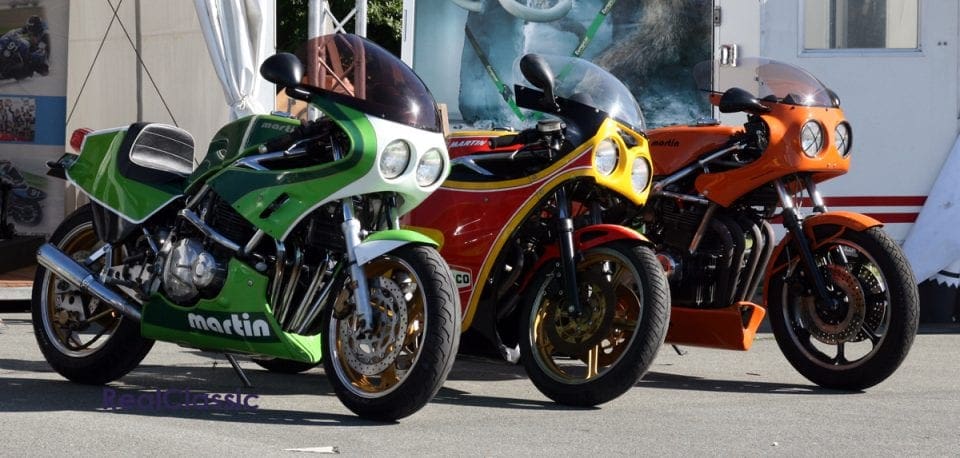 CR has a mix of many things two wheeled; old bikes, new bikes that might appeal to riders of old bikes, craftsmen who fix, modify or even make such machines, a column of rock and roll music, reports of trips on bikes, people who ride bikes and all set in beautiful Technicolor with great, nay stunning images. When you can, do have a gander. Why is this germane? For the last few years Café Racer has hosted a festival and this year I was lucky enough to go.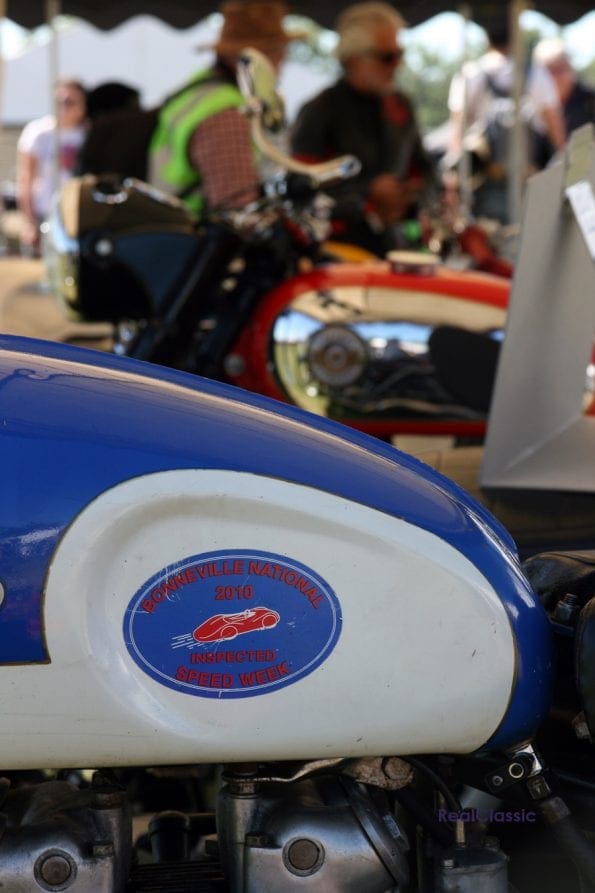 The Festival was held at the Autodrome de Linas-Montlhéry, about 20 miles south of Paris. For those who don't know it, the circuit was built on the instructions of French industrialist, Alexandre Lamblin, to the design of René Jamin. It opened in 1925 and has hosted many car and bike races, including the Bol d'Or immediately before and soon after WW2. It has several possible configurations including some steeply banked turns, like the Brooklands circuit. Also like Brooklands it has had a chequered history since the heyday of gentlemen racers, although as it remains largely intact it has perhaps fared better than Brooklands.
The Festival was due to open at 9am on Saturday morning. Not wanting to be late I arrived at 8.30am to find the place in chaos. I presented myself to the chic young lady stood in the middle of the thoroughfare that lead to the most obvious entrance to be flapped away and told that I should wait another little while before trying to enter. I retired a short distance to marvel at the way that the organisers seemed to manage to get the exhibitors into the circuit, repel the visitors, and keep the traffic more or less flowing, all with a symphony of shrugs.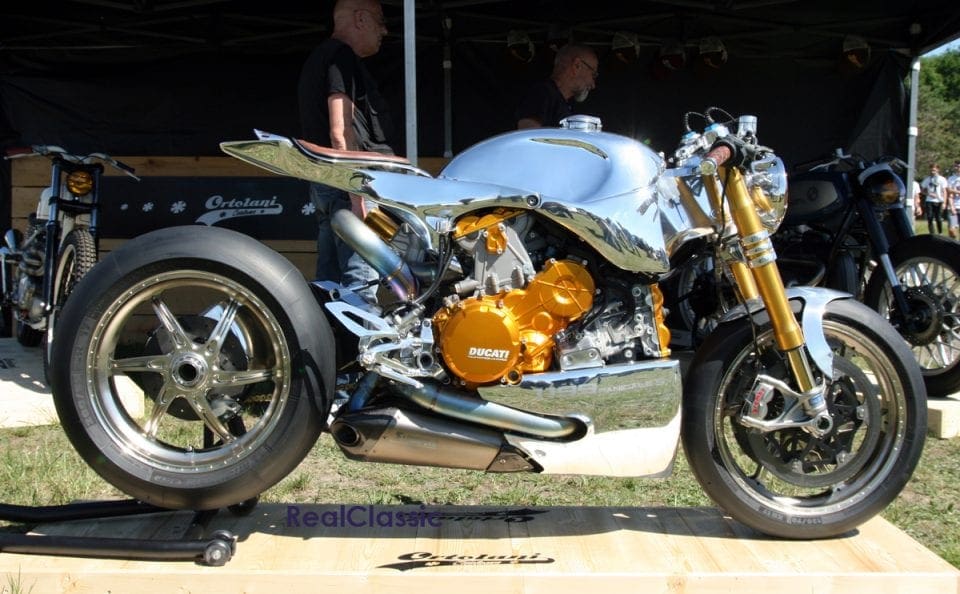 Waiting gave me a chance to see what sort of bikes the show had attracted. Pretty much anything from the 1940s to the present day, and with the odd pre-war machine thrown in for good measure. What was there in great numbers were 1970s air-cooled fours from all the Japanese marques, CX 500s, and BMWs. There were boxers, flying bricks, parallel twins: if it had a blue and white roundel it was popular. Harleys and Indians were popular too. There were a smattering of British marques: in fact one of the things that I noticed was how much 'cool' Britannia retained; Hinkley Triumphs were there in great profusion.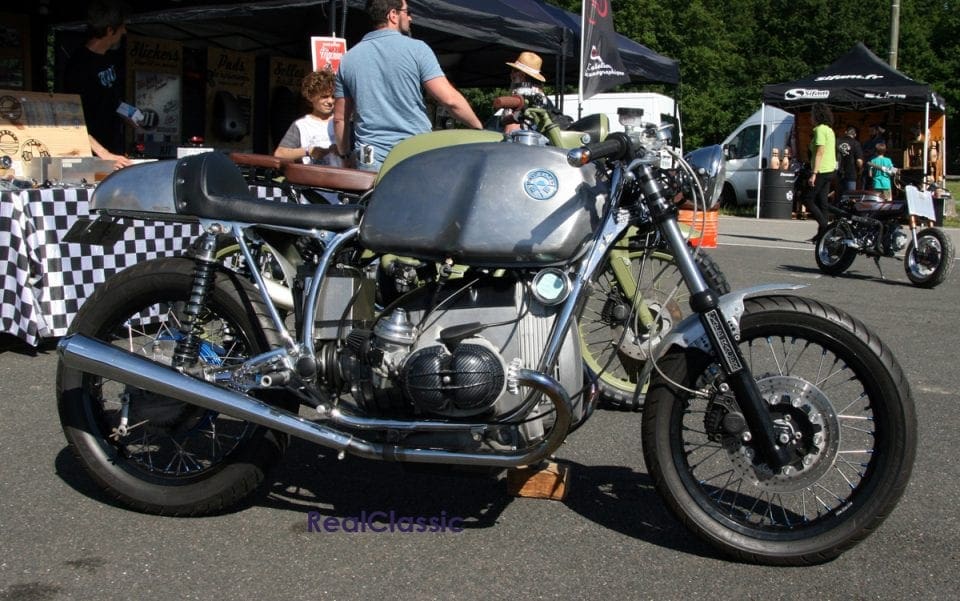 The bikes the punters were riding ranged from the immaculate nut, bolt and rivet restorations, to new bikes, to older bikes that appeared to have been dragged from the corner of whichever shed they had been slumbering in and pressed into service. If it had two wheels it was welcome, indeed three wheelers were happily accommodated too.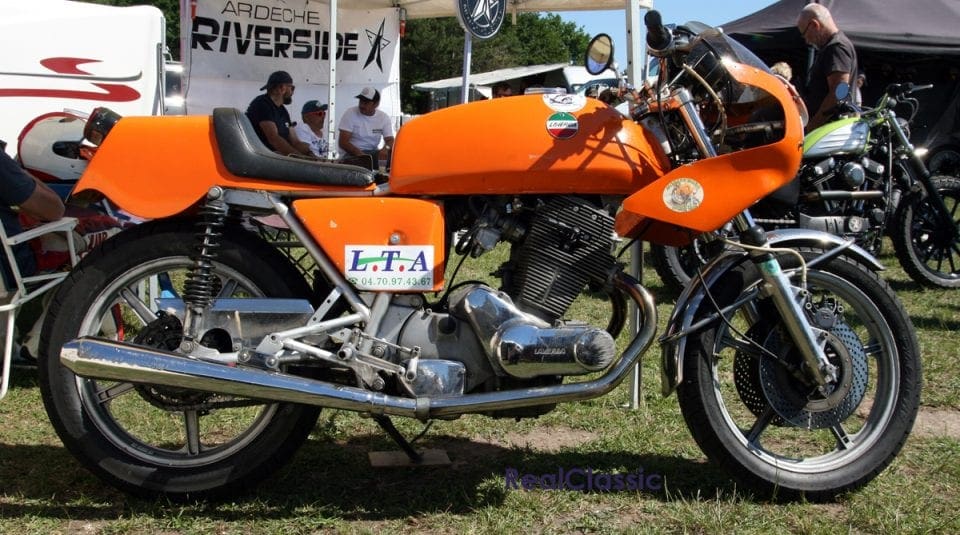 Once we, the paying punters, were allowed in, we rode through a dark tunnel under the banking to the infield of the circuit to where we were parted as sheep from goats: exhibitors and contestants to the left, paying punters to the right. Having parked up in the motorcycle parking area I tarried awhile to watch the flow of machines. To say that there were some tasty bikes there would be a gross understatement. I could have stopped and stared for a long time but the lure of the rest of the event drew me into the exhibition area.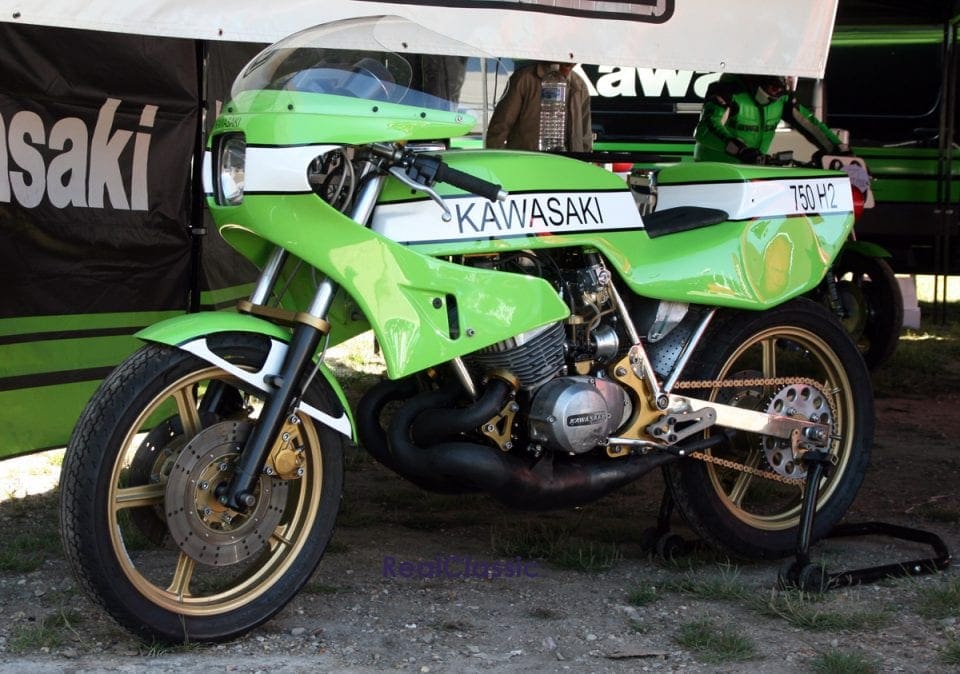 So, what could you see and do there? You could test ride a new bike: BMW, Ducati, Harley-Davidson, Indian, Mash, Royal Enfield, Triumph and Yamaha had all brought bike that you could take out for a test ride, and there was a steady stream of riders trying the bike of their dreams. There was a sandy flat-track course on which there were races throughout the weekend. If you had a suitable bike and had pre-booked you could take you bike out on to the course and ride a few laps at 'parade' speeds – being France the speed, the bikes and the riders' protective equipment were not heavily policed, relaxed was the order of the days.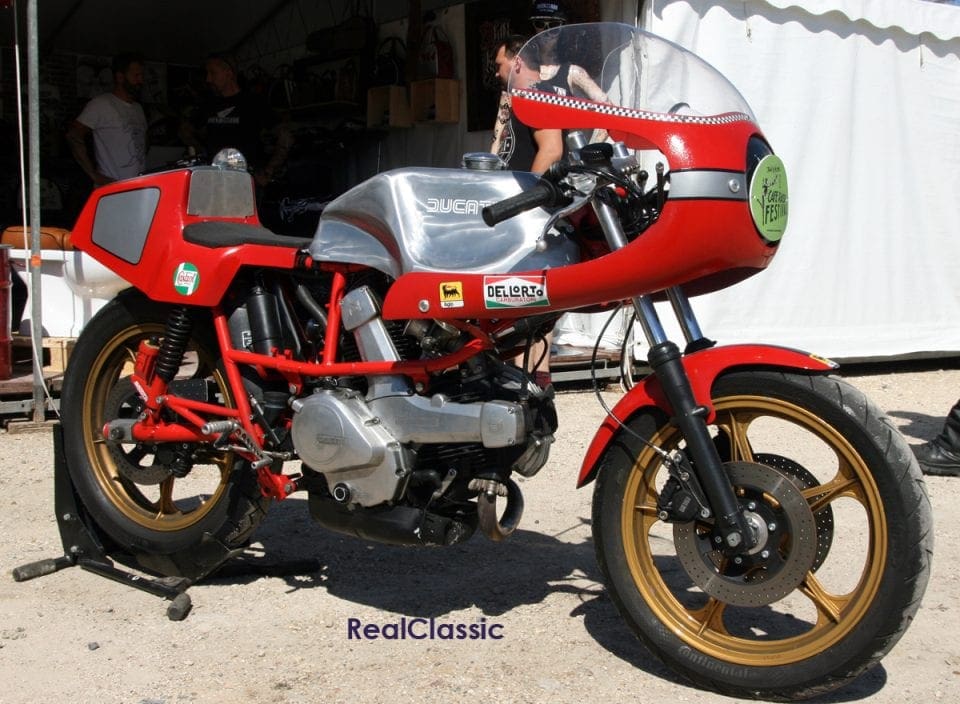 If you had a small person with you there was an opportunity for them to take their first wobble around a specially marked course, well out of everyone else's way. There were sprints – there were several classes of bike that competed over the weekend. In the evenings there were live bands. There were many, many stalls selling all sorts of bike related stuff – clothes, bikes, helmets, tools, and so on. There were also stands casting a spotlight on the skills of the custom-bike builders. Being France there was also an area dedicated to food and drink. The French Festival goer marches on his or her stomach, don'cha know.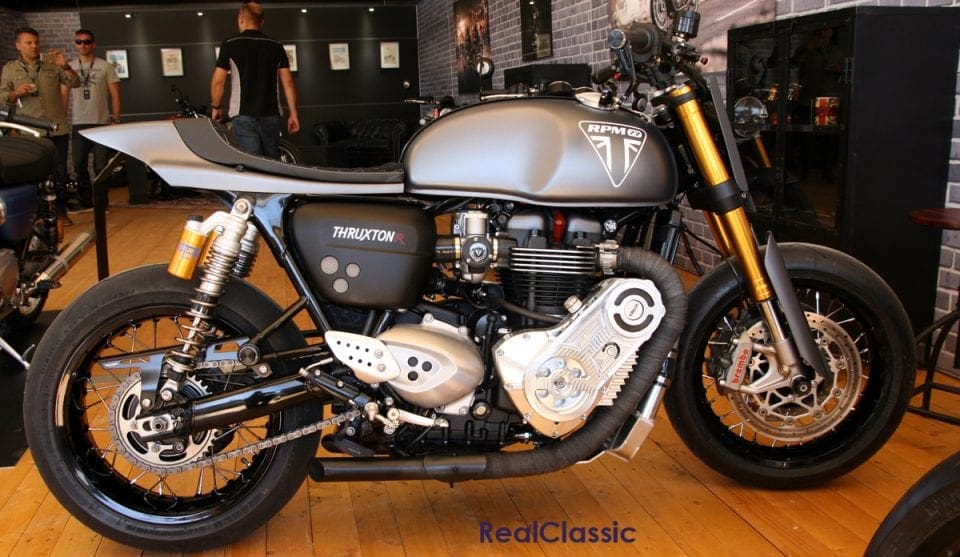 Triumph had an exhibition of new 1200cc Thruxton R models that had been customised. Selected Triumph dealers had been allowed to modify a new bike. Their imaginations had run wild and there were some stunning creations, including a supercharged bike that was exceptionally loud. Guess who was far too close when they started that one up? Visitors to the stand were given a card and allowed to vote for the bike that they liked the best and at the end of the show one lucky voter had their card drawn out of a hat to win a €500 voucher for Triumph goodies.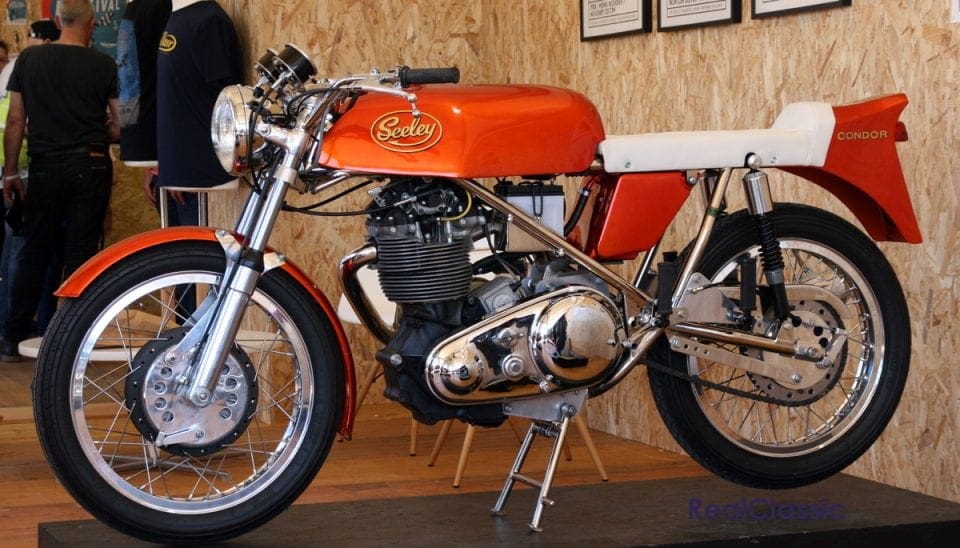 One highlight of the show was the exhibition of Colin Seeley's creations. This was hosted by the organisers and Colin was on hand to chat to the visitor, and occasionally wipe the drool marks off his bikes.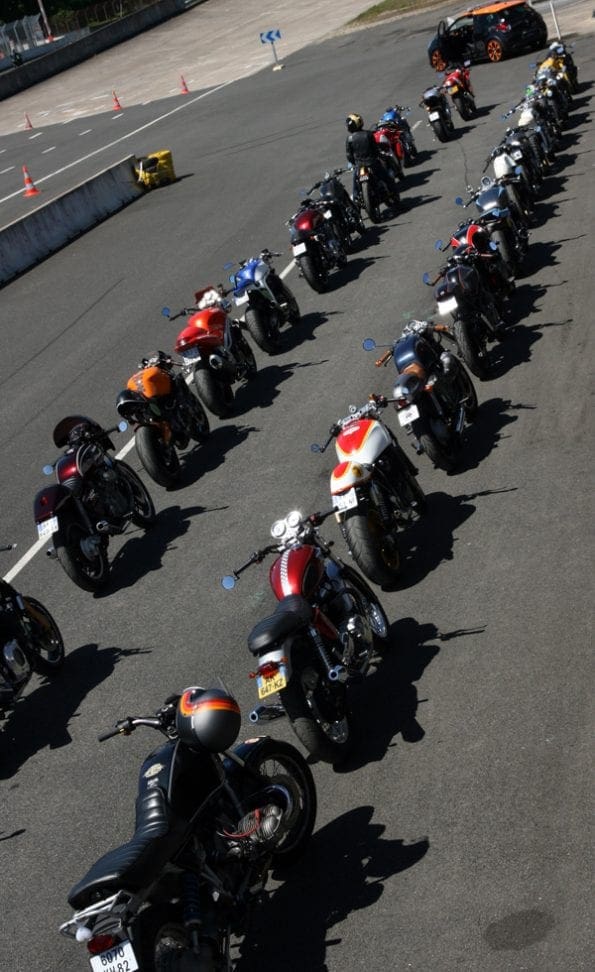 There was also a small section where there were some lithographers and sculptors offering bike-related art works. Personal favourites of mine were Lorenzo Eroticolor and Editions Anthese; I could have spent a small fortune on some very stylish images.
Enough of the lists of what was there: what was it like being at the Festival? In short, brilliant. The atmosphere was great and, whilst there were thousands of people there, it never felt crowded. Everyone was really friendly and it was great to see such a vast and diverse collection of bikes. The parade laps, the dirt track racing and the sprints were brilliant to watch. The food and drink were sumptuous. When I'd done with the exhibitors and displays I had a meander through the bike park where there were lots and lots of interesting bikes.
A downside? As a resident of a small island in the Atlantic off the coast of Europe I was unprepared for the ferocity of the sun and I was slightly singed by the time I left.
———
Words and photos by Ian Woolley