It seems that every other British bike in the new issue is a BSA: not quite sure how that happened. However, the magazine is as eclectic as ever and also features a Morini 3½, BMW boxers and even an MZ, among the other classic bikes and vintage motorcycles. You won't find RealClassic on the shelves in UK newsagents, but you can order a digital issue to read immediately or have an old-fashioned paper magazine posted to your door…
Here's the full list of bikes featured in RC156, the April 2017 edition: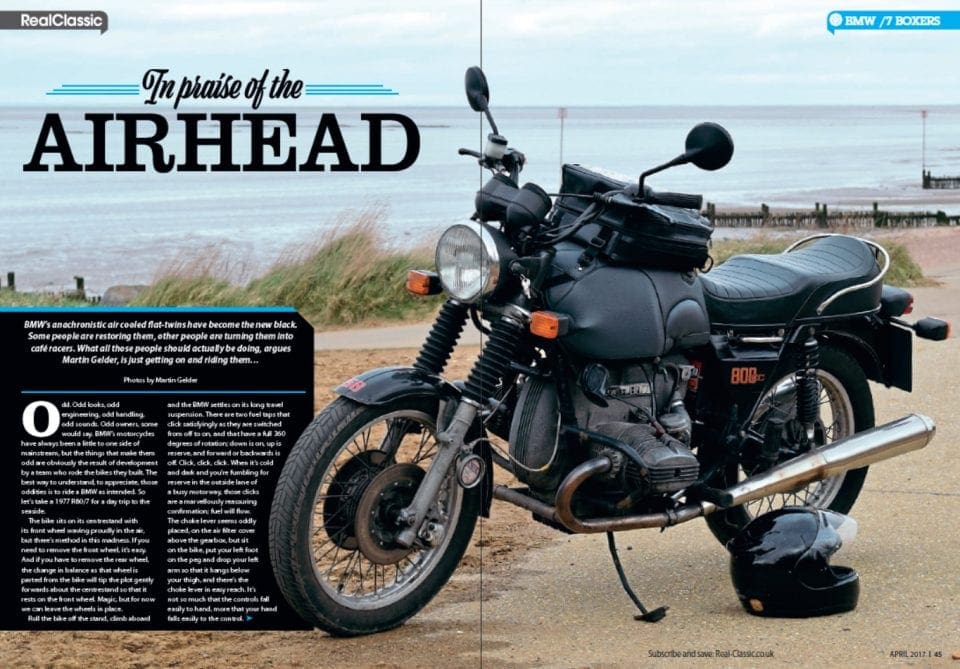 BMW BOXERS
BMW's anachronistic airhead flat-twins are all the rage these days. Martin Gelder offers a comprehensive guide to the /7 series, based around his experience with a 1977 R80
BSA SHOOTING STAR
A quest to buy a BSA Golden Flash ended up with the purchase of an A7 500. This, then, explains how not to buy a 1950's BSA 650 twin but instead reveals the many merits of its smaller sibling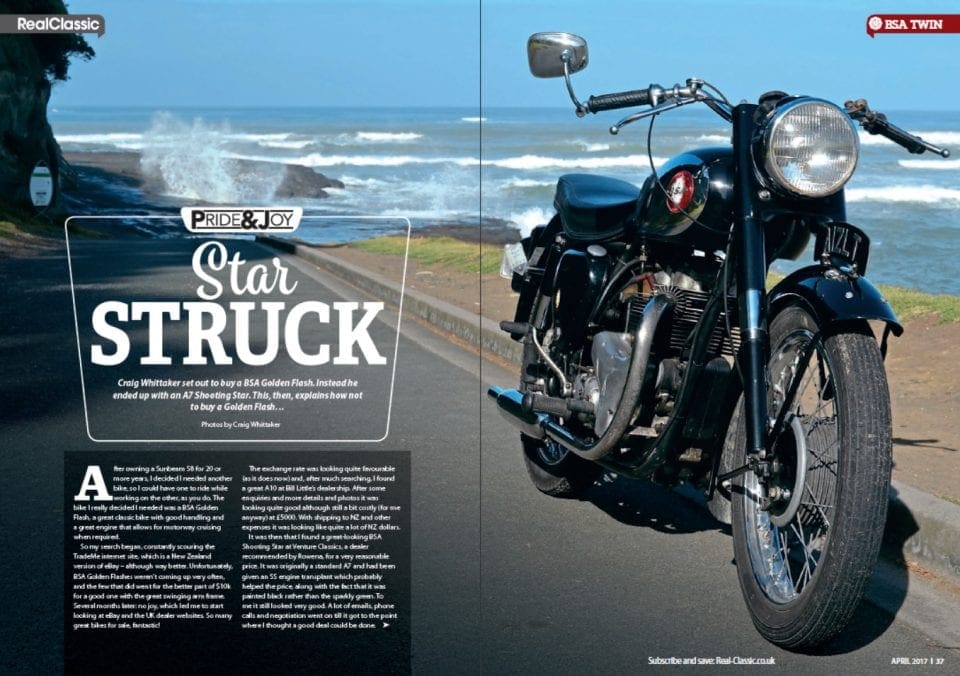 BSA B21 BUILD, Part Six
The quest to recreate a single-cylinder 1938-era 250 continues. A proper test ride reveals that while it pulled well enough, the brakes still needed further attention. Time to rebuild the front wheel, then
BSA SPECIAL
What, another BSA? Three in one issue? Yes, but this is an entirely different type, a really well put-together single-cylinder special which combines components come from three different decades. It's so good that it inspired Odgie to the heights of delight on the subject of riding girder / rigid motorcycles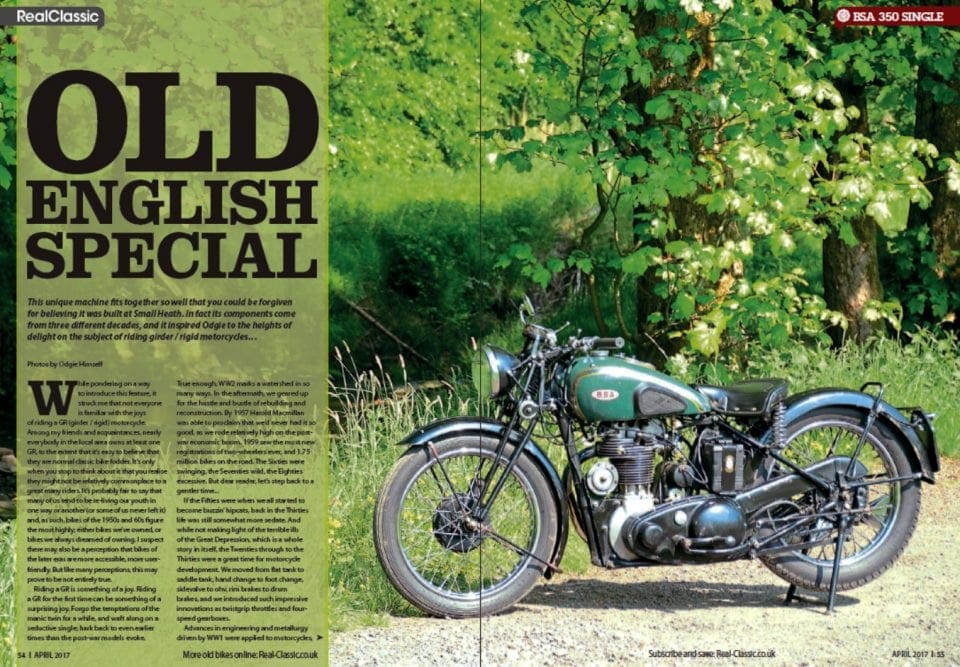 CEDOS MOTORCYCLES
Our investigations into the bikes built in Northampton continue, with a marque that flourished in the years after WW1. Some examples of these vintage motorcycles are still going strong today
MORINI 350 SPORT
The cult of the wee vee has long been strong in Europe, but Morini 350s are seldom seen in Canada. So when an RC regular was given the opportunity to transform a museum piece back into a roadgoing motorcycle, how could he possibly refuse?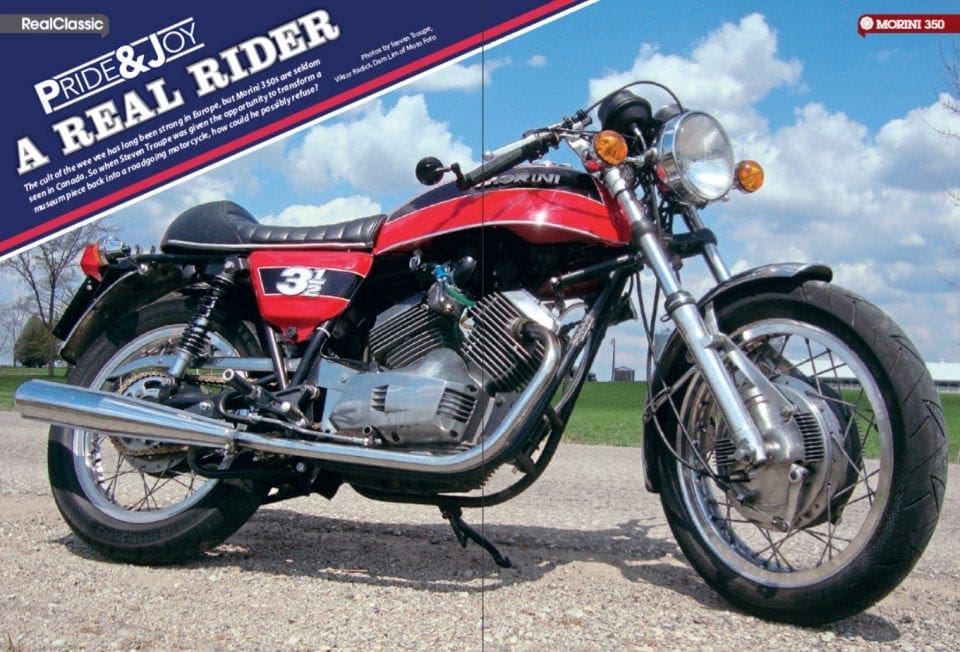 MZ MOTORCYCLES, Part Three
We've explored the marque's history from its DKW days and behind the Iron Curtain. Now Nigel gets to grips with running and riding his 'Commie stinkwheel', a 1986 TS125

RICKMAN MÉTISSE, Part One
If the challenge of renovating a 50 year old classic motorcycle isn't enough, you could always take on a basketcase of disassembled bits. To make life even more interesting, this particular project started life as a special, fitted with an entirely different engine…
TRIUMPH BONNEVILLE 750
Meriden must have felt they had a winner when they rolled out their limited edition Royal Wedding Bonneville to public acclaim in 1981. 35 years later, Stuart Urquhart argues that this incarnation of the T140C might be the best of the Bonneville bunch…
Article continues below...
---
---
PLUS! RC readers debate CDI malfunctions and inlet oiling; the intricacies of lithium-ion batteries; whether Laverdas really are too big and heavy; why BSA B25s can be brilliant; the problem with Pennington's engineering efforts, and super Scorpion dirt bikes – as well as Frank Westworth's Shed exploits, Jacqueline Bickerstaff's brake-down, forthcoming events, small ads and more…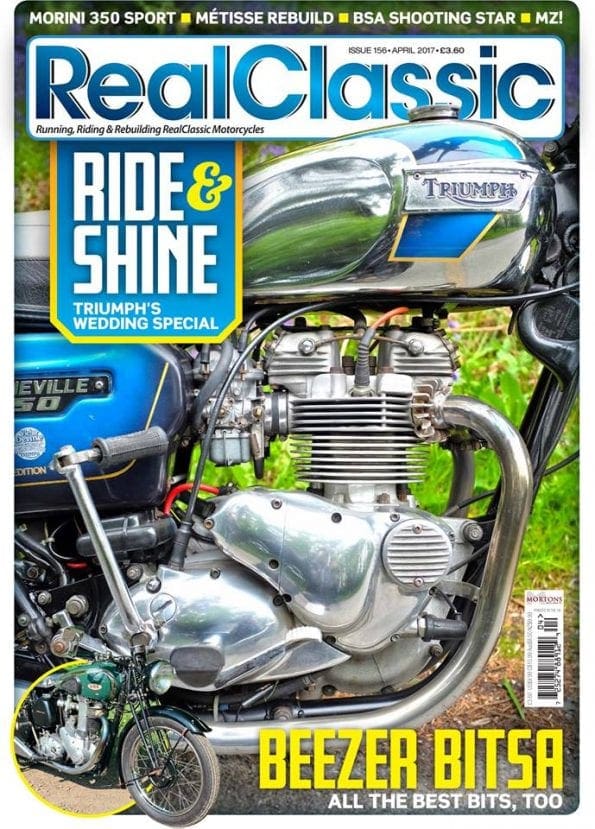 RealClassic isn't on sale in UK newsagents – but if you'd like to read these articles then you can order a mail order or digital copy here
The best way to read the magazine regularly is by subscription – each issue delivered to your door and for half the price of a single issue
Enjoy more RealClassic reading in the monthly magazine.
Click here
to subscribe.