Once upon a time, every weekend witnessed an autojumble as good as this one. Real barn-find British bikes for sale; stacks of spares, genuinely surplus to requirement; an eye-catching avenue of motorcycles old and new which carried their owners to the event, and an entry fee equivalent to a single cup of frothy coffee. Few traditional autojumbles still exist in this brave new world of online auctions – so the Somerset section of the Vintage Motor Cycle Club get an extra round of applause for keeping the faith with their twice-yearly event at Shepton Mallet…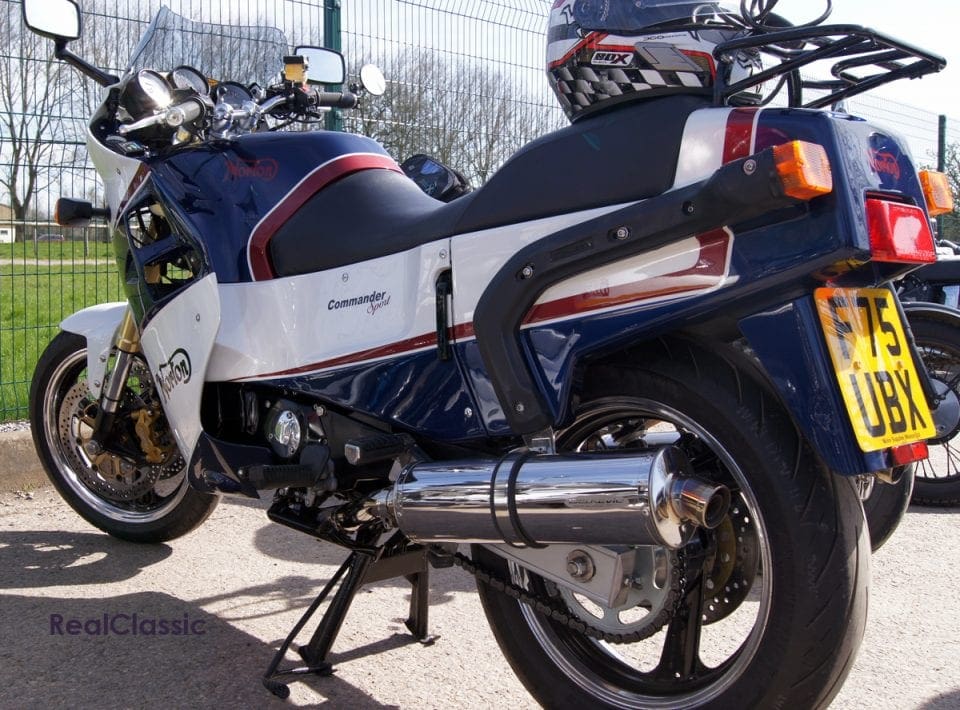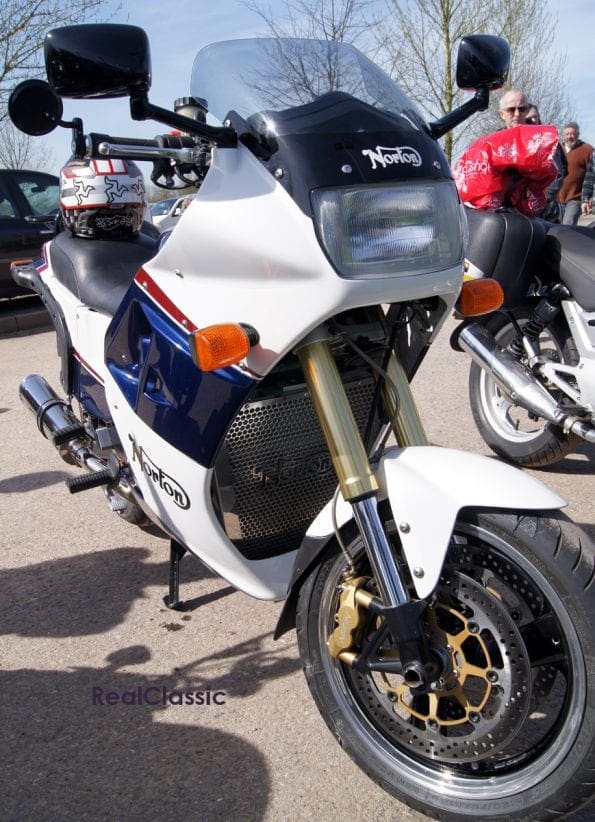 This March the weather was astonishingly kind, which enticed hundreds of people to attend on two wheels and generated a cracking car park concours. It's almost impossible to believe that underneath this sleek exterior lurks Norton's watercooled 588cc rotary engine, because the 'normal' Commander is so much more utilitarian than this high-end special. Custom paint over a substantially re-worked full-fairing; hydraulic clutch; double disc Nissin front stoppers attached to an entirely uprated and upside-down front end; bespoke (and extremely sexy) radiator grille; Delkevic stainless exhaust system and – hang on – isn't that actually an F1 engine? Bet this sounds brilliant and goes like stink…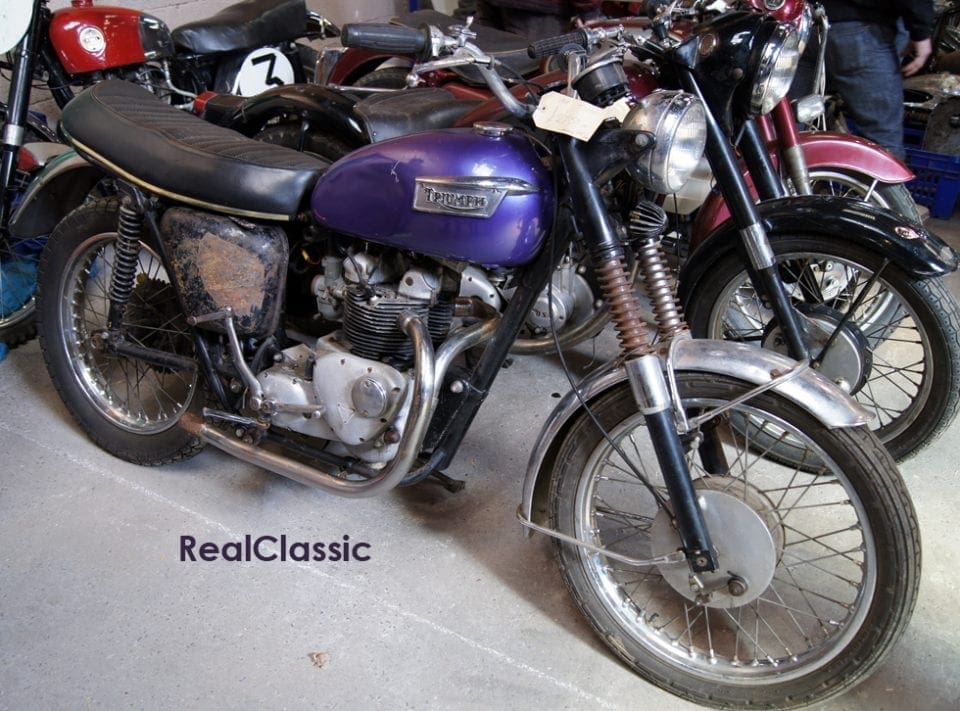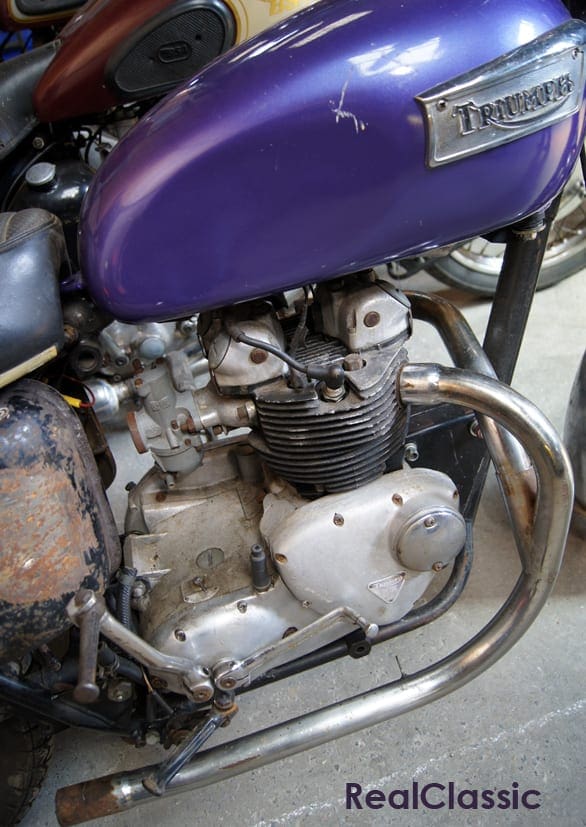 The VMCC's Shepton jumble is just that: an autojumble. It's not a show as such, although we always find plenty to gawp at. It's a place to buy bits to fit to bikes, and a place to find bikes which needs bits fitted to them. We walked around for four hours and didn't see everything, but we did see plenty of old bikes in the 'ripe for restoration' category. Here's one now; a 1968 Triumph T100C, the street-scrambler styled, single-carb 500 twin: up for grabs at £2750. So you can put to rest any worries that the supply of 'barn find' bikes has suddenly dried up, or that interest in classic British motorcycles is waning.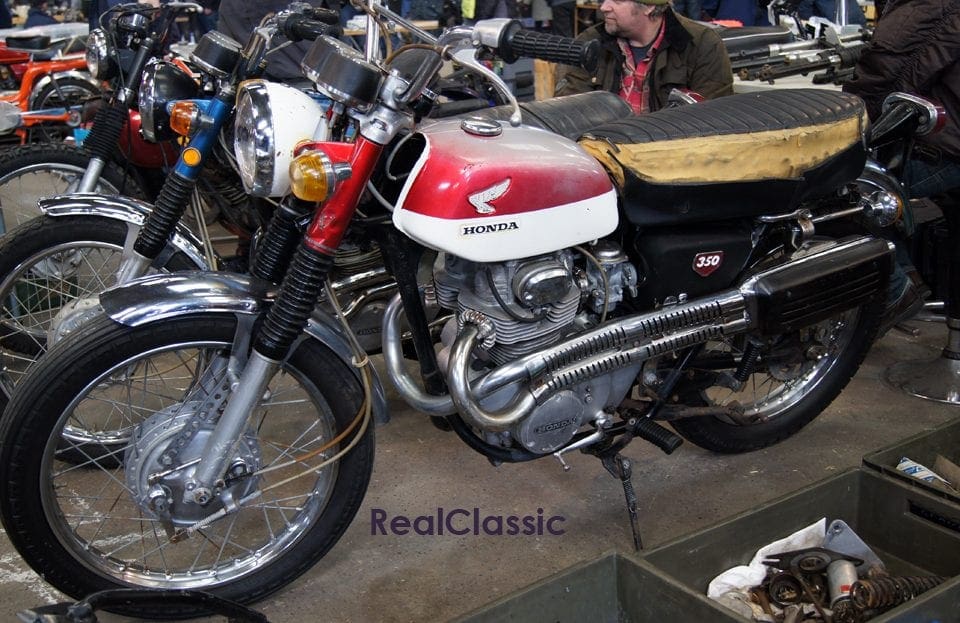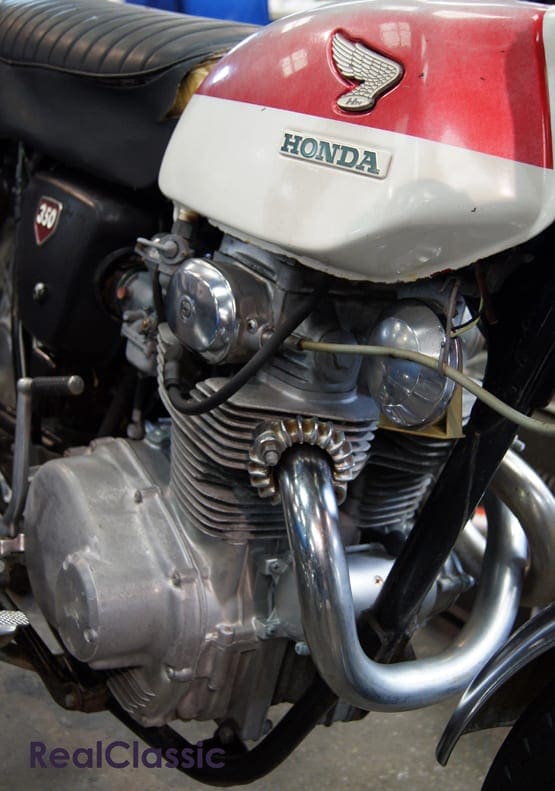 Equally, vintage Japanese motorcycles appear to have integrated into the overall classic scene so effectively you can barely see the joins these days. Sagging paste-tables displayed Norton Dommi engine spares alongside banks of Keihin CV carbs, and there wasn't much elbow-room if you wanted to inspect any of the many Japanese machines for sale. Of course, it helps that the purchase price of old Japanese motorcycles makes a project feels less daunting. Editor Westworth was mighty tempted by this Honda CL350 at £1250, figuring it'd make a good stablemate for the BSA B25SS.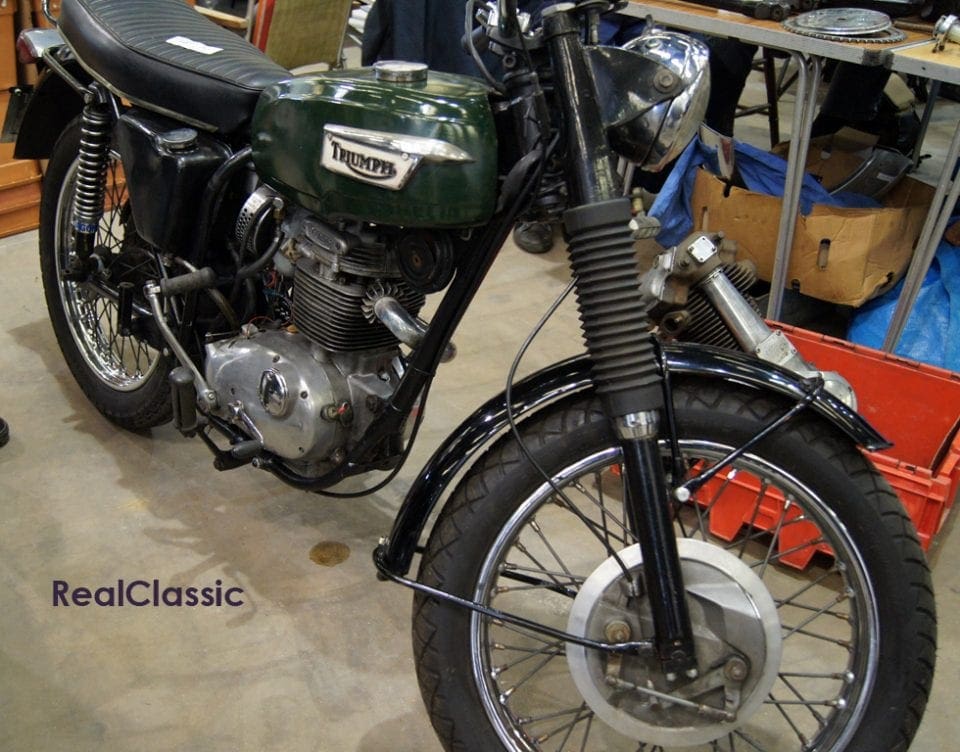 Speaking of BSA-Triumph unit singles, here's one now. In fact there were a matching pair of pre-oil-in-frame 250s: this 1970 Triumph TR25 Trophy and a BSA Starfire, both up at £2200. That price makes the Honda CL sound like a snip: a grand cheaper, overhead cam, electric start and all that jazz. However, we reckon that if you're trying to restore to standard spec then you'll have an easier time sourcing NOS and repro spares for the BSA or Triumph than for the Honda. But if you're a dab hand at fabrication and fancy creating a new wave custom street-tracker… well, the CL looks tempting, doesn't it?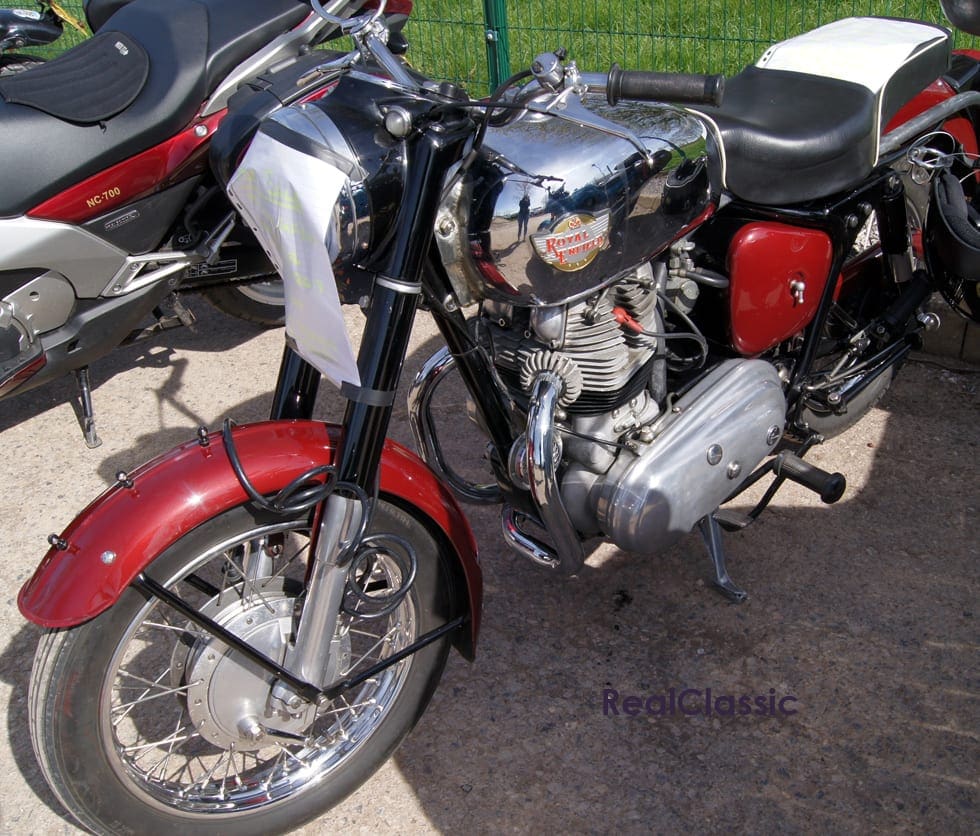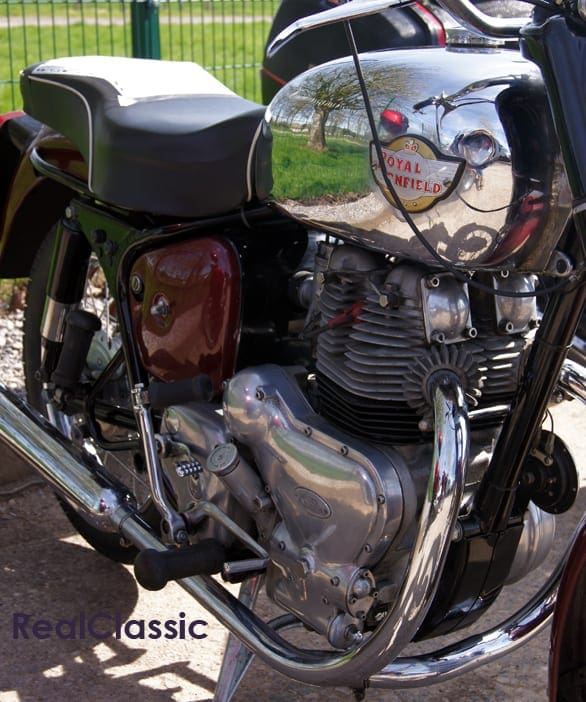 Even before you pay the measley three quid admission fee and enter the Bath and West Showground proper, you'll find interesting old bikes for sale in the car park. Royal Enfield 500 twins rarely come onto the market so someone should snap up this sweet 1961 Meteor Minor. Freshly MoT'd through to April 2018, it was advertised at £3500. Yes, we might've made a note of the phone number, if you're interested. (Magazine subscribers can contact Rowena for the details!)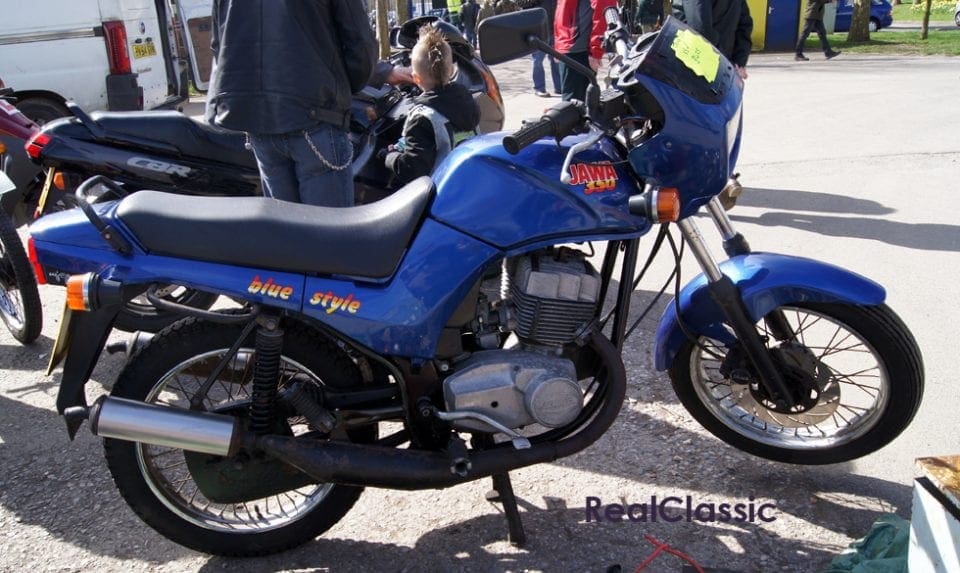 And finally (for today) here's a bike with a style all of its own – Blue Style! A 350 twin 'Commie stinkwheel' (we luv 'em round here, so that's a term of affection). Yours for four Franks*, guv. Can't say fairer than that, now can you?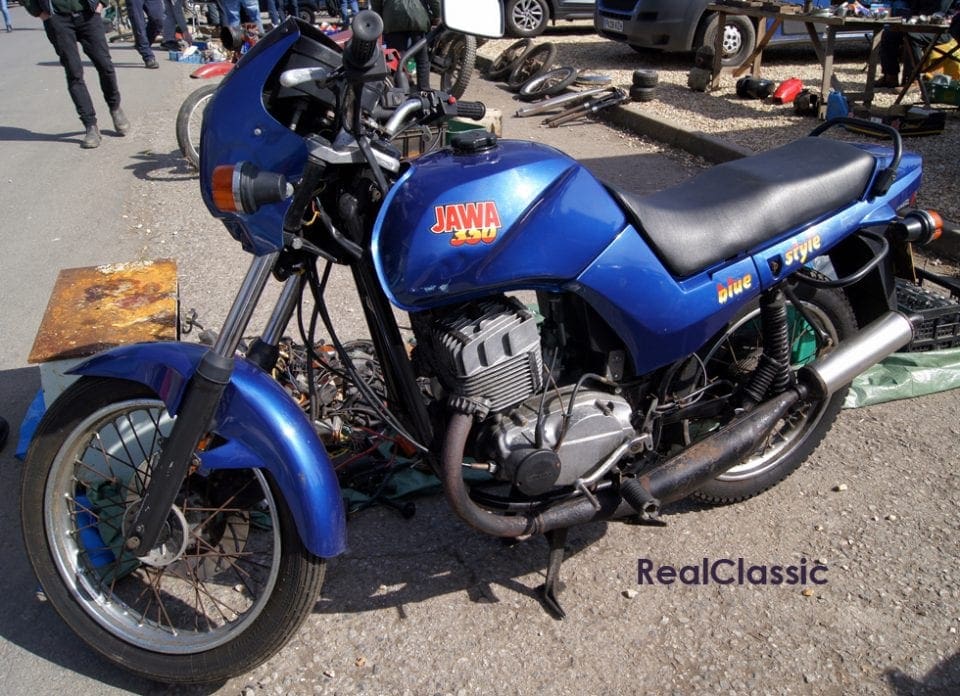 ———-
The next VMCC Somerset-section autojumble is on Saturday 12th August 2017. But there's more to come from the March jumble yet – pop back in a couple of days to see what else attracted the editorial eye…
Words and photos by Rowena Hoseason and Frank Westworth
*A 'Frank' is the opening offer for any motorcycle, equivalent to one hundred of Her Majesty's shiny new 12-sided coins…