A few months back, Editor Westworth risked life and limb by suggesting that Yamaha's air-cooled parallel twin was the first and potentially the best 'Japanese Bonneville'. It's stood the test of time, too, as this 40 year old example ably demonstrates. So we were delighted to hear from the man who modified this particular XS – previous owner DaveP, who agreed to spill its secrets…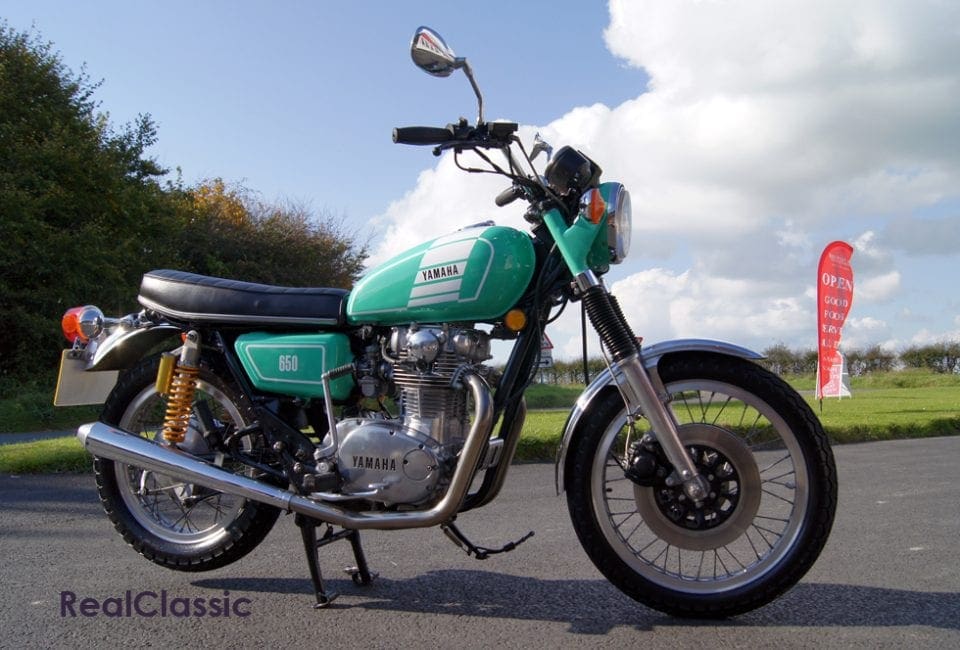 I've always been a fan of Yamaha's XS650 ever since a friend of mine had one about 30 years ago. In about 2005 I bought this 1977 XS650D through an import company. It came from San Diego, California and I was the first UK owner. It was in fairly good condition, in so much as it was complete and everything worked. It didn't run very well though. The engine cases had silicone sealer squirting out of all the joints, it was badly painted dark blue and had gold pinstripes.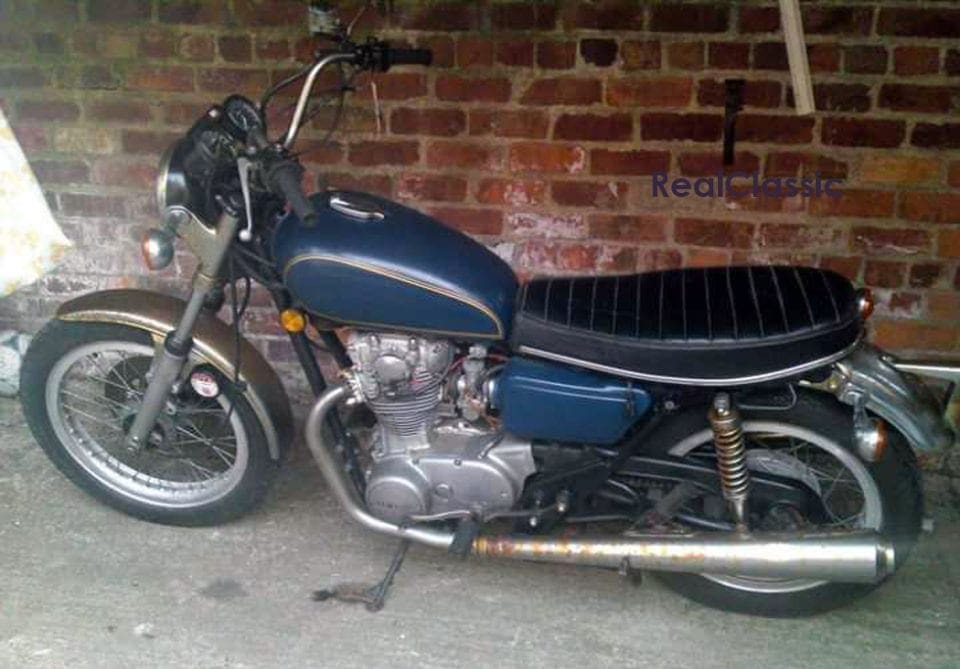 I was given the email address of the previous owner as part of the US paperwork and so I contacted him. He was surprised the bike was in the UK as he had donated it to a homeless charity near his home. He confirmed his friend had done some engine work and had painted it; he also confirmed the mileage was genuine and sent me some photographs.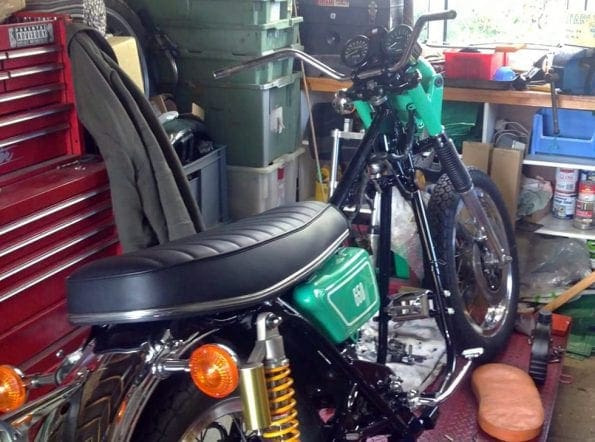 I ran the XS for about a year, doing the odd job to it to get it running properly. It was my second bike so I didn't depend on it too much. When it was running OK I left it as it was for quite a while. Then one morning in 2009 it broke down at 06:30 on the way to work. By then it was looking really rough. I started taking parts off it and then I just didn't stop. I've never like standard bikes much so I thought I go down the mild custom route: I wanted to make it go well and look nice.
The frame was powdercoated by a friend who owns Carnaby Powder Coating near Bridlington. All the chrome was sent to Karl Russell at Quality Chrome in Hull. I stripped the engine and then set about looking at what to modify. I rebuilt the engine with all new gaskets but thankfully the engine internals were all in great condition. To get a little more power I sent the head to the Cylinder Head Shop for it to be given a 'fast road' gas flow and five angle valve seats. The rest of the engine was vapour blasted to clean it all up. The XS already had the aftermarket Mikuni carburettors fitted, which I had rejetted to try and sort out the rough running.
I sent the seat to a friend from school who ran his own company called Well Seated. He couldn't sleep on the night that I delivered the saddle to him – so the next day he rang me and said the seat was done! He'd made a new cover and finished it all during one single night. Sadly a few months later he died, far too young.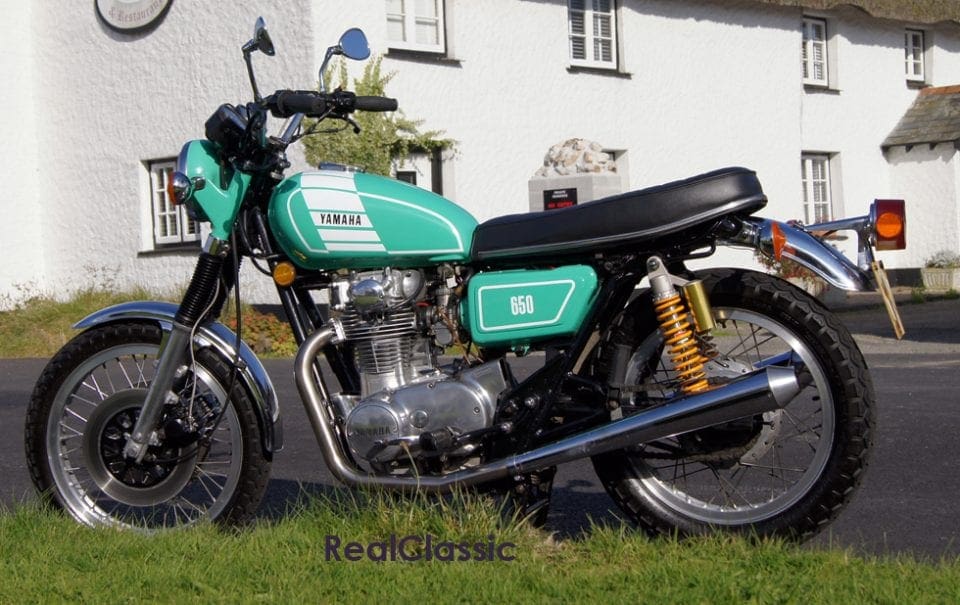 A lot of the aftermarket parts came from Heiden Tuning in Holland, including the rear shocks, all new internals and progressive springs for the forks, the stainless 40mm exhaust downpipes and some exhaust cones that fit at the exhaust manifold. These were essential apparently, but not for long! They went in the bin in the end.
I did the paint myself. This took a while as some of the metal parts such as headlight bracket and sidepanels were dented. It took an age to find good replacements, particularly the left sidepanel. I just couldn't find one for about a year. The paint is from Halfords and is peppermint sea green from a can. I painted the bike and then had some later model decals made in white. These were fitted by my friend Tony – as he had a steadier hand than me – then the whole lot was given a good few coats of lacquer.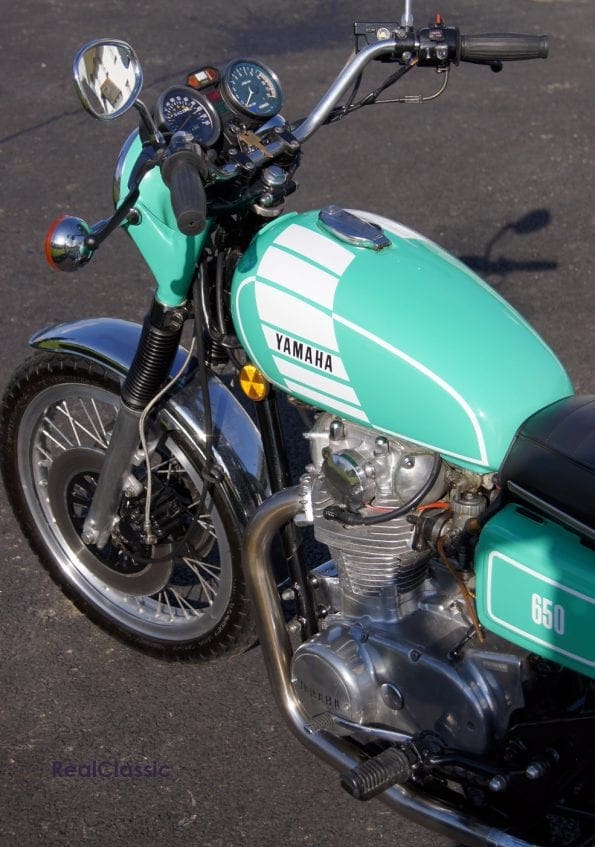 The XS was in bits for about two years and almost every part of it was checked, cleaned, repaired or replaced. When it was all back together I left the starter motor off it and filled the hole with a Halco blanking plate. I felt the need to be nostalgic and have just a kickstart. The electric starter weighed a lot too so that was part of the reason for leaving it off.
After all the engine mods, the motor didn't run very well. Following weeks of messing about I sent the bike to John Warrington Motorcycles in Malton. He's a tuning god and it took him about a week to fix. He declared that it's a simple bike to set up… but it was also the worst he'd done in years. He found some worn parts in the carbs and re-jetted them again. The XS initially came off the dyno with about 25bhp which was really disappointing. It was then that I remembered about the exhaust cones I had fitted, as per the guidance with such wide exhaust headers. They came out of the exhausts and into the bin, and the bike ran at 59bhp at the rear wheel, an increase from 53hp at the crank as standard.
Originally the XS had a single front disc but I added a second disc with an XS1100 caliper. The slight lag when setting off isn't the clutch; it's because the Mikuni carbs have no accelerator pumps. Gearing was reduced at the engine sprocket to reduce a bit of vibration: this reduces the top speed too but I wasn't bothered. I rode it for a while after that and then parked it up. It never missed a beat after the rebuild and was subsequently sold to a guy in Cornwall. It clearly didn't like being sold because it broke down the day he got it! Easily fixed, I believe.
I saw it for sale recently and chuckled when the ad says it was standard. Far from it! But I'm glad people think that it is, that's what I wanted.
Article continues below...
---
---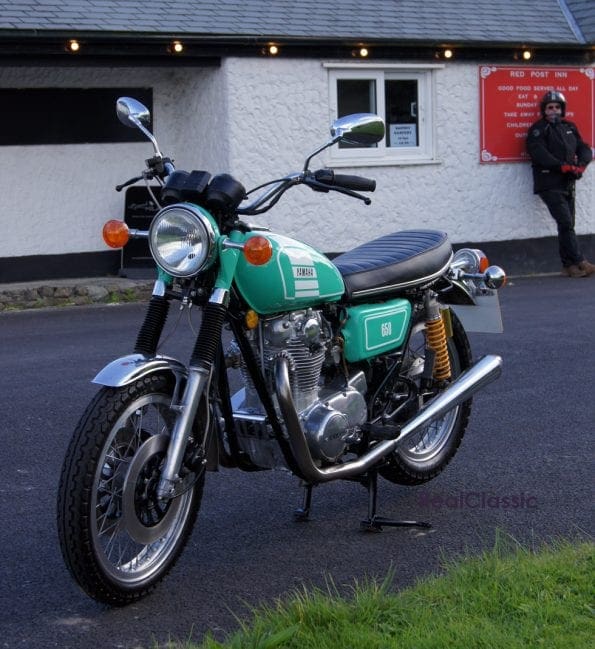 ———-
How have you upgraded / improved your classic bike? Drop us a line and you might see it featured here or in the magazine
The full length feature about this bike appears in RC152, the December 2016 issue
Enjoy more RealClassic reading in the monthly magazine.
Click here
to subscribe.