What better way, asks RC's roving reporter Richard Jones, to spend New Year's Day than gazing on classic machinery at Classic Stony? This annual event features the two, three, and four-wheeled vehicular delights – what a way to start the year. The weather wasn't exactly marvellous as you can possibly see from the pictures but there was a good selection of bikes and cars on display for the large number of people who came along to enjoy them. The charity receiving the benefit of the collections was Willen Hospice in Milton Keynes so we could all feel good about ourselves too.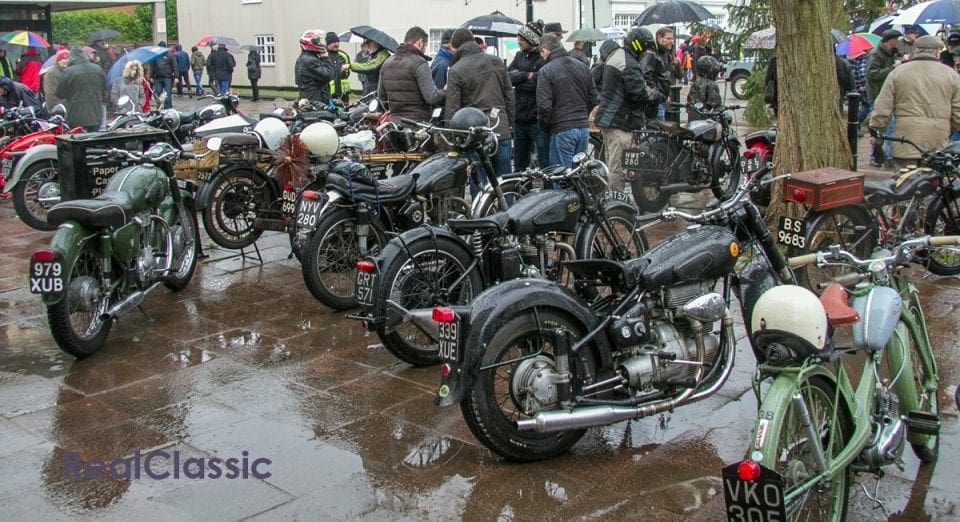 Let's start off with a tiddler, in this case a Motobecane Poney AG2 apparently dating from 1935 and which had stood idle from 1955 until MTS Classics from nearby Hanslope, and one of the show's sponsors, modified it for the owner in the style of a 1920s board racer. The original would have had two gears to transmit the awesome power from its 50cc engine to the back wheel but it seems to have been a motorcycle rather than a moped as it was sans pedals. That seat looks quite hard… so not a tourer then?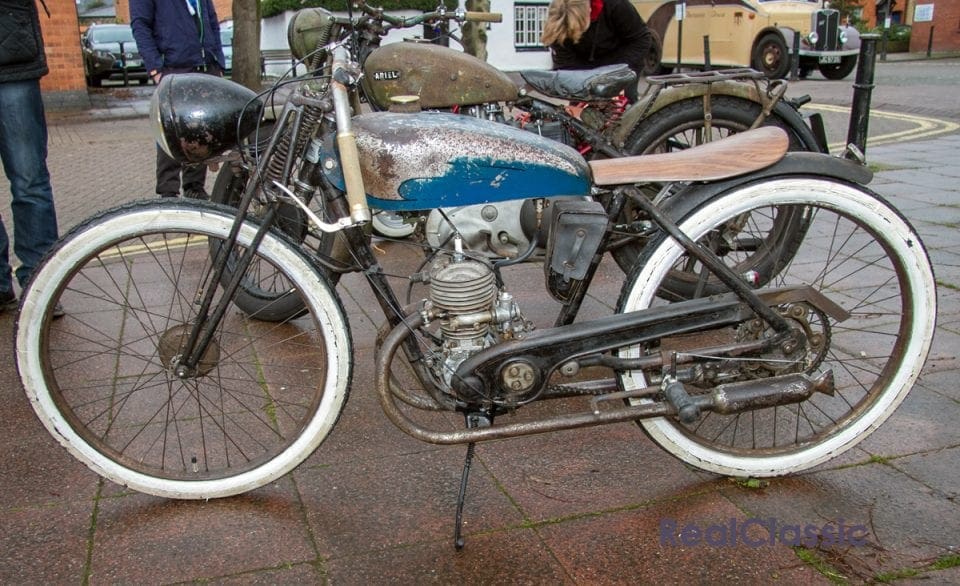 Before we leave the smaller capacity machines, have a look at this 1910 'Indian' which has been built as a tribute to Burt Munro's World's Fastest Indian. This machine has a single cylinder 80cc engine and, even with the pedals, it's going to have to go some to match Mr Munro's 183.59 mph record attained in 1967. That being said the attention to detail is remarkable and the owner has clearly spent a lot of time producing such an exquisite machine.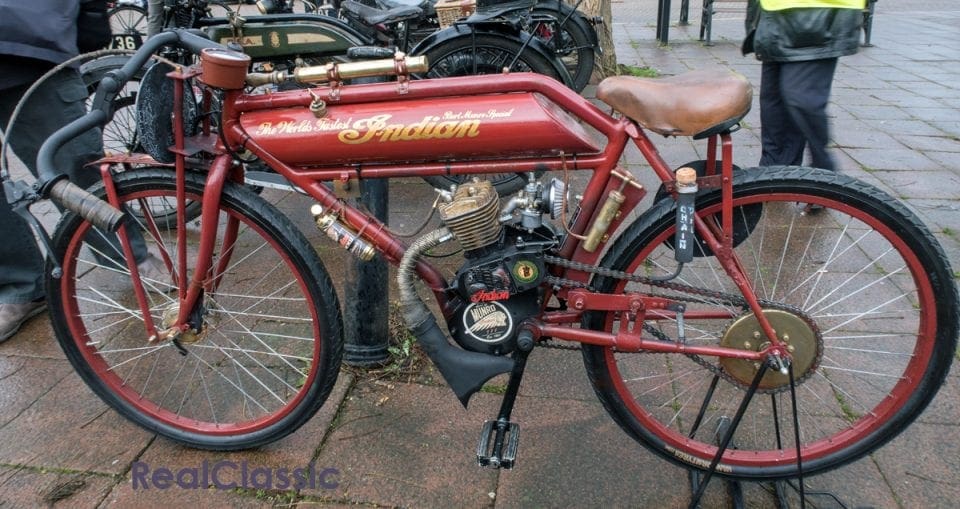 Of course if you like your Indians to have a V-twin engine then you could do no better than taking a look at this 740cc Indian 101 Scout dating from 1931 which was the last year of this model's life, first appearing from Springfield in 1928. Designed by Charles B Franklin, the 101 was popular with racers and hill-climbers and was described by some as the best motorcycle that Indian built. Unfortunately profit margins for the expensive machine were low and the Great Depression killed it off. The present owner has always wanted one and finally succeeded in his mission to acquire one about 12 months ago – some things are well worth waiting for.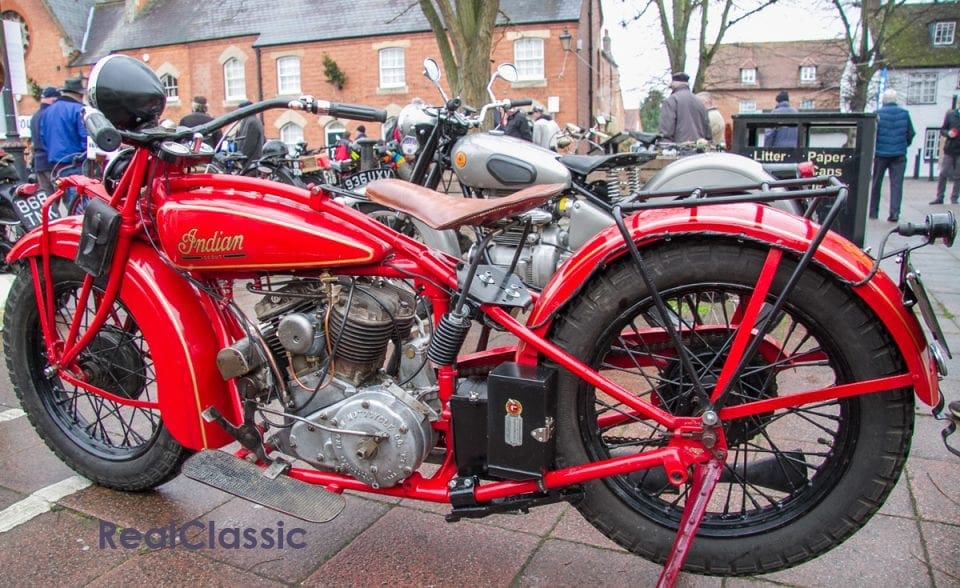 I've become rather fond of Sunbeams since I wrote an article on them last year (see RC148) and there were two at Stony Stratford which perhaps suggests I'm not the only one who likes them. This handsome S8 dates from 1949 which Robert Cordon Champ's definitive book on the marque tells us was the first year of its production. The previous S7 was not without its faults and the S8 model was produced to address them. The 487cc ohc engine had been redesigned, the frame was 50% new, the front forks and brake came from BSA (who owned Sunbeam) and a cast-aluminium silencer provided the sound effects. Sports bike, tourer or perhaps the first sports-tourer – you decide.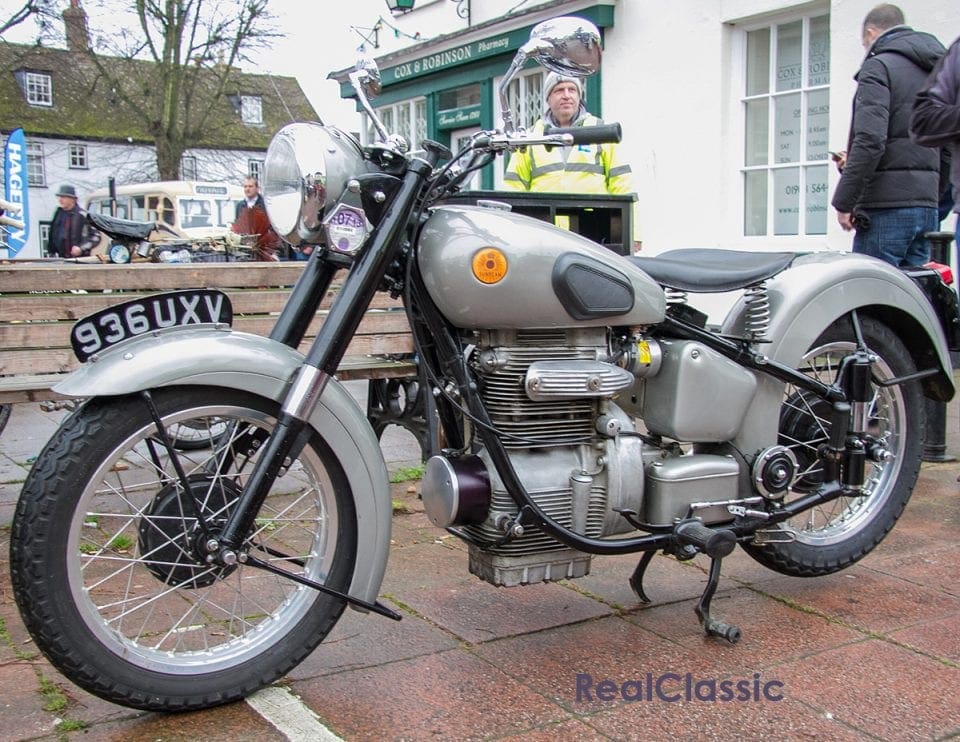 Of course there were Nortons on display and my eye was caught by this 1930 Model 19 outfit with a very stylish – and very shiny – sidecar. This is appropriate as the 19 was a variation on the Model 18 but with a stroke increased from 100mm to 120mm specifically with sidecar towing in mind. It was first introduced in 1925 and the 588cc ohv engine would have had a four-speed gearbox, a rigid back end and girder forks at the front – all fairly standard for the time. The Model 19 soldiered on until 1958 so it must have continued to appeal to the sidecar market segment to have lasted, albeit postwar models offered the S-variant with the S standing for springs.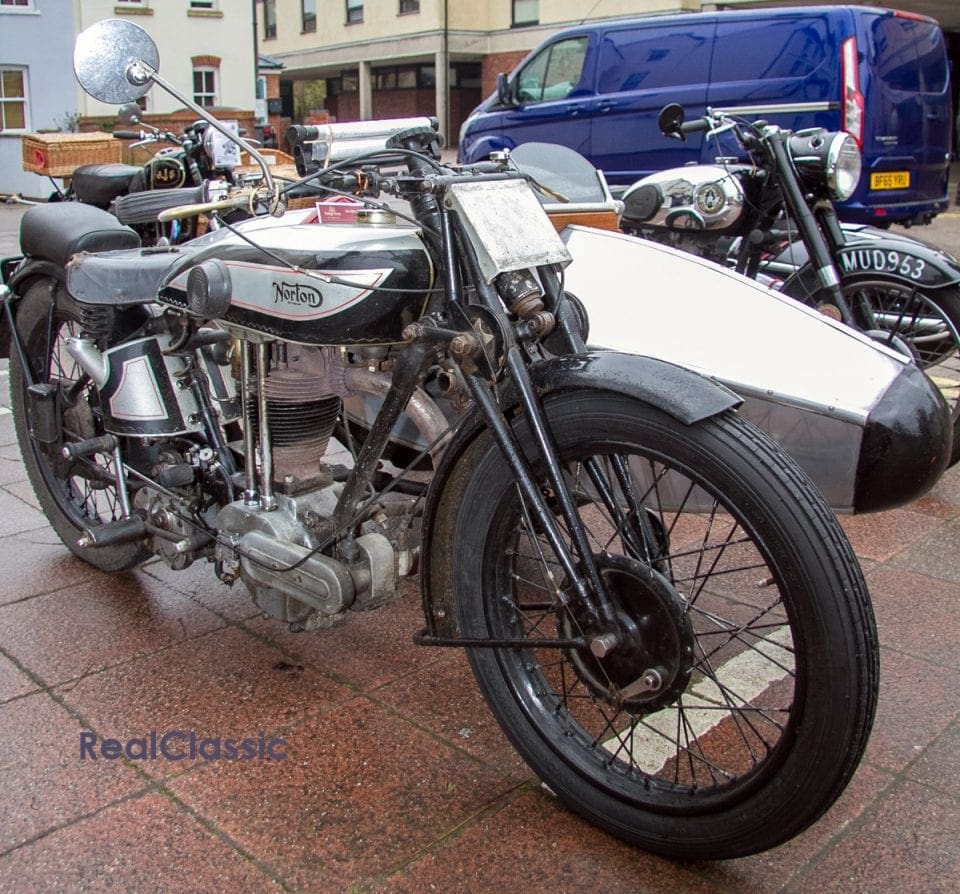 Possible winner of the patination prize was this 1939 Ariel W/NG 350cc but it should definitely win the prize for the most interesting history. The card accompanying this old warrior recorded that it went overseas to France with the British Expeditionary Force in the year of its manufacture but was captured by the Germans, repainted and issued with a Wehrmacht chassis plate. It was then found in a barn in Norway in pieces and has been rebuilt to be a runner but retaining all the patina it gained from its adventures. For me this had to be the bike of the show.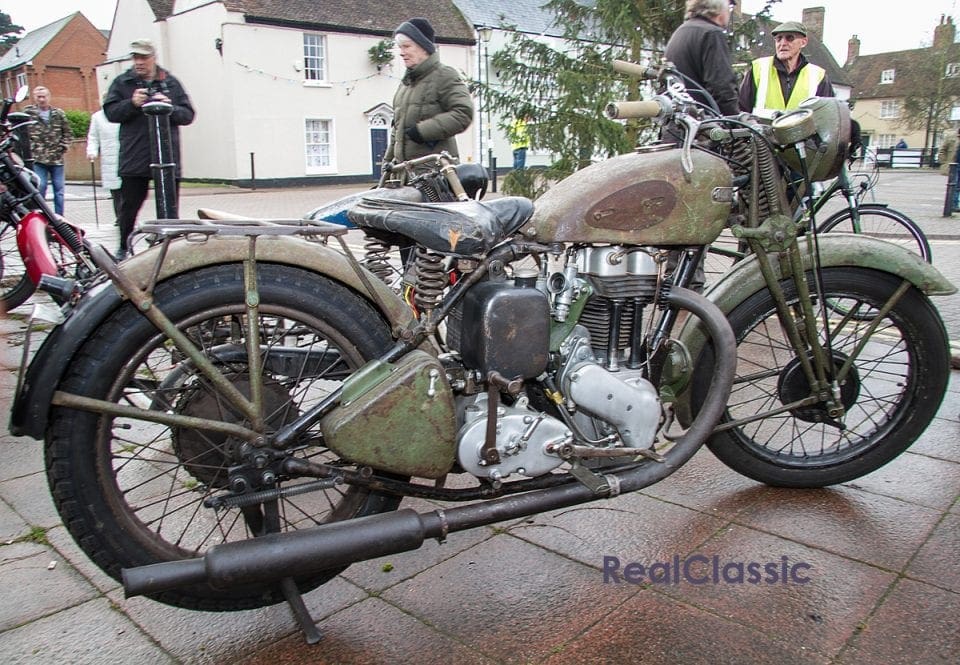 Not one but two Raleighs were on parade at Stony Stratford, this one a 1923 Model 5 Semi-Sport which would have cost about £50 when new. In return for your cash you received a 348cc sidevalve engine producing 2¾hp, a three-speed Sturmey-Archer gearbox and chain final drive although I'm not sure what 'semi-sport' entailed. Perhaps it's those flat racing handlebars but who cares – it looks splendid.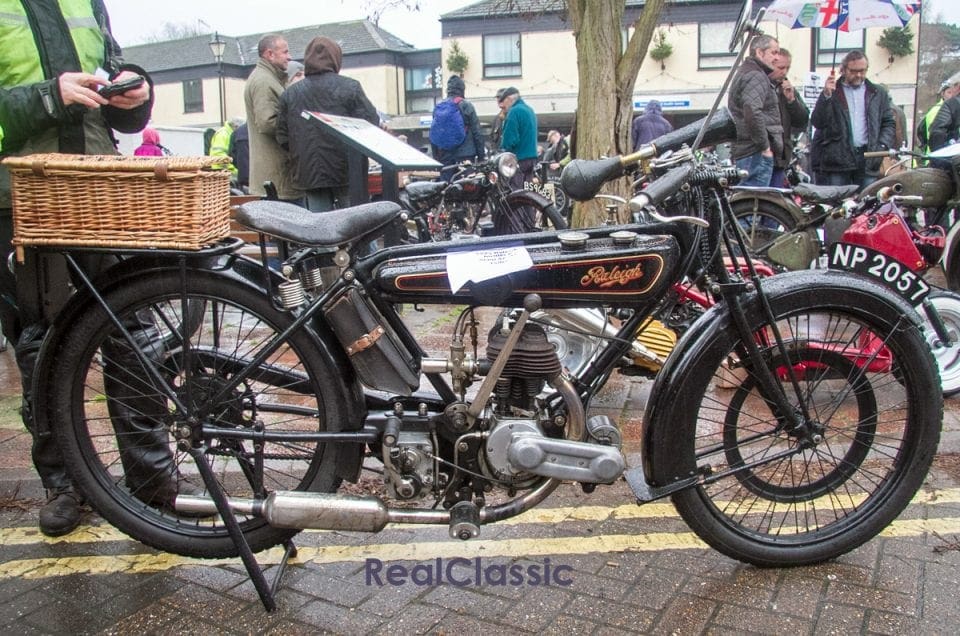 Now for something completely different – an extra wheel. This is a 1926 Morgan Aero which has a 1093cc V-twin Anzani engine – I know it's Anzani because it's written on the engine. British Anzani had focused solely on aero engines since its establishment in 1912 but after WW1 this sector contracted and alternative markets were required. Hubert Hagens solved this by designing a popular and powerful engine that was used in motorcycles, light cars and aircraft up until WW2. As well as AJW, OEC, McEvoy, Trump and Montgomery motorcycles, Morgan also plumped for this engine for their Aero model which they manufactured from immediately post WWI to 1932.
Let's finish with RC regular Jacqueline Bickerstaff (who pens the PUBtalk article in the monthly magazine) expertly guiding her 1896 Leon Bollée into the Market Square. The oldest machine on display – at least whilst I was there – it's always good to see this venerable classic on the road and long may it continue.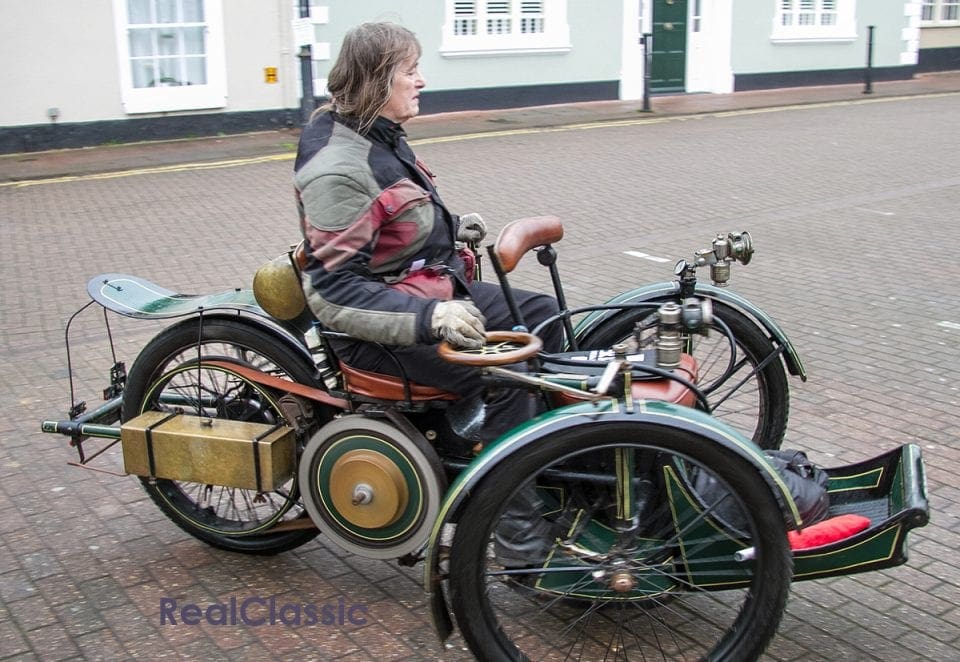 ——–
The next Stony Stratford Show is on June 4th
Words and photos by Richard Jones
Visit Richard's vast archive to enjoy more photos of classic bikes on display and in action at a multitude of motoring events