Back in the 1950s when young men dreamed of a Norton this is probably what their fantasy bike looked like. A 'stylish high performance roadster with first-class steering, roadholding and brakes,' Norton were justifiably proud of its 'zestful and tireless engine, remarkably powerful brakes and a well-subdued exhaust. Steering is in the best Norton tradition and will please the many enthusiasts who rightly insist on first-class high-speed handling.' Of course, quite a few of those star-struck young men ended up with the workaday 350 single instead (think of the Model 50 which appeared in RC153, the January issue of the magazine), instead of a 1957 596cc wideline Dominator 99 like this one. So maybe it's time to make some of those boyhood dreams come true?
Offered alongside the 497cc Model 88, in 1957 the bigger Dominator was still a relatively new addition to Norton's range. The 99 was introduced in 1955 by boosting both the bore and the stroke of the Dommi 88, from 66mm by 72.6mm to 68mm by 82mm. The bigger engine ran slightly lower compression (7.4:1) than the 500, and was fitted with flat-top wire-wound pistons, intended to provide closer tolerances which would make the engine quieter, especially when it was cold.
The slight rise in power and different gearing gave the Dommi 99 the legs to exceed 100mph and its broader performance was greeted with enthusiasm by the press. 'The newcomer gave a main impression of superb acceleration from a standing start up to about 80mph,' said The Motor Cycle. 'It was particularly satisfying to note the increased power output derived from the larger capacity engine had not been employed purely in the interest of higher maximum speed. Rather it was evident in the way the machine could sustain high cruising speeds… between 75 and 85mph the engine produced its power in smooth and tireless fashion.'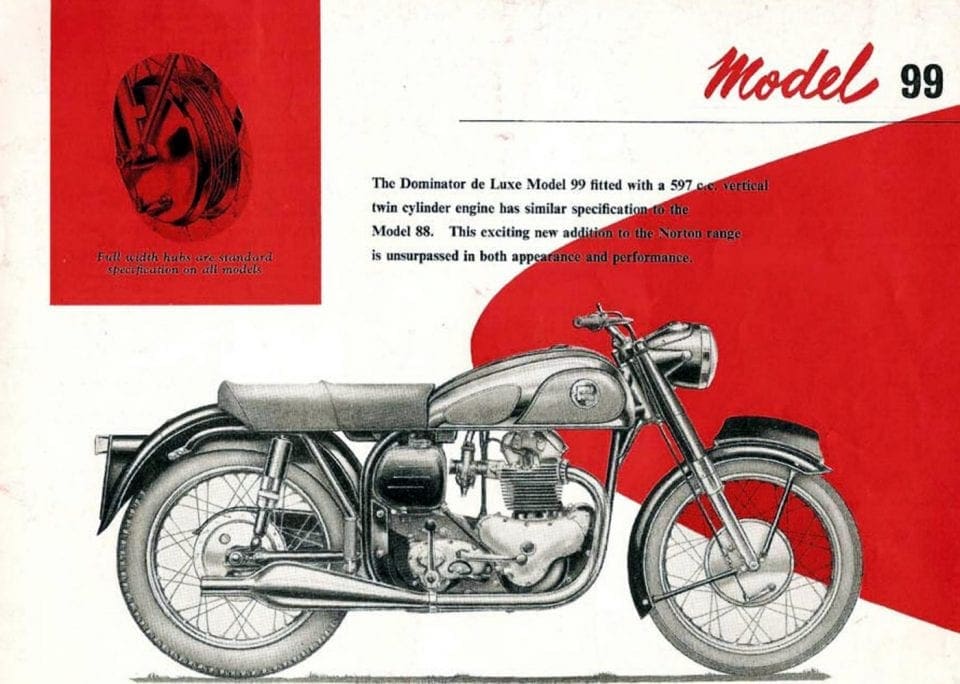 Unlike some performance twins of the time, where the engine seriously out-classed the capabilities of the chassis, Norton's featherbed frame and Roadholder forks provided a controlled ride and responsive steering. 'Even when the road surface was of a bumpy nature the model could be heeled over with confidence into fast bends, neither the front not rear wheel showed the slightest tendency to deviate from the line chosen by the rider.' The full-width brakes weren't half-bad, either.
The 99 was updated for the '57 season with the firm's 'smooth look' style with swooping tailpipe, redesigned rocker box and cylinder head, new induction tract, and contour-crafted foot controls which hugged the crankcases. The Dominator 600 had 'all the desirable attributes of the Model 88,' said Norton, 'plus that extra power and performance – the Model 99 is in a class of its own.' Apart from all those tiresome 650 Triumph twins, of course…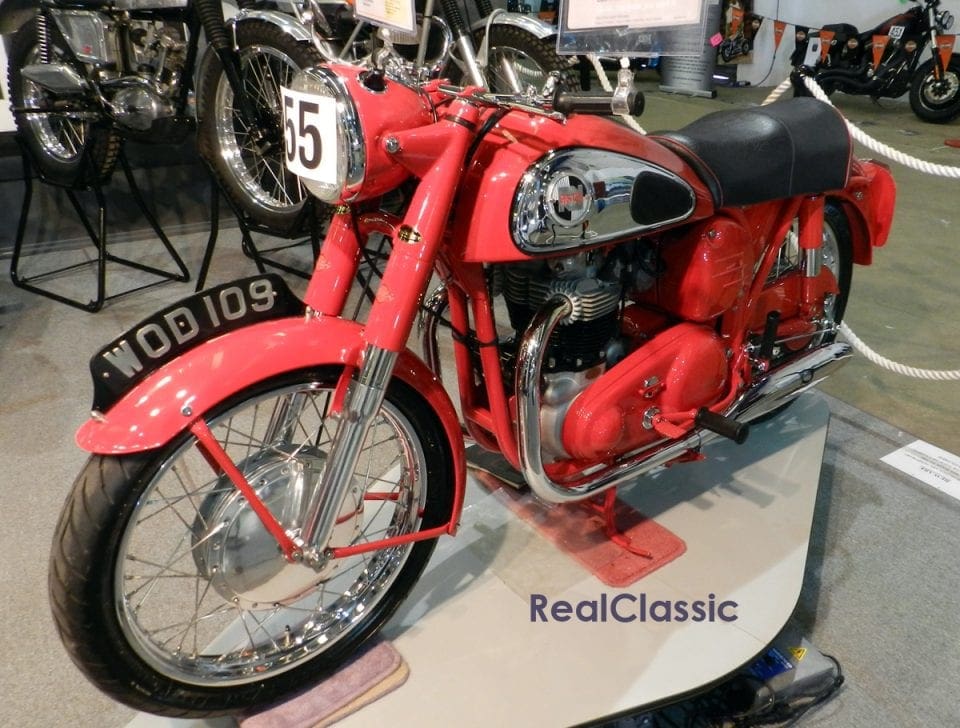 These days, prospective purchasers have an astonishing assortment of different Dominator models to choose between. That's because Norton sold various versions of their Dominator twin for over two decades and these machines were extremely popular. There were four capacities: 500, 600, 650 and 750 (although the 750 isn't actually called a Dominator); three types of trim, Standard, De-Luxe and Sports Special, the usual development of ancillaries over time and a series of suspension and chassis modifications. Scroll down to see our handy timeline of what happened when.
Norton swapped to alternator electrics and coil ignition in 1958, so for some enthusiasts this is definitely the Dominator to have. The pursuit of performance pushed up compression ratios and capacity, and added extra carbs and complexity to later models. If your physique fits the wideline frame (riders with shorter legs typically prefer the slimline version which arrived in 1960), you might've joined the crowd at last year's Bristol Show, admiring DougB's bike as revolved majestically on the Taw and Torridge Club display.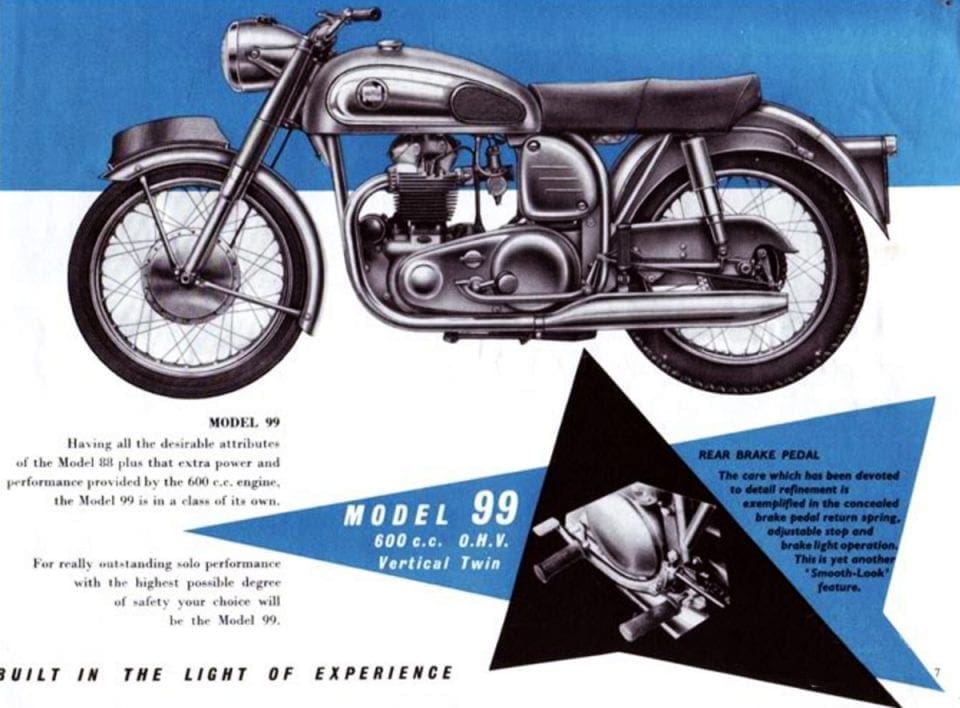 If you're thinking of buying a similar Norton twin, here's some sage advice from marque expert Les Emery of Norton specialist Norvil Motorcycles. 'Run the engine until it's good and hot. Stop it. It should then start first kick with the throttle half open.' Then when you're out on the open road; 'make sure it handles better than any bike you've ever ridden. It should! If it doesn't then don't buy it.'
You may also want to check that a prospective purchase has a stout sidestand. Dommi centrestands have a relatively narrow span which makes them less than superlatively stable, so a pukka prop stand is a must-have accessory. Once you've got your new P&J home, Les Emery recommends that you 'fit Avon Roadrider tyres for extra grip.'
Norton Dominator Timeline
1949 to 1956: Model 7 (29bhp) built
1951 to 1966: Model 88 (29 to 36bhp) built
1951: short Roadholders fitted to all featherbeds
1954: eight-inch brake introduced, welded rear frame loop
1955: alloy cylinder head, Monobloc carb, full width hubs
1956 to 1958: Model 77 (31bhp) built
1956 to 1962: Model 99 (31 to 36bhp) built
1956: AMC gearbox introduced, new camshaft, new silencers
1958 to 1960: non-featherbed Nomad scrambler built for export only
1958: coil ignition and alternator introduced
1960: slimline frame introduced; compression ratio increased
1960 to 1961: 650 Manxman built for export only
1960 to 1968: Atlas (49 to 55bhp) built
1961: compression increased again on 88 and 99
1962 to 1968: 650 SS (49bhp) built
1963: production moves to Plumstead
1964: 12-Volt electrics introduced
1965: drive chain increased to 3/8th inch
1966: Amal concentric carbs introduced
1968 to 1970: Mercury built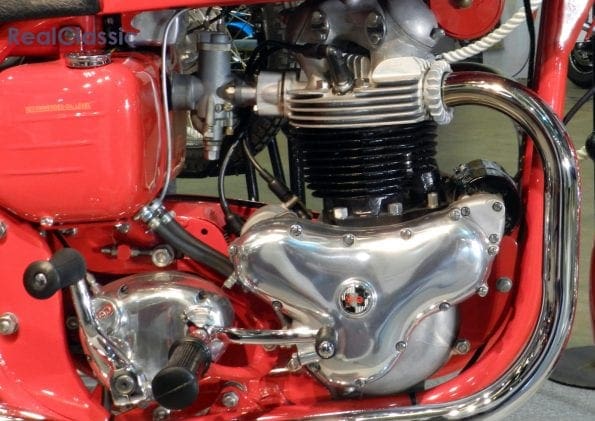 If you are thinking of buying a Norton twin like this one then your next port of call should be the Norton Owners' Club.
Words by Rowena Hoseason
Photos by Morgan Rue