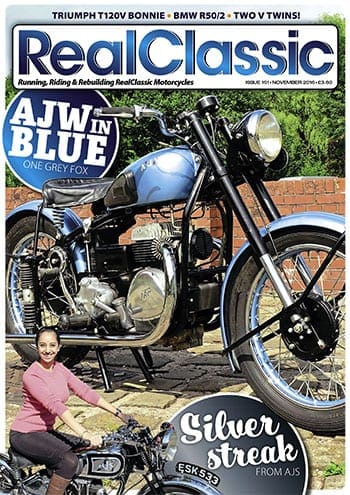 Last month's magazine was an all-British bike bonanza. The new issue is rather more international, with classic bikes from Italy, Germany and Japan. And a Viking. See exactly what's inside…
AJS SILVER STREAK
When Associated Motorcycles wanted to catch the eye of the discerning 1930s customer, they jazzed up their ohv AJS singles with dazzling coats of chrome. Ace Tester Miles rides the result, wearing shades
AJW GREY FOX
In his continuing mission to search out the oddball and unusual, Odgie uncovers another idiosyncratic animal – this time a sidevalve, 500cc parallel twin with Dowty front forks and plunger rear suspension, aka the Grey Fox
BMW R50/2
Back in 1962 BMW built a truly top-quality middleweight twin – sadly, back then, it was beyond most wallets. These days, they cost less than the equivalent Triumph 500 and, as Frank Westworth finds, have a style all their own
BSA B21 REBUILD, Part One
Take a pile of rusty old motorcycle parts, recognise their value, build a bike from the bits. Sounds simple … but it's not. The reconstruction of a pre-war Beesa begins here
HONDA CB350 PROJECT, Part One
Eddie bought his new project bike largely unseen and it turned out to be bodged beyond belief. No problem: he intended to strip it right back to basics and build a café racer. But how well would the four-cylinder Japanese engine have withstood four decades of neglect?
MOTO GUZZI SPADA / YAMAHA VIRAGO
Take two beefy V-twins built more than a decade apart, one in Europe and one in Japan, and with very different engineering and kerb appeal. We ride them both and uncover more similarities than you might imagine
NORTON ELECTRA REBUILD, Part Two
A decade-long project to bring a Norton ES400 lightweight twin back to life continues with the forks, which needed a bit of fettling. And then started the electric starter saga…
ROYAL ENFIELD NEW BULLET
No, we don't mean the current range of Indian-built Bullets, but Royal Enfield's new-for-1963 unit construction 350 single. Essentially an enlarged Crusader, the New Bullet is a rare sight on the streets today. So we found three of them!
TRIUMPH BONNEVILLE
Born under a bad sign, amid strikes, sit-ins and industrial strife, this oil-in-frame 650 twin could've been nothing but trouble. But when Stuart Urquhart gets it ready to ride, he discovers that this 1974 T120 challenges many of his preconceptions. In a good way
PLUS! We meet a Norseman with an awesome collection of odd and unusual motorcycles; RC readers discuss new bikes (hey guys, it's supposed to be a magazine about old bikes, you know?) and consider the invention of the gasket; while Jacqueline Bickerstaff tracks down a steam-powered motorcycle, and Frank Westworth comes close to declaring victory in the BSA B25 rebuild…
• RealClassic isn't on sale in UK newsagents – but if you'd like to read these articles then you can order a mail order copy here
• The best way to read the magazine regularly is by subscription – each magazine typically costs around half the price of a single mail-order issue
• RealClassic is also available in various digital formats