If you have a few hours to while away in North Wales, Roy Workman recommends this friendly museum…
I found out about this collection whilst visiting a local tourist information centre. I noticed that motorcycles were included in the display, so I felt that it might be worth a visit
Tacla Taid, the Anglesey Motor Museum, is situated just four miles from the A5 on the Isle of Anglesey, and not so far from Holyhead if you were a bit early to catch the boat to Ireland.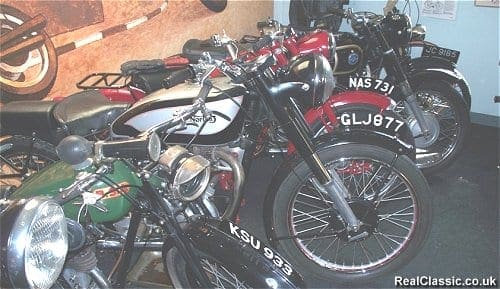 Could probably have squeezed another one in between the BSA and the Norton…
The collection is housed in a modern purpose-built building and includes 30 classic cars, a couple of lorries and, being a farming area, a few tractors. Among the fully restored exhibits are an ex-Army Albion heavy tractor which saw service during WWII in Africa; a 1948 Caterpillar earth-mover; a Commer Army lorry from the 1960s; a dozen tractors; a range of stationary engines, heaps of automobilia including motoring signs, petrol pumps and such, plus even a Sinclair C5!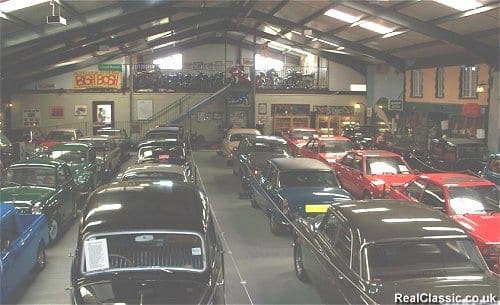 Wonder how they got the bikes up there?
The motor cars are roped off in lines so it is easy to see them properly. Some of these are set in a replica 1940's street scene, complete with cobbled street, houses, garage and corner shop.
Next week, Roy visits the Museum of Sardines. The exhibits there are not so tightly packed.
The motorcycles, about 25 of them, are situated on the first floor reached by a flight of stairs. As you can see from the photos, these are crammed in a little tightly and include the usual Triumph twin stalwarts plus a good selection of other major marques – Norton, AMC and BSA are all represented.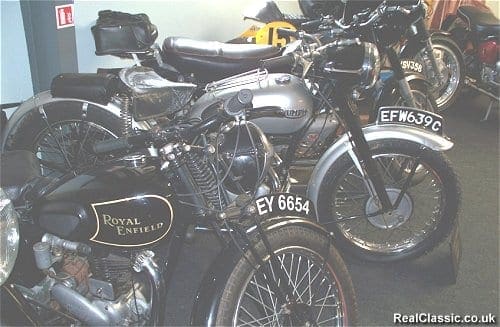 Fair play to the owner for getting so many bikes into such a small space…
There are some interesting pre-war, girder forked machines from Sunbeam and Velocette plus an unusual Sports model Royal Enfield.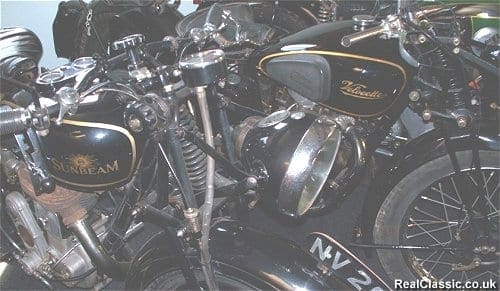 …perhaps I should get him to arrange my shed for me?
There is also a chair lift up to the gallery for those visitors who need it, which I thought was a nice touch. There is also a café / children's play area
Enjoy more RealClassic reading in the monthly magazine.
Click here
to subscribe.