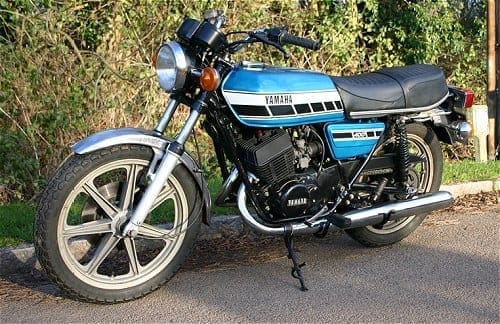 Before there was Elsie, Yamaha built an equally memorable two-stroke tearaway. Anarchy shows us his 400C…
Although there's an inevitable family resemblance between the RD400 and the 350 which preceded it, the 40bhp two-stroke had been considerably developed to make it bigger, smoother, quieter, faster and longer-lived. Yamaha increased the engine stroke to add 51cc to the engine capacity, which demanded new crankcases, and fitted new barrels and cylinder head. The engine breathed through a new airbox arrangement, and the motor was rubber-mounted in its frame. These days, an RD hardly seems complete without a set of Allspeed exhausts, too.
The combination of 40 horsepower and less than 350lb dry weight gave the RD zippy acceleration through its six gears and an acceptable top speed of just under the ton. It was very competitively priced: Honda's four-cylinder four-stroke CB400 cost a massive 17% more than the Yamaha. The RD400 also beat the Z400, KH400 and GT380 on price while proving more than a match for them on the streets — although its ground clearance wasn't wonderful.
In long term use, the RD400 thrived on regular maintenance and needed regular decoking, points and ignition timing adjustment, and attention to the brake calipers which have a tendency to seize.
None of that matters when an RD is running on full song, as Anarchy explains about his bike which is the one you see here: 'It throws itself around in a brash and unseemly manner, shouting for attention. To ride this bike is an event with a race-tuned soundtrack.'
Anarchy's full story about his bike is in RC11: meanwhile, these are the pictures which we didn't have space to use in the magazine…
Stroker Snippets
'Ultimate Yamaha aircooled stroker. Generally tough motor can run to 50k but sixth gear wear, small-ends and crank seals susceptible – if it doesn't wheelie in second then engine worn out! Crap disc, good chrome and poor paint. Best buy's the E model as long as the electronic ignition doesn't burn out.'
Used Motorcycle Guide, c1995
'Yamaha has succeeded in mating increased top end performance with improved low end torque, quieter operation, vastly improved gas mileage and a more comfortable ride. Everything is there except… EXCEPT… a good horn.'
Cycle World, 1976
'It's a well finished sports bike with all the traditional Yamaha performance and better flexibility. By many standards the fuel consumption isn't good but it's a whole lot better than it might have been.'
Motorcycle Mechanics, 1976
'The short wheelbase, the Yokohama front tyre, and presumably a certain, intended, bias in the steering geometry contribute to a high-bred, lively, nervous feel to the Yamaha at 70/80/90mph. You can twitch the steering by a little push-pull on the bars; ripples in the road surface are clearly felt.'
Motorcycle Sport, 1976
'Being throttle controlled, the oil pump dispenses as much or as little oil as is required to lubricate the engine. Consequently, if the engine is used hard, the amount of oil consumed soars.'
Motorcycling Monthly, 1976
'As much as Yamaha would like it to, the bigger engine doesn't quite qualify the 400 to jump up into the middleweight status. The headlight throws a much smaller beam of light and overall comfort is a long way from being acceptable for anything but the shortest trips. We were able to do about 100 miles at a time without a rest, but more than that you'll just be kidding yourself!'
Motorcyclist, 1976



Vital Statistics

Built: 1975 to 1980
Engine capacity: 398cc
Bore and stroke: 64 x 62mm
Type: Reed-valve 2-stroke twin
Compression ratio: 6.2:1
Power: 40bhp at 7000rpm
Front tyre: 3.25 x 18 (90/90 18)
Rear tyre: 3.50 x 18 (110/80 18)
Carbs; 2x 28mm Mikuni
Transmission: 6-gears, chain final drive
Front suspension: Tele forks
Rear suspension: Swinging arm, twin oil-damped coil shocks
Brakes: Hydraulic disc, front and rear
Seat height: 800mm
Ground clearance: 150mm / 6-inches
Fuel capacity: 16 litres
Weight: 165kg wet
Wheelbase: 1334mm
Fuel consumption: 43mpg av; 51mph best
Braking distance: 28ft from 30mph
Standing qtr mile: 14.15 seconds
Maximum speed: 98mph
Price new: £600

Site Seeing






Random RD400 Stuff on eBay.co.uk
---
Advert

Enjoy more RealClassic reading in the monthly magazine. Click here to subscribe.
---