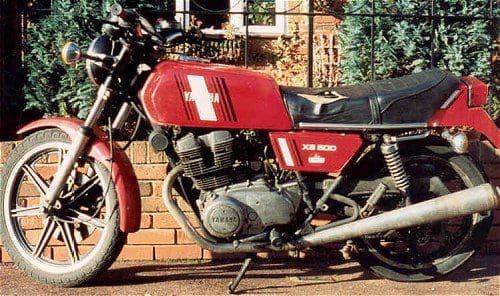 Andy Sochanik likes unusual bikes — which is just as well, seeing as his go-to-work motorcycle is one of the least-loved members of the XS family. Not that it's given him any trouble, you understand…
It never really caught on, the XS500, despite attracting all the right kind of attention at its launch back in 1972. The combination of an air-cooled eight-valve head, 180-degree crank, double overhead cams, electric start and two CV carbs made for an extremely smooth and fairly poky middleweight twin.
Shame it looked so uninspiring. Shame its reliability wasn't all that great to start with, either. The first models had some problems with warping valve seats, so later cylinder heads were changed to round exhaust ports to help the heat dissipate. Heat remained a problem, frequently causing the head to fracture. The balancer and camchain arrangements needed regular attention. The XS offered good roadholding, but it was no lightweight so hardly came into the tarmac-tearing roadburner category. When it went out of production in 1979 there were few who mourned its passing – and fewer still today who consider it to be wildly desirable.
The XS500C was the revamped-for-1976 model and came with something resembling style and – even better — something else, resembling durability. Andy's XS is a 1977 bike, which explains why it has lasted as well as it has for as long as it has. He bought it four years ago for the princely sum of £325 (that's the joy of a Japanese classic: let's see you buy a Triumph 500cc twin for three hundred notes!), with over 67,000 miles on its clock.
'It was in very good condition' says Andy, 'and had just been serviced, with new tyres and its original silencers, MoT and tax for a year. It had done just nine miles each year to the MoT station and back for several years. At some point before I got it, the colour was changed from red to black, and the whole frame, except the sidestand for some reason, was stove enamelled. The bike was bog standard, except my predecessor had fitted an oil pressure gauge.'
The XS didn't need much attention to get back into regular roadgoing trim. 'I had to change the oil and filter, plugs and air filter, then fit new brake caliper seals and pads, and front wheel bearings.' Jobs done, the XS was back on the road and Andy's now taken it to over 70,000 miles on the daily commute. It's never been unreliable, although sometimes it prefers to start with 'light pedal assistance' (translation: it needs a good kick) if it's been left for a few days. 'Once the battery is boosted up, it's OK again.' That's just as well, because XS500 kickstarts have been known to snap!



Andy gets 45 to 50mpg from it – not bad, considering 60mpg was as good as it got when the engine was new. And he's not hanging around; the XS could reach 110mph in its youth and it's not exactly a sluggard these days. 'It really takes off at speed – the rev counter goes to 9000… and it's completely free of vibration! Compare that to a Dommi 500 or a Speed Twin.

'Mind you, the riding position is a bit awkward for me. It feels as if I'm perched over the headlight. It needs taller bars and longer cables perhaps. I wish I had a clock – that would be handy.'

There is a more pressing problem for XS500 owners, and that's fitting the oil filter. This part has been modified several times over the bike's production span, and getting the right one for your bike can be tricky, as Andy can confirm. 'The oil filter cartridge is a nuisance. The original one tucked under the sprocket cover; the following part is taller, but it did just fit if the balancer cover was lifted (which was a good idea anyway – you need to check the chain regularly!), but the newer filter still is now 3mm too tall. So now you need a hammer to fit it!'

(Yamaha also made an adaptor kit to let owners use the filter from the FZR600).






Yamaha XS stuff on eBay.co.uk
Apart from that niggle, Andy has discovered the scary truth about the XS500 – any left going now will probably keep on going indefinitely. Although frequently maligned, the 500 has staying power if maintained. They need the camchain tensioning every 2000 miles or so.
The cylinder heads do crack but this isn't necessarily the end of the world – it's been known for the bikes to keep going for another 15,000 miles and more.
Koni (or now Ikon) shocks make good replacements for worn originals (fit XS650 ones if the 500 isn't listed). And owners can sometimes be confused by contradictory instructions in manuals, and diagrams which don't seem to resemble their bike. The Haynes manual only covers some models – it's best to track down an original Yamaha book if you can.
Spares supply isn't wonderful these days, but that's what you get for riding an oddity.
'I didn't realise just how unusual it is' says Andy, 'and how rare the spares are. It's just like my Norton Navigator in that respect!'
So there you are: Yamaha XS500 and Norton Navigator. Separated at birth?
People To Speak To
Fowlers Motorcycles, Bristol, still stock many parts: 0117 977 0466
---
Advert

Enjoy more RealClassic reading in the monthly magazine. Click here to subscribe.
---