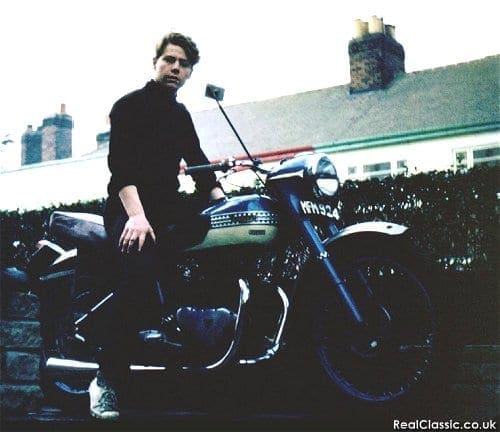 Dave Wooding recalls his time spent with a Triumph 3T, a BSA B31 (and a Reliant but we won't mention that) among other old bikes, and ponders the attractions of motorcycling in general…
I returned from an earlier than usual ride this morning after a leisurely 50 miles through the autumn countryside in Cheshire. It was misty and the leaves from the trees were all shades of gold. The roads were mainly dry and clear of fallen leaves after a few days of gusty winds. Stopping briefly to take a few photographs in the forest, I was amazed and relieved that there was hardly anyone else about. It was so quite and peaceful. Later as I pulled up at my house again, it felt like I had just returned from a most enjoyable holiday.
While I was riding I asked myself what is it that really gets people to choose to ride motorcycles. For me, the answer today was the sheer pleasure of the ride I was undertaking. Freedom, absorption, me and my bike as one.
Although I had my first bike ride solo at fifteen and have owned over 60 bikes since then, I tried to dissuade my son and son-in-law who wanted to 'go bike'. Both have progressed to own a range of fast cars and now bikes. They can't tell me why they persisted in taking the bike test when they drove big fast cars, unless the image of their aging Dad on a range of large, and sometimes fast, bikes proved a challenge to their ego.
In the early days I worked a 44 hour week as a sixteen year old apprentice engineer and bicycled the 17 miles round trip in all weathers. Added to this long day was the night school three nights a week (more pedaling). My Dad helped me buy myself a new Raleigh moped. At this same time my brother had to go abroad with the RAF and left me to take care of his Triumph 3T. It was nine years old and needed some TLC. I took my test on it in preference to the moped as the Triumph had the better brakes for the emergency stop. Success! Soon after, the law changed and limited learners to 250cc so I was just in time.

17 year old Dave on the freshly repainted Triumph 3T in 1958

After some modest fettling on the 3T, I sold the moped, and the Triumph became my economical form of transport everywhere. It provided me with an image and independence and I felt secure riding rather than walking the streets at night. So my initial reasons for using a motorcycle were to do with adolescent ego, economy and independence. I'm sure many other older riders would echo these sentiments. It also happened that the first girl to whom I gave a lift on the bike ended up as my wife, for 42 years and still counting. (That'll be Pauline, seen posing on the BSA…)
As the bike aged and reached double figures, the MOT was brought in starting with ten year old vehicles. This is when I learned the skills needed to get a bike through its MOT, like packing the brake shoes to bring the arm back into a less than 90-degree angle, re-bushing the forks, replacing oil seals, getting a worn-out horn to sound when the button was depressed instead of buzzing. Eventually, full rebuilds came into play as big-ends wore out and magnetos expired. It was satisfying stripping, repairing and rebuilding a machine then trusting yourself at speed to the work you'd done. As more cheap bikes were added and worked on, modified and ridden, the great satisfaction of this became another factor in motorcycling pleasure — improvement, by your own hand.


1965: A man, a BSA, an anorak…

Along the way, escapades inevitably occurred. One of the photos shows the toggles on my anorak – they very ones which got stuck up the intake of the carb going downhill and wouldn't allow me to shut off until I opened the throttle and removed them with the other hand. Scarey! My brother Ken can also be seen on the 3T, trying the bike on a field in 'pretend' trials mode. We burned out the clutch…
Now it was getting serious. I fell for the description a local dealer had put on a BSA B31 outside his shop: 'A man's machine'. He got all my savings and I became the proud owner of this gleaming, green and chrome two year old bike.


1965, Isle of Man: BSA – A man's machine…

It was some months later that I was asked to go on the Dragon Rally, in February, to Lake Padern in North Wales. I took a girl on the pillion, following her bike-mad relations in snow and hail and freezing conditions and stayed overnight, frozen stiff, in the old military hanger dug in the hillside. It was a challenge and I was proud to complete the run without mishap. The ride home in brilliant sunshine through Snowdonia was breathtaking. Temperatures below freezing but clear blue sky on roads that were now dry. The thrill of that ride never left me. And so bike-riding became a challenge as well as a beautiful experience.


1965: Pauline, the future Mrs Dave…

Later, the B31 carried me and my future wife everywhere as our main transport and also on holiday to the Isle of Man where we got engaged. Now things were getting really serious. I was growing up and two wheels were no longer suitable for a 'lady.' I still shudder to think that I swapped the lovely BSA in part-ex for a Reliant three-wheeler. I shudder firstly, because I loved the bike and secondly, because the stupid law allowed me to get off a bike and drive a three-wheeler back home through the Mersey Tunnel with only ten minutes driving experience. It was a car for heaven's sake! Same gears, including reverse, same controls, same everything just minus one wheel.
By now the Triumph was in large pieces stored at home in the loft. Mum never knew it was there! While I honed my car driving skills before taking a 'proper' car test, I rebuilt the Triumph and got it back on the road. The bike-bug was still there!



When we were married, I used the bike and my wife drove the Reliant to work. But as time moved on, the Reliant was replaced with a succession of cars and the Triumph eventually went to another home, to be replaced with bikes suitable for a means-tested family with me traveling 150 miles a week to work, my wife having the car at home for her use with the growing family of three kids.

Using a motorcycle for work had its own problems. I worked as an engineer / draughtsman in a factory office and arriving in wet gear meant finding somewhere to leave it all to dry without besmirching my colleagues' (male and female) clothes. It also meant leaving shoes at work. Going to visit customers involved riding to work in a suit before setting off in the company car.

At most times, I was the only motorcyclist on the staff and one felt stigmatised. However, I was pleasantly surprised one day to have a company director arrive on a visit to us on a rather nice fast looking bike. It was an expensive-looking machine and his riding gear looked like it was worth more than my bike.

Because of his smart clean appearance, he was well received and this introduced me to the idea of bikes as posing machines for the well-off. By contrast, I was still using wellies and plastic over-trousers to go with my second-hand and no-longer-waterproof Barbour jacket.






Classic Mopeds on eBay
It wasn't until my wife's remaining parent died not so long ago and left us an old house to sell that we were able to reduce our debts and then things started to look up a bit. We managed to realise a second car so I could go to work in luxury and the bike was relegated to a mere hobby after 30 years of economic motorcycling.
However, as time passed, so the responsibility at work increased and with it, the stress. It was then that the bike became a means of letting off steam. Not by going mad and causing mayhem, as I often see riders doing; dodging cars as they speed along at twice the speed limit and doing wheelies from the lights. Rather, a quite calming ride somewhere peaceful to let it all blow away in the slipstream. I found going too fast merely brought the stress back as the risks became 'too risky'. Some others may well find that the adrenalin rush is what they need and good luck to them.


1967: Brother Ken on the Triumph 3T…

All I can claim is that after a 100,000 miles, my only bike accidents were over 40 years ago, both minor, One was caused by a car with no brakes and the other by a drunken driver deciding a field on the right was a good place to stop as I was overtaking him.
So there we have it! Bikes can be dirty, noisy and smelly, as can be their riders. They can be cheap or expensive. Running costs can vary immensely. The preference can be for old or new, classic or modern, patriotic or foreign. Reasons for owning and riding can be a wide variation or a combination of things. They can be considered dangerous or safe depending on experience, skill and attitude. One thing is for certain, once motorcycling is in the blood, it is there to stay.


1963: Triumph 3T with funky fog light…

I just wonder how long these ailing limbs will permit me to get on and off my (solo) machines. Somehow I've never got round to riding an outfit, they never appealed and I don't enjoy driving cars in the same way as my bikes. They are too ordinary. I also find that bikes have characters. I have even been known to talk to mine… Now that is worrying!
---
Advert

Enjoy more RealClassic reading in the monthly magazine. Click here to subscribe.
---