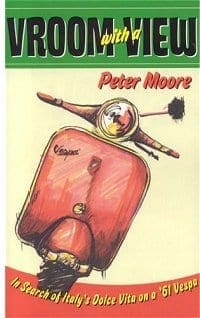 How would you handle a mid-life crisis? This author set off on a classic scooter to see life in rural Italy…
As we're sitting here, glad to be rid of the worst winter in two decades, why not join Peter Moore for a sun-soaked foray across Italy on a classic Vespa? Don't worry you won't have to leave your armchair or suffer any Italian drivers. Just pick up your reading glasses and enjoy a Roman holiday…
Peter Moore, a professional travel writer decides to fulfil a long held ambition as he approaches his 40th birthday, to ride a Vespa through Italy in search of the dolce vita he remembers from the films and TV of his youth.
The trip, he decides, must be on a classic Vespa but to highlight his fast-approaching milestone age it should be a 1961 model, just the same age as him. The search begins on Italian eBay, the plan being to purchase the scooter and then fly in from his native Australia to do the trip.
So begins his meeting with the first of many fantastic people associated with old bikes (same the world over, obviously) when he picks his bike up from its former owner, Gianni. His generosity extends from naming a total stranger on his insurance to dodge a ban on foreigners insuring Italian bikes to recovering and repairing the little bike after a troubled shakedown run to Lake Como.
Moore is a brilliantly candid writer, not sparing his embarrassment at being mercilessly ragged at a hostel for his mechanical ineptitude, to recounting his youthful drunken binges that put the spew into spumanti.



As he gently meanders across Italy describing the rural vistas, his encounters with locals and his appreciation of the simple but excellent food you are drawn along with him. Many quote Ted Simon as inspiration for going around the world but reading 'Vroom…' really makes you want to spend just one summer with the smell of hay and oregano on the breeze as you bimble down to the Almalfi coast.

If the book has a fault then it's the slowing of the narrative when Moore picks up his future wife to share the experience for a couple of weeks. Maybe it's just me but this sharing of the trip with partners always detracts, from Ted Simon to Robbie Marshall (Triumph around the World), none are better for these interludes.

That apart, the bonding between Moore and the classic scooter will be a familiar one to all RealClassic readers and it's no surprise that he ships Sophia (after Loren of course) halfway round the globe at the end of his travels.






Classic Vespas on eBay.co.uk
There's a rather quirky subplot which involves Moore's obsession with finding the little toy Vespa in the Kinder eggs and all the chapter headings of the towns he visits are subtitled with his latest Kinder toy surprise.
All in all this is a cracking, feelgood read. Watch out for Moore's latest book 'Vroom by the Sea' about his revisiting of the area for a last fling Vespa journey before fatherhood takes hold.
Reviewed by Dean Fountain
—————
Vroom with a View by Peter Moore
Published by Peter Moore in paperback, 359 pages, ISBN 0-553-81637-3

Buy a copy from Amazon
Search for books and magazines on
Ebay.co.uk
Search for similar books on Amazon:
Search for books and magazines on
Ebay.co.uk

---
Advert

Enjoy more RealClassic reading in the monthly magazine. Click here to subscribe.
---