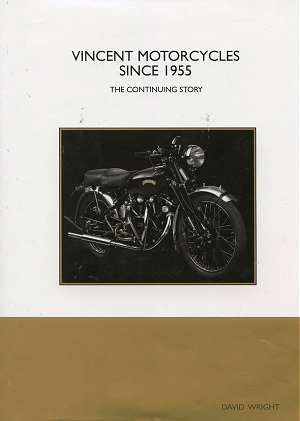 Jacqueline Bickerstaff, acknowledged expert on HRD-Vincent and an author on the subject herself, finds plenty to fascinate in this new hardback…
Another book about Vincents? Surely there are enough already, and everything has been covered, is a thought that easily comes to mind. It was even a worry when I was persuaded to produce my own contribution to the marque literature some time ago. But David Wright's new book is not a pot-boiler, rehashing the same old, well known, stuff.
In fact David has a track record of finding new material and fresh viewpoints for his books. His Isle of Man domicile no doubt influenced, and helped (with newspaper and photographic resources) with his previous titles about racing on the IoM, about Vincents, and even about Vincents racing on the IoM (which they did more than most people think). This time the isolation may have been less helpful, but with modern communications he seems to have been able to tap into many and varied archives, with assistance and sources listed from all around the world.
For this new title, his subject is what has happened since the factory stopped making the 'large capacity motorcycles' in 1955, the cumbrous phrase clearly denoting that the book was not intended to look at extraneous issues, such as the Firefly cyclemotors that remained listed for a few more years, or the Go-karts made by Harper Engines around the small, two-stroke, Vincent Industrial engines.
The book's detail, however, is such that we do learn that Vincent was actually bought by Saltrens Ltd in 1959, who became Harper Engines later in that year. It was Harper engines from whom I originally bought spares to rebuild what was then my father's bike, PUB 335.
Necessarily, the book does start with a brief chapter, 'A legend in the making', covering old ground such as Phil Vincent buying Howard Davies' original HRD trademark, making his own rear-sprung models, and the coming of Phil Irving to develop the pre- and post-war machines. It ends with 1955, the new series D models, world sidecar and solo records by Bob Burns and Russell Wright, whose bike was exhibited at Earls Court, and the cessation of motorcycle production.
The bulk of the book, and it is a bulky book, deals with what came after, and a whole lot came after. Notionally the chapters are based chronologically, but with plenty of deviations where appropriate, and 'oddball' sidebars where interesting snippets are found a home.
Through the 50s and 60s spares mostly stayed available, and the bikes remained competitive on road and track, so that George Brown was the man to beat in sprints, for example. The first major attempt to reintroduce manufacture was made by Cope Allman, who had become the new owners in 1966. It came to nothing – as did a number of mostly later schemes: Viscounts, Courage-Vincent, Egli-Vincent, RTV, Mugen Honda (yes, really), and Black Eagle are all in the book (as is the Godet-Egli-Vincent which is in made-to-order production).
Change becomes recognisable in the 1970s and 80s, when the bikes were old, and should logically, have faded away. But they didn't, due to enthusiastic owners, a strong club launching its own spares company, and what, with hindsight, is seen as the growth of 'classic motorcycling'. Not that the speed merchants gave up (the Comet-based Mighty Mouse got into the 'eights' in 1978 with an 8.86s quarter mile). Far from 'the legend' fading into the past, these people, and their successors in later decades, have continued to add to it, and kept it fresh. Subsequent chapters continue the story, and evolution. Legends are not made by lumps of metal alone, but by the successes (and sometimes failures) of dedicated and passionate people. Vincents with alternators, disc brakes, electric starters, they are all there. Vincents are shown touring, racing, sprinting, trialling, record breaking, snowmobiling – you name it and someone has probably tried it!
The book may be about Vincents in particular, but the story is in many ways that of changes in motorcycling, and the emergence of classic motorcycling, from the 1950s to date. A lot of one-make enthusiasts, especially the earlier ones to lose their makers (Rudge, Douglas, Scott) or the grander marques and models (Brough Superior, Gold Star) will recognise the changing times. Some smaller ones might spy something of their future paths too.
Now, it behoves a reviewer to try to find fault, proving their cleverness and superior authority, but David has me well beaten – at least this does also prove that the reviewer has actually read the book! I did find 'Belfast' instead of Belstaff, and an incomplete caption about the late Phil Heath on p98, but having my own experience of the task I reckon that to be a good proofreading job. A missing caption on p146 will, no doubt, pass unnoticed, but is a pity because it relates to overseas enthusiasm, even in Japan, for the young man shown on his father's Vincent is Akiteru Nosaka, son of enthusiast Munemichi (a personal friend). As for mistakes, I will feebly settle for pointing out that the Amal 289 shown is flange-fitting, whereas most Shadows used clip-fitting, and the list of uses to which Vincent engines have been put missed out the legendary 'Comet powered duck-punt' once reported in MPH.
Every Vincent owner and enthusiast should have a copy, and they are the primary target for this book. However, it should also make interesting reading for anyone with some interest in the make, or even just in the story of the development of classic motorcycling. It may be a book to dip into rather than try to read straight through though, unless you actually are a Vincent nut. Vincent nuts, will find plenty they do not have in their other publications, however comprehensive their library is. It will be one of my reference books from now on – and I'm supposed to be a Vincent expert!
This is a seriously big, thick, hardback book of 336 pages (on good paper), with probably more than double that number of photographs and illustrations.
RC Reviewer: Jacqueline Bickerstaff
———–
'Vincent Motorcycles since 1955, the continuing story' by David Wright is available from the VOC Spares Co for £35. See
| | | |
| --- | --- | --- |
| | Like this page? Share it with these buttons: | |
---
Advert

Enjoy more RealClassic reading in the monthly magazine. Click here to subscribe.
---