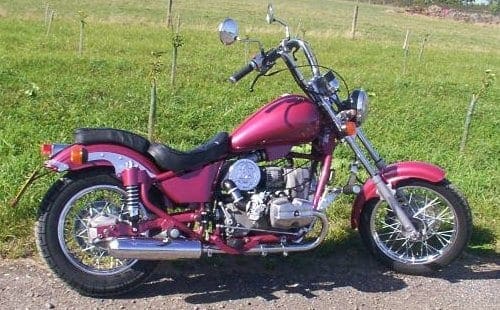 Forget what you think you know about Ural motorcycles. Today's 745cc flat twins come with electric start, a Brembo front brake and decent dealer back-up. Steve The Tovarich ventured behind the Iron Curtain (not) for a quick spin…
For the second time in seven days I find myself being driven across a bumpy car park. I don't know why this is, but stony, rutted car parks are turning out to be a feature of 'modern classic' motorcycles. Last week, the Chiang Jiang CJ750, this week the Ural 750 range.
A few weeks ago, at the first Stinkwheel Show, I was dragged over to the Ural stand to have a look at their range. Enter into our lives one Mick Cross, quirky proprietor of MPC Motorcycles, who extended an invitation for us to come over and try out Russia's finest at his base near Lutterworth. Why quirky? Mick doesn't suffer fools gladly, he is not a man to put up with the 'tyre kickers and rivet counters' that you tend to meet at bike shows. We'd better not ask any stupid questions then, eh?
So there we are, standing in his industrial unit, coffees in hand, being given a potted history of how MPC came into being, followed by a brief history of the bikes. Mick has an extensive knowledge of their history, and knows everything there is to know about what they are and what makes them tick. It's a design that, along with the CJ750, dates back an eon, which is exactly what makes them so desirable in a classic sort of way.
The first bike we are to ride is the Wolf; a factory custom version of the 750, with high forward controls as well as the standard footpegs. The seat / handlebar interface is well thought out, and either set of pegs can be used and are equally comfortable. The bikes pops into life on the second prod of her sideways mounted kickstart, the 750cc motor gently rocking the bike from side to side as she sits on her sidestand. We are invited to take her out for a ride 'for as long as you like' by a solemn-faced Mick.
We climb aboard, Emm opting for the pillion seat. The riding position is not unlike my own bike, a custom Harley, and we bump and wobble out the rutted road and onto the highway. The Wolf is instantly notable for its tractability. This is a brand spanking new bike with only 40 odd miles on its clock and I am taking part in the running-in process, so a modicum of restraint is called for.
As we start to flick around the Leicestershire lanes, the most prominent feature of the Wolf is that it handles very well. Not just 'good for a factory custom' but 'good' in the sense of any normal bike. It's predictable, light to swing around, tracks well — better than some bikes from more expensive ranges, like Kawasaki's GT750 shaftie which is a slug by comparison. The Wolf's shaft-drive is totally unobtrusive. I can't detect it at all, and it doesn't seem to have any detrimental affect on the gearchange, although cog-swapping is a little tight and clunky.
I've always considered myself to be mechanically sympathetic towards whatever I am riding, and the gearchange did make me grit my teeth sometimes. Now don't be disheartened by this. When I brought this subject up with Mick later on, he told me that this is normal on a new Ural and it will settle down to being a smoother change once the box is run in. Indeed, the 4000-mile old combo I rode later on was as sweet as a nut, bearing out what he said. (Reverse gear on a Ural solo is an option).
We rode the Wolf around for almost an hour, marveling in its responsive pick-up, light handling and general good nature. Cutting through the traffic wasn't a problem, I felt instantly at home and whipping along the white line came as naturally as being on my own bike. The upright seating position gives an excellent all-round view, the high-mounted mirrors ditto. The plunger-style rear suspension helps with the authentic chopper-look, as does the king-and-queen seat set-up which I found really comfortable.
Stopping to fill up with unleaded, I was almost caught out by the new Euro spec sidestand, which is a bit of a nightmare to get used to. Someone shoot those morons in Brussels, please.
A poor man's Harley? At a third of the price, I'd have to say that it's not, but it's a very sensible alternative. What you get is a well-sorted bike, but you could treat it as a blank canvas to colour in and chrome as you see fit. All the hard work; frame building, wiring, etc, has been done for you. As you can see, it's well finished in its own right, and many folks ride them just as they come — and easy and great fun they are, too.
The next little treat Mick had in store for me was a ride on a Ural Classic, another new bike, this time with only 25 miles on the clock. Emm decided to stay behind to gather more background info, giving me the chance to try one out solo. I headed for the bumpy exit road from the industrial estate, and found myself reeling in the sensation that this was exactly how Russian despatch riders must have felt whipping their bikes around on the Steppe. Stability was the order of the day. The handling was much heavier than the Wolf. Wary of the new engine, I changed up early and flowed along on the torque wave. The first thing that struck me was the difference between the motors.
They are exactly the same flat-twin unit, but felt poles apart. The Wolf feeling lighter while the Classic more, well, sort of torquey. It's something that settles down as they bed in, much like the gearboxes. It's all down to the individual build, Mick assured me. The frame geometry on the Classic was not as subtle to ride as the Wolf, needing much more input, a more forceful hand on the controls. Out in the traffic flow, the sit-up position gives you an excellent view of the road ahead, and the easy, across the rev-range power delivery made carving through the cages a delight. This is an A-road bike, not a motorway dasher, and you could easily lope along at the speed limit plus-ten for mile after mile, luggage piled up high on the back.
With its rugged finish, this is the ultimate utility solo, out in all weather, taking everything that the elements can throw at it, shrugging its shoulders and carrying on. The brakes were good, the controls light, and the overall experience exactly what you'd expect of a 1930s motorcycle updated for the new millennium. Alternative classic? No, authentic classic – design, anyway. It is the epitome of 1930s motorcycling, dragged into the current-day world with sensible updates.
I rode this one for only half an hour, as I was keen to get back and try out the combo. Mick has several different variations on the sidecar theme, with both left and right-handed sidecars, to suit whatever your purposes are. For me, the military 'Gear-up' was my personal choice, and this was what was waiting for me when I returned.
The specification on this outfit is very high, with selectable sidecar wheel drive, a handbrake, and a host of options available like the jerry can and spade. Despite having covered 4000 miles, the outfit's finish was still perfect. This is an outfit which Mick has taken all over the country and shoved through various muddy, rutted events yet it shows no sign of it. I watched him ride up and down grassy banks with ease, both forwards and backwards, do doughnuts, spinning it in little over its own length, and zooming along with Emm sat in an elevated chair.
And zoom along it does – it has great stability and was easily one of the best set-up combos I've ridden. The tractability of the motor is superb, giving easy control over any terrain. Forwards or backwards, too! The gearbox on this bike, having covered a lot more miles, was smooth and the change light and reliable. The Dalesman and Roustabout versions, with left-hand chairs, do not come with driven or braked sidecar wheels, unlike the Gear-up and Sportsman, with deeper sumps and hazard warning lights. All the wheels are interchangeable too, so with the spare on the combo you'll never be stuck with a flat. You can choose from four basic styles of chairs, two on the left or right, with other extras fitted before taking delivery. I didn't get a chance to try out the tow bars, but judging by the overall performance towing should not be a problem.
If you've never driven an outfit, then fear not. Mick also offers various courses in sidecar handling, from a basic half-day introduction up to a full-on two-day off-road course. He won't let you ride off on one without being sure that you can handle it properly, too. Emm had her first combination riding experience in the Gear-up, and was sold on it. It didn't take Mick long to get her to lift the sidecar wheel, ride backwards and split her face with a huge grin.
Now, if you want something really different, this last offering may really be right up your street, Enter the Wolf Trike, basically the same as the bike but with a back axle fitted instead of a single rear wheel. This gives you a perfect platform for fun, whether it be as family transport, or, as this particular model was set up, for a disabled person who had lost the use of one of his legs. On this trike, the rear brake had been moved up to a second lever on the bars, above the clutch.
The options from the Ural range are almost endless. Depending on your personal requirements Mick can alter the controls to suit. The trikes are quite stable, and as an experienced Phoenix Trike (VW-based) rider myself, I can vouch for the handling of this one, although admittedly I didn't take it far as it was a customer's machine. The motor was more than up to the task of pulling the axle along, and the new ones will come with an un-boltable rear end so that it can be returned to standard configuration with ease.
The 45hp, over-head valve motors come with electric start, electronic ignition timing, and with such a relatively low power output they are really under-stressed — boding well for longevity. The solos come with Brembo disc front brakes and, as an alternative to mainstream biking, they are a highly viable proposition, especially for all-year round, everyday use. Financially, they make excellent sense; the over-engineered, hardy build quality and the cheapness of spares must make this one of the most sensible options for low-cost biking on the planet. A complete gearbox is only £215 for goodness' sake! Allied to that that you could do most servicing and repairs yourself. This makes it mucho cheaper to run than your average 'cheap' Japanese hack. If you can lift a spanner at all then there isn't much you won't be able to do yourself, especially with Mick's expert help only a phone call away when you get stuck. Manuals are downloadable from the internet too, so another cost saving there.
MPC will undertake any kind of work from general servicing to full restorations, keep a good stock of spares, and will supply new bikes fully prepared to whatever specification or paint schemes you require.
I could have done with one of these beasts when despatching for a living, I got the impression that it would work all day in all weathers, taking whatever mother nature could throw at it, shrug its handle bars and be ready for work the next day with just a cursory glance over it. In those days, though, the build quality was not as good as it is now, now with 'western money' behind the factory.
The Urals are a viable every-day transport bike, obviously not as fast or smooth as your 750 UJM, but from their own point of view, as a 'modern interpretation of an age old design', they are spot on target, and at the price, allied to low insurance group rating, represent good biking value for money too. Whether or not you could take as much punishment as the rugged Russkie, only time will tell; but you'd have to work hard to better it, of that I've no doubt.
People To Speak To
Phone Tel 01455 559123
[email protected]
New "classics"? Better than old?
---
Advert

Enjoy more RealClassic reading in the monthly magazine. Click here to subscribe.
---