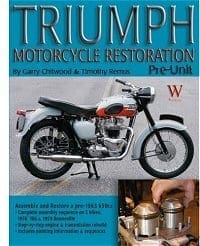 Chris Spaett of Venture Classics has restored several classic Triumph motorcycles, so he seemed like the ideal chap to review this new book for us…

I have restored and been involved in the restoration of many Triumph motorcycles, mainly unit construction 650s but also a few pre-unit machines so whilst definitely not being an expert in any shape or form, I do have some experience of the marque.
This book is definitely not a substitute for a workshop manual nor is it the only point of reference that you would require to restore such a machine, but to be fair the author states as much repeatedly. It is however a useful insight into what is involved in restoring any 1950's British motorcycle let alone a Triumph.



It is full of useful tips that have been learned over a period of time by the author and he very effectively shares his experience with the reader. I certainly came away from the book feeling that I had learnt something and pleased that I had taken the trouble to read it.

Slightly less positive is my view about the chapters on 'buying' and 'maintaining' the machines as they are quite non-specific. These chapters may be of use to someone not familiar with either process but don't give a great deal of detail for the specific models covered and are therefore of little interest to anyone with some experience of owning classic British machines. I would have preferred to see the space used on a section dealing with some of the dismantling techniques required and general advice in this area.

Another point is that a lot of the terminology is very 'American' which can be a little confusing at times. There are also frequent references to American suppliers and specialists which will probably not mean a lot to people this side of the pond.






Old and New Bonnevilles on eBay.co.uk
I did like the gallery of restored machines as it shows a selection of beautifully restored pre-unit Triumphs including a couple of Speed Twins and Thunderbirds. They are an excellent guide to what these machines should look like when completed properly. The quality of the photos throughout the book is really excellent which is a good thing because there are lots of them.
In summary, I probably wouldn't go out and buy the book today but if it had been available before I restored my first Triumph I would have been pleased with my purchase because I would have read it before starting work and would have undoubtedly avoided some of the pitfalls that you otherwise learn through experience. The quality of the photos also gives an excellent guide to the type and quality of finish that needs to be produced.
Reviewed by Chris Spaett
—————–
Publishers Info
'Triumph Motorcycle Restoration: Pre-Unit' considers what is required to restore a Triumph 650cc twin built before 1963. The book includes two start-to-finish restorations: one done on a 1959 and the other a 1962. The book provides additional information on the restoration of a 1948 Triumph. Hands-on sequences make up the heart of this book with many colour photographs showing the complete assembly of both bikes, from installation of the swinging arm and chassis parts to the attachment of the mudguards and petrol tank.
Author and experienced Triumph mechanic, Garry Chitwood, explains the right and wrong way to assemble these bikes, and the little things that separate an amateur restoration from a proper and award winning Triumph restoration. The book also includes the overhaul and assembly of a 650cc twin engine, and the four-speed transmission. Both operations are explained in detail complete with photos and torque specifications. Rather than try and explain the minute differences that separate different models and years, Triumph Motorcycle Restoration: Pre-Unit offers a series of colour plates in the middle of the book that provide left and right side view of most of the significant models sold in the 1950s and early 1960s.
—————
Triumph Motorcycle Restoration, Pre-Unit, by Garry Chitwood and Timothy Remus is a paperback of 144-pages, published by Wolfgang Publications, ISBN 978-1929133635. Available from Amazon, normally at less than the RRP of £18.99.
Search for books and magazines on
Ebay.co.uk
---
Advert

Enjoy more RealClassic reading in the monthly magazine. Click here to subscribe.
---