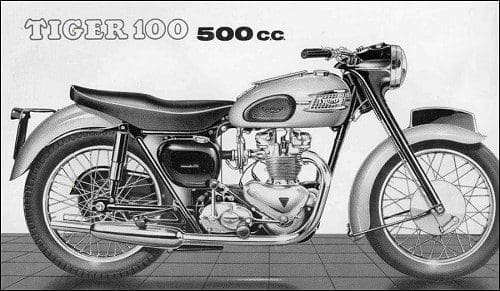 You know how it goes: always wanted a classic bike, never could quite afford one. Dave (aka Molster96) risked domestic distress in order to fulfil his dream…
Since my return to motorcycling five and a half years ago, I had been scouring the pages of various classic motorcycle magazines, longing to fulfil my ambition of restoring a classic British motorcycle. But as I never quite had the funds to support this, I was resigned to the fact that my dream may never come to fruition.
However, after much deliberation, persuasion (and a re-mortgage on the house) I finally felt confident that I could convince my wife that not only could I afford to buy, but had the capability to restore, a piece of motorcycling history. My powers of persuasion went into overdrive and that fine moment came when I received the favourable response of; 'well I don't mind, as long as there's room in the garage'. Now seeing as it already housed a 1998 Vespa PX200 and a 1999 Triumph Sprint ST, this was a valid point. So after a quick tidy round came a hearty; ;don't worry, there's loads of room; type response. Although this wasn't completely accurate (as I found out later) it seemed to do the trick.
That was all I needed to start the search in earnest. I had read Frank's guide to buying a British motorcycle, and with pound notes burning a hole in my pocket, felt I was ready to take my first steps into the arena that is classic motorcycles.



I had always fancied a 500 or 650 twin but couldn't seem to find anything in my price range. I wanted a project and not a gleaming concourse example. So it was to the Internet and hours of browsing the various sites dedicated to British classics in my quest for my dream.

It was during this time that I stumbled upon eBay. I had never heard of it before but a colleague had bought a Honda Silverwing through the site without any problems, so I gave it a go. To my surprise there was a number of classics for sale in all manner of condition, certainly what I was looking for.

Now I know what most people are thinking: never buy a bike unless you've seen and ridden it. But seeing as I was going to buy something that was either in 'kit form' or 'haven't had it running since…' it didn't seem to matter too much. After a couple of attempts bidding on machines varying from BSA Bantams to A50s I became the proud owner of a 1960 Triumph T100A 'in need of restoration.'

Perfect!

With only the description and photos of various bits to go on, you never quite know what you are getting. But I have to say that I have found everyone that I have dealt with so far on eBay to be honest in their descriptions of their goods.
I was actually quite surprised to find that I had a lot more bits of a motorcycle than I bargained for when I finally got to collect my new acquisition from a village just outside Ashford in Kent. The reason that the Triumph was being sold was to fund a very nice looking Super Rocket restoration.
One good point about buying a motorcycle in bits is that it can be collected in the family car – and so transporting my new pride and joy back to Essex was a troublefree experience (apart from my eldest daughter insisting that we stop in a lovely little country pub for a pint and a coke. All right, I didn't need that much persuading).
On returning home I showed my wife exactly what the bundle of ten pound notes had bought. The stony silence followed by a 'mmmm lovely' confirmed that she was thinking that I must have more money than sense. In fact everyone who I showed my project to seemed to have the same opinion. Was it only me that could see the potential?
Undeterred by all the scepticism I unloaded and sorted through all the bits with added enthusiasm.
One other thing that I should probably mention at this point is that I have never had any mechanical training nor had any experience in restoring motorcycles. In fact I was a complete novice. This being the case, I was more than pleased with myself when, on returning home with my frame, engine and two boxes of what amounted to assorted autojumble, I knew pretty much what each piece actually was and more or less where it went in the scheme of things.
Next time: Dave knows what he's got – but how does he know whether it should really fit his bike? How would you decide?
---
Advert

Enjoy more RealClassic reading in the monthly magazine. Click here to subscribe.
---