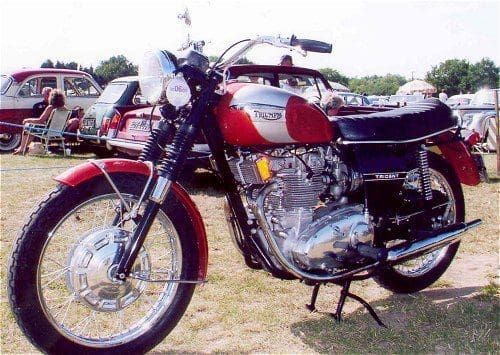 Roy Bacon gave the early T150 a 5-star rating (otherwise reserved for the pre-unit twins and Thruxton Bonnie). We met two T150 owners who explain what's so special about their three-cylinder machines…
If you happen to browse through the Triumph Motorcycle Buyer's Guide by Roy Bacon, you'll notice that very few models achieve a 5-star rating in Roy's expert opinion. They have to be something really special to rise above a 3-star 'middle of the road' review and Roy reckons that 4-stars can be hard to come by; '4-stars are the best that most people can hope to find' he says. To score the 5-star slot, a classic motorcycle must be 'the tops, command the highest prices and usually have the best chance of appreciating.' Just one Bonneville makes that grade – the 1965 Thruxton – but two Tridents are ranked that highly, the original T150 and its T150V successor.
'They are among the classic motorcycles' says Roy, 'and they represent the Triumph marque before the major changes for 1971. Owners tend to keep them for high days and fast rides in the true Trident tradition. The Trident is truly one of the best for both riding and investment.'
That advice was given some time ago, back in 1989 in fact, and the classic market has moved a fair way. Even so, the T150s are still sought-after machines and when they make an appearance in public then they normally draw a crowd. Two RealClassic readers came up trumps at shows this summers – they attended on their Tridents and went home with a pair of prizes. So we thought we'd find out what life is like for them, owning a 5-star classic motorcycle…



Brian Forrest from Morayshire is pictured with his 1969 T150T. He bought it in 1999 with 6300 miles on it, and has added another 15,000 to that total. Mind you, the miles haven't been entirely plain sailing.

The T150 needed a rebuild 'due to engine problems; the primary chain broke and then smashed the casing and twisted the end of the crankshaft.' Ouch. But the drama doesn't end there (it never does with a Brit triple…) because the next time (yes; the NEXT time) Brian had to strip the engine it was for 'a holed piston. And I still don't know why!'

So Brian got his hands dirty and did the job himself – twice. He recommends Richard Hacker Motorcycles and Wilemans of Derby for spares and supplies. One of the mods he made was to fit a primary belt drive (cost £250), which he suggests for any triple owner – and that's no surprise considering Brian's experience with the chain!

After all the mechanical woes, wouldn't Brian have a quieter life with, say, a nicely well-behaved twin? Nope. He won't hear of it.

'I had a T150V when I was 17' he says, 'and I just wanted another Trident. I enjoy life every single time I get this bike out. And if it disappeared – then I would probably buy another one. Maybe a T160…'






T150 stuff on eBay.co.uk
Our next show-stopper was Stuart Macaulay, whose 1970 T150T won the Best Bike award at the Kent Motoring Pageant in 2006. He bought the bike for a fairly pretty penny in 2004 (oh, all right then; it cost £4500) after it had been restored by its previous owner. The only problem was… the colour. Not quite the right shade of orange, apparently so 'I had the bike resprayed to the correct 'Olympic Flame' colours and sourced a number of rare and original parts.'
No harm in being a stickler for originality – well, if you're paying the thick end of five grand then the bike might as well be as standard as you can possibly make it!
Stuart used Alfred Coker and Sons of Edenbridge for the paint and, as you can see from the photos, they made a sparkling job of it. Stuart was aiming for 'concours standard' and it seems that's what he got – there's at least one trophy in his cupboard, and probably more to come in future.
If you're looking to buy a Triumph Trident, then we strongly suggest you join the TR3OC and take advantage of this specialist club's enthusiasm and expertise. A local club member should be able to help you find a Trident to suit your skills – one which comes 'ready done' or one for you to tinker with. If you're willing to be patient and get the triple set up correctly then you'll be rewarded with a motorcycle which 'on the road… was as fast in a straight line as the Honda 750-four but which handled much better.'
Scan the Small Ads closely, and at this time of year you'll even find a T150 for sensible money. £3000 would buy you a 1969 example with T&T and in 'superb condition.' Then it could be you picking up a prize at an event next summer…
---
Advert

Enjoy more RealClassic reading in the monthly magazine. Click here to subscribe.
---