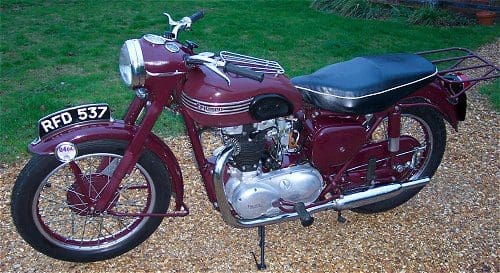 When is CB350 Paul not CB350 Paul? When he's Speed Twin Paul, of course. The Speed Twin route to classic motorcycle contentment is not necessarily a straight- forward one, however…
A year ago I decided that I must try to own another British bike. I'd only ever owned one previously, and that was a 1952 Speed Twin back in the early 1990s. Other than that I'd been tootling round on J*p*nese stuff from the early 1970s (see my previous feature in the Bikes section). Oh, and in 2002 I did briefly own, from new, one of those W650 malarkies. For me it fell anonymously short between the two camps and so it was bye-bye W650, carry on with the CBs.
Buying and enjoying the old CBG was really the inspiration to go British once more. Learning more about Graham Ham's Speed Twin adventures gave me the final shove.
I didn't want to spend too much money in case it turned out I had gone too soft to own Brit iron on a permanent basis, so I started with a 1964 3TA. Nice, but too slow, so away it went on eBay and a 5TA took its place. Some of you early Real Classicers will remember that this turned out to be a right old mongrel of a Triumph, and so she too was eBayed up to Yorkshire.
Mmmm. Yes, this was good fun, and yes, I definitely liked owning something British, but I was really looking for a bike which gave me the same all-round good feeling that my CB350s did on the Jap side of things.
We managed to work our way through two 5Ts, another 5TA and a couple of Gold Flashes before the fateful day I noticed Cotswold Classics advertising a 1955 Speed Twin. I'd still got the aforementioned fleet in my shed, but what the heck, it was worth a look surely?
I jumped on the least oily of my two CB350s and whanged my way down to Cheltenham. Tim the Salesman was dealing with a potential purchaser of a Velocette Vogue in two tone brown (!), and so I wandered over to the Amaranth Red beauty I spotted at the far end of the building.
'Yep! Looks nice', I thought, as I swung my leg over and tried it for size.
'Mmmm. Wonder what'll happen if I pop on the fuel, apply choke, tickle and kick?'
Tim the Salesman, Velocette Vogue Buyerwellsorted and me all leap into the air as the thing fires up at once and fills the room with the most wondrous of noises — that wondrous noise which you only get from the exhausts of any well-sorted Speed Twin. Needless to say the test ride was just as wondrous and the deal we struck was a good 'un (for their profit margin, that is).
Free delivery was included in the deal, but Tim got a bit of a surprise when I declared I would ride the Speed Twin home the 100-odd miles — and would they deliver my CB350 back home in due course? 'You're sure?' he said. I was sure. And I was right to be, for this little beauty has yet to miss a beat and gives you that feeling of 'just rightness'. She's quiet mechanically and also incredibly oil tight.
It turns out that the previous owner had owned the Triumph since 1958 and he tells me that he has always had reliable service from it. The milometer was changed in 1960 and only 13,000 genuine miles have been covered since. There was one snag during his ownership — the bike hit a car in 1972, and finances dictated that it would be another six years before the bike was totally right once more, but he had taken the opportunity to rebuild the engine and gearbox at the same time, which for me is a real bonus.
So there we are. A year on I have the British bike that I really wanted from the start – it just took half a dozen others to get there. See you all somewhere on it next year, I hope!
Long road to enlightenment?
---
Advert

Enjoy more RealClassic reading in the monthly magazine. Click here to subscribe.
---