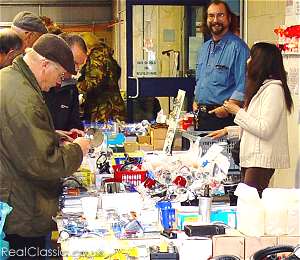 We all know what it's like to browse the trade stalls at classic bike shows. But what's life like on the other side of the trestle table? Paul Goff shares a working weekend in the life of an autojumbler…
Two jumbles this weekend. The first was at Ross on Wye, so I got up early (5am) as I'm working alone, the wife being with her folks. It looked grey and miserable and the forecast wasn't good but us jumblers are made of hardy stuff so off I set. Near Cheltenham it was still hissing down and I nearly turned back… but I told myself that us jumblers are made of hardy stuff, so I carried on.
The weather during the day wasn't too bad, a bit of drizzle I fended off by a strategically placed side-screen on the gazebo. Not a big crowd but a couple of customers were in a spending mood so I had a good day, for Ross anyway. It's mainly Welsh farmers wanting bits for their son's field bike so I never expect much. The yapping dogs on lengths of string which relieve themselves against the tables can be a nuisance.






Half NorBSAs on ..

More eBay old bikes below

All was well until I was most of the way through packing up (or are jumblers supposed to say 'breaking down' like circus men?) when it became rather windy. I'm greatly troubled by wind. I can't take the gazebos down until I've put the stuff in the van and taken the tables out from under them. The gazebos are strapped to the tables to hold them in place so when the wind blows they can take off and/or get bent out of shape. The gazebos got bent and broken and I got very fraught and bad tempered.
For the last few days I've been puzzled by a crunch and then a bang when I put the van (a 13 year old Escort) into reverse. This spread rapidly on the way home so by the time I'd got lost and was stuck in Cheltenham traffic I had not much of a clutch at all. At traffic lights I had to switch the engine off and start it in first when they changed. I was taking roundabouts in fourth, etc, but I got home all right. I had a look under the bonnet and discovered a half inch of slack in the cable, which I packed out with suitable washers from the 'don't throw them away, might come in handy box', and it worked. I had a clutch again. If I could dance I would have done a jig.
Shower, dinner, then off to Folkestone where I'm staying in a cheap hotel (£25 and it didn't even smell) for the show at Hamstreet. All the way down I was marvelling at my luck with the easy clutch fix… so you can imagine how pleased I was when the clutch went with a bang in Folkestone. Looking on the bright side, amazingly it lasted until the hotel car park, just as I arrived. Slap bang in the middle it was, and that was where it stayed until the cavalry (recovery truck) arrived at 6am the next morning.
They arrived remarkably quickly the next morning, not too many breakdowns at 5.30 on a Sunday perhaps, and happily stopped in a service station on route so that I could buy some sandwiches. With all the excitement with the clutch the day before I'd left Sunday breakfast, lunch and dinner in the fridge. My arrival at the show and jumble in Hamstreet on the back of a recovery truck was greeted with some amusement by the other jumblers, most of whom managed to avoid speaking to me fearing that they might be asked for help. Pah.
The day went well, stock was sold and money taken. The sun even shone for part of the day so lack of useable gazebos wasn't a problem.
After I packed it all into the van, and having borrowed a mobile to phone another cavalry / recovery firm, I walked into the village and bought some cans of beer which I could place in the cold bag (the one that was supposed to have been carrying my lunch), to keep it nice and cool. The jumblers one by one left, some with a cheery wave and others still ignoring me, until I was alone in the middle of this big field.
It was quite peaceful. The sheep in the field next door didn't seem to have been bothered by the invasion of noisy bikers and bleated happily. The trees swayed slowly in the wind, and from the aged cassette player Roger Waters was singing about money being the root of all evil today. The beer was sliding down nicely and the time slipped by. I'd long finished the sandwiches and after two early starts I was feeling a bit tired and so drifted off to the land of nod, dreaming about buying a football team.
I was shaken out of this comfortable place by a big fat RAC man hammering on the window shouting; 'Have you broken down?'
————-
When he's not being blown away or breaking down, Paul Goff specialises in upgrades for classic bikes, especially replacement and modern electrical components:
---
Advert

Enjoy more RealClassic reading in the monthly magazine. Click here to subscribe.
---