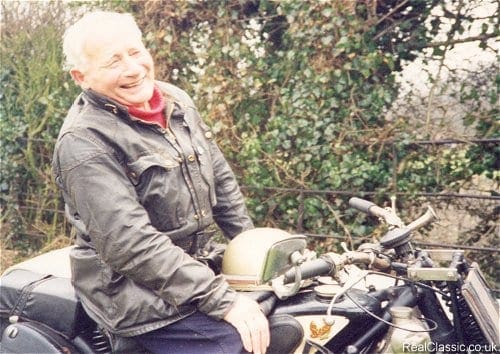 The classic motorcycling world bids farewell to one of its stalwarts with the sad news that Titch Allen has died, aged 95…
In the aftermath of the Second World War, CE 'Titch' Allen gathered together a group of friends with the idea of riding old – vintage — motorcycles for sport. That was the genesis of the Vintage Motor Cycle Club, and arguably the beginning of the classic bike movement which thrives to this day.

Titch Allen

Charles Edmund Allen OBE, BEM died on Thursday 18th March, 2010.
Born in May 1915 in rural Nottinghamshire, Titch claimed to have been born with oily fingers and that his favourite plaything at the age of two was a hammer. Totally negative experiences with father's milk float horse sparked off an interest in two-wheeled transport that soon transferred to his first motorcycle when he was twelve years old, a two-stroke Clyno in the form of a box of bits.
Allen left school at 16 with a 'gift for the written word', an attribute which never deserted him, along with his 'gift for the spoken word'. He became a trainee reporter on the local paper, where his experiences and the contacts made during those years included a succession of thoroughly dreadful cars and motorcycles. They led indirectly to his meeting and marrying Jess in November 1937 and becoming deeply involved with the resurrection of the Loughborough Motor Cycle Club
As did many other motorcyclists, Titch responded to the appeals for dispatch riders in the Blue 'Un and the Green 'Un, and signed up to the Motor Cyclist's Army Register. After many trials and tribulations he served as a DR, concluding the war as a sergeant and with the BEM.
Allen's obsession with motorcycles never left him in these tempestuous times and he claimed that the acquisition of a 1930 Scott in 1942 was the catalyst for the formation of a Vintage Motor Cycle Club. The great stimulus for this group was a series of articles on the adventures of tracking down and acquiring old bikes written by Captain Jim Hall in 'The Motor Cycle'. The idea was Jim's but it was the work of Titch and Jess that got the club off the ground with the historic inaugural meeting on the Hog's Back on April 28th 1946. Titch envisaged a sporting club where sporting, historic motorcycles would be used in competition – an ideal that came to be frustrated.
It was at this time that Allen began his life-long love affair with the Brough Superior marque. He made a complete career change, moving into the world of motorcycling as a sales representative for Jim Ferriday, the irrepressible owner of the Feridax motorcycle accessories company. This led to all kinds of adventures and experiences, and many opportunities to enlarge and enrichen his collection of motorcycles.
Article continues below...
---
---
Allen's involvement with the emerging and developing Vintage Motor Cycle Club was, at times, a tempestuous affair, with numerous confrontations with equally strong-minded individuals at various stages of the Club's development. Titch admitted that his singular devotion to old motorcycles and motorcycling lead to the breakdown of his marriage and subsequent separation from Jess.
Sadness followed with the loss of Roger, Allen's eldest son, in a freak road-racing incident in the Isle of Man in 1992, and then Barbara, his eldest daughter, died from cancer in 2005. Over the years Titch had lost many close friends and associates through motorcycle related accidents, but to many who were close to him, it seemed as if the death of Roger left a permanent scar from which he never really recovered. Titch's relationship with his wife was back on friendly terms for the latter period of her life.
Recognition of Allen's life-long contribution to motor cycle heritage came in the form of an OBE in 2004. The presentation ceremony took place, most appropriately, at Donington Park – a racing venue with which he had been associated for 75 years.
Inevitably he was reluctant to give up competitive motorcycling but Titch eventually retired, first from road racing and finally from sidecar racing on the grass. His interest and enthusiasm never dimmed, however and a 'posing' sidecar outfit was prepared for special occasions. One of the most celebrated moments on board that outfit must have been his appearance in the Past Masters' Parade at the revival of the Festival of 1000 Bikes in 2006, at the age of 91.
Never afraid to voice his opinions on vintage motorcycles and motorcycling anywhere and at any time, Allen was frequently controversial both within the Vintage Motor Cycle Club and elsewhere. His dedication to motorcycling could never be questioned. There can have been very few people like Allen who have been able to indulge a life-long obsession to the full, while earning a living and raising a family and leaving behind a remarkable legacy.
There will be a private family funeral. Titch's son Stephen Allen said: 'the family appreciates that there will be many Vintage Motorcycle Club Members and friends that will want to pay their respects so a memorial service will be arranged, details of which will be announced by the VMCC as soon as possible.'
—————–
The Vintage Motor Cycle Club: www.vmcc.net

Enjoy more RealClassic reading in the monthly magazine.
Click here
to subscribe.