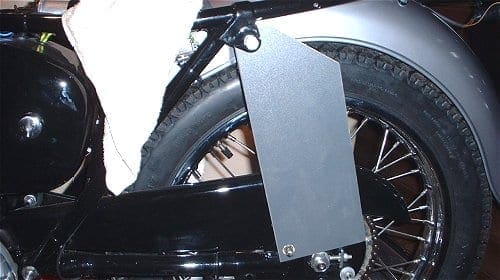 As Alan Goff discovered recently, it's not always easy fit a new set of shock absorbers to your classic bike (particularly if you have just the one set of hands). He built a special service tool to take the strain…
Alan Goff recently rebuilt his Triumph Tiger Cub (you'll be able to read all about it in the magazine in summer 2008). One of the final jobs was sorting out a new set of replacement shock absorbers, and fitting them turned out to be something of a handful. So Alan came up with his own design of rig/service tool, which should suit most types of twin-shock classic motorcycle. 'It gives the operator two free hands remove collets or chrome inserts' says Alan, 'and you can depress the spring in a shock absorber without the fear of anything flying out when doing so!'
So here's your pictorial guide to the bits you'll need for the job…

Accessory (made to fit bike) a piece of wood (chipboard shelf) acting as support while working on shocks absorbers.

Rig Construction
2 off x 12mm Dia. Studding length to suit shock .
2 off x 20mm Dia. Mild steel bar diameter to suit ends of shock where rubber bushes go! Only 1 needed for Triumph Cub etc. Drilled 12.5mm clearance for studding 10 cm centres approx (to suit shocks)
Base Support (to be held in a vice) was a bit of unistrut with slots already in it! A piece of angle iron or something suitable can be used.
Bolt studding through unistut / base and secure with 12mm nuts and washers using 20mm Dia bar as a spacer for studding centre holes in base.
Place bar through shock bottom first then bar through top and onto the studding


Left: Rig held in vice, shock and spring depressor.

Right: Spring depressor inside top sleeve of shock and old inserts fallen out.

To compress shock spring place washer then nut on studding then tighten down
Using a ring spanner / ratchet spanner on both nuts when compressed you have both hands free to assemble parts and to re-assemble.


Top bar with gaffer tape to prevent sideways slip of shock and chipping of paint. Flats filed or milled on bar under washers.



Left: New chrome inserts fitted and pressure released showing spring depressor.

Right: Set-up for other type of shocks using both bars etc.

Spring Depressor
For Triumph Cub etc.
Steel tube 48mm Diameter (1 7/8 inch Dia.) to fit inside top sleeve of shock.
18 cm (7 inches) long
Inside diameter bored out to 44mm(1 ¾ inch) to clear chrome insert of shock.


Legs splayed out slightly to give clearance for chrome insert. Note gaffer / insulating tape inside ring & legs to prevent scratching of paintwork or chrome insert.

Make hacksaw cuts lengthways and across part of tube to make legs about 15 mm wide so top ring is about 15mm to 18 mm wide, see picture above
———-


Shock absorber dismantled and stripped of paint.




Shock absorber painted with primer, cleaned ring washer, re-chromed inserts.


| | | |
| --- | --- | --- |
| Matt black paint on spring, three coats gloss black paint then coat of lacquer, | | Random Cub stuff on eBay.co.uk |


Finished Shock Absorber (without rubber bushes).


---
Advert

Enjoy more RealClassic reading in the monthly magazine. Click here to subscribe.
---