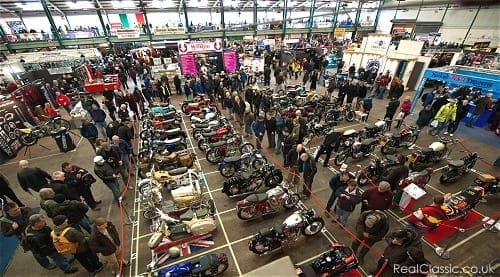 Britain's biggest classic bike show takes place this month at Stafford. Look carefully and amid the stunning motorcycles, bulging autojumble, masses of memorabilia, superstar riders and auction action, you'll discover Britain's scruffiest classic bike magazine, too…
If you're looking for trouble… you'll find us on stands 551 and 552 on the balcony of the main hall at the Stafford Show on Saturday 27th and Sunday 28th April 2013.
The RC Roadshow has relocated again, because we have itchy feet and just can't keep still. Or, perhaps we actually like lugging heavy boxes of printed paper up flights of stairs? Whichever; do come and see us on the balcony, and if you bring a reviving libation with you then we'll swap it for a HobNob.
Elsewhere at the Stafford County showground, there will be a simply enormous shindig going on. Guest of honour at this event is Phil Read who brings with him the Yamaha Classic Race team. There will be more than 500 traders filling over 850 plots, plus a separate hall for the Bonhams auction.
Squeeking of which, one of the astonishing machines on offer in that sale is pictured here and we a little while back. The sale estimate is around £8000. Bet the bidding will be interesting – likewise on the Vincent Black Shadow, one of the bikes which took part in the 1952 factory record attempt at Montlhery, France. The British team returned home with eight new records, including six hours at over 100mph.
The fully restored Vincent has been owned by the current vendor for more than 40 years and is expected to fetch at least £110,000. Among other machines consigned to the Bonhams sale is a trio of Brough motorcycles; a rare factory-restored 1957 Ariel Square Four 4G Mk2, and a 1988 Norton Classic rotary which has only covered 1500 miles from new. Will this be the first Norton Classic to break the £10k barrier? We are waiting and seeing.
Meanwhile, back in the more formal world of classic motorcycling, the Velo Owners' Club will be celebrating their centenary with an extra special display in the main hall, featuring a range of Velocette machines from the last century and a couple of interesting engines.



The full list of marque and enthusiast club who have displays at Stafford runs to an entire website on its own: among the 80-odd organisations are some very odd organisations who are definitely worth seeking out.

We're particularly intrigued by the Rolls Royce Club, the Caiman Club, the XJR Owners, the Gawsworth Jesters, the Cossack Owners, the MT Riders and the Greedy Pigs… but you'll also find strong contingents representing the traditional British bike industry at its best as well as a wide array of Italian and Japanese manufacturers.





Proudly Owned XJRs on ..

See below for more old bikes…

Also keep your eyes peeled for the 1920s machines which defy the Wall of Death; world sidecar champ Stan Dibben who will be at the Norton Owners' Club stand; real race bikes being fired up at the GP paddock; the twice-daily trials demo which takes place next to the dirt bike hall – don't miss the Dales Trials Club in action at 10.30am and 2pm.
The static displays will also feature a very special Norton 500T; a works machine which was given to rider Austin Munks. Munks, who lost an eye in a shooting accident, won the 350 and 500 Manx Grands Prix in 1934, 1935 and 1936 riding Nortons. Also on display at the show will be a pair of motorcycles owned by Ferry Brouwer – the Yamaha four-cylinder 250 and 125 world championship bikes raced by Phil Read, while roaring into life will be Read's ex-works MV. Owner Dave Bedlington will be firing it up each day.
Given how busy this Show is, you might want to order any spares you need in advance and collect them in person. Remember to give your favourite supplier a few days' notice to sort your order out in advance. Definitely worth doing if you need gallons of oil or anything else which is heavy and bulky and costs a fortune to deliver.
Another bright idea (we're just full of them, ain't we?) is to bring your insurance renewal notice with you if it's due anytime soon. It's much easier to get a quote from people standing in front of you than it is to plod through endless online or telesales questions. You can also get a clear answer to the 'does it cover me to ride any other bike?' question, too, and you can compare quotes by strolling between insurance brokers in the same hall. Don't waste all day doing it, obviously… just leave them a list and pop back for the quote when they've done the legwork!
The Stafford Show opens 9am until 6pm on Saturday, closes at 5pm on Sunday. There's free car parking (but it can be quite congested, so be patient, or try to arrive later in the day). Tickets from £10 per day via 01507 529529 or at
And if you do drop by the RC Roadshow (on the balcony, above the main hall), a cup of coffee, white-no-sugar, never hurts!
—————
---
Advert

Enjoy more RealClassic reading in the monthly magazine. Click here to subscribe.
---