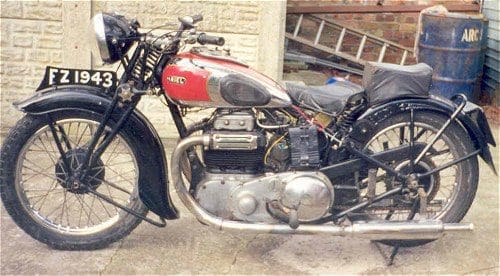 The Square Four had a lifespan of over 25 years, and several incarnations of all sizes from 500cc to 1000cc. If you thought that all old British bikes were 650 twins then read on…
Ariel's Square Four started life in 1931, designed by a young Edward Turner who drew his original idea for the Square Four on the back of a fag packet, and then took it to several manufacturers. BSA weren't interested but Ariel were willing to try it out. Turner was hoping to 'provide a four-cylinder engine small enough for use in a solo motorcycle, yet producing ample power for really high performance without undue compression, racing cams or a big-choke carburettor. I was aiming at the ultimate reliability with the minimum of attention'
When introduced, the Square was as 500, with its remarkably compact powerplant slotted into a twin front downtube chassis similar to that used by Ariel's 500 singles, using girder forks and a rigid back end. The original OHC engine can be viewed as being similar to two parallel twins which shared a common crankcase with the two crankshafts geared together at the middle pinions, and a common cylinder block and head. The overhead camgear was chain driven. Early bikes used a hand-change, four-speed Burman gearbox.
The Square grew to 600cc in 1932 to give it a little more power, and was intended to be used mainly as a sidecar tug. It was very smooth but somewhat sedate, and the engine was not easy to tune for peppier performance.
By the late 1930s the 997cc Square was introduced with an OHV pushrod, all-iron engine, alongside a similarly-engineered 600cc version. The front end still used girder forks but the rear utilised Frank Anstey's sprung rear suspension system.
Postwar, the Square adopted an alloy engine, saving some 30lb in weight. The 1949 machine weighed around 435lb dry, produced 35bhp at 5500rpm and matched oil-damped tele forks to the Anstey link rear end.
In 1953 the most famous four-piper Mk2, still with Anstey link rear suspension, was introduced. Although Ariel built prototypes of a Mk3 with Earles forks in 1954, the model wasn't put into production, so the Mk2 ended the line when it was discontinued in 1959. The final factory incarnation of the Square cost £336.16.6 new in 1958. A non-running 1955 Mk2 4-piper was offered for private sale at the end of 2005 for £4000.
Ariel Info
---
Advert

Enjoy more RealClassic reading in the monthly magazine. Click here to subscribe.
---