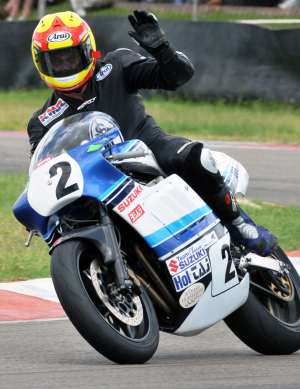 A Scot wins hands-down in South Africa's classic TT tribute series. Mind you, his 1981 Motul Suzuki XR69 did have something of a horsepower advantage. Ian Groat and Dave Abrahams explain…
The South African TT Revival races take place over two consecutive weekends in February, pitting pre-1984 machines against in other in light-hearted competition. At the first round at Zwartkops Raceway, the ultra-fast 43 year old Scottish-born road-racing legend Ian Simpson won both heats on a Motul Suzuki XR69 F1. Simpson ran just seven seconds short of the current superbike lap times on a superbly tuned bike which ran like clockwork for both races.
Simpson, who also has three IoM TT wins to his credit plus five Northwest 200 wins, two Ulster GP titles and five British Superbike championships, led each heat from start to finish. However, the Scot had some stiff local competition in the shape of the very rapid 65 year old Les van Breda on a Suzuki Katana, who finished second. Third place went to Alan Duffus on ?Yamaha TZ750, followed by 65 year old Bill Simpson (Ian's father) on the second Motul Suzuki GS1000 and close behind him Mike McSkimming on yet another Suzuki GS1000.
| | | |
| --- | --- | --- |
| Ian Simpson scorched to four straight-out wins on the XR69 Suzuki racer | | Interesting Suzukis on Now… |
Despite being retired, Simpson was so quick and super smooth throughout the day that he lapped the tail-enders and finished both races with his customary ear-to-ear grin. Simpson's Suzuki was an identical machine to the one used by Michael Dunlop to win last year's Classic TT Race in the Isle of Man. It is designed to use engines up to 1992 while the local vintage spec sees engines of 1984 being mandated – so Simpson's bike had close to 30 more ponies than the local ones.
As well as the competitive racing, this weekend featured a 'Day of Champions' display with many famous names out to strut their stuff aboard bikes like the 750 MV Agusta of Alan Walker and Mick Grant's 500cc Suzuki GP square four.


Mick Grant aboard the 500cc Suzuki GP racer (banshee two-stroke wailing not shown)

For the following weekend, the action moved to Killarney racetrack where two superlative races were enjoyed by an absolutely packed circuit of spectators. Ian Simpson completed his domination of the 2014 SA Tourist Trophy series for historic motorcycles with another emphatic double win at Cape Town's Killarney circuit. Behind him, locals and visitors from all over the world mixed it up in two superb races which had the huge crowd on its feet. Several of the close-fought battles throughout the field weren't settled until the final sprint to the flag.
Simpson put his 1981 Suzuki XR69 (the forerunner of the iconic GSX-R series) on pole with an unanswerable 1 min 19.054 qualifying lap but got a badly coordinated start in Race 1 as the rest of the front row, former SA champion Les van Breda and local veteran David Bolding (each on a Suzuki Katana) and John 'Konstable' Kosterman on a 1985 Suzuki GSX R750, howled down to the first turn ahead of him.
Once Simpson had got the big Suzuki over its start-line jitters, however, there was no denying him as he dive-bombed both Katanas into turn five at the end of lap one to take the lead and romped away to win by nearly 12 seconds.
Behind him, however, things were by no means as clear-cut. Bolding made the most of home-track advantage to hold off the vastly experienced Van Breda in a superlative battle for second that lasted until the final lap, when the former SA champion out-braked the local rider in a move Bolding later described with a grin as 'committed' to take second by 0.67 seconds.


Veteran champ Les Van Breda had two scintillating rides to clinch second overall in the series on a 1981 Katana 1000

Kosterman held on as best he could for a few laps, but there was no way his essentially standard 750 Gixer was going to stay with a litre-class works endurance racer and two kitted Katanas, and he trailed home half a minute in arrears, ahead of Robbie Burns, another Scot on an XR69, five times former Scottish champion Alan Duffus, now 67 years old, on a four-cylinder two-stroke Yamaha TZ750, and Mike McSkimming on Tony Sparg's Suzuki GSX1100.
The closest finish of the race, however, was between Tony Jones, riding Lourens Rossouw's GSX-R750 after he blew the engine of his Ducati Paul Smart replica in practice, and Kevin Spratley's remarkably well sorted Yamaha RZ350R, who finished just 0.287 sec apart after a race-long duel.
In the final heat, Van Breda got another scorching start to lead the field into turn one, only for Simpson to sweep by on to the back straight for another unchallenged victory. Four seconds behind him, Van Breda and Bolding swapped places at least twice a lap until Van Breda out-braked the local man three laps from the flag and held him off to take second by 0.669 sec.
Kosterman and Burns took the next two places, closely shadowed by Simpson's father Bill, who'd blown his Suzuki GS1000R in practice and was riding Alan Walker's gorgeous 888 Ducati to considerable effect; Jones, McSkimming and Spratley, all of whom finished within four seconds, while Duffus passed Etienne Low's Kawasaki Z1 on the final lap to grab 10th by 0.189 sec.


Jimmie Guthrie rode with classic style on the 1961 Norton Manx from Team Incomplete's stable of classic racers

The historic demonstration parade, run by the gentleman racers of the Historical Motorcycle Group on vintage machines too rare and irreplaceable to be raced, rapidly became a flat-out dice between riders whose rivalries in some cases stretched back half a century…
Photos: Ian Groat and Dave Abrahams
---
Advert

Enjoy more RealClassic reading in the monthly magazine. Click here to subscribe.
---