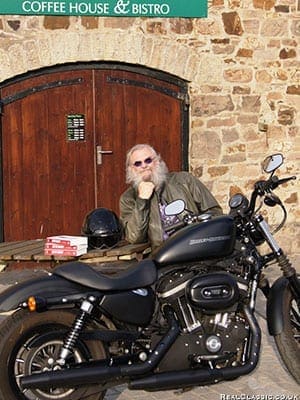 Frank Westworth says he's the same person regardless of whether he's riding a Norton, a BMW, or a Harley-Davidson. So why do people treat him differently depending on which old bike he's aboard?
Have you ridden a Harley-Davidson recently? No? You should. It is an interesting experience; instructive and informative in several ways. Also thought-provoking, as a ride on a motorcycle so often is.
I'm not talking here about the undoubted attractions of a large-capacity, low-tuned big twin; more about the attention that riding it attracts. It's been a while since I'd ridden any distance aboard one of Milwaukee's finest, but a recent 250-mile ride was educational, in several ways.
And it was also a direct comparison between the Harley and a Not-Harley. Earlier that same week I had ridden around 500 miles aboard one of the smoky rotary Nortons, sharing the camaraderie of the road with loads of other genial souls who flashed, waved and nodded their bonhomie as we passed. Also when parked up. A little extra amusement was provided when the Commander was parked up next to a friend's Thunderbird Sport, and the inevitable closet enthusiast loudly admired the rare Triumph while completely ignoring the commonplace Norton. Made me chuckle.
Two days later I was pounding down from London to the Cornish retreat aboard a big and black Harley-Davidson. The headlight is wired in permanently on these, so I could not flash my shared delight at other two-wheeled pilots. But I could wave and I could nod. And I did so, as is my wont unless I'm in a particularly bad mood. Only the riders of other Harleys or Harley-clones were prepared to share my riding pleasure that day, it seemed. How odd. How extremely odd. Pocket rocket jockeys hid behind their bubbles, giant enduro heroes gazed steely into the far distances, while tourists raised their noses and peered down them as through a tunnel. Like I say; an odd experience. After 150 miles or so, I gave up with the cheeriness and ignored everyone … apart from other soft-chopper riders, who waved and flashed in a brotherly, sisterly kind of way.
'What do you expect?' A friend was explaining this odd behaviour to me. Because I am genuinely mystified. Motorcyclists are generally a very friendly bunch. 'It's because it's a Harley!' He was becoming exasperated, as one might were one dealing with a simpleton, which may have been the case of course.
I suggested that although the styling and riding positions of the great majority of Harley-Davidsons did not appeal to me, I have no problems with others who might enjoy acres of chrome, riding with their feet nearest to the accident and with their hands held heavenward in supplication. I feel the same lack of concern for this that I might, for example, feel for those who enjoy riding bikes the size of buses, café racers or custom mopeds: each to their own, as we say. I'm delighted to wave and to be friendly. Why not?
'It's the riders,' my friend revealed. 'You can't take Harley riders seriously. They're not real bikers, not motorcyclists.' This was a stunning revelation indeed. He went on; 'They're just weekend riders. They dress up in stupid clothes, like in Easy Rider, and pretend.'
Pretend to be what? I wondered. Life can be a puzzle. Apparently they pretend to be real bikers. And why would they do that? My mystification was off the scale by now. Apparently they – that's Harley riders – dress up to pretend to be bikers when they ride their bikes. Lights dawned, as light sometimes do. I considered other Harley riders who are plainly unworthy of my friendship, seeking for ways in which they differ from real riders. I can't think of any. I know quite a lot of Harley riders. Also Norton riders, Triumph riders, BMW riders and … well … riders of all manner of strange machines. One friend even rides an Egli Vincent and claims to like it. That's another big and very loud V-twin. I wondered whether he changed from being a real rider to some sort of purple alien when he rode his Harley XLCR? Maybe that's why he sold it? I thought he'd sold it because it had desperately bad brakes and shook the lenses from his specs at any speed above stationary. Plainly I am a superficial idiot who needs educating. I am confirmed in my superficiality because my riding gear is dictated by the weather and whether the bike has a fairing or not.
RealRiders, then, are those who wear waxed cotton trials jackets, race leathers complete with a fin between the shoulders, knee boots with sea boot socks over the top and leather kidney-chiller jackets with studs and patches, monster armoured gear like the US military on manoeuvres, and even T-shirts and sandals. I should wave at all these because … why? And why would they wave at me except when I'm riding my Harley? I ride my Harley wearing the same kit as when riding my Norton, my AJS or even my BMW. I am the same person.
A common bleat among the riding community is that we are unfairly discriminated against, which may be true, though I doubt it. And in any case, discrimination, like charity, which I prefer, begins at home.
---
Advert

Enjoy more RealClassic reading in the monthly magazine. Click here to subscribe.
---