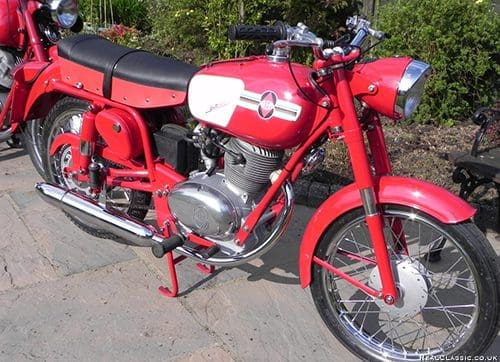 Registering a Classic Bike
The process of getting the paperwork in place to register a pre-1973 motorcycle appears to be pretty intimidating. Actually, says Stu Thomson, it's quite straightforward. Here's his handy guide…
The final part of rebuilding my little 98cc Gilera was to register the vehicle in the UK as it was an import from Italy. It was purchased without any paperwork to enable the year of manufacture to be determined. Normally, the first job would be to obtain a NOVA (Notification Of Vehicle Arrivals certificate from HMRC), but I needed to obtain a dating certificate. This would give me some proof of the manufacturing date for the NOVA paperwork.
When filling the NOVA form you will find that a great deal of it does not apply to old vehicles. The different sections have to be filled in according to your circumstances of purchase, hence it's difficult to outline exactly what needs to be filled for all cases. A word of caution: many bikes are now offered for sale and NOVA has already been applied for by a dealer or previous owner. On the confirmation letter from HMRC you will see it references only the frame number. It doesn't specify the date of manufacture. If the date submitted does not agree with your dating certificate then the DVLA will reject your application. They can see the full details based on the reference number and they need the two to tie together. This happened to my brother when he was trying to obtain an age-related plate for his Lambretta. It created a delay until he was able to have the NOVA application revised with the correct information.
To obtain a dating certificate from the VMCC you will need to submit the engine and frame numbers, photos of the bike showing these numbers, along with other clear photos of the machine and any other data you may have like documents from the original country of origin. If there is a specialist marque or model club dating scheme for your bike then use that club as they often have more detailed information regarding individual models than the VMCC.
There is no club in the UK for the Gilera, so to obtain this data initially I contacted the Italian Gilera club with the details and photos. They informed me that the machine was a Giubileo 98cc 'Extra' from c1964. But the tank, handlebars, seat, tyres, cylinder, cylinder head and exhaust were not as the original specification.
I received a dating certificate from the VMCC indicating the machine was indeed from 1964 which at least agreed with the Italian club. With this in hand I sent the NOVA forms to the HMRC together with a copy of the dating certificate and several photos of the machine in its 'as bought state' which clearly showed it was an old vehicle. It was obviously 'loosely assembled' and definitely not 'working'.
When the machine is rebuilt or capable of passing an MoT, you can then apply to the DVLA for an age-related plate. All documents have to go direct to Swansea these days, and it's not always easy to talk to anyone there. So here's an outline of what you'll need to provide along with your V55/5 form.
The V55/5 form itself, filled out (see further one)
HMRC's NOVA confirmation letter: original document
Club dating letter: original document
Insurance cover note, giving the frame number: original document
MoT certificate: original document
Personal ID: passport or driving licence, a legible copy
Proof of address: utility or council tax bills in the same name as the personal ID, two original documents
Photos: each side, and pictures of the frame and engine numbers
Fee: currently £55

You'll need to order the V55/5 form pack from the DVLA online. These forms are not available in the post office. Although there's a note on the top of the V55/5 which says 'incomplete forms will be rejected' this doesn't mean every single box is relevant to your bike. The DVLA provide a guide, but many sections aren't relevant to a vintage bike. So which boxes do you fill in?

There are three pages but only P1 and P2 need to be filled. P3 is a copy. I completed sections 2, 3, 4, 6, 7, 8, 10, 27, 30, 31, 32, 33 and 45 /46 (if known).
Section 2: taxation class. Historic vehicle.
Section 3: taxation period (usually 12 months for historic vehicles)
Section 4: registration fee and tax payable
Section 8: motorcycle
Section 9: two wheels
Section 10: colour. The main colour of the motorcycle, and there are standard colours (red, black, green, blue, etc) which you can find on the DVLA site
Section 27: year of manufacture which appears on your dating certificate
Section 29: date from which tax is to run. Leave this empty as DVLA will decide depending on when the paperwork is processed
Section 30: type of fuel. Petrol.
Sections 31 &32: engine and frame numbers as they appear on the bike itself

On page two:
Sections 48, 49, 50: telephone and email address (in case the DVLA have any questions)
Section 50: exempt by age
Section 54: mileage recorded on speedo. – I wrote 0 for this as the Gilera had a replacement speedo

The next step is to sign and date the declaration and tick the boxes that apply for the documents you have included. Then go back to the checklist and make sure you have all the documents. I must have checked this five times before I sealed the envelope!
| | | |
| --- | --- | --- |
| | | Classics to be Registered on Now… |
I found the next part to be the most traumatic; actually posting all these original documents to the DVLA. I used recorded and tracked delivery at a cost of £6.40. Special Delivery will provide extra insurance. The DVLA do not always sign for their deliveries (if they arrive on Friday or Saturday, for example) so the best method is to use the tracking to see where your package is. I used which lists the progress of the package quite succinctly.
Tracking your application once it has arrived with the DVLA is another matter entirely!
But in my case, seven days later I received all my documentation back with a certificate enabling me to get a number plate, and a letter telling me that the V5C would take up to four weeks to come. The V5C actually arrived at the same time as the returned documents. So the DVLA were very efficient in completing this.
In the DVLA guidance it does say that the machine may have to be inspected but if the documentation you supply is clear and complete, this may not be necessary.
If you are applying to regain a number plate for a vehicle that was previously UK registered then the process is slightly more complex. Any original documentation you have has to be validated, stamped or signed by a DVLA-approved club officer. So that's when joining the owners' club really makes sense.
Overall, the whole process of registering an imported bike is about a complicated as applying for a passport. Here's where to start:
---
Advert

Enjoy more RealClassic reading in the monthly magazine. Click here to subscribe.
---