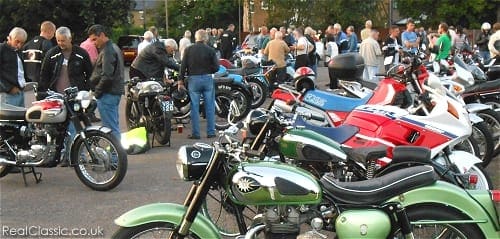 A bike that works, a place to be, a British summer. Martin Gelder finds three reasons to be cheerful while riding his Airhead BMW…
I seem to have spent most of the last week bent over a hot BMW, the sun doing its best to make a redneck out of me while Max Friz's bastard offspring confounds and confuses me.
And puts a crick in my back. I need a reason to be cheerful.
And then there are three.
Reason to be Cheerful, Part 1 – A Bike That Works
Summer, Buddy Holly, the working folly

Good golly Miss Molly and boats

Hammersmith Palais, the Bolshoi Ballet

Jump back in the alley and nanny goats
A carburettor hands over its secret stash of crumbled o-rings, a friend puts a regulator in the post, and suddenly I have a working bike. It starts, it ticks over, it charges without overcharging, it pulls without surging and snapping. There is nothing so satisfying as solving a problem that has been niggling. And having a bike that works as it should.
Reason to be Cheerful, Part 2 – A Place To Be
18-wheeler Scammels, Domenecker camels

All other mammals plus equal votes

Seeing Piccadilly, Fanny Smith and Willy

Being rather silly, and porridge oats
Article continues below...
---
---
Bike fixed, but where to go? You can only travel the same old roads so often. An excuse for a ride is needed. Then there's word of a Morini Riders' Club get together at the VMCC's Thursday evening social at Shefford, about thirty miles away. There's something very satisfying about a ride with a destination that someone else has chosen. A deviation from the same old same old, a bit of map reading and planning to build anticipation, and some new routes to sample.
Reason to be Cheerful Part 3 – A British Summer
Bit of grin and bear it, a bit of come and share it

You're welcome, we can spare it – yellow socks

Too short to be haughty, too nutty to be naughty

Going on 40 – no electric shocks
For the first time in two weeks, the ride is the reason. Not listening for engine stutters, not feeling for fuelling splutters, just riding for riding's sake. A warm evening, glorious. Over a bridge, smell barbecuing sausages; crest a rise, breathe the dust from the evening's harvest; round a curve, a green and pleasant land turned gold by evening sunshine. Britain at its best.
And at Shefford, bikes; a really good turn-out. Last time here the Morinis had put the rest of the VMCC to shame but tonight the balance is redressed. Tales are told, tips exchanged, plans made and jokes shared. Good company.
Then the sun dips and it's time to turn for home; the call of the road cannot be ignored. Heading east I'm racing the shadows, the commuters home by now and the roads quiet. The engine hums, then I hum. Reasons to be cheerful, part 1 2 3.
————-
Reasons to Be Cheerful, Part 3 was written by Ian Dury, Chas Jankel and Davey Payne, and recorded by Ian Dury and Blockheads in July 1979.
————-

Enjoy more RealClassic reading in the monthly magazine.
Click here
to subscribe.