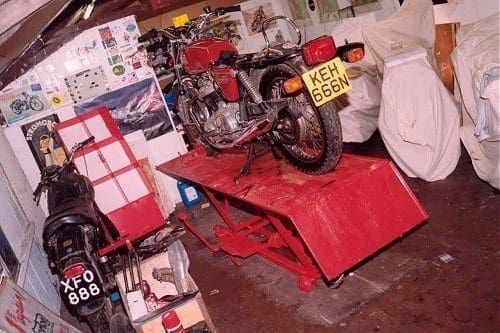 The workshop (shed, garage or whathaveyou) is an essential part of classic biking life, it seems. John R Kerridge (aka Yorkie) explains why every man should have one…
A shed, a hut, a lean-to; a shelter, a den or a garage. Call it what you will it's something every man should have. It's a place of recreation, a place where one can contemplate, cogitate, deliberate, reflect on, think about, mull over, study, examine, plan, design and many other synonyms within that context.
A shed is a place for one to retire to, to think about and solve problems large and small, ponder which way to tackle a job, meditate over how to tackle and mend a broken toy or any other item, examine the workings of sub-standard or broken appliances, domestic or otherwise with a view to mending said item, plan how to tackle improvements, design and create items, mull over how to improve your own shed and your own working conditions.
A shed is a place to obtain the moderate exercise of bending, stretching etc, and not being very athletic I mean that most sincerely. Also it's a place to experiment with the different techniques used in wood and metalworking or improving on whatever hobby or pastime one may have.
A shed is a place to escape the worries of life (if you have any), to get away from that boring job that has to be done in the garden, and a place to escape from the wind rain and snow. A place to be constantly updated upgraded and improved upon.
To my mind the essential furnishings of a shed start with a bench, which is closely followed by a vice, after these two items the rest of the fitments gradually accumulate until all available space is filled. The usual fillings are hand tools, toys (repaired or just abandoned), pieces of wood, bits of steel, pieces of tube and discarded domestic items, in fact anything which might 'come in' one day.



The greatest gift to pass on to a son would of course be a shed, but this is not purely a generous gesture on the part of the father. It's also a means of getting the son away from the father's space, to form his own space with his own clutter in his own shed. The son must of course be provided with his own basics; a bench and vice.

We are not daft you know — it's just inbred deviousness: the father will be freed from filling his own shed with his son's accoutrements. When the lad has flown the nest, leaving his shed behind for which he now has no garden space, items still tend to return to be repaired. The best thing about this situation is that when this happens, Dad finds himself in possession of two sheds, providing extra space. This justifies the initial gift of the said shed in the first place.






Stuff to put in your shed
My first shed was provided by Dad (a ploy to get full control of his own shed again). It was one of Dad's cast-off sheds, a lean-to in the field next to a smelly night shelter where we kept geese. My hut contained a block of rabbit cages on the back wall and — wonder of wonders — my own workbench on the opposite side. Soon after getting my own shed Dad found a vice for me. This was utter luxury: rabbits, bench and a vice in my very own bicycle shed. It was in this shed that my pals and I first tried smoking. We bought a Rizla cigarette making machine and rolled our own, not with tobacco but with old rope. That episode cured us of ever wanting to smoke again.
My next shed was my first garage. It was to house my first motorcycles, two 1927 350cc AJSs, closely followed by a 1949 BSA Bantam and then a Norton ES2. This was purely a covered parking area complete with door, with no vice, but it was standing next door to Dad's shed with the vice. This was OK until I bought a sidecar, so my next 'garage' consisted of some electrical conduit pipe made into a framework and covered with an old wagon sheet, the absolute pits of a garage, but it did serve its purpose. This temporary shed didn't last very long due to its flimsy construction, and me getting back to two wheels.
Round about this time I sold my ES2 Norton and bought a brand new Norton Dominator and a year later I met my future wife. We got married in 1961, when Vera and I moved into a small farm cottage (without a shed).
This started off my new quest for a shed. As a temporary measure I needed cover for my pride and joy and the only place to erect anything was up the side of the house. So I begged and borrowed bits and pieces to build a 'garage' in the available space. It was about 9ft long, tapering narrow towards the door. The roof was hinged up and the side was removable but it was a good little shelter and it served its purpose. The actual shed came in September 1962 nearly the same day as our first-born. This shed had to go in the back garden. It was a purpose-built shed, 8ft x 4ft, and it cost me £28. As soon as I got the shed the absolute essentials were installed and shed usage commenced again.
This shed lasted in the back garden until we moved in 1965, when it followed us to our new home. This was a shed that was never a garage as it just wasn't big enough, instead Dad eventually came to the rescue and bought each of his three children a 16ft x 8ft garage, so that took care of the shelter for our transport, which by this time had had a sidecar added. The shed though did come into its own, in that the bike engine and parts could be removed and overhauled in relative comfort.
Then in time our own son was in need of his own space. Another shed was obtained for our son and placed so that a roof could be thrown across to an adjacent wall. Result? Dad two sheds, son one shed, plus three vices.
This arrangement lasted a number of years until the second shed became a bit rotten, by this time our son had married and moved on so the shed reverted back to Dad. Now was the time for a complete transformation, a concrete block wall was erected inside the confines of the rotten sheds, the sheds were then demolished and a new roof thrown across. The floor was concreted and the main parts fitted (that bench and vice). Once again: joy! Joy!
So now I'm all set up for another long period of pondering solutions to problems, repairing broken items, and anything else I need to do. The shed is now fully occupied with four machines, and gradually filling up with various useful bits and pieces. The only thing I need now is space…
---
Advert

Enjoy more RealClassic reading in the monthly magazine. Click here to subscribe.
---