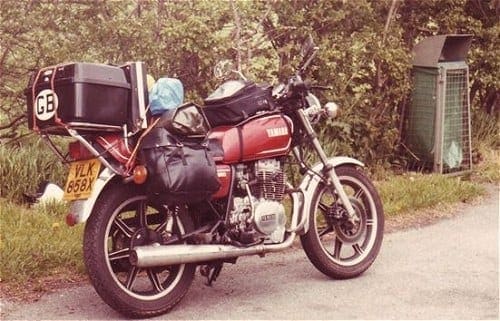 Jim Peace has taken his Top Box halfway around the world. It's been close to the North Pole, crossed the Golden Gate Bridge and been frozen solid in Cumbria. Is it time for retirement?
Last year I decided that Top Box ought to retire. It was, after all, over twenty years old, cracked, split, covered in stickers and full of holes. I had also started super-gluing small silver coins to it, including a Cuban 5 cents which I found in my change. The original lock had, at one time, been replaced with a catch and padlock, and it was, not to put too fine a point on it, a mess.
I bought Top Box in the spring of 1986 from a long-defunct MZ dealer at Chertsey, in Surrey, as I needed some lockable luggage for my new (to me) Yamaha XS250. The little Yam had already been fitted with one of those racks that tip up backwards so that you can lift the seat. They also tip up when they work loose, which can be fun. I know the XS250 is always near the top of the 'Worst Bike Ever' list but I won't hear a word against it. Apart from being terminally gutless mine was a brilliant little bike and that summer it took me to the Lake District, and then to Denmark and France.

Jim's 1981 Yamaha XS250, with added Top-Box

I eventually replaced it with a Suzuki GN400 and transferred Top Box over. Leaving the 'tipper' rack on the Yamaha I went back to the MZ emporium and purchased a 'Universal' one for the Suzuki. In common with many other things described as 'Universal', it didn't actually fit anything. I managed to get it on in the end, though. Useful things, club hammers, eh, Frank?
Top Box and I went to North Cape that summer, on the Suzuki, which was perfect for the slow roads of Norway. We were further north than Alaska. I stood and stared towards the North Pole, then retired into the café/rip off shop nearby. Four quid for a coffee and a pastry! That was nearly half my day's budget, but then this was twenty years ago. And the 'Nordkapp' sticker cost me another pound, but that was good value; it's still on Top Box today.
After a couple of years on the Suzuki – another terrific bike — I made the mistake of buying a Rotax Matchless G80, a machine of which Mr Westworth is very fond. I've never understood why; I got very unfond of mine, as those of you who remember my article in Used Bike Guide No 29 dated May 1991, will recall. (Editor Westworth is still fond of Rotax Matchess G80s, as you can discover if your read the October issue of the magazine.)



Fitting the rack wasn't easy. The rear suspension units on the G80 are canted forward and there are no bolt holes on the rear frame loop. I got it on in the end though. During my ownership of this bike I decided to go to a New Year's Eve party at the Old Dungeon Ghyll hotel in Langdale. In Cumbria. And I live in Surrey. I also decided to camp at the National Trust campsite. Did I get cold? Oh, yes.

When I got home on Jan 2nd after a 250 mile ride I stopped in front of the garage door and fell gently off the bike. I had to call out to my neighbour to come and help me indoors. I shivered uncontrollably for an hour. I had slight frostbite in my fingers, which fortunately didn't fall off but still give me gyp in cold weather. And when I eventually tried to unlock Top Box the lock was frozen solid and the key snapped in half. I eventually replaced it with a rabbit-hutch catch and a padlock. The catch is still there, but to date I've lost about eleven padlocks, by forgetting to do them up, and now buy them in sets of four with the same key.

By this time Top Box had acquired quite a few stickers, some of which stayed stuck, while others curled up and died, or just faded away. Some showed the places we'd been, or shows and rallies attended, others were just, er, silly. After the Matchless I had a succession of bikes, mostly well used, some good, some bad, but none ugly. No motorcycle is ugly, they all have some redeeming features, even if they're hard to spot at first. Even the CX500. Some of mine, like a Yamaha SR500, were quite pretty.






Random XS Yamaha Stuff on eBay.co.uk
Top Box was transferred from bike to bike but the 'Universal' rack eventually succumbed to vigorous over-adjustment and was replaced by a series of well used jobbies from my local breaker, usually for around a fiver. Non-universal racks actually seemed to fit a lot better than the adjustable ones; it's all a question of careful measurement. And a good electric drill. Plus a bit of brute force. Just take care not to drill into the rear tyre, he added, with 20/20 hindsight.


Jim's 1996 Triumph Adventurer, with added Top-Box

This was fine until a sudden influx of wealth (a retirement pay off) allowed me to buy a really posh bike, a 1996 Triumph Adventurer. This is actually a Thunderbird with a re-styled rear end and a five-speed gearbox. Mine came with a dinky little rack and pillion backrest. This was an aftermarket effort, but it was quite clear you had to fit a dedicated rack or nothing. Allowing for the rearward slope of the seat rest the rack was just about big enough to take a rolled up set of waterproofs – and even then only up to size 'M'. It was nowhere near big enough for Top Box. Bugger.
I solved the problem by removing the padded bit of the seat rest, leaving two upright prongs. I then cut two holes in the bottom of Top Box and mounted it over the prongs leaving them inside, and out of sight. Result! Thus equipped we made a 9000 mile tour of America. Top- Box and I went over the Rockies, through Monument Valley, over the Golden Gate Bridge and to the rally at Sturgis. We loved every minute of it, even though I had to sell the Triumph after I got home. Well, I had gone a bit over budget on the trip.
Coming back to reality I patched up the holes in Top Box's bottom – I'd kept the bits I'd cut out – and went back to a £300 Suzuki, another GN400, and a second-hand rack. This was carried over onto a Honda GL1000 (too big and heavy) and a Harley-Davidson 1200 Sportster (too awful). I now own a fairly new Moto Guzzi, which I love, but this has the same problem as the Triumph. A silly little rack with a backrest. I retired Top-Box to the shed, putting it outside on sunny days when I was working there. To replace it I bought a plastic Stanley toolbox from my local hardware store, removed the internal trays and mounted in on the rack. In fairness it looked OK and worked very well, but it just wasn't the same.


Jim's 1989 Harley-Davidson 1200 Sportster, with added Top-Box

Last summer I went off to Croatia, and just couldn't go without Top Box. I repeated the Triumph trick, re-opened the holes, and mounted it over the rack. Frankly, on a newish bike, it looked awful, but I didn't care. I had also acquired an old pair of Krauser panniers, which didn't look too good either. I've started to put stickers on them, too. Eventually they'll look just as bad as Top Box. Splendid.
So Top Box hasn't retired, not completely. We've ended up with a compromise. Top Box and the Krausers will be used for summer touring, and Stanley will perform the short-haul and winter duties. Perfect.
'I like a happy ending', said Dylan
'Time for bed', said Florence.
'Boiingg', said Zebedee.
There goes another sodding padlock…
---
Advert

Enjoy more RealClassic reading in the monthly magazine. Click here to subscribe.
---