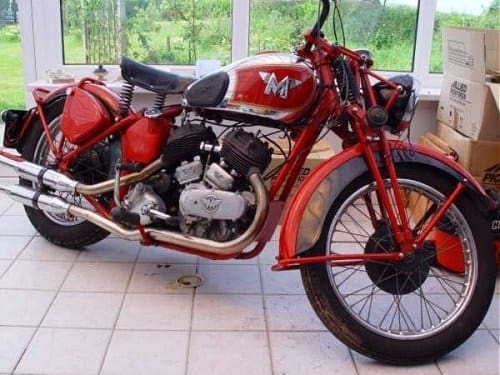 There was once a time when folk rode their AJS and Matchless motorcycles all over the place! Frank Westworth reflects…
For reasons which I have never been able to fathom, the AJS & Matchless OC presented me with an award last year. No no; it's true. Stop tittering at the back. Someone, somewhere will presumably understand the reason for this slightly startling event, but I am yet to meet them.
Nonetheless, an award I was presented with. And what an award! It is rather grandly known as The Ambassador's Shield, and it rests upon the library windowsill attracting the admiration of passing mice as I write this. Once upon a time, when the earth was younger and a little more vigorous than today, that fine club's committee decided that it should award a shield to a member who they felt had promoted the club through the course of her or his activities. A noble cause, as I'm sure you will agree. In fact, if I bang together my three remaining memory cells, I can almost remember being present when this fine award was inaugurated, although for the life of me I can't recall why. But then, I don't really understand this sort of thing anyway.
The Ambassador's Shield has another name, a name which will be familiar to Ajay Club members who are as ancient as I, but may be less familiar to those who either don't belong to the club or who joined it after about 1990. The Ambassador's Shield is also known as the Basil Chilvers trophy. And that, of course, is entirely meaningless if you've never heard of Basil Chilvers…

1940 Matchless Model X

I knew Mr Chilvers reasonably well. He was a professional gentleman who wrote a column, very unlike this column, for The Jampot, the Ajay Club's mighty organ, back in those dark days before the club could find a decent Editor, and I was attempting to perform that onerous task myself. Basil's column was wittily entitled 'Girders & Grease', not least because he was prone to riding motorcycles more ancient than most, which were allegedly suspended at the front on girders, and the only lubricant they could retain for more than a minute or so was grease.
That was a great feature of The Jampot in those days, when the small and monochrome pages were packed with the derring-do of those who rode only AJS and Matchless and who never did anything other than ride them. Apart from a little infrequent fettling, of course, adding a puff of wind to the tyres, a smear of grease to anything which moved, and a thimble-full of fuel every thousand miles or so. Not only were Men Men in those days, but all Matchless bikes went everywhere in perfect reliability at 120mph and used almost no fuel to accomplish this. AJS, being the superior marque, did all this and possibly used no fuel at all. I have always been an AJS man myself, except when misfortune conspired to force my mind elsewhere.



Basil, although otherwise a fine fellow, was a Matchless rider. He may also have ridden an AJS, and my glazed memory suggests that he also owned a BMW, but every time I met him, he was riding a Matchless. No-one is perfect. Basil must have been more perfect than most, because he got a trophy named after him, but I digress.

Every year, with the slightest encouragement, Basil would down tools (I'm not entirely certain which tools a professional gent uses, but down them he did) and clear off to the continent. In those days, the continent was further away than it is now, somewhere near Mars if memory serves, and only Real Men"¢ could get there on a motorcycle which was not a BMW. Basil went au continent by Matchless. But not any old pedestrian workaday Matchless. No. Basil went there aboard a twin-cylinder Matchless. A pre-war twin, too, which narrows the options a bit.

For Basil Chilvers, quiet traveller and witty author (as well as professional gentleman) rode improbable and impressive mileages aboard a Model X. I had only seen a Model X in photographs before I met Basil, and when I met him for the first time, at Oulton Park, where he was racing another Matchless, he impressed the life out of me by offering to let me ride it. Which I did.

I was in love with the motorcycle and packed with admiration for the man. I knew lots of folk who rode Matchlesses – in those days it was hard to be Editor of a club magazine without knowing lots of folk who rode old bikes – and I knew lots of folk who rode them decent distances, but although the club enjoyed lots of debate about the relative merits of single versus twin, all those worthy machines were post-war. Pre-war bikes tended to appear at the annual Jampot Rallies, where we gazed upon them in dutiful admiration, then went back to arguing about the real reason AMC twin cranks snapped…

Did I mention that Basil raced another Matchless? He did. He once confided in me that he was always the slowest person on the racetrack, whichever track that was, but that he didn't care and loved being out there. He loved fettling his racer through the winter, when it was too climatically unkind to take his Model X for lengthy camping tours in the mysterious land across the water. In those strange days, global warming was yet to be invented and it got cold in winter. I doubt that the Model X required much in the way of fettling, being in fact The Perfect Motorcycle.

One day, just to boost my already lofty admiration, Basil sent me a photograph of his newest Matchless. It was another twin. Another pre-war twin, too, and true to type Basil had fallen for the elusive charm of a Silver Arrow. Go look it up.






Random Matchless Stuff on eBay.co.uk
As I mentioned a bit earlier, Basil was a camper. We had few things in common, Basil Chilvers and I, and camping was another enthusiasm we failed to share. Why, I asked him, would a man of evident means and substance choose to splosh about in a muddy field, far from home, when all over the world eager clubmen would offer him free accommodation, and Michelin-starred hotels would no doubt regard him as an honoured guest? He smiled, puffed on his appalling and climatically apocalyptic pipe, and gazed off through slitted eyes into the distance. Those eyes may have been slitted due to the corrosive contents of his ancient briar, but I doubt it; he was a man of vision…
His eccentricity extended to wilder shores. When he decided that due to advancing years he required more comfort while travelling, instead of doing the mundane thing and staying in the occasional Gallic pension, he added a trailer to the Model X. The world will not see his like again.


1938 Matchless Model X

Sadly, as is the way of things, one month there was no Girders & Grease column. Basil was gone, at a stupidly early age, leaving the world a slightly less entertaining place. He was an unusual and an unusually fine bloke. Everywhere he rode, he was a rolling advert for old bikes, for Matchless bikes and for his favourite club. He deserved having a shield named after him, and I've enjoyed being reminded of him. However, I still have no idea what I did to deserve his award. After all, I ride an AJS…
---
Advert

Enjoy more RealClassic reading in the monthly magazine. Click here to subscribe.
---